Juicy chicken with crispy skin, tender potato, and colorful peppers are brought together by a peanut butter and coconut based sauce. Sweet, savory, nutty, and spicy! And it all comes together in one pan, fuss-free.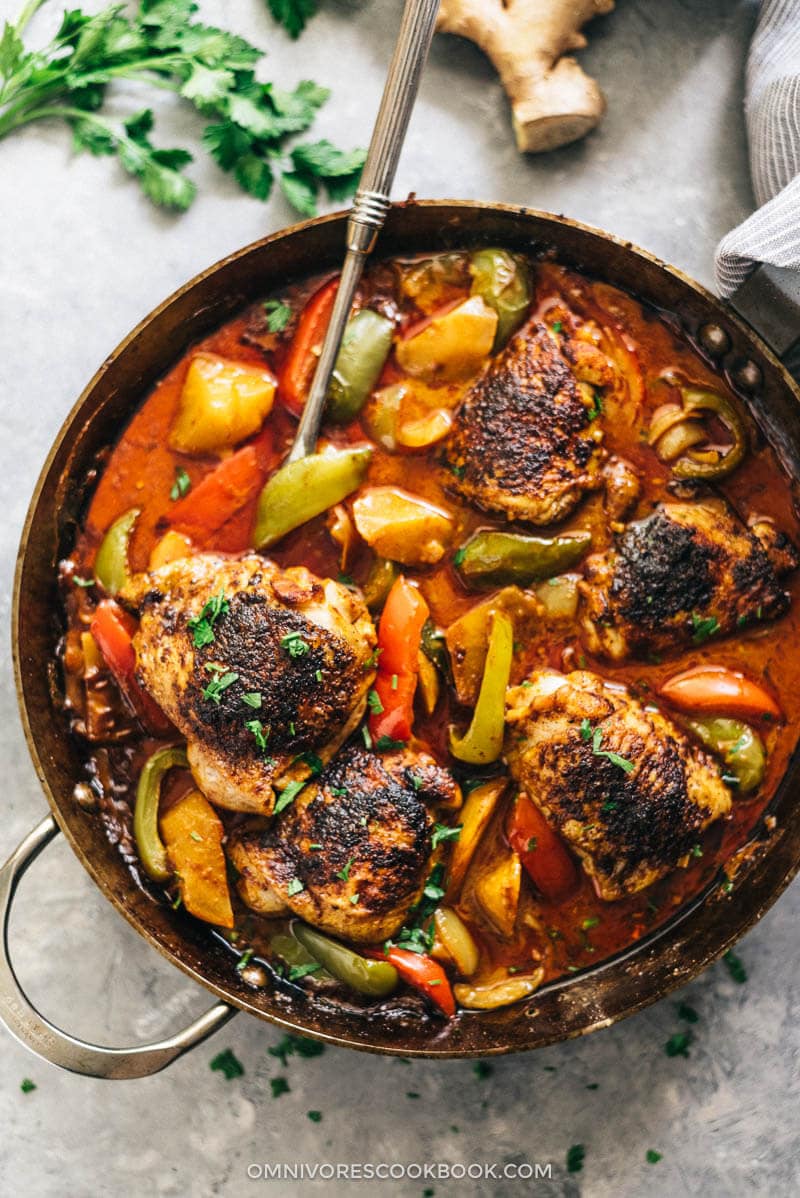 African chicken (非洲鸡), or Macanese chicken curry, is an undiscovered treasure in Chinese cuisine. Although the name contains "African", it is actually an African-influenced Portuguese cuisine that was adapted by Chinese chefs during the colonial era of Macau. The dish is a melting pot, indicated by its history and ingredient list – oyster sauce, curry powder, coconut milk, peanut butter, and olive oil, all in one pot.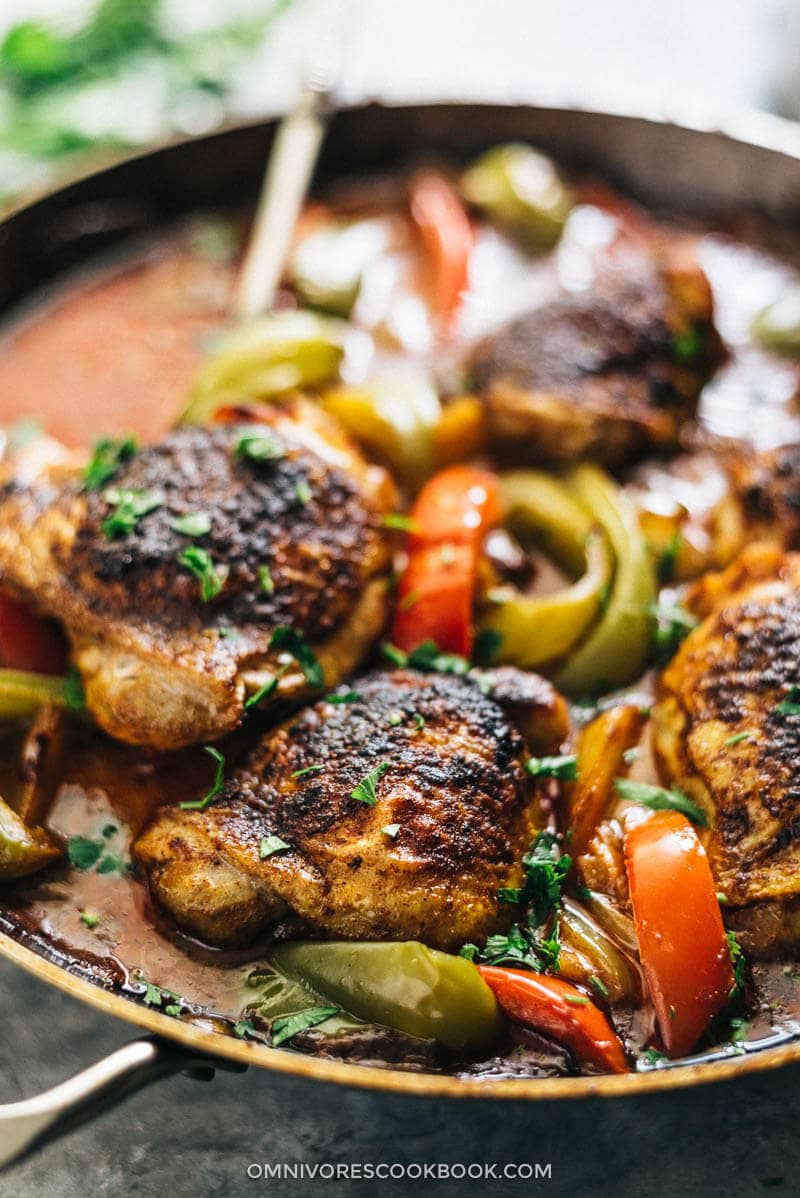 I encountered African chicken when I traveled to Macau back in 2012. Before I put the first piece of chicken in my mouth, the tangy aroma of sweet nuttiness and smoked spiciness had whet my appetite. When I sliced the first morsel of chicken that lay in the creamy sauce, I found the edges of the chicken skin beautifully charred, with the grease seeping from within the tender meat. With the first bite, I felt my mouth burst with the sweet, spicy aroma and vibrant nutty flavor.
African chicken let me experience something new and different. The chicken has a crispy skin, smoky taste and juicy texture as a result of being grilled, yet it has so much flavor from the hearty sauce that is only achievable through braising. The sauce has a sweetness from the peanut butter and coconut milk, but it is balanced by the pungent flavor of the curry powder and fresh herbs. It results in a familiar, savory taste that is reminiscent of Chinese cuisine.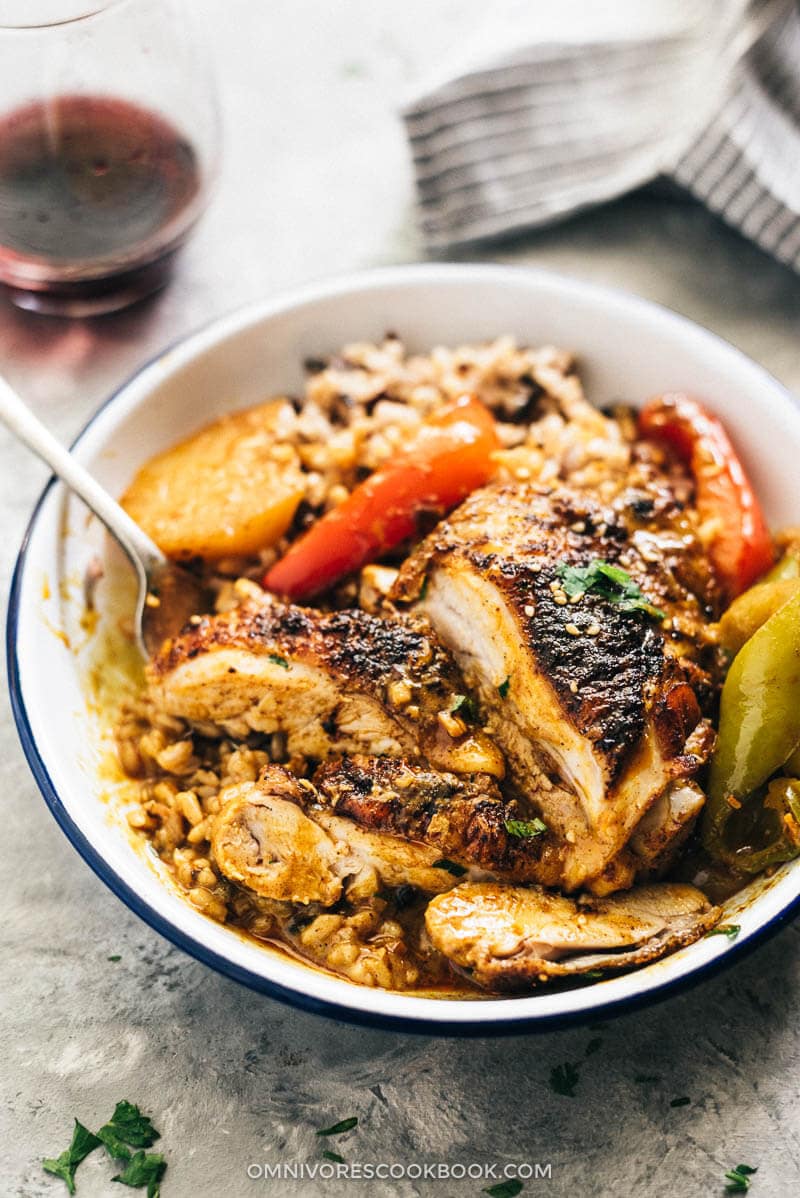 The most thorough and authentic recipe I've found is the African Chicken Curry recipe in The Adventures of Fat Rice: Recipes from the Chicago Restaurant Inspired by Macau. However, the recipe is not practical to replicate in your home kitchen. The recipe contains about 20 ingredients. And you have to make almost every one of those ingredients from scratch!
In order to make the dish possible to cook, even on a weekday evening, I've reduced the process to a minimum.
It takes 10 minutes to prepare and 10 minutes of active cooking time. Then you can lay back and let your oven work the magic.
The result? I finally experienced the delicious taste of Macau again, this time at home!

A Few Notes & Tips
I published this recipe back in 2014, and made some major changes in 2017. Here are some cooking tips and change notes that document the update.
(1) Choose whatever cuts you prefer.
You can use chopped whole chicken, chicken drumsticks, boneless thighs, or even chicken breast. My favorite cut is skin-on bone-in thighs, because they are easy to prepare, tender, and more flavorful. If you're using boneless thighs or chicken breast, reduce baking time to 30 minutes.
(2) The dish is less spicy now.
I decided to skip the cayenne powder this time, so the dish will be more balanced without too much spice. However, if you love a spicier dish, consider adding 1/2 to 1 teaspoon of cayenne powder to the sauce.
(3) Choose how you'd like your peppers.
I've baked the peppers with the chicken, so they will be a bit overcooked at the end and will become very tender. It you prefer a fresh and crisp pepper, add the peppers 20 minutes into baking, or you can stir fry the pepper separately on the stovetop and add to the stew at the end of baking.
(4) Rice is a must-have!
Traditionally the dish is served with steamed white rice in Macau. My husband and I prefer a healthier meal, so we enjoy serving it over brown rice or mixed grains. It is so yummy!
(5) The ultimate way to prepare this dish.
Use a charcoal grill to sear the chicken to crispness before baking. It's the real way to create that authentic smoky chicken!
(6) The leftovers taste even better.
I skipped the marinating process and made this dish easier to make even on a weekday evening. The sauce is so flavorful and the dish is ready once cooked. However, the leftovers will taste better because the spices in the curry will have had enough time to blend into the sauce.
Top the hot rice with crispy chicken, colorful peppers, and tender potato, ladle with a spoonful of the nutty creamy sauce. Dinner will be so comforting, healthy, and delicious!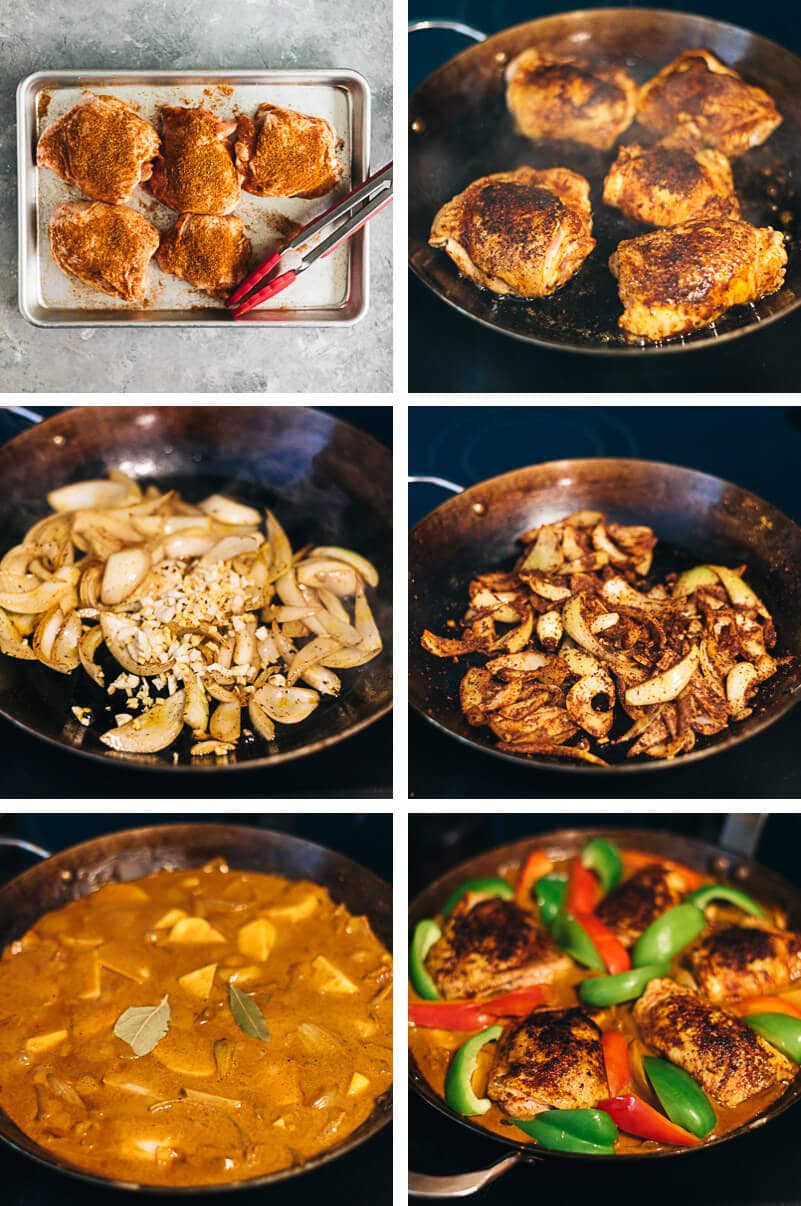 You might also like:
If you give this recipe a try, let us know! Leave a comment, rate it (once you've tried it), and take a picture and tag it @omnivorescookbook on Instagram! I'd love to see what you come up with.
Want to Know More?
Receive our 5-Day Chinese Cooking Crash Course & Recipe Updates! Subscribe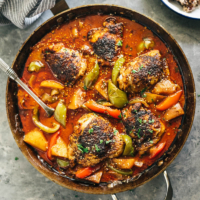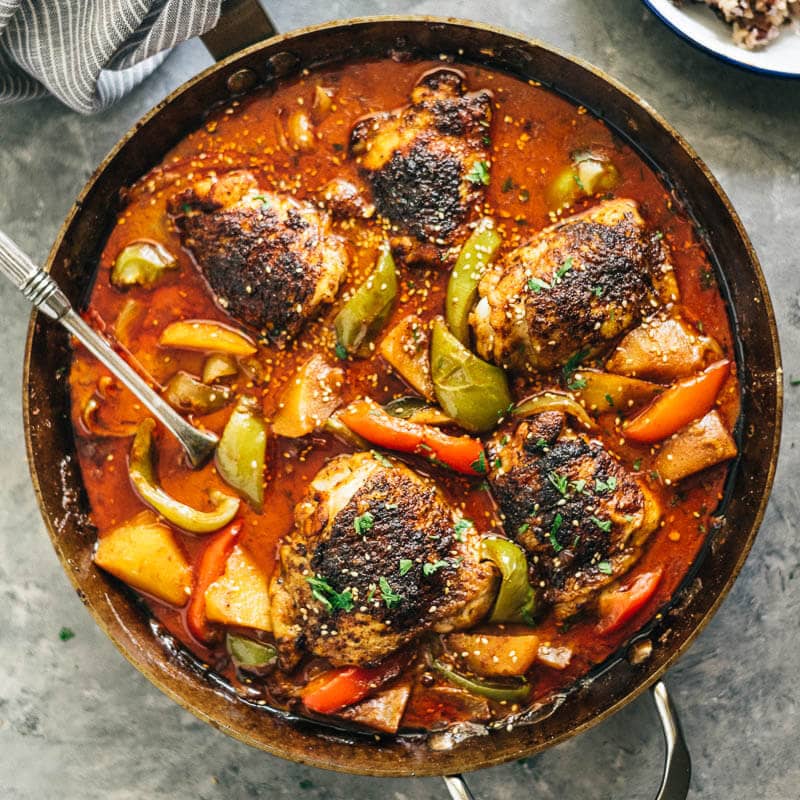 African Chicken (Macanese One-Pan Chicken Curry, 非洲鸡)
Juicy chicken with crispy skin, tender potato, and colorful peppers are brought together by a peanut butter and coconut based sauce. Sweet, savory, nutty, and spicy! And it all comes together in one pan, fuss free.
Servings:
4
to 6 servings
Ingredients
2

pound (1-kg)

bone-in skin-on chicken thighs and/or legs

(*Footnote 1)
Curry
2

tablespoons

olive oil

1

onion

, sliced

1

tablespoon

ginger

, minced

3

cloves

garlic

, minced

1

tablespoon

paprika powder

2

tablespoons

Madras curry powder

1

cup

chicken stock

1/2

can (270-millimeter / 9 ounce)

coconut milk

1/4

cup

unsalted natural peanut butter

1/4

cup

oyster sauce

2

bay leaves

1

(14 ounces / 400 grams)

russet potato

, peeled and chopped

2

bell peppers

, chopped

Chopped parsley for garnish

(Optional)
Instructions
Preheat the oven to 350 degrees F (180 C).

Combine all the ingredients of the spice mix. Sprinkle on both sides of the chicken.

Heat a large skillet over medium-high heat until hot. Add 1 tablespoon of olive oil. Add chicken, skin side down. Cook until both sides turn dark brown and crispy, 2 to 3 minutes per side. Transfer chicken onto a big plate.

Turn to medium heat. Add the rest of the 1 tablespoon of olive oil and onion. Cook until it becomes tender, about 5 minutes.

Add ginger and garlic. Stir fry for 30 seconds, to release the aroma.

Add paprika powder and curry powder. Stir until the ingredients are well coated with spices, 20 to 30 seconds.

Add chicken stock, coconut milk, peanut butter, oyster sauce, and bay leaves. Stir with a spatula to dissolve the peanut butter until it's well blended with the sauce. Bring to the boil.

Add potato, peppers, and chicken to the curry. Transfer the pan to the oven. Bake until the chicken is cooked through and the skin crispy, about 45 minutes.

Serve hot over steamed rice.
Notes
1. Boneless skinless thigh or chicken breast will work too. In this case, change baking time to 30 to 35 minutes, until the inner temperature reaches 165 F (74 C).
Nutrition
Serving:
1
serving of the 6 servings
,
Calories:
579
kcal
,
Carbohydrates:
26.7
g
,
Protein:
25.6
g
,
Fat:
44.1
g
,
Cholesterol:
56
mg
,
Sodium:
531
mg
,
Potassium:
748
mg
,
Fiber:
6.3
g
,
Sugar:
8.6
g