This post is sponsored by the National Peanut Board. I received compensation for this work, but all opinions and content are my own.
This Thai peanut butter ramen is a perfect dish for your weekday dinner. The tender noodles, juicy chicken, and colorful veggies are soaked in a rich broth that is nutty, savory, spicy, and sweet. Learn how to use peanut butter to create a nutrition-loaded meal in one pot!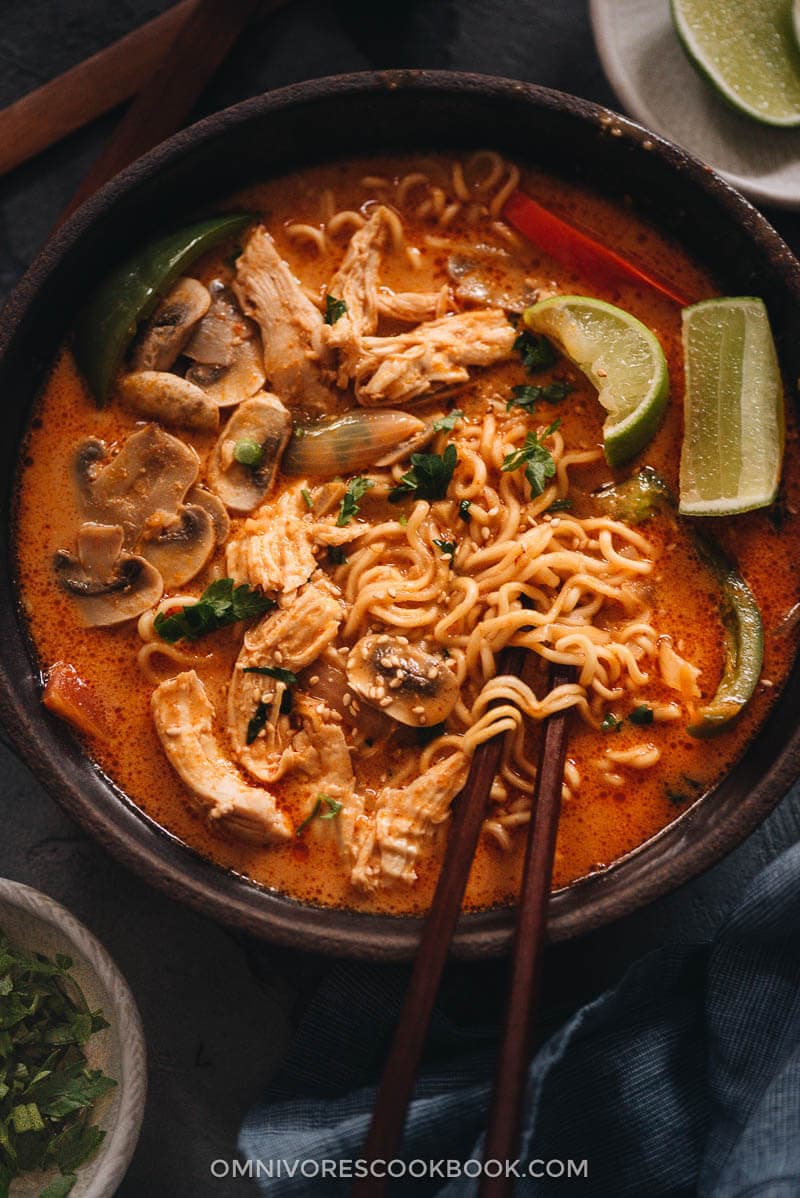 A jar of peanut butter is always a staple in our pantry. Even after moving to New York, when we got rid off 80% of the belongings in our kitchen, a big jar of unsweetened peanut butter still sits in the most convenient cabinet.
My husband and I are big fans of peanut butter, in different ways. Thomas is a long-distance runner and peanut butter is his favorite fuel and after-run snack. He likes to whip up some peanut butter jelly toast when he's feeling fancy, or simply snack on a heaping spoonful of peanut butter by itself. Every two tablespoons of peanut butter contains 8 grams of plant-based protein, 2 grams of fiber and 12 grams of unsaturated fat. Not only does he feel filled after snacking on peanut butter, but the plant-based superfood doesn't weigh him down and he can go for a run immediately.
For me, I indulge myself by spreading peanut butter on crispy toast with a drizzle of maple syrup. But more often than not, I use it in cooking to create simple savory dishes for dinner.
In the past, I've shared recipes such as Chinese Sesame Noodles, Chinese Chicken Noodle Salad, Dan Dan Noodles, Beef Satay, and Steamed Eggplant in Nutty Sauce. All of these recipes use peanut butter. It's so effortless to create a great sauce with this magic ingredient!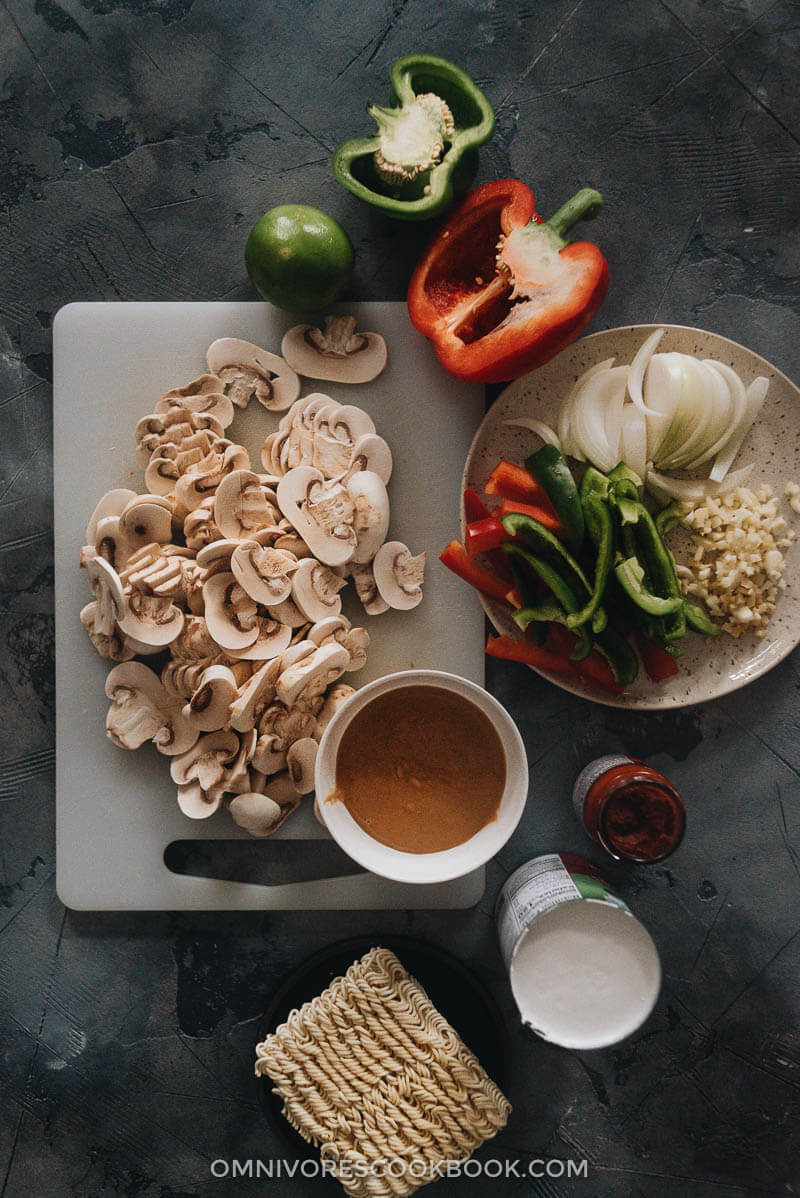 Peanut butter in ramen broth?
Today I want to introduce you to the Thai peanut butter ramen recipe I developed recently. The dish was inspired by a previous dish I made – African Chicken. It's a famous Macanese dish that uses peanut butter along with curry powder and oyster sauce to create a super rich sauce to braise the chicken.
Lately it has been cold in New York. I wanted to use a similar method to create a quick one-pot comfort dish for a weekday dinner. The Thai peanut butter ramen borrows ingredients from Thai curry. It uses red curry paste, coconut milk, creamy peanut butter, soy sauce, and aromatics to create a rich and creamy sauce that is savory, sweet, and spicy. With a drizzle of lime juice, you get all the great flavors in one bowl, brought together with the nutty peanut butter. I joked to my husband that this dish is dangerous to make, because we will always end up eating too much of it.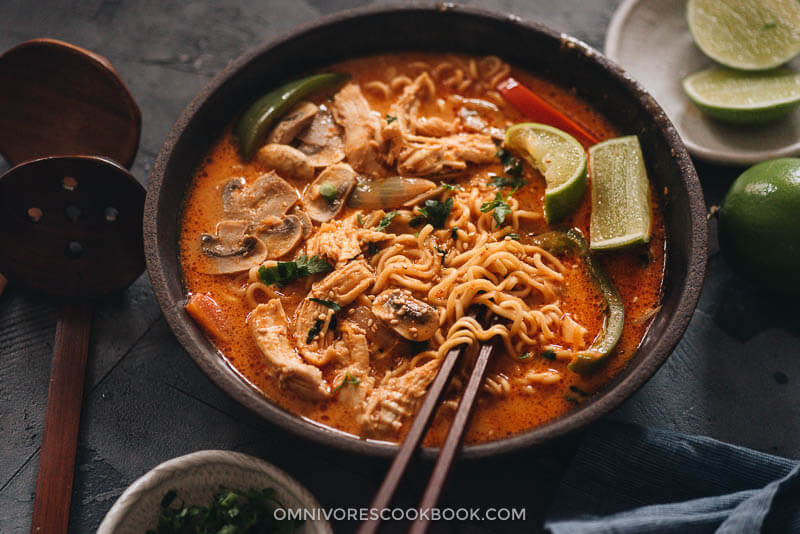 Cooking notes
1. Which type of peanut butter to use
I used unsweetened natural peanut butter in this recipe because it's the type we always have on hand. Alternatively, you can use smooth peanut or chunky peanut butter. In this case, skip the sugar from the ingredient list.
2. Versatile ingredients
The peanut butter curry broth is so rich and delicious and goes well on just about everything. My recipe merely serves as a guide, and you can get creative with the ingredients you have on hand.
For the protein, you can:
Top with cooked meat such as leftover rotisserie chicken, sliced sausage, or grilled steak
Use shrimp. Note, you should add the shrimp at the end and only cook them for 3 to 5 minutes, until the shrimp are just cooked through.
Add tofu cubes to make the soup more filling.
For the veggies, you can:
Use other types of mushrooms, or skip them all together
Add root veggies such as cubed potatoes or sweet potatoes. It will require 10 to 15 minutes of cooking time depending on the size of the cut.
Add a handful of green veggies at the end. Spinach, broccoli florets, chopped kale, and zucchini all work well in this broth.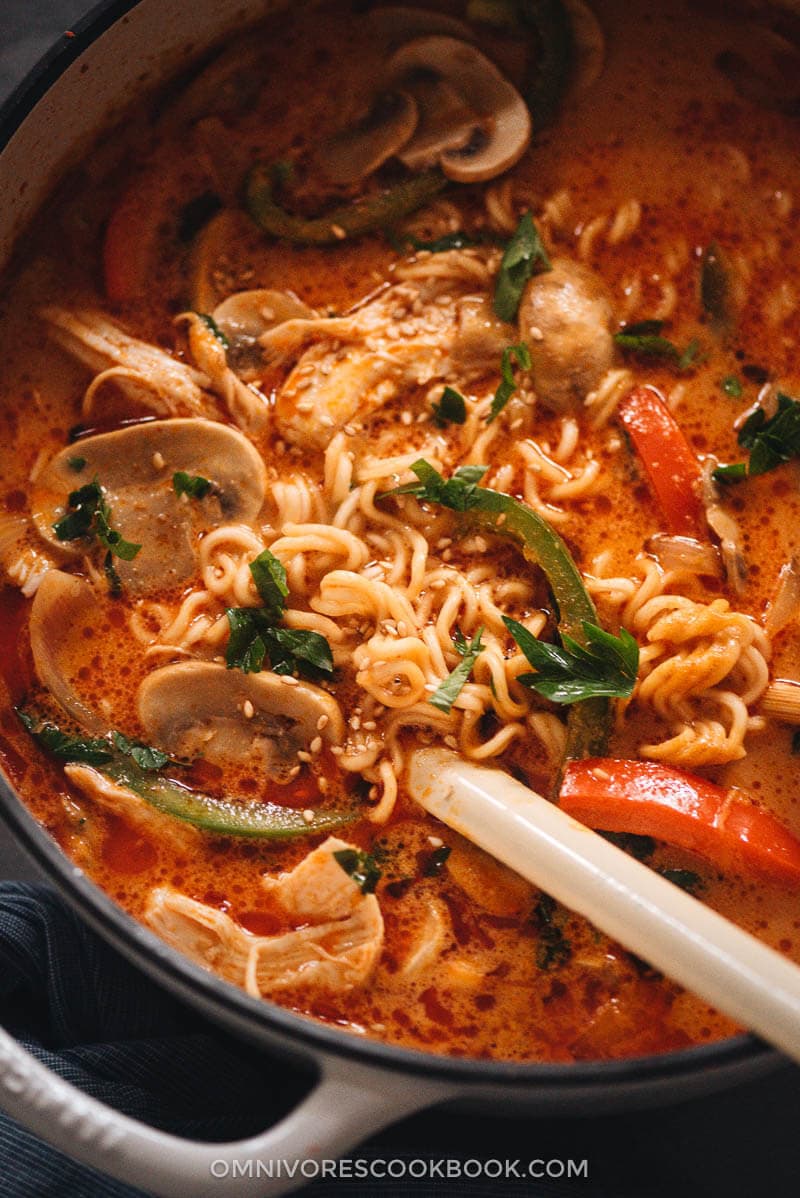 3. Make this dish vegan
Make sure that you use a vegan red curry paste (many curry pastes contain fish sauce or shrimp).
Use vegetable broth instead of chicken broth
Use cubed tofu to replace the chicken. Fried tofu and sliced tempeh are great options too.
I've tried making the dish vegan and it turned out just as rich as the meat version.
Afterthoughts
Peanut butter is such a versatile, affordable, nutritious, and delicious ingredient. To maximize its potential, think outside of the box and try some less common savory dishes, such as this Thai peanut butter ramen. I promise you'll thank me later 😉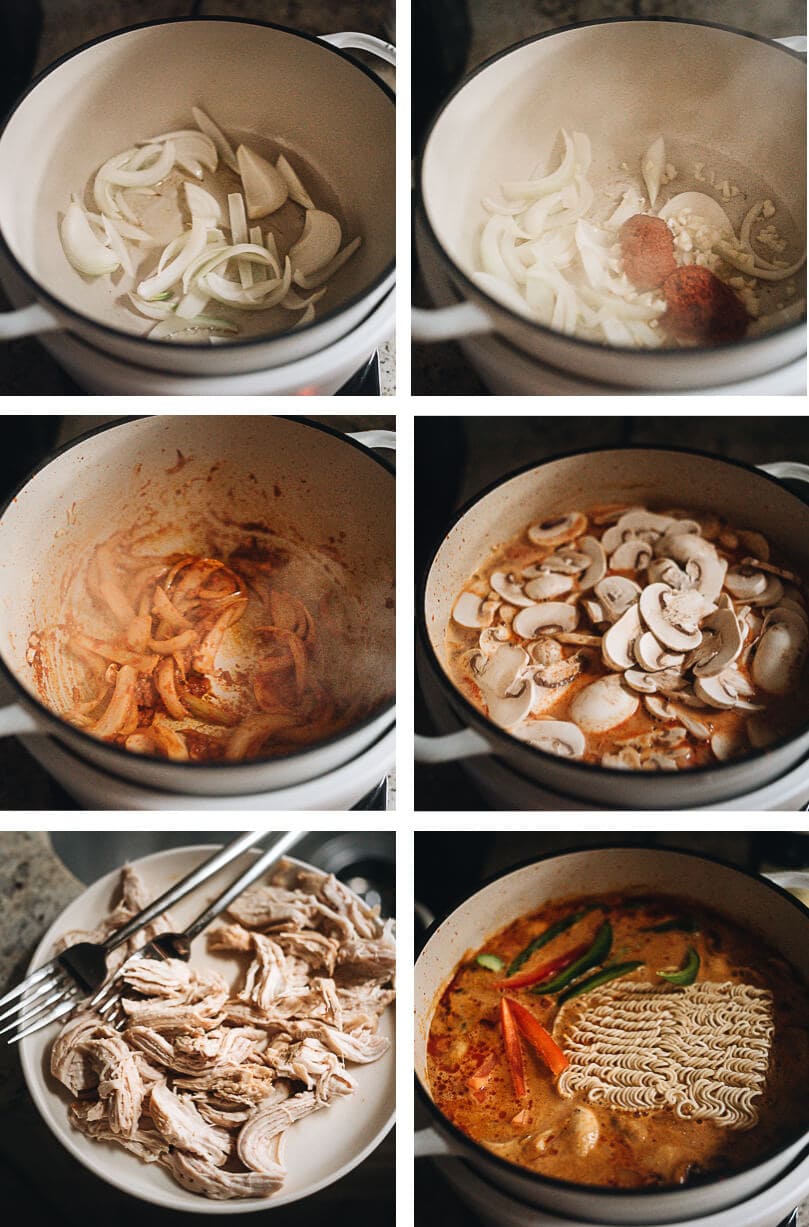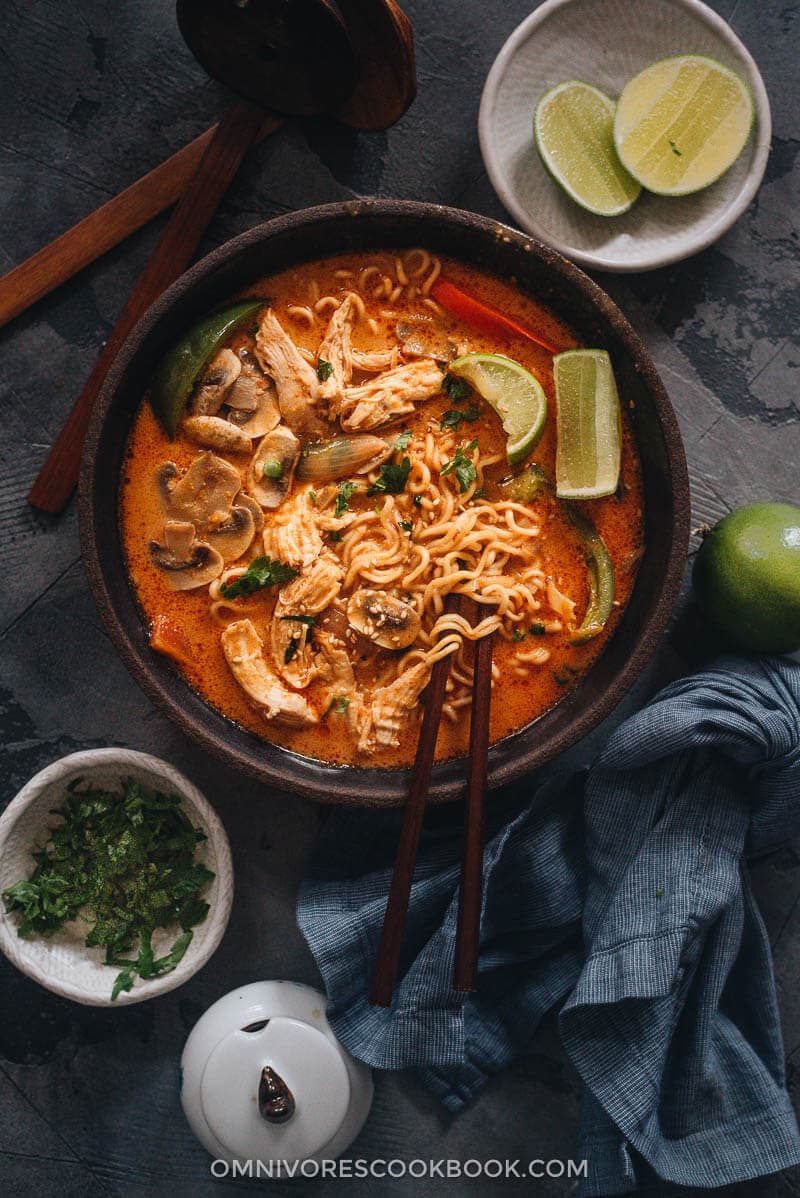 More recipes using peanut butter
If you give this recipe a try, let us know! Leave a comment, rate it (once you've tried it), and take a picture and tag it @omnivorescookbook on Instagram! I'd love to see what you come up with.
Now it's your turn to spread the peanut butter love! Share your favorite peanut butter recipe in the comments with the hashtag #HowDoYouPB. Click here for peanut butter recipe inspiration for every occasion.
Want to Know More?
Receive our 5-Day Chinese Cooking Crash Course & Recipe Updates! Subscribe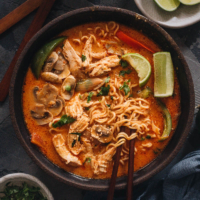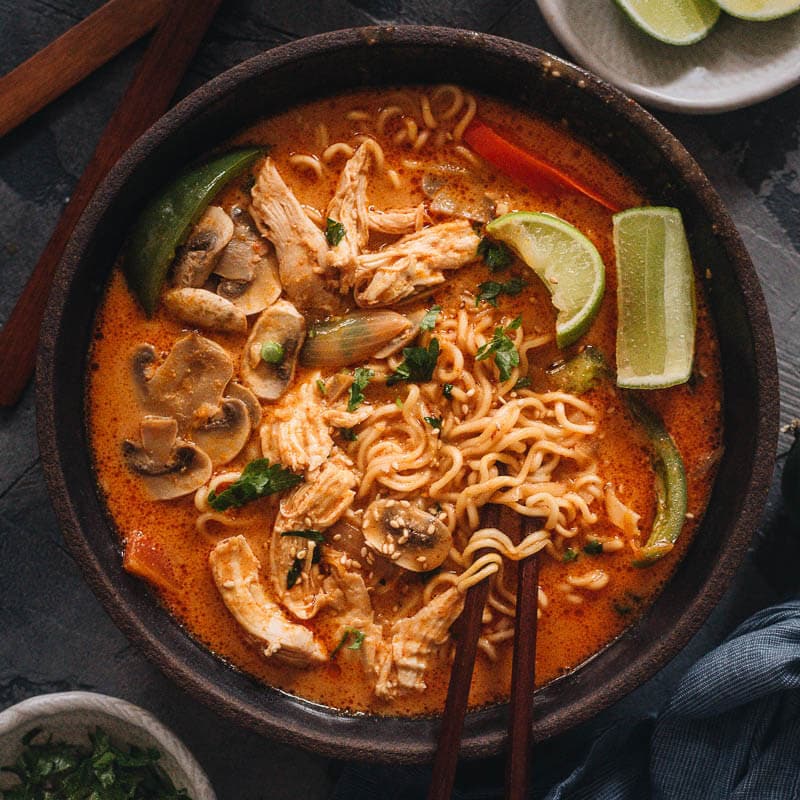 Thai Peanut Butter Ramen
This Thai peanut butter ramen is a perfect dish for your weekday dinner. The tender noodles, juicy chicken and colorful veggies are soaked in a rich broth that is nutty, savory, spicy and sweet. It's so easy to make and you can easily make it into a vegan version as well.
Ingredients
Broth
1

tablespoon

peanut oil

(or vegetable oil)

1/2

onion

, sliced

3

cloves

garlic

, sliced

2

teaspoons

ginger

, minced

2

to 4 tablespoons

Thai red curry paste

(*Footnote 1)

4

cups

chicken broth

1

can (14oz / 400 ml)

full-fat coconut milk

1/3

cup

unsweetened natural peanut butter

3

tablespoons

soy sauce

1

tablespoon

sugar
Toppings
1

(8 oz / 225 g)

boneless skinless chicken breast

(or 2 chicken thighs)

8

oz (225 g)

mushrooms

, sliced

1

bell pepper

, sliced

2

pieces (total 7 oz / 200 g)

Instant noodles

1

lime

, juiced (and more lime wedges to garnish)

Chopped cilantro for garnish

(Optional)
Instructions
Heat oil in a 4-quart (3.78-litedutch oven (or heavy poover medium-high heat until hot. Add the onion. Cook and stir for 1 minute.

Add the garlic, ginger, and red curry paste. Cook and stir for another minute or so, until it becomes very fragrant and the curry paste evenly coats the veggies.

Add the chicken broth. Use a spatula to scrape the bottom of the dutch oven to release the brown bits. Add the coconut milk, peanut butter, soy sauce, and sugar. Stir to mix well. Try to use your spatula to break apart the peanut butter. The peanut butter will melt into the broth once it starts simmering. Taste the broth. You can add more Thai red curry paste if the broth is not spicy enough.

Once the broth comes to a boil, add the chicken breast and mushrooms. Turn to medium-low heat and cover. Simmer for 15 minutes, or until the chicken breast is just cooked through.

Transfer the chicken to a plate. Shred with two forks. If you find the inside of the chicken is still pink, return it to the pot and cook for a few more minutes, until it just cooked through.

Turn to medium-high heat and bring to a boil. Add the instant noodles and bell peppers. Boil according to the package instructions until the noodles turn tender, 2 to 3 minutes.

Turn off the heat. Add back the chicken and lime juice. Stir to mix well. Taste the broth. You can adjust the taste by adding more salt. If the broth is too spicy, you can add more sugar to balance the hot taste.

Serve hot with more lime wedges and cilantro, if using.
Notes
The amount of Thai curry paste depends on the brand you use. Some brands produce a very spicy paste. In this case, 2 tablespoons are more than enough heat for the dish. Some brands make much milder pastes, such that you can use up to 4 tablespoons and the dish still won't taste too spicy. I recommend you add 1 to 2 tablespoons first. You can taste the broth at step 4 and add more paste if needed.
Nutrition
Serving:
4
servings
,
Calories:
637
kcal
,
Carbohydrates:
31.9
g
,
Protein:
28.9
g
,
Fat:
44.1
g
,
Saturated Fat:
24.6
g
,
Cholesterol:
51
mg
,
Sodium:
1044
mg
,
Potassium:
989
mg
,
Fiber:
5.6
g
,
Sugar:
12.1
g
,
Calcium:
40
mg
,
Iron:
5.9
mg