Introducing an extra fragrant Kung Pao Sauce that let you cook genuine Sichuan food in your own kitchen!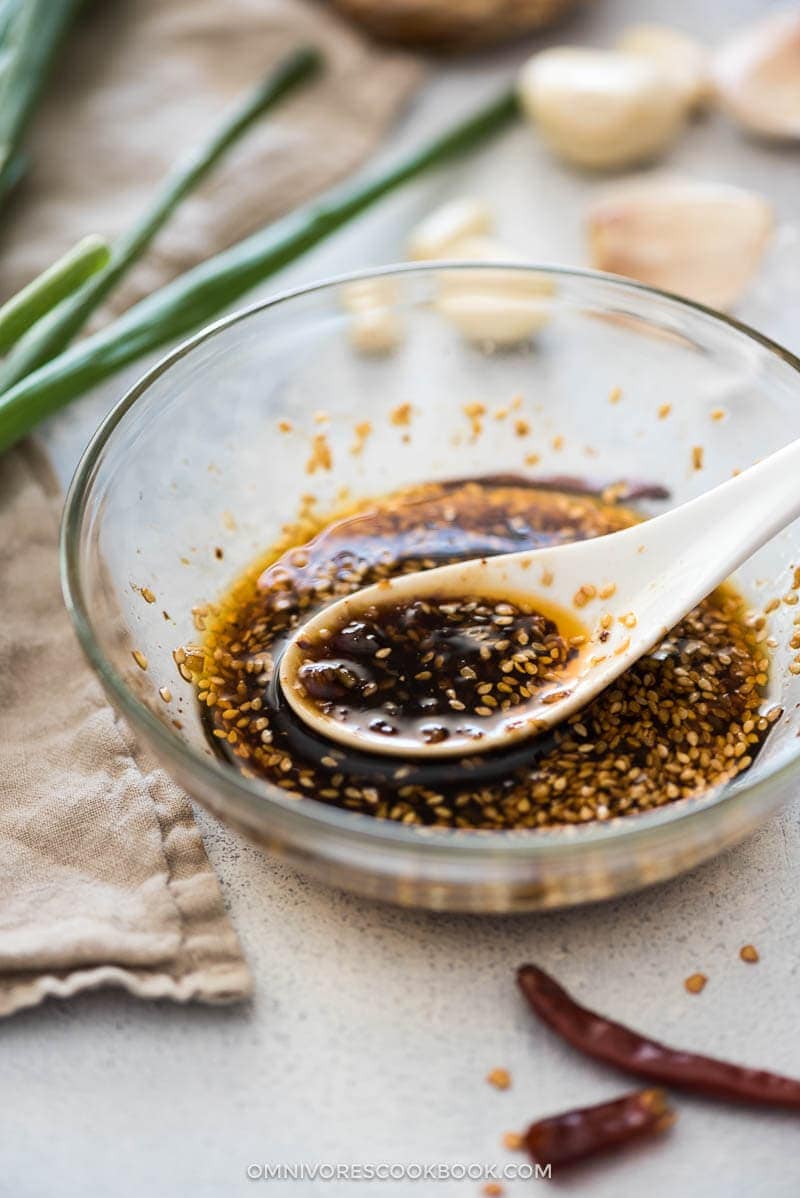 Kung Pao sauce is such a popular and classic sauce that every chef has their own interpretation. It can be extra spicy, more savory, or syrupy. The version I like the most is the type that balances savory, sweet and spicy with a gentle numbing sensation and a little extra sour kick.
If you've never cooked a stir fry before and feel intimidated by words such as "wok" and "cook with high heat" – now is your chance to cook your favorite takeout dish by following three simple steps.
Prepare the stir fry sauce by using the recipe at the bottom of this post.
Prepare one protein and / or one vegetable ingredient.
Cook the protein and vegetables until they're just done, pour in the stir fry sauce, and mix well.
Sounds super easy, right?
To see how to use the Kung Pao Sauce in practice, check out my Kung Pao Shrimp and roasted Kung Pao Brussels Sprouts recipes.
Why roasted? Isn't this a stir fry sauce?
That's right! You can use the same stir fry sauce to make many other easy and delicious dishes, including roasted veggies!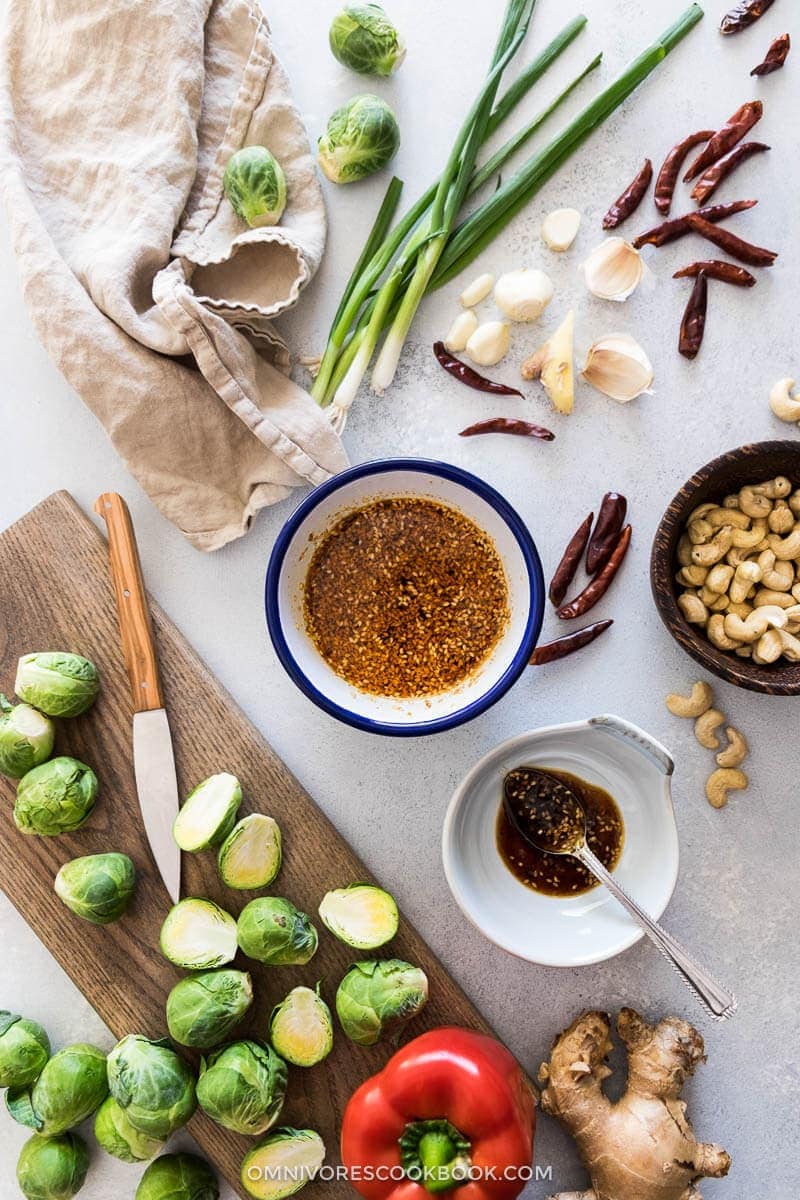 What makes a great Kung Pao Sauce (for serious cooks)
Sichuan Peppercorns and Sichuan Chili Peppers are the two crucial ingredients that make this sauce stand out. Although my recipe calls for chili flakes and ground Sichuan peppercorns, you will get a much more fragrant sauce if you use whole spices.
Fresh Sichuan peppercorns are extremely fragrant. Opening a jar of Sichuan peppercorns is like opening a perfume cabinet, only the aroma lingering around your nose is numbing, tingling and refreshing like mint. They add a savory, smoky and slightly citrusy flavor into the sauce that makes genuine Sichuan food. The peppercorns are a must-have item in my pantry.
Real Sichuan food uses different types of chili peppers to adjust heat level and smokiness. Just like making a proper pot of chili, you start by selecting a combination of chili peppers to set the tone of the dish, toast the peppers to release their aroma, then grind them down. The same logic applies when dealing with Sichuan peppers.
To make the chili flakes and ground Sichuan peppercorns, toast them separately in a small saucepan until the color darkens slightly and the spices release a strong fragrance. Transfer them to a plate to cool completely, and then grind them up in a coffee grinder. Place in an airtight jar and store in the fridge. You should always prepare them in small batches, because these spices lose fragrance very fast.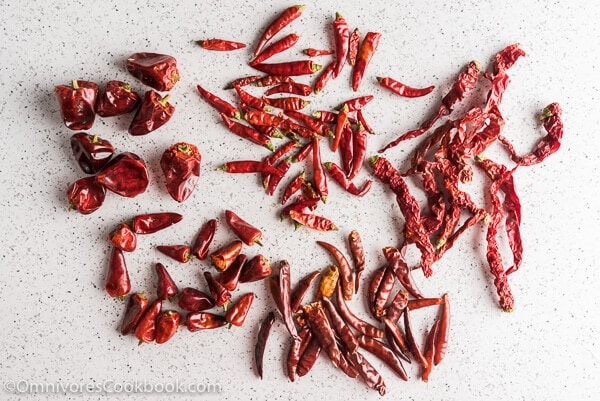 How to cook the Kung Pao Sauce with any ingredients
Assuming that you're going to make 2 servings, you can use 450 grams (1 pound) protein, or 6 to 8 cups vegetables, or 220 grams (1/2 pound) protein and 3 cups vegetables.
You will need 1/4 to 1/3 cup homemade Kung Pao Sauce.
(PS: most of the stir fry starts with fresh aromatics. But since we're using plenty of garlic and ginger in this sauce, we'll skip this step.)
(1) Choose and cut the protein.
Recommended Protein
Beef (flank steak or short ribs) – thinly sliced (1/8 to 1/4-inch thick), or cut to strips
Chicken (skinless boneless breast or thigh) – diced to 1-inch pieces, or sliced to 1/4-inch thick
Pork (tenderloin or loin) – thinly slice (1/8 to 1/4-inch thick), or cut to strips
Shrimps – peeled and deveined
Tofu (firm or extra firm) – diced to 1/2 to 2/3 inch pieces
(2) Marinate and prep the protein.
For each pound of meat or seafood, mix with 1 tablespoon vegetable oil (or peanut oil), 1/4 teaspoon salt, and 1 tablespoon cornstarch. Let marinate for 5 to 10 minutes.
To create restaurant-style crispy chicken, learn this method so you can achieve the same texture without deep-frying.
For tofu, marinate with 2 tablespoons soy sauce and 1 tablespoon syrup (or honey) for 10 to 15 minutes. Drain and coat with a thin layer of cornstarch. See this post to learn how to cook crispy tofu without deep-frying.
[one_half padding="0 0 0 2px"]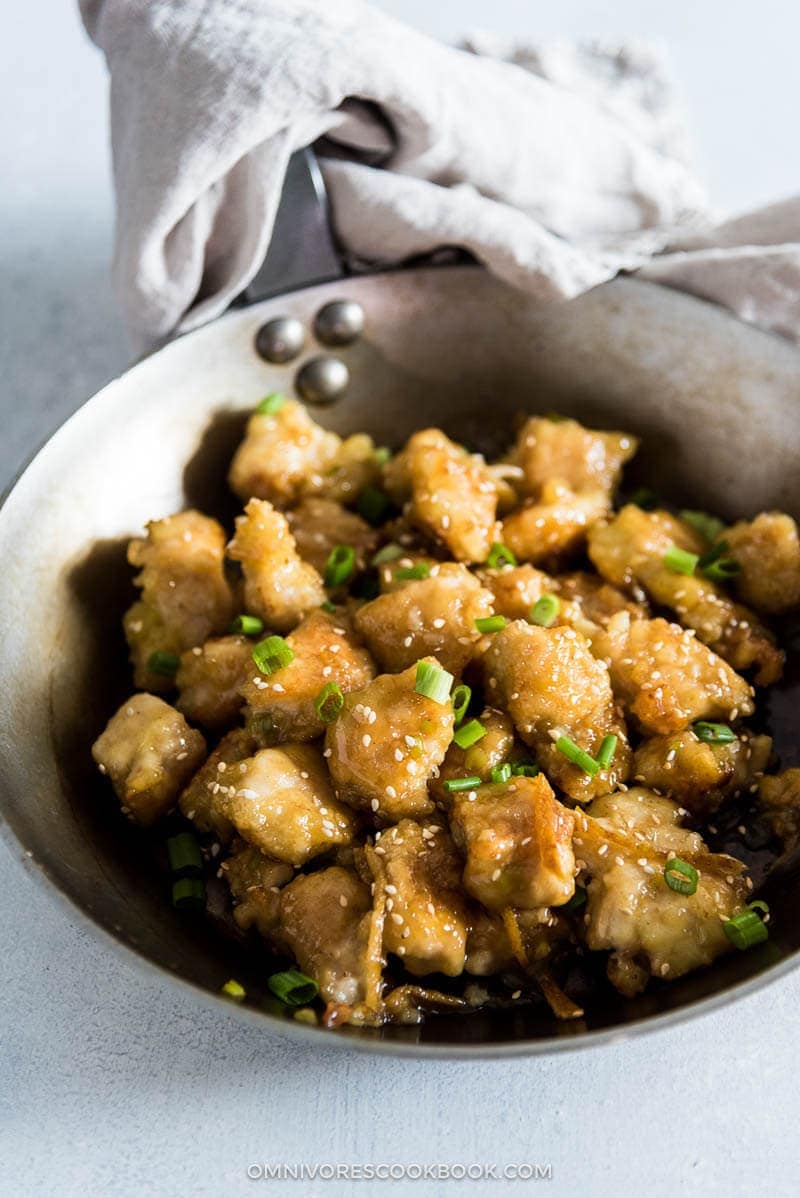 [/one_half]
[one_half_last padding="0 0 0 2px"]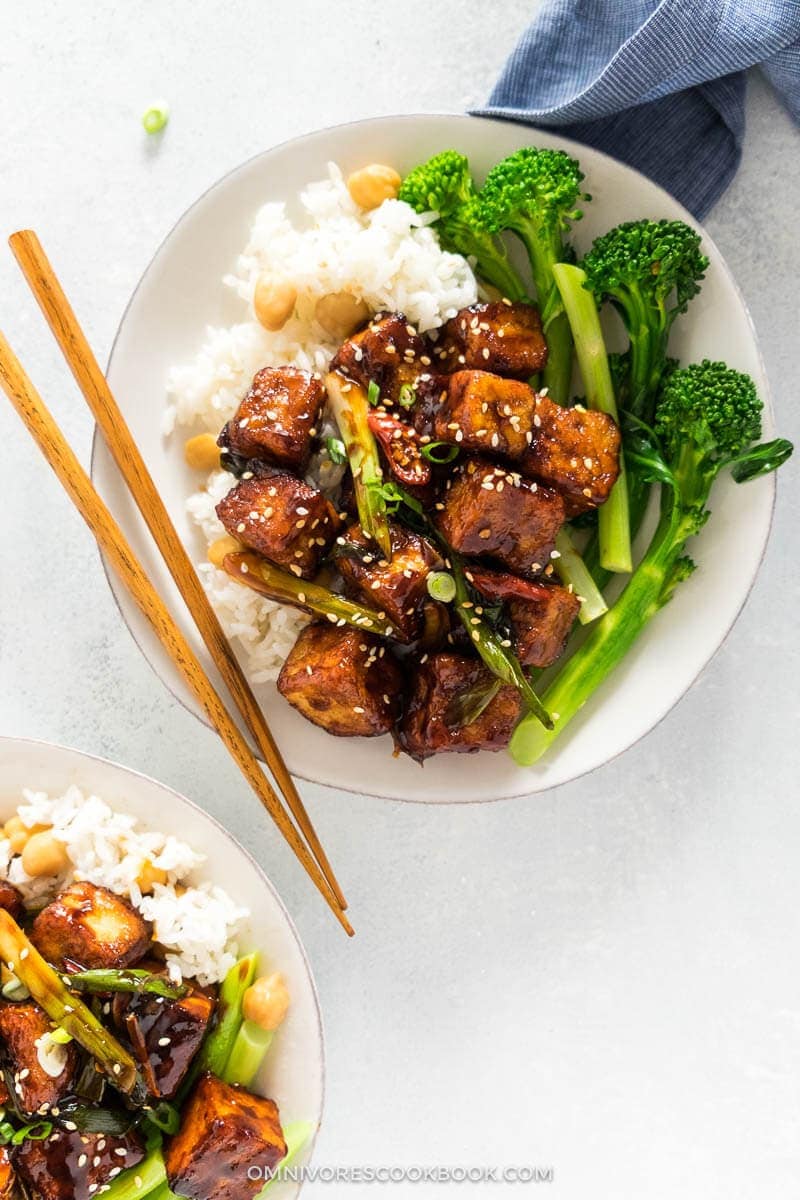 [/one_half_last]
(4) Cut and prep the vegetables.
To make a quick dinner, my favorite way is to only use one type of vegetable. You can use two, but ideally no more.
Recommended vegetables
Asparagus – Chopped to 1-inch pieces
Baby bok choy – Tear off large leaves and halve lengthwise, halve or quarter the rest
Bell peppers – Sliced or chopped
Broccoli (fresh) – Divide into small florets; steam or blanch (see this post to learn how to blanch the broccoli quickly in the same stir fry pan)
Broccoli (frozen) – Microwave for 2 to 4 minutes (depending on the quantity), so the broccoli is thawed and lukewarm, but not hot.
Brussels sprouts – Roasted (see this post for how to roast Brussels sprouts)
Cauliflower (fresh) – Divide into small florets; steam, blanch, or roast
Cauliflower (frozen) – Microwave for 2 to 4 minutes (for stir fry), or roast (see this post to learn how to crisp up frozen cauliflower in the oven)
Carrot – Sliced into pieces or strips (by using a julienne peeler); or cut into chunks and roasted
Celery – Sliced or diced
English cucumber – Seeded, then sliced or diced.
Eggplant – sliced (see this post to learn how to prep eggplant so it crisps up during stir frying)
Kale – Stalk chopped into small pieces, leaves coarsely chopped
Onion – Sliced
Snow pea
Zucchini – Seeded and sliced
(5) Make the stir fry, or use the stir fry sauce on baked food.
Read this post to learn the basic steps of making Chinese stir fry.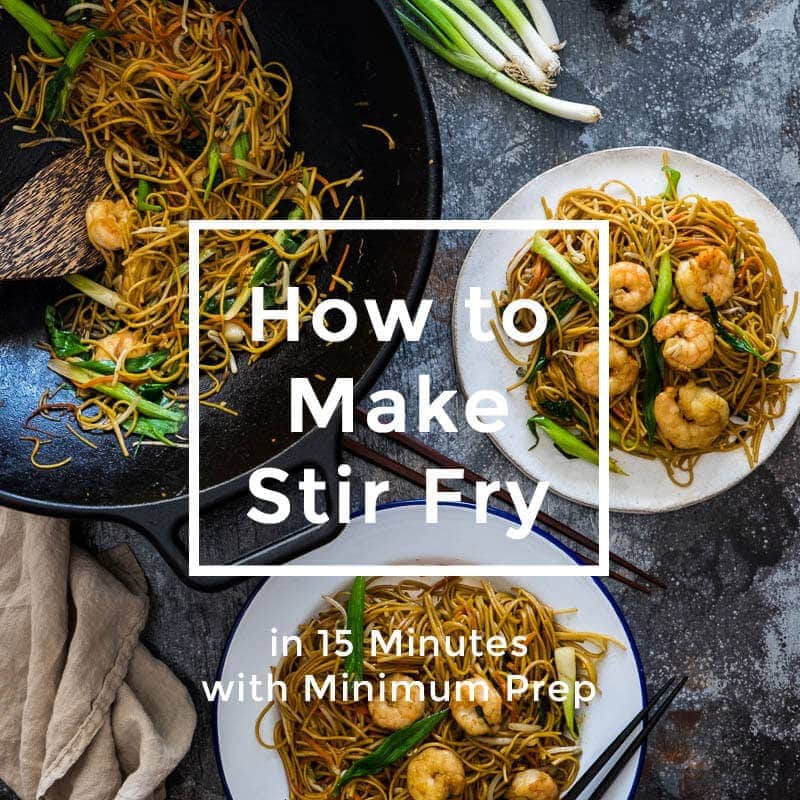 Kung Pao Sauce Recipes
Here is some examples of how to use the Kung Pao Sauce:
Here are some other ways to use this Kung Pao Sauce:
Note: the recipes below are developed using other types of stir fry sauce. To give them a Kung Pao flavor instead, simply replace the sauce in the recipe with this Kung Pao sauce.
[one_half padding="0 0 0 2px"]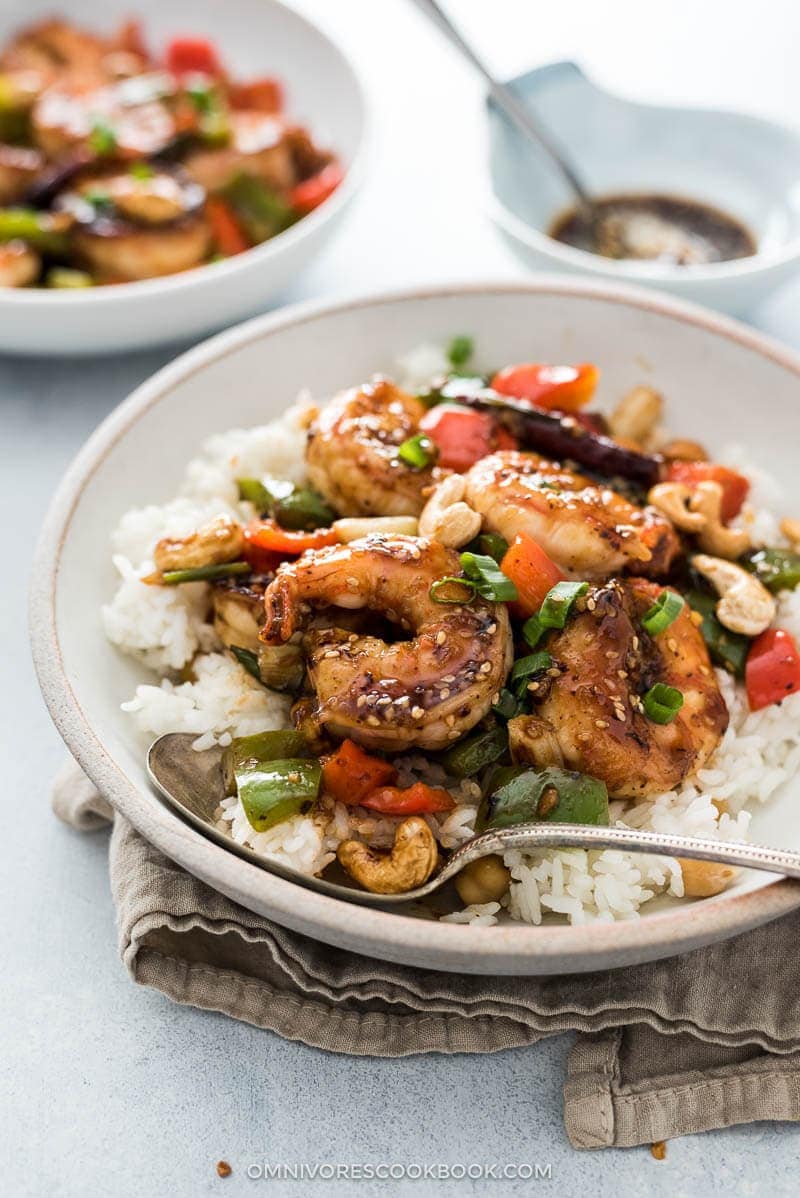 [/one_half]
[one_half_last padding="0 0 0 2px"]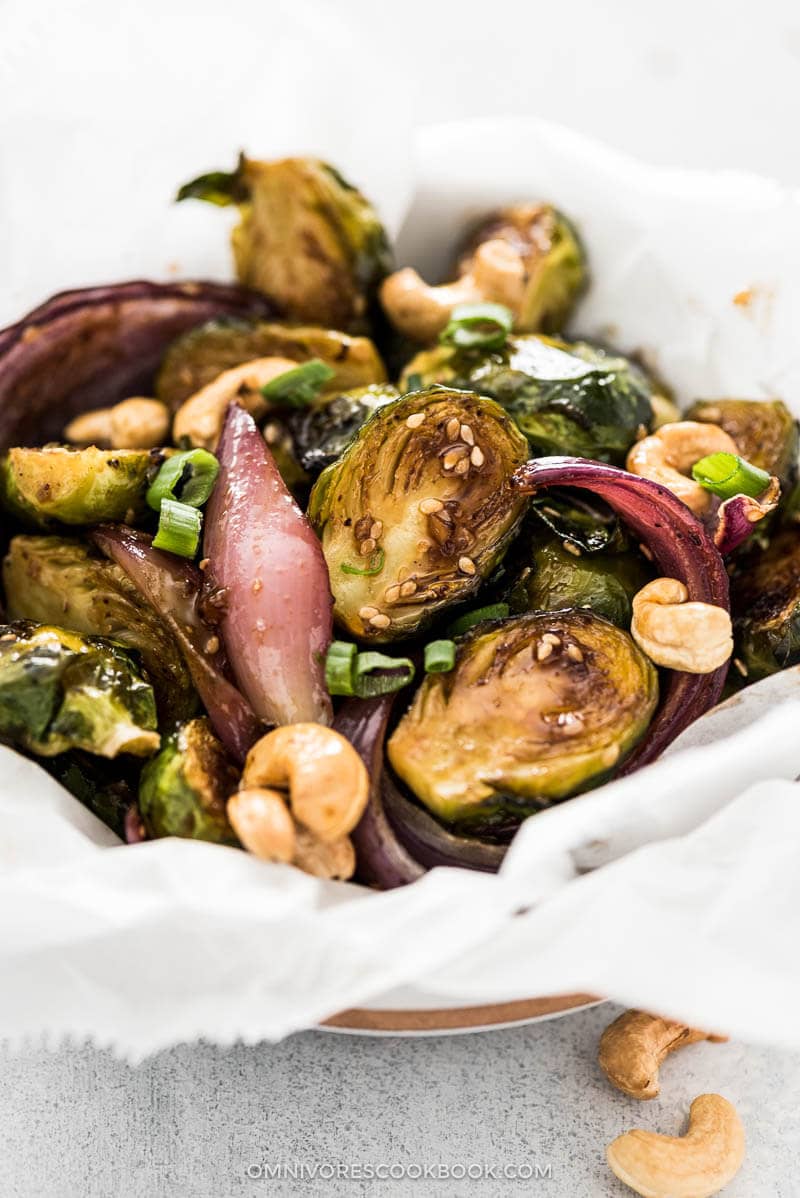 [/one_half_last]
If you give this recipe a try, let us know! Leave a comment, rate it (once you've tried it), take a picture and tag it @omnivorescookbook on Instagram! I'd love to see what you come up with.
Want to Know More?
Receive our 5-Day Chinese Cooking Crash Course & Recipe Updates! Subscribe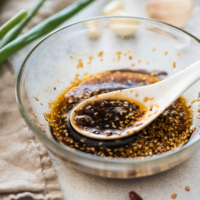 Homemade Kung Pao Sauce
Introducing an extra fragrant Kung Pao Sauce that let you cook genuine Sichuan food in your own kitchen!
Ingredients
3

tablespoons

peanut oil

(or vegetable oil)

2

tablespoons

white sesame seeds

2

teaspoons

Chinese chili flakes

(or Korean chili flakes) (*Footnote 1)

1

teaspoon

ground Sichuan peppercorns

8

cloves

garlic

, minced

2

tablespoons

minced ginger
Instructions
Combine Chinkiang vinegar, light soy sauce, Shaoxing wine, sugar, cornstarch, and salt in a small bowl. Set aside.

Add peanut oil, chili pepper flakes, and sesame seeds in a sauce pan. Cook over medium low heat until it reaches a gentle sizzle. Turn to medium low heat. Cook and stir until the chili powder turns dark brown (without turning black). If the oil start to bubble fiercely, remove the pan from the heat.

Add ground Sichuan peppercorns, garlic and ginger. Cook and stir for another 30 seconds to release fragrance.

Stir the vinegar-based sauce with a spoon to dissolve cornstarch completely. Carefully add to the saucepan. Cook and stir until the sauce thickens just enough to coat a spoon (the sauce will thicken once cooled down). Transfer to a bowl immediately.

Once the sauce is cooled down completely, transfer to an airtight jar. Store in the fridge for 1 to 2 weeks. Store the sauce in the freezer for longer period of time.
Notes
Chinese and Korean chili flakes are quite mild and are suitable for using in this sauce. If you're not sure about the heat level of your chili flakes, start with 1 teaspoon chili flakes so your sauce won't turn out too spicy. Alternatively you can use 1 teaspoon cayenne powder.