Learn how to make juicy and tender shrimp with a real-deal Sichuan Kung Pao Sauce.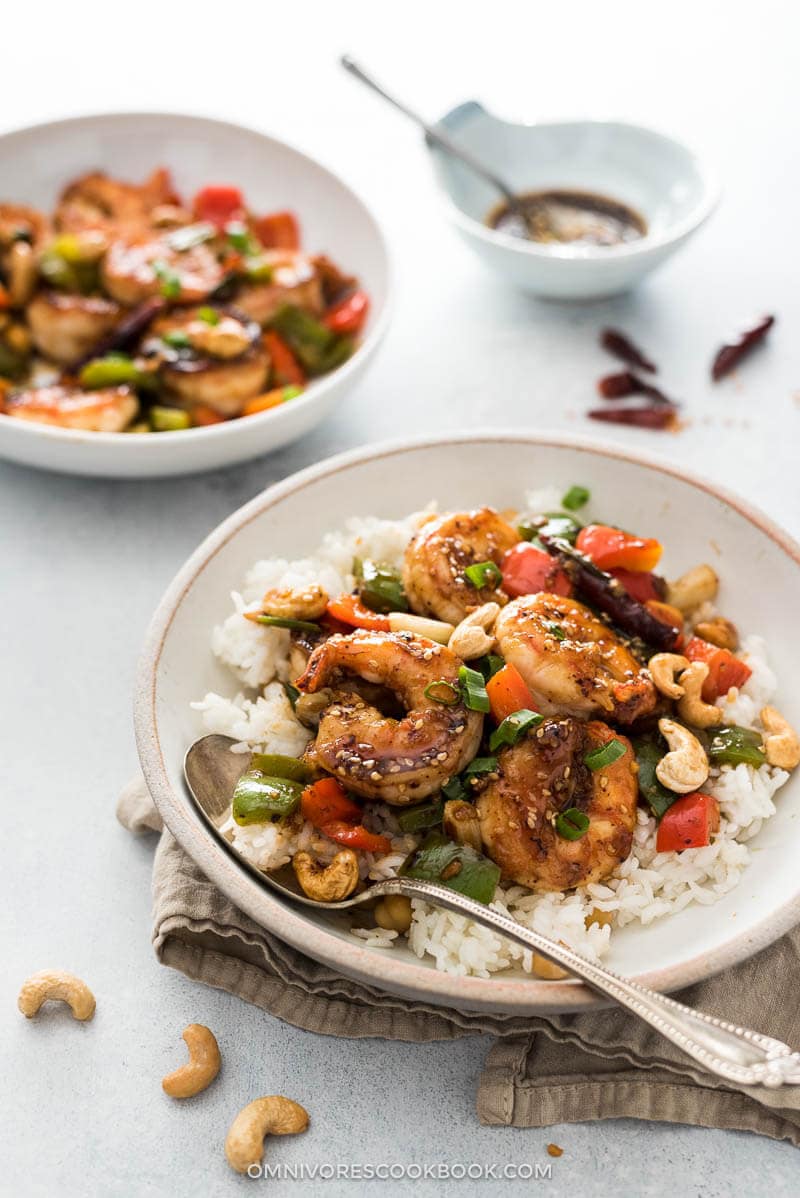 Kung Pao Shrimp is a dish that is quick enough for weekday dinner, and fancy enough for your weekend dinner party. The shrimps are cooked in a spicy, savory, and sweet sauce with crispy bell peppers and cashews. No-one can say no to this!
The trick of making the best stir fried shrimp is by first marinating them in cornstarch, Shaoxing wine, and salt. This wise old Chinese technique keeps your shrimps from overcooking, so they stay juicy and tender with a fragrant flavor.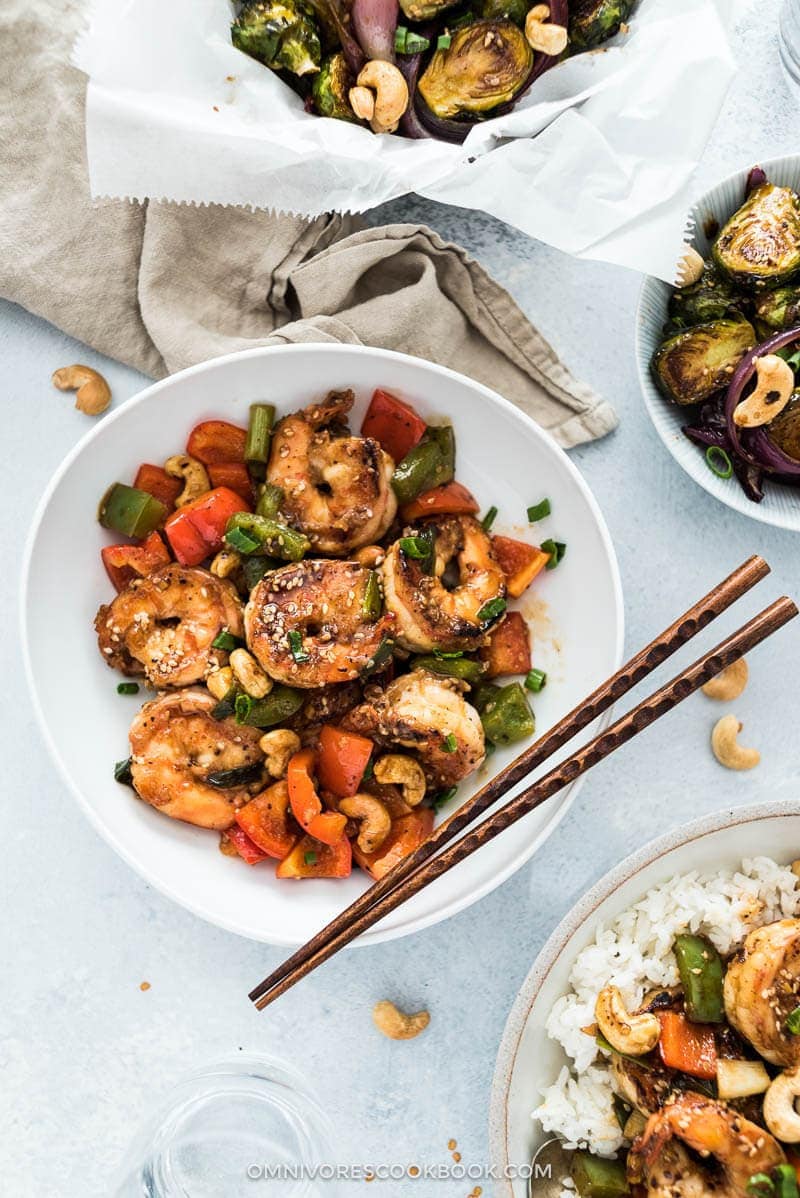 This recipe is part of my mini-blog series on homemade Kung Pao Sauce. Just as a quick recap, I show you how to make genuine Sichuan Kung Pao Sauce in advance, so you can store it and use it to cook various types of quick and easy dishes, such as Kung Pao Chicken and Roasted Kung Pao Brussels Sprouts.
In this post, I want to share an example of how to use this homemade Kung Pao Sauce to make the most popular Chinese takeout dish — the real Chinese way.
If you didn't have time to make the sauce in advance, no worries! I've included footnotes on how to make a small batch just for this recipe.
If you like this Kung Pao Sauce, definitely check out my original blog post about it, where I list all the options for protein and vegetables that you can combine it with. Once you try out a recipe or two, you'll get the idea and can start cooking dinner without the recipe!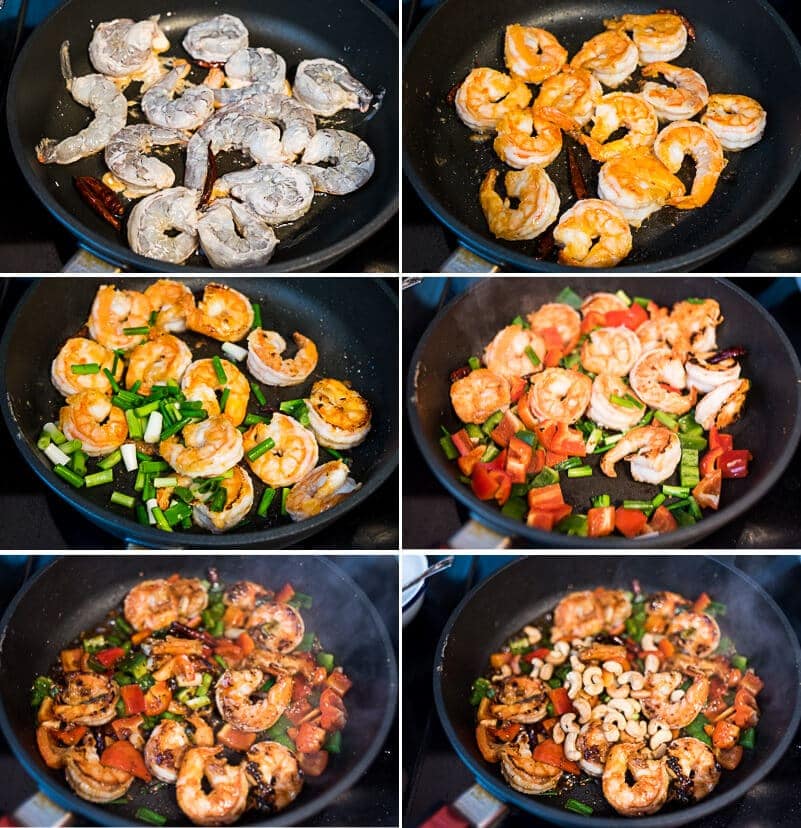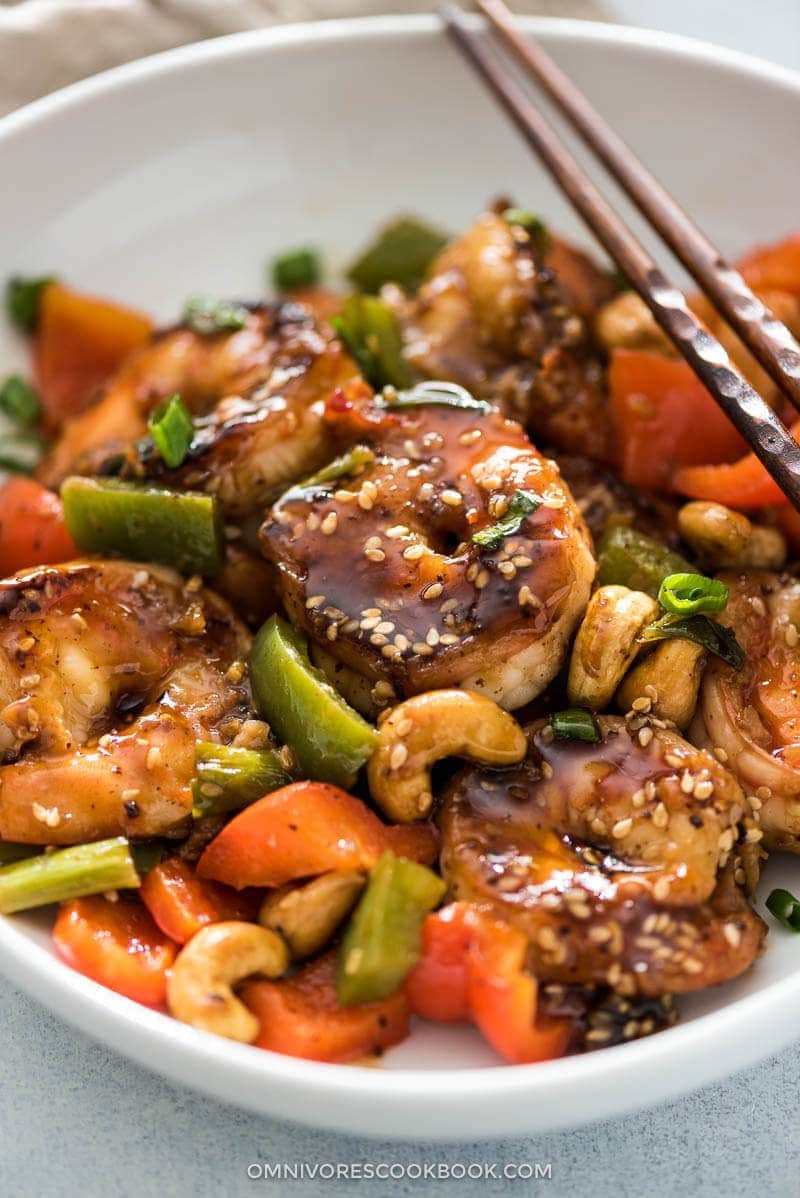 If you give this recipe a try, let us know! Leave a comment, rate it (once you've tried it), take a picture and tag it @omnivorescookbook on Instagram! I'd love to see what you come up with.
Want to Know More?
Receive our 5-Day Chinese Cooking Crash Course & Recipe Updates! Subscribe
Kung Pao Shrimp (宫爆虾球)
Learn how to make juicy and tender shrimp with the most scrumptious sauce.
Ingredients
Marinade
1

pound

shrimp

, peeled and deveined

1

tablespoon

Shaoxing wine

(or vegetable oil)

1

tablespoon

cornstarch

1/4

teaspoon

coarse sea salt
Stir fry
1

tablespoon

peanut oil

(or vegetable oil)

6

green onion

, chopped

1/4

to 1/3 cup

homemade Kung Pao Sauce

(*footnote 1)

1

bell pepper

, diced (or you can use 1/2 green pepper and 1/2 red pepper)

1/3

cup

roasted cashews

(or peanuts)
Instructions
Combine shrimp, Shaoxing wine, salt and cornstarch in a small bowl. Mix well with a pair of chopsticks or with your hand. Let it marinate for 10 minutes.

Heat oil in a large skillet or wok until hot. Add marinated shrimp and spread them into a single layer. Cook for 30 seconds without touching. Then stir and cook until the surface turns opaque. If you are using extra large shrimp (like I did in the photos above), it might take quite some time to cook the shrimps through. In this case, add 1 to 2 tablespoons Shaoxing wine (or chicken stock) and cover the pan immediately. Let cook for 20 to 30 seconds to steam the shrimp. Uncover the pan and continue cooking.

Add green onions and bell pepper. Stir a few times to combine.

Add cashews. Give it a final stir and immediately transfer everything to a big plate.

Serve hot over steamed rice.
Notes
1. If you do not have the sauce pre-made, here's what you can do:
Ingredients
2 tablespoons Chinkiang vinegar
1 tablespoon soy sauce
1 and 1/2 tablespoons sugar
1/2 teaspoon cornstarch
Pinch of salt
1 tablespoon oil
1/2 teaspoon whole Sichuan peppercorns
4 to 5 dried chili pepper
1 tablespoon minced garlic
1 teaspoon minced ginger Steps
Mix Chinkiang vinegar, soy sauce, sugar, cornstarch and salt in a small bowl.
Add oil and Sichuan peppercorns in a big pan, cook until hot. When the peppercorns turn dark brown, scoop out and discard. Add dried red chili pepper. Stir until the peppers turn dark brown. Add minced garlic and ginger. Stir a few times. Then proceed to the step 3 in the recipe to cook the shrimp. For step 4, add the mixed vinegar based sauce instead, and proceed to the rest of the recipe.