Use this dry rub blend for the juiciest and most flavorful chicken on the grill! No marinade needed.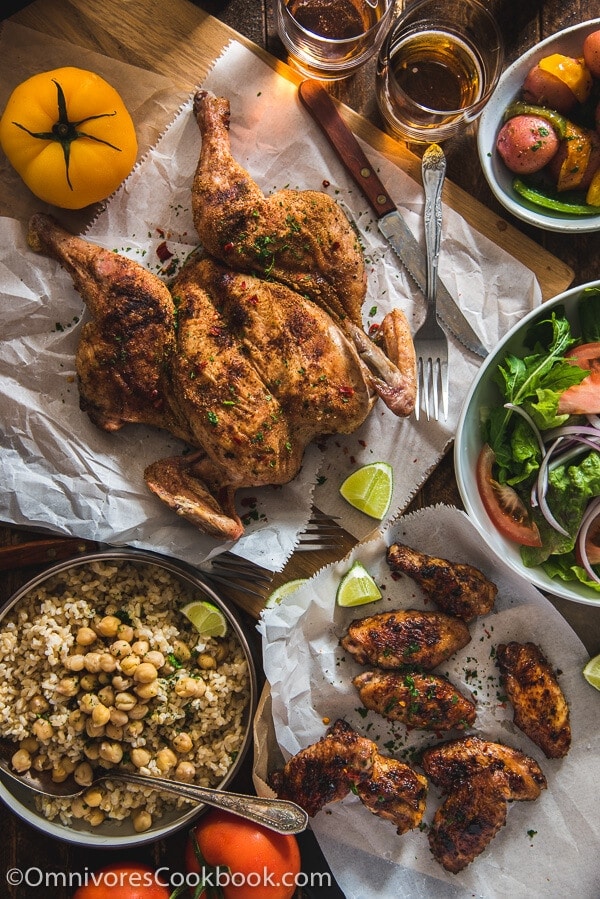 After posting the Cantonese roast chicken, I have been searching for quicker ways to create a flavorful and juicy whole chicken. My original thought was that if your chicken is not as good as a Costco rotisserie chicken, then it's not worth cooking it at home. Lately I've changed my mind. The more I cook with whole chickens, the more I realize that you can get way better results in your own kitchen. Seriously!
Thouth I moved to Austin six months ago, I've just now started to catch on to the whole grilling thing. Once I learned the proper way to start a fire, grilling seems way less intimidating and much more fun.
I had only used gas stoves before moving to the US, but now we only have an electric stove at home. I was thrilled to be able to play with fire again. Cooking on a charcoal grill creates a heavenly smokiness. It makes almost all your roasting recipes taste better, by adding this one layer of unique goodness that you cannot achieve with an oven.
Today I want to introduce the classic five spice chicken on the grill.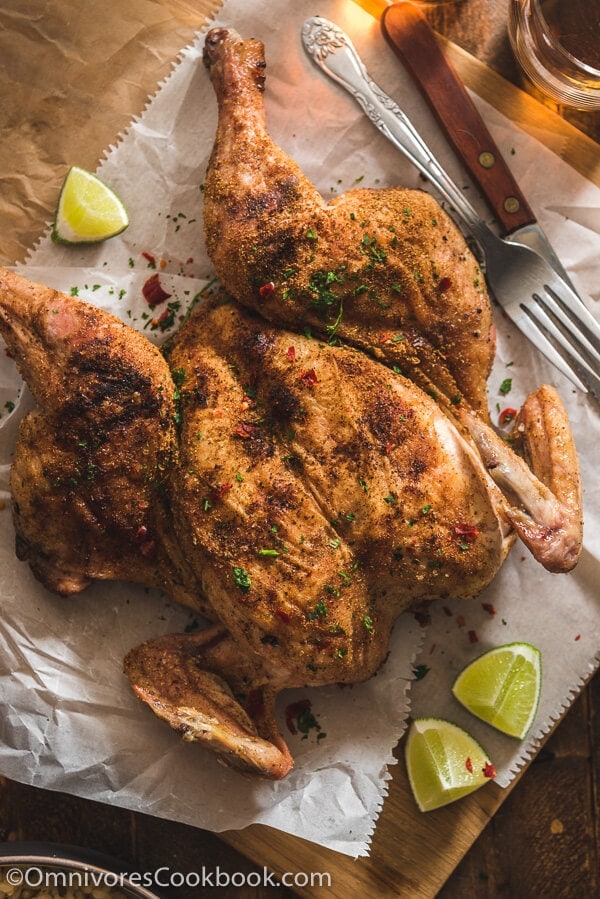 How to create the best five spice chicken on the grill
1. Use less five spice powder
It might sound paradoxical. The fact is, if you buy five spice powder instead of making your own, 9 out of 10 times you will be overwhelmed by the pungent licorice-like flavor from the star anise. To make a proper five spice chicken, you need a balanced flavor without making any spice stand out too much. Here, we add plenty of coriander as a filler. We also increase the amount of some of the other five spice ingredients – the cumin powder and Sichuan peppercorns. This way, we can create a balanced savory seasoning that brings out the greatness of the chicken without turning it into star anise chicken.
2. Use a dry rub
To achieve the best results on the grill, I chose to use a dry rub and skipped the soy sauce, which you see in many five spice chicken recipes. We also used garlic powder instead of fresh garlic, so it wouldn't be burnt during grilling.
3. Choose a broiler / fryer chicken
Choose a broiler / fryer chicken that weighs 2.5 to 3 pounds, about the size of the average rotisserie chicken. A chicken this size has thinner and more tender meat that is easy to cook through. It generates a juicy texture and a rich flavor on the grill, even without marinating or brining.
4. Butterfly the chicken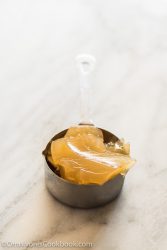 To cook the chicken evenly, we butterflied the chicken and flattened it. If you have never butterflied a chicken before, do not be intimidated. Prepare a pair of poultry shears, watch this video, and try it once. You'll find it easier than you thought. When you use a broiler chicken, the bones are very tender and easy to cut through.
Once you remove the backbone, don't forget to save it in your bone bag and freeze it. So you can cook this amazing chicken stock with the leftover bones.
5. Cook with two-zone indirect fire
To cook the chicken evenly and achieve a tender texture and crispy skin, we will build a two-zone indirect fire, with the coals piled on one side of the grill. Using indirect heat mimics slow roasting in the oven. Then you use the direct heat to finish up the chicken, creating the crispy skin. Of course, you can cook this chicken on a gas grill, too. Simply turn one burner to high heat and the other to medium low heat to create the same environment on the grill.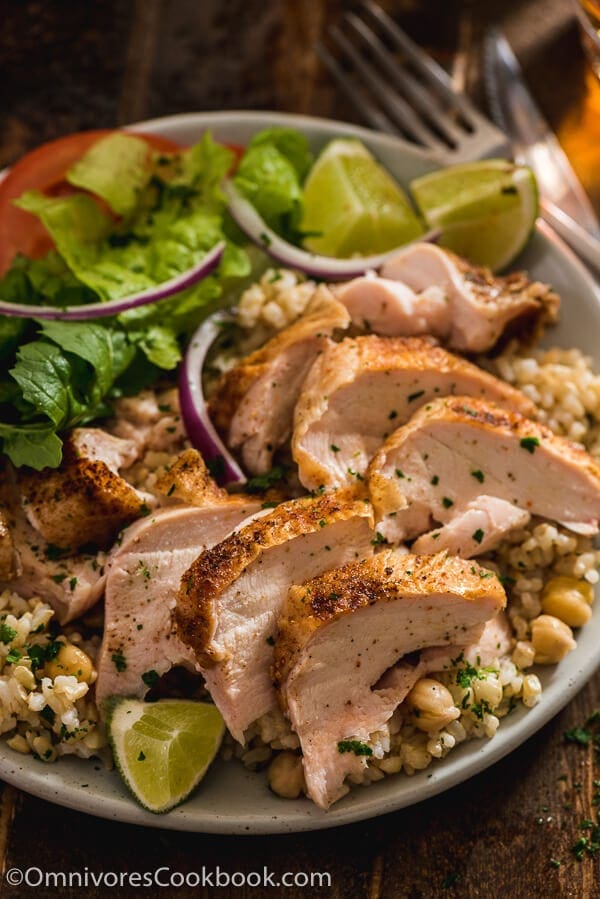 The cooking takes about 40 minutes. Then you will get the juiciest and tastiest chicken with a smoky and crispy skin. Without brining or marinating. I was surprised how moist the chicken breast turned out. I am not usually a big fan of chicken breast and usually save it for fried rice. However I could not stop eating it after making this dish. You can see the juice seeping out the meat when you carve it up. The chicken is so flavorful, so you won't need any dipping sauce. I promise.
I personally prefer to serve the chicken over brown rice, but you can serve it with noodles or bread as well. Start the rice right before grilling. While waiting for the coals to light, you have plenty of time to prepare the chicken and the dry rub. It takes 30 minutes to slow roast the chicken. You can prepare a simple green salad during this time. In about an hour, you'll be able to create a scrumptious main course with sides for four people.
Ready to fire up your grill and cook this amazing chicken? Let's start!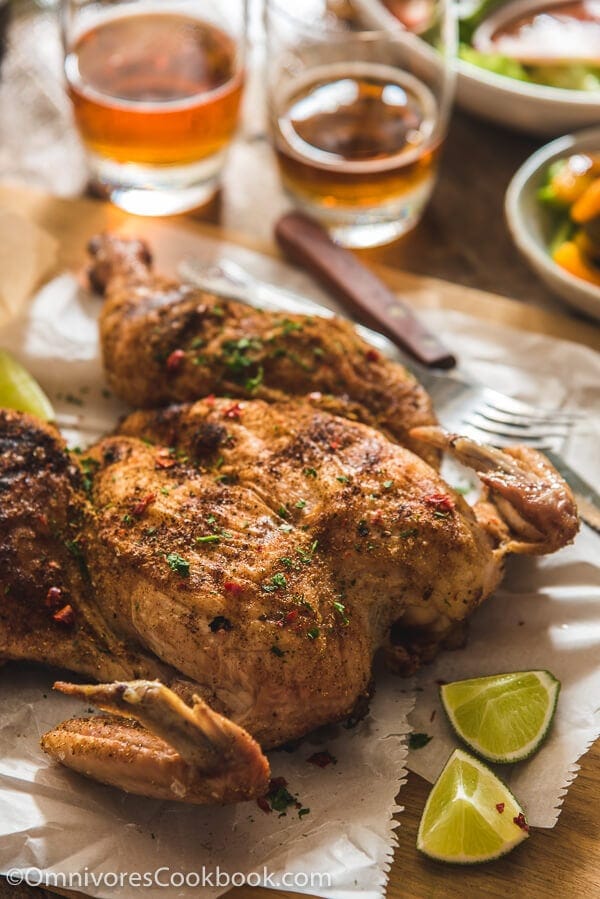 Do you like my recipes? Sign up our weekly newsletter to get the latest updates delivered to your inbox and a FREE e-cookbook that contains my top 30 most popular recipes!
If you give this recipe a try, let us know! Leave a comment, rate it (once you've tried it), and take a picture and tag it #omnivorescookbook on Instagram! I'd love to see what you come up with. Cheers, friends!
Want to Know More?
Receive our 5-Day Chinese Cooking Crash Course & Recipe Updates! Subscribe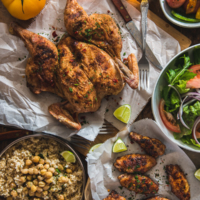 Grilled Five Spice Chicken
Use this dry rub blend for the juiciest and most flavorful chicken on the grill! No marinade needed.
Ingredients
2.5

to 3 pound (1.2 kg)

whole chicken

(see footnote 1)
Dry rub
1

teaspoon

coriander

1/4

teaspoon

five spice powder

1/4

teaspoon

garlic powder

1/4

teaspoon

cumin powder

1/4

teaspoon

chili pepper

(or paprika for less spicy dish)

1/4

teaspoon

ground Sichuan peppercorns

(or black pepper) (see footnote 2)
Instructions
Combine coriander, five spice, garlic powder, cumin powder, chili pepper, and ground Sichuan peppercorns in a small bowl. Mix well.

Dry chicken thoroughly with a paper towel. Remove chicken wing tips and and spine by cutting along either side of it with a pair of

poultry shears

. Save the cut bones in a gallon bag and freeze them for making

chicken stock

later. Place chicken on a flat surface, skin side up. Press the breastbone with your palm to flatten the chicken. You should hear a crisp crack.

Grind sea salt generously on both sides of the chicken. Sprinkle about two thirds of the dry rub onto the skin side, and the rest onto the other side. Make sure to rub seasoning onto the surfaces next to the thighs and wing joints too.

Light one chimney full of charcoal (*see footnote 3). When all the charcoal is lit and covered with gray ash, put on heat resistant gloves, pour the charcoal into the grill, and spread it over half of the coal grate, all on one side. If using a gas grill, set half the burners to high heat. Set the cooking grate in place, cover the grill and preheat for 5 minutes. Clean the cooking grate. Brush grate with a thin layer of oil.

Place chicken on the cooler side of grill with the legs facing the hotter side, skin side up. Cover grill, with top and bottom vents open. Cook until a thermometer inserted into the deepest part of the breast registers 110 F with a pair of tongs lifting the chicken (for an accurate reading), about 30 minutes. Rotate once in between to make the breast side face the hotter side, for even cooking.

Carefully flip the chicken and place it on the hotter side of the grill, skin side down. Place a foil-lined cast iron pan on top of the chicken to ensure good contact with the grill grates (*see footnote 4). Cover and cook for about 10 minutes, until the thermometer reads 145 to 150 F. If the chicken starts to burn before it's cooked through, move it to the cooler side of grill. Cover and continue cooking until done.

Transfer chicken onto a plate and let rest for 5 to 10 minutes before serving.
Notes
You can use other cuts, such as thighs, breasts, and legs, as well.
The best way to grind Sichuan peppercorns is: cook the Sichuan peppercorns in a spoonful of vegetable oil until they turn dark, let cool, and grind them. You can grind raw peppercorns as well, but they are more fragrant when cooked.
You will have some leftover charcoal. I usually grill vegetables after cooking chicken, and save them for later.
If you don't have a cast iron pan, you can place a foil lined baking tray with a brick (or stone) on top of the chicken.
Nutrition
Serving:
232
g
,
Calories:
322
kcal
,
Carbohydrates:
20.1
g
,
Protein:
36.4
g
,
Fat:
11.7
g
,
Saturated Fat:
1.6
g
,
Cholesterol:
78
mg
,
Sodium:
1159
mg
,
Potassium:
766
mg
,
Fiber:
0.9
g
,
Sugar:
17.7
g
,
Vitamin A:
250
IU
,
Vitamin C:
0.8
mg
,
Calcium:
80
mg
,
Iron:
2
mg