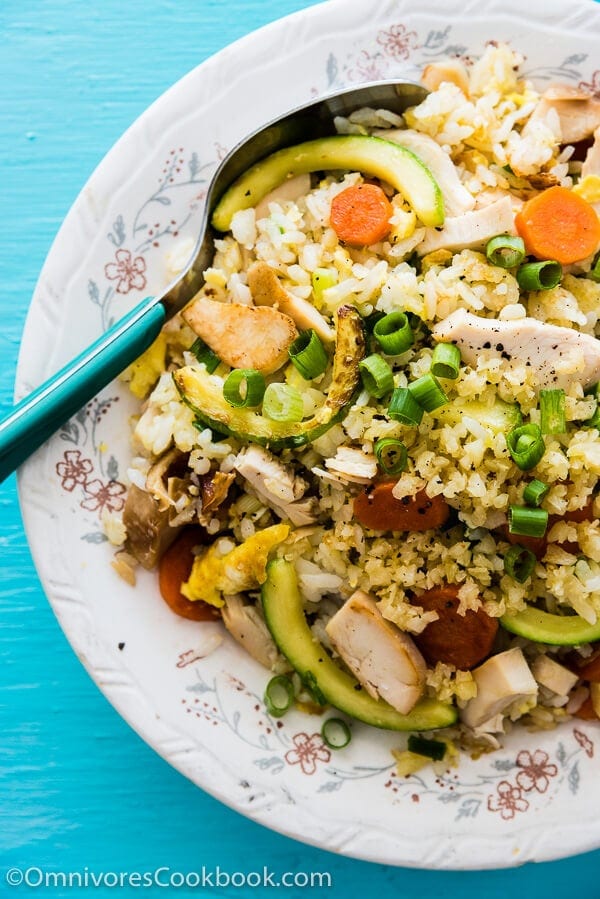 The essential version of Chinese chicken fried rice that you can put together with minimal effort, yet it will bring you the most comforting experience.
I can't believe that I still don't have a basic Chinese fried rice, having already introduced kimchi fried rice, Jambalaya fried rice, and Thai curry fried rice. Maybe it's because the simple Chinese version is so familiar to me that I never cook it with a recipe.
In fact, the most basic Chinese fried rice consists of a very meager set of ingredients – rice, egg, tons of green onion, oil and salt. It might sound overly simple, but I actually enjoy it even more than fried rice that's stacked with goodies. The key is to to add tons of green onions. They turn sweet after cooking and add a wonderful aroma to the egg and rice. You also need to add a bit of oil. The rice will finish with a better char and texture, rather than just tasting dry.
It's one of my favorite dishes to cook when I'm feeling hungry and lazy. It requires literally no prep and can be done in 5 minutes. You might argue that I would still need cooked rice, but you see, my home has leftover rice on more days than not.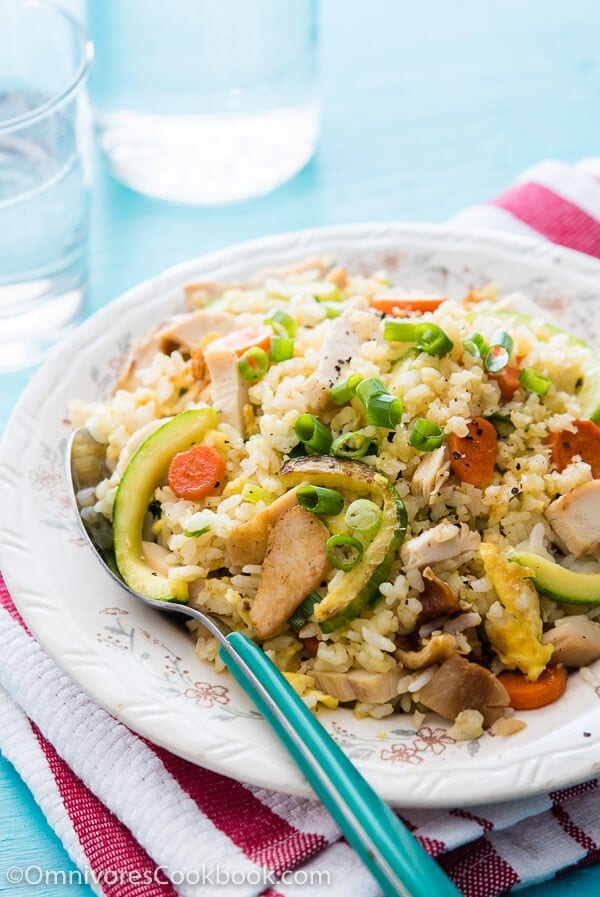 On the other hand, I often tweak the simple fried rice into a slightly fancier version, especially when I need to add more veggies and protein into it. Although I'm sharing this recipe today, you should take it more as guidance than as strict instruction. You can adjust the amount of each ingredient and use different types of meat or veggies as you prefer.
Just remember the golden rule of fried rice – less is more (just like with pizza toppings!). If you add tons of meat and veggies, and it will end up like, hmmm, a pretty plain stir-fry.
The basic Chinese fried rice emphasizes the deliciousness of the egg, green onion, and charred rice. The other ingredients are more like decoration, and should not overpower the main ingredients. Plus, the fewer ingredients you use, the less prep time will be required of you.
For alternative veggies, you can use cucumber, corn, peas, bell peppers, spinach, or lettuce. Please note, if you're using spinach or lettuce, add it directly at the end of cooking and cook it with the rest of the ingredients until just cooked through.
This is the perfect dish for a quick lunch. Hope you enjoy!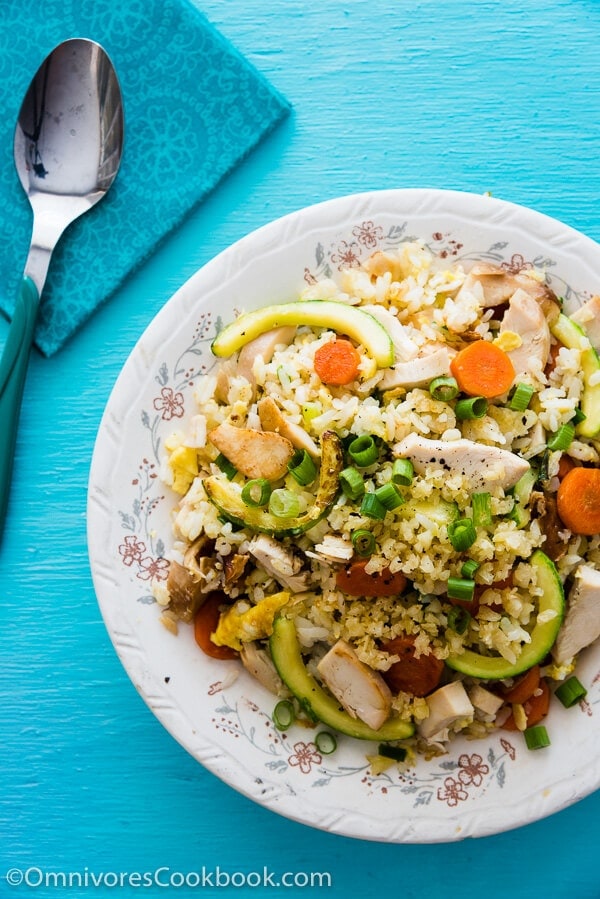 Do you like my recipes? Sign up for Omnivore's Cookbook's weekly newsletter to get the latest updates delivered to your inbox and a free e-cookbook! And stay connected via Facebook, Instagram, Pinterest and Google+. Thanks for reading and happy cooking!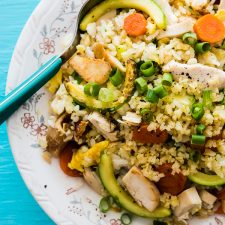 Chicken Fried Rice
The essential version of Chinese chicken fried rice that you can put together with minimal effort, yet it will bring you the most comforting experience.
Print
Pin
Rate
Ingredients
2

and 1/2 tablespoons

peanut oil

(or vegetable oil)

2

small carrot

, sliced

1

small zucchini

, seeded and sliced

3

cups

cooked rice

overnight rice works better

2 to 3

eggs

, beaten

3 to 4

green onion

, chopped

1

cup

chopped cooked chicken

(*see footnote 1)

Sea salt

Black Pepper
Instructions
Heat 1 tablespoon peanut oil in a large nonstick skillet over medium high heat until warm. Add carrot. Stir and cook until half cooked, about 2 minutes. Add zucchini. Continue stirring and cooking until the veggies are cooked through and the edges are slightly charred. Transfer to a plate.

Add 1 tablespoon oil to the same skillet. Add rice. Use a spatula to chop the rice into small chunks and mix with the oil.

Move the rice to one side of the skillet. Add the remaining 1/2 tablespoon peanut oil and egg to the other side. Let cook for a few seconds, until the bottom sets.

Mix the rice with the egg. Continue chopping the rice until the grains are separated and mixed well with the egg.

Add green onion. Stir a few times. Add chicken. Stir to mix well.

Return the cooked veggies to the skillet. Season with salt and pepper. Stir and mix well. Turn to low heat. Taste the rice and adjust the seasoning if necessary. Stir and mix well again.

Serve warm.
Notes
If you don't have leftover chicken - Marinate 1 cup chicken breast, skinless chicken thigh, or ground chicken with 2 teaspoons soy sauce and 1 teaspoon potato starch for 10 minutes. Cook the chicken first, separately, with 1 tablespoon oil, until the surface is slightly charred and the inside is almost cooked through.
Nutrition
Serving:
525
g
|
Calories:
640
kcal
|
Carbohydrates:
70.6
g
|
Protein:
33.7
g
|
Fat:
24.2
g
|
Saturated Fat:
5
g
|
Cholesterol:
218
mg
|
Sodium:
163
mg
|
Potassium:
784
mg
|
Fiber:
4.1
g
|
Sugar:
5.8
g
|
Vitamin A:
10850
IU
|
Vitamin C:
34.7
mg
|
Calcium:
90
mg
|
Iron:
15.8
mg