Make the richest Chinese chicken stock at the lowest cost using leftover chicken bones.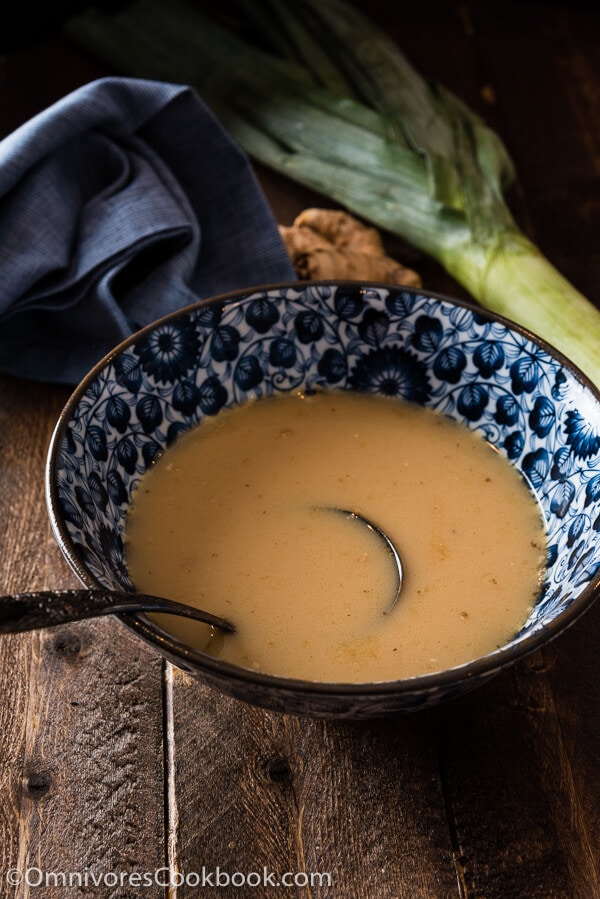 Many savory Chinese recipes use gao tang (高汤), a master broth that is super rich in flavor. Gao tang is usually a stock made from poultry and/or pork bones. Unlike the clear Western style stock, Chinese stock usually has an opaqueness to it, and a higher fat content. You can add this rich bone stock to stir-fries, braised dishes, soups, stews, etc. It works the same way MSG does, as it turns a dish delicious within seconds of adding it, but it is made from healthy and natural ingredients.
The reason I bring up gao tang is that I just discovered a really cheap and easy way to make it at home.
A few weeks back, my sister-in-law shared a chicken stock recipe that uses leftover chicken bones (I shared the method in this post). We have been collecting chicken and duck bones since then, and I made a batch of this chicken stock last week. The result was a big surprise, in a good way.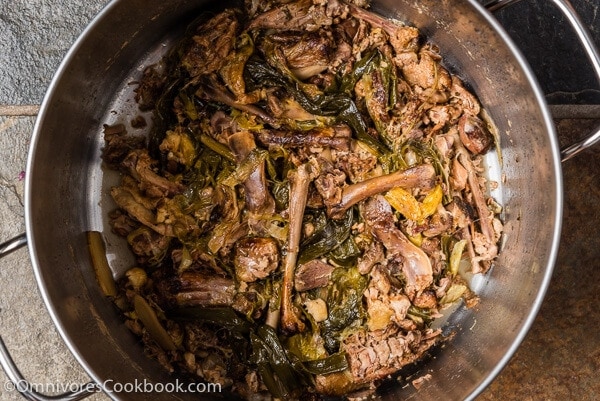 If you've ever had the real-deal Peking duck in China, you may know about the rich duck soup that comes with it. Basically, after ordering a duck, the waitress will ask you how you'd like them to take care of the bones. You can ask her to serve the soup with the duck (usually for free or a very low price). The soup has an opaque white color. You just need to add a dash of salt to bring out the great flavor.
When we were making the stock, the color turned exactly like that of the Peking duck soup, only with a more concentrated flavor.
I used a combination of chicken and duck bones, mostly collected from roast birds. I also threw in some raw skin and liver leftover from the whole birds. The mix of contents mimicked the way real Chinese gao tang is made. Compared to the clear chicken stock, this stock allows the fat content to be emulsified into the liquid to create the opaque color. It's heavier and richer. If put in the fridge, the stock will turn into a thick and creamy jelly that is a bit like ice cream.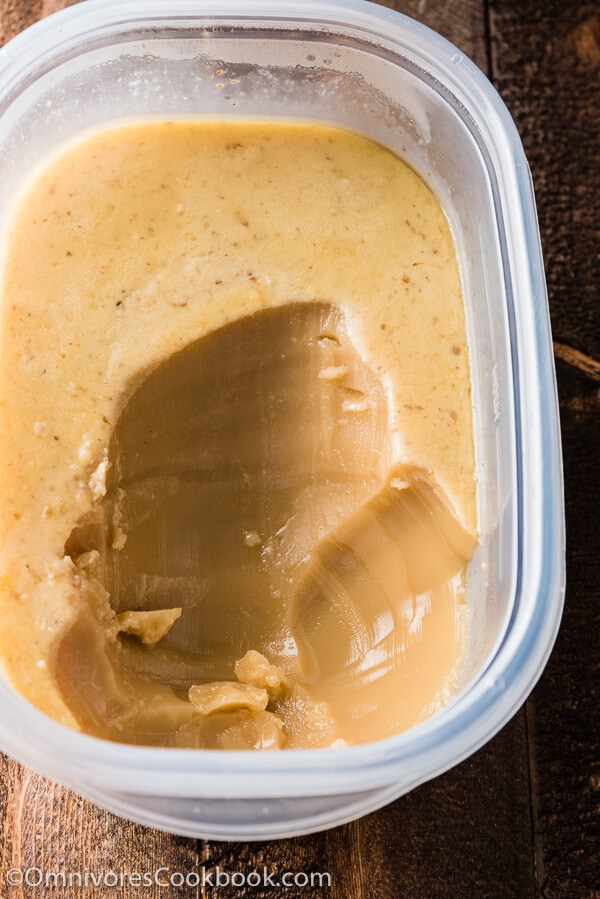 Will the stock taste greasy? A little bit. That's why you only need to add a small amount to make your dish stand out. Even if you are making a soup, you will want to use 3 to 4 cups of water to dilute a cup of this stock. It's that rich.
How do you get so many leftover bones? Simply save the bones from all the poultry you eat (wings, thighs, turkey legs, rotisserie chicken from the grocery store, everything) in a gallon-sized bag in the freezer, letting them accumulate until the bag is full.
If you like cooking with bone-in chicken (like me) or buying rotisserie chickens, you will fill up a gallon bag of leftover bones really quickly. Then you can create this Chinese style stock at almost no cost. Isn't it amazing?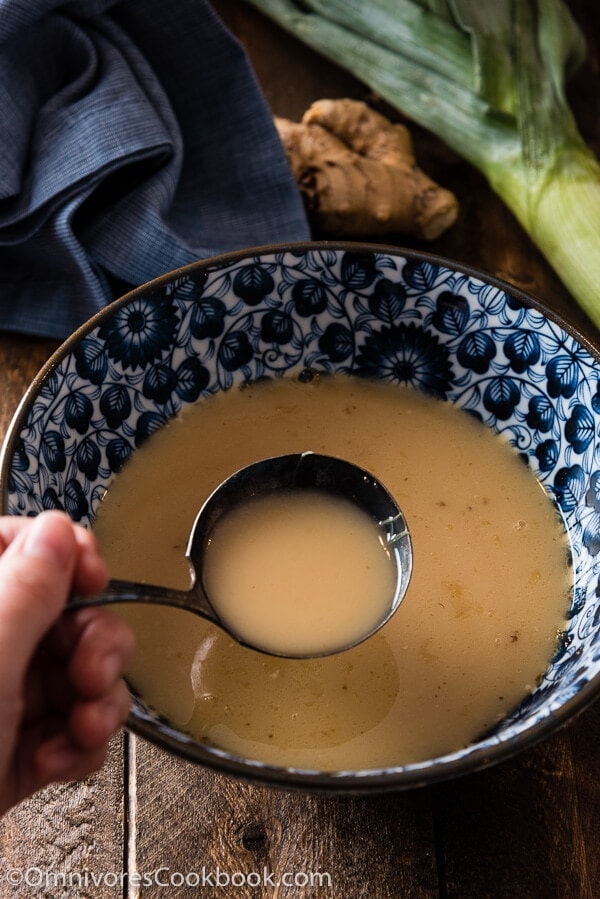 How do you use Chinese chicken stock?
Although you can use this stock (diluted with water) in any Chinese recipe that calls for chicken stock, it works best in noodle soups and braised dishes.
#1 Combine the stock, some water, and a few drops of soy sauce to create the quickest noodle soup.
#2 You can blend in a cup of chicken stock when making beef noodle soup or any vegetable soup. It makes the broth even tastier.
#3 Add a spoonful of stock when making braised dishes, like this mapo tofu. I don't need to explain why, do I?
Use pressure cooker (or Instant Pot) to shorten cooking time
I had been making this stock with pressure cooker during summer, because it shortens the cooking time to 1 hour (plus 30 minutes to reduce the stock, if you choose to) and you can skip the process of roasting bones. I shared the pressure cooker recipe here. It produces a great stock as well. If you have pressure cooker, I recommend you to try it out!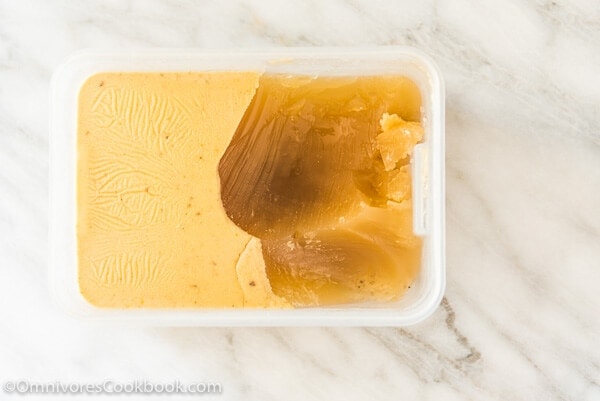 Making these recipes using the chicken stock
If you give this recipe a try, let us know! Leave a comment, rate it (once you've tried it), and take a picture and tag it @omnivorescookbook on Instagram! I'd love to see what you come up with.
Want to Know More?
Receive our 5-Day Chinese Cooking Crash Course & Recipe Updates! Subscribe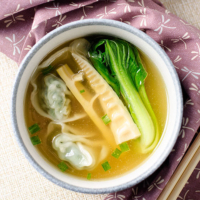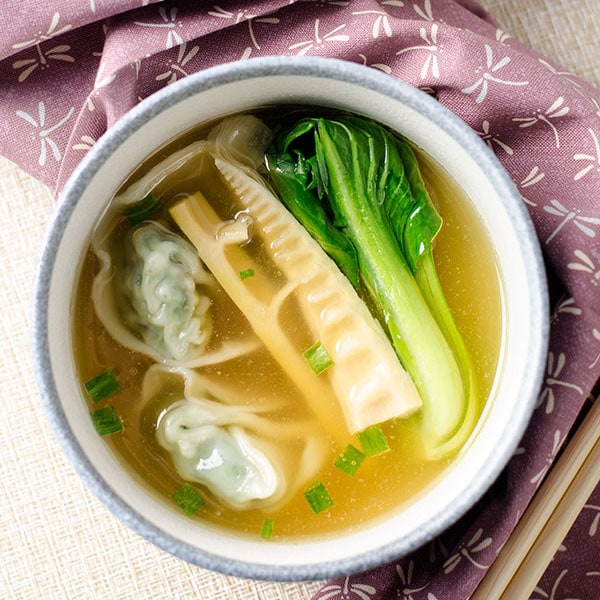 Chinese Chicken Stock From Leftover Bones (高汤)
Chicken stock is one of the essential ingredients in Chinese cooking. It uses a minimal amount of fresh herbs, such as ginger and scallion, to bring out the flavor of the chicken without adding too much character to the stock. The finished chicken stock has a soothing aroma and a buttery texture.

Ingredients
1

gallon (4 kg)

leftover poultry bones

(chicken, turkey, and/or duck)

1/4

cup

vegetable oil

1

cup

hot water

1

leek

, chopped

1

thumb

ginger

, sliced
Instructions
Preheat oven to 400 degree F (200 C).

Spread the poultry bones on a large baking pan. Drizzle with the vegetable oil. Toss with a spatula until the bones are evenly coated with oil.

Bake until the bones are nicely charred, 30 to 40 minutes. Remove baking pan from oven and stir the bones once in the middle of roasting.

Transfer all the bones to a large pot. Pour hot water onto the baking pan. Use a spatula to scrape off the brown bits and pour the liquid and brown bits into the pot. Add water to cover bones by 1 inch.

Heat over medium high heat until boiling. Add leek and ginger. Cover, turn to medium low heat, and boil until the meat starts to fall off the bones, 3 to 4 hours. If there is still a lot of liquid left, turn to medium heat and boil, uncovered, until only 4 cups of broth remain. The stock will have turned an opaque light brown color by this point.

Remove and discard all the solid content and drain the soup. Store in airtight container(s) in the fridge for up to 2 weeks or in the freezer for up to 3 months.