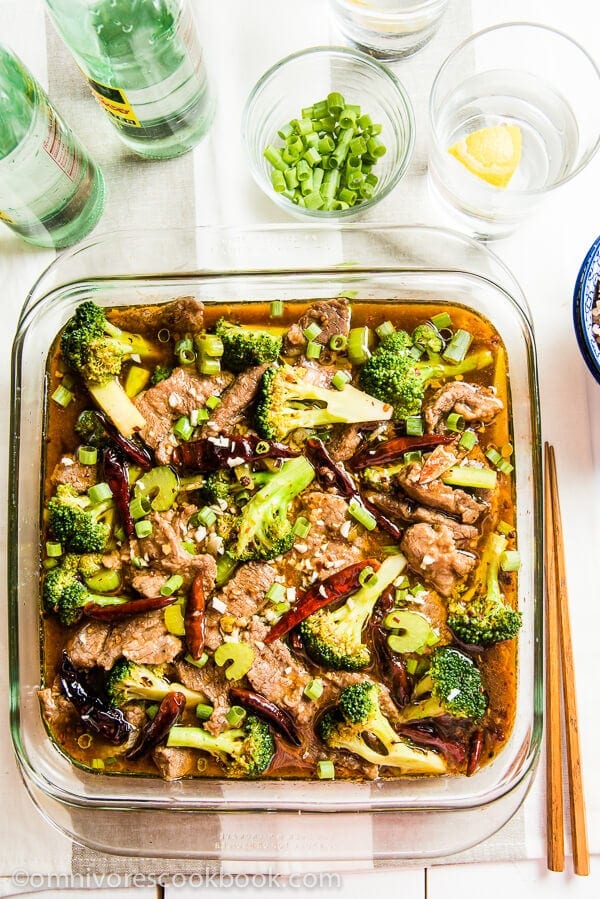 Just like real Szechuan food, the beef and broccoli are cooked in a very rich sauce that contains numerous herbs, peppers, and hot oil to create the most scrumptious flavor. The beef is melt-in-your-mouth tender. The numbing spiciness is so addictively good that you cannot stop eating, even if it makes your stomach burn!
Three weeks after moving to Austin. After the overcoming-jet-lag-week, the preparing-to-get-married-week, the recovering-from-the-wedding-week (You know what I mean if you've been there!),  I finally felt like I was ready for cooking again. I mean, the creative type of cooking, not comfort cooking. Lately I have been cooking a lot of super easy and comforting dishes, such as chow mein and lemon tea. But this week, I'm totally ready to challenge myself with more complicated recipes.
Today, I'm bringing you a hardcore Chinese dish – the ultimate beef with broccoli!
I'm kidding.
Well, not really. You see beef and broccoli in the photo, don't you?
This dish is literally called "water boiled beef" (水煮牛肉, shui zhu niu rou) in Chinese. But if you've ever tried it in China, you know it has nothing to do with water or boiling. It is actually a super hot and spicy dish that involves melt-in-your-mouth beef with some veggies in a ton of oil. Just in case if you've never tried it, the numbingly spicy silky beef  is so addictively delicious that you cannot stop eating, even if it makes your stomach burn.
If you order this dish at a real Szechuan restaurant, you'll get a giant bowl (sometimes as large as a wok) of red oil with countless chili peppers floating on top. You'll have to fish through the bowl with a strainer to discover the tiny pieces of goodies underneath the oil. And of course you'll usually end up with one piece of beef, five peppers, and ten peppercorns with one scoop of the strainer. You'll need to carefully pick out and discard the tiny peppercorns with chopsticks and finally enjoy the hot silky beef with a bite of rice. It's SO GOOD. It is the fried-bacon-in-bacon-fat kind of good.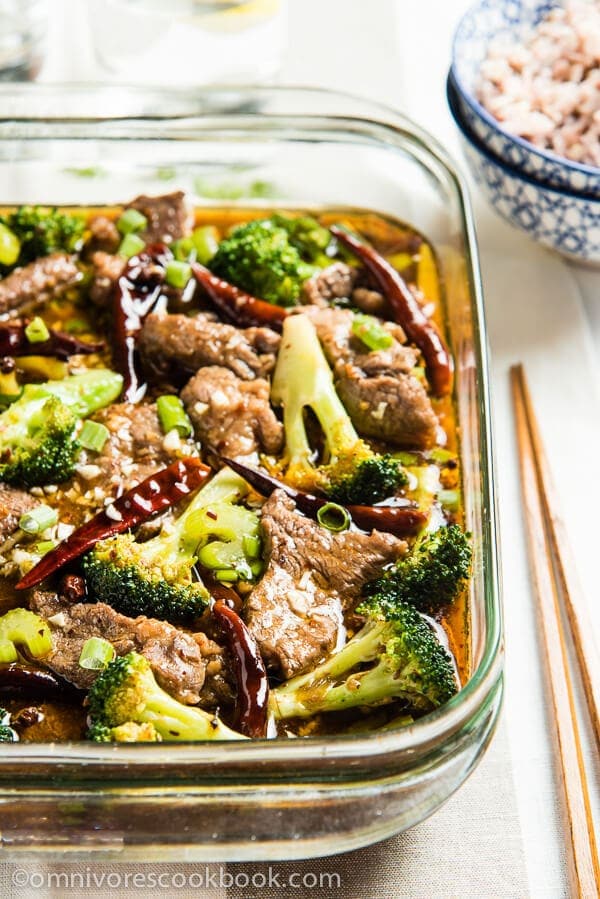 This is the type of dish that we order when meeting a good friend for dinner, when we need a break at the end of an exhausting week, for a colleague's farewell party, to celebrate a small achievement, after returning from a trip overseas, or whenever we're feeling fancy (yeah, we do eat out a lot!). The second we sit down at the table, we order the dish before the menu is even handed to us (it takes a bit longer to cook). And then we take a look through the menu and order some other dishes.
When the giant bowl of oil-submerged goodies arrives at the table, the moment that I smell the nutty, numbing aroma, my mood brightens immediately and my mouth starts watering.
To recreate this famous poached beef at home, I kept the dish as authentic as possible, with some tiny twists – I reduced the chili peppers to 30 and the oil to 1/2 cup.
Did I mention this is not the healthiest dish in the world?
Well, in fact, it's not unhealthy at all and it does rate B+ if you check the nutrition facts.
Even though you might end up using all your dried chili peppers, the dish may not be up to Chinese standards in terms of hotness. If you can't eat spicy food, you can cut the peppers in half (cut the amount, don't cut them literally) or reduce the number of peppers to 10. They are merely to infuse a nice aroma to the dish. As long as you don't break the chili peppers apart, the spiciness will be tolerable.
And yes, you need a lot of oil. This is the best part.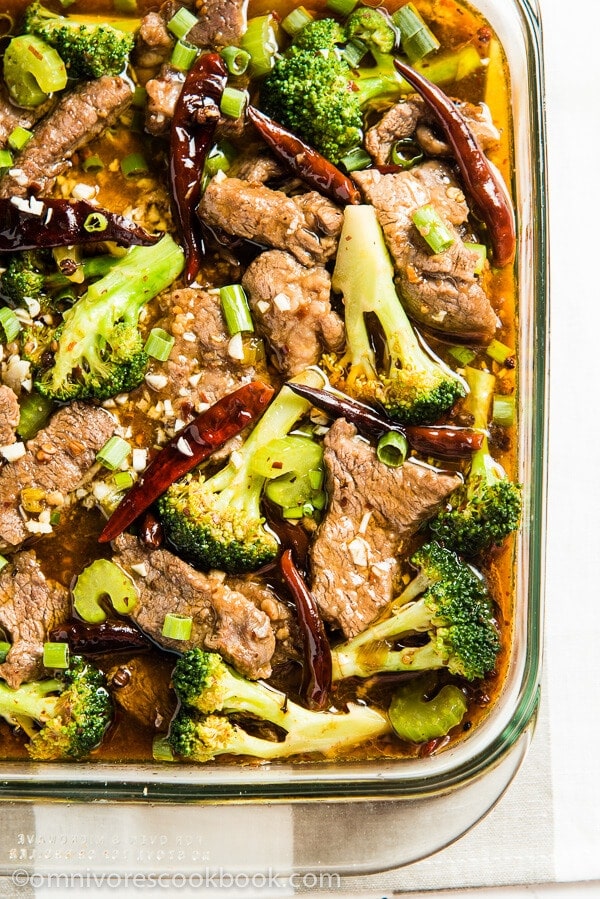 Let me explain how the whole oil thing works.
To cook this dish, you need to use tons of herbs and peppers to make a very rich broth, and then poach beef and veggies in it. All the ingredients and the broth will be transferred to a serving dish. Here comes the good part: you need to add a layer of raw garlic and green onion on top, then drizzle plenty of hot oil onto the garlic and onion to release the wonderful aroma. The oil will infuse a great flavor into the whole dish and thicken the sauce.
The finished dish will need to be covered with oil. So, when you pick up a piece of beef or broccoli, it will be covered with the thick, numbingly spicy sauce and a thin layer of nutty garlicky oil. It makes things perfect. Again, consider normal french fries (meh…) vs. fries cooked in duck fat (YES!). That is the difference this oil makes.
If you follow my recipe and notes closely, you will get a big bowl of authentic Szechuan poached beef, just like one you'd get in China.
Here, I do want to add one more note. The recipe may seem long and the steps unfamiliar, but you'll get the dish on your dinner table effortlessly if you keep your kitchen counter organized (mis en place!).
Before turning on the heat, make sure you have these things beside your stove: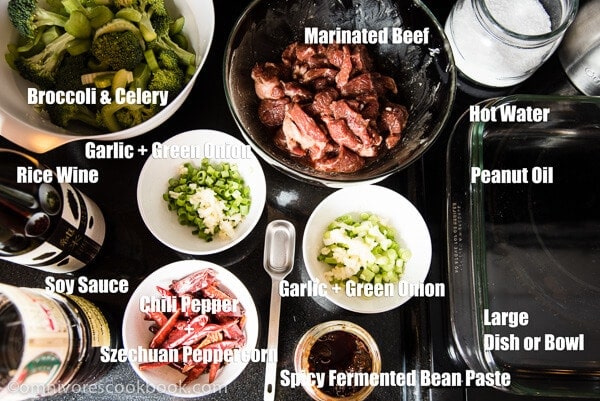 Real Szechuan meal
Appetizer: cucumber salad, potato salad, vinaigrette spinach, or a green salad
Main course: Szechuan poached beef with steamed white rice
Sides: Szechuan stir fried green beans with minced pork, Spicy cauliflower stir-fry, or Stir fried bok choy with crispy tofu
Drink: Cold beer
Dessert: Fruit plate, Sticky rice cake stuffed with red bean paste, or Ice cream
If you're cooking for two, you can reduce the amount of beef and add more veggies into the broth. You will want to serve it with rice to cut the spiciness. Serving a simple appetizer with the meal or some fruit afterwards will also help balance the spiciness.
If you're cooking for four, add two appetizers and one or two stir fried dishes, depending on the size of the dishes.
If you're cooking for a party or big group (6 to 8), double this recipe, serve two to three appetizers (or a large green salad), one to two stir fried dishes, and a dessert (a large fruit plate is easy to prepare).
Happy cooking! 🙂
Want to Know More?
Receive our 5-Day Chinese Cooking Crash Course & Recipe Updates! Subscribe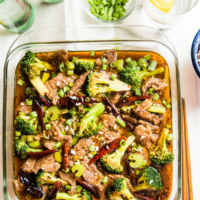 Authentic Szechuan Poached Beef (水煮牛肉)
Just like real Szechuan food, the beef and broccoli are cooked in a very rich sauce that contains numerous herbs, peppers, and hot oil to create the most scrumptious flavor. The beef is melt-in-your-mouth tender. The numbing spiciness is so addictively good that you cannot stop eating, even if it makes your stomach burn!
Ingredients
Beef marinade
2

pieces (1 pound / 440 grams)

total beef short ribs

(or sirloin, or tenderloin)

2

tablespoons

soy sauce

2

tablespoons

Japanese sake

(or Shaoxing wine)

2

tablespoons

cornstarch
For cooking
1

head broccoli

, cut into bite sized pieces

1

stalk celery

, chopped

5

stalks green onion

, chopped

4

big cloves garlic

, minced

1/2

cup

peanut oil

(or vegetable oil)

30

1/2 cup

chili peppers

, dried

1

and 1/2 tablespoons

Szechuan peppercorns

3

tablespoons

spicy fermented bean paste

doubanjiang

1

tablespoon

Japanese sake

(or Shaoxing wine)

1

tablespoon

soy sauce
Instructions
Slice beef thinly against the grain into bite sized pieces.

Combine beef, soy sauce and sake in a large bowl. Mix well.

Add cornstarch and mix thoroughly by hand, until all the beef slices are coated with a thin layer of starch.

Prep and chop veggies, green onion, and garlic. Transfer the white part of the green onion and half of the garlic to a small bowl. Transfer the rest of the green onion and the rest of the garlic to another small bowl.

Bring 1 liter water to a boil. Set aside.

Add 2 tablespoons oil into a large skillet (or wok). Heat over low heat until the oil is warm. Add peppercorn and chili pepper. Cook and stir constantly, until the pepper turns dark reddish brown, 3 to 4 minutes. (*See footnote 1)

Add spicy fermented bean paste. Cook and stir for 1 minute.

Add the mixture of green onion (white part) and garlic. Stir and cook for 30 seconds.

Add 1 tablespoon soy sauce and 1 tablespoon Shaoxing wine. Stir and cook for about 30 seconds.

Add the 1 liter hot water and turn to medium high heat.Bring to a boil.

(Optional) Use a strainer to remove all the chili peppers and Sichuan peppercorns (*See footnote 2).

Add broccoli and celery. Cook for 1 minute, until the veggies are half cooked through. Transfer all the veggies to a big serving dish or bowl. (*See footnote 3)

Bring broth to a boil.

Cook half the beef slices first. (*See footnote 4) Add slices into the broth piece by piece. Wait until the beef is just cooked, about 1 minute. Immediately use tongs and a strainer to transfer all the beef to the serving dish, on top of the broccoli and celery. (*See footnote 5) Continue to cook the rest of the beef in the same way and transfer it to the serving plate.

Heat the rest of the oil (slightly more than 1/4 cup) in a small skillet until it just starts to smoke (or reaches 430 degrees F/ 220 C). Remove oil from heat immediately (*See footnote 6).

Pour the spicy broth into the serving bowl first, to the point where it almost covers the beef (the top layer of beef should not be covered).

Spread the rest of the green onion (green part) and garlic on top of the beef.

Carefully and slowly drizzle hot oil on top of all the garlic and green onion. You should hear a vibrant sizzling and the oil should bubble fiercely. Let cool for 5 to 10 minutes.

Serve warm with steamed rice.
Notes
If you're using a gas stove, it might take less time to cook the peppers. Make sure to watch them closely and do not let the peppers turn too dark. When the peppers turn from reddish dark brown to almost black, they're burnt and will create a bitter flavor.
In traditional Chinese cooking, the chili peppers and peppercorns won't be removed. After serving the dish, you'll need to pick out the peppers as you eat. If you're not comfortable with the traditional way, remove the peppers and peppercorns at this stage.
The veggies will continue cook after the hot broth is added to the serving dish. It's ok that the broccoli is still a bit tough at this point.
By cooking beef in smaller batches, you ensure the temperature of the broth doesn't drop too low. The best way to cook tender, juicy beef is to cook it quickly in boiling broth.
It is fine to transfer the beef to the plate even if it still looks a bit pink. In the last steps, the hot broth and oil will continue to cook the beef.
This is the most important part and do not skimp on the oil. The hot oil will cook the raw garlic and green onion to create a great aroma. You will need a layer of oil on top of the dish, so when you pick up a piece of beef while eating, it will be coated with a thin layer of delicious herb-infused oil. It may seem like you're using a lot of oil, but you will only consume a small fraction of it when eating.
Nutrition
Serving:
318
g
,
Calories:
519
kcal
,
Carbohydrates:
23.2
g
,
Protein:
46
g
,
Fat:
27.5
g
,
Saturated Fat:
6.2
g
,
Cholesterol:
119
mg
,
Sodium:
1244
mg
,
Potassium:
987
mg
,
Fiber:
4.6
g
,
Sugar:
6.6
g
,
Vitamin A:
1400
IU
,
Vitamin C:
121.3
mg
,
Calcium:
70
mg
,
Iron:
26.6
mg
Like this recipe? Sign up for Omnivore's Cookbook's weekly newsletter to get the latest updates delivered to your inbox and a free e-cookbook! And stay connected via Facebook, Instagram, Pinterest and Google+. Thanks so much for reading, and happy cooking!