Buttery and soft cookies are filled with sticky star anise infused strawberry jam. It's a super easy yet unique thumbprint cookies recipe that takes no time to put together. It's perfect for Christmas or any holiday, but I always make a few dozen to snack on after dinner.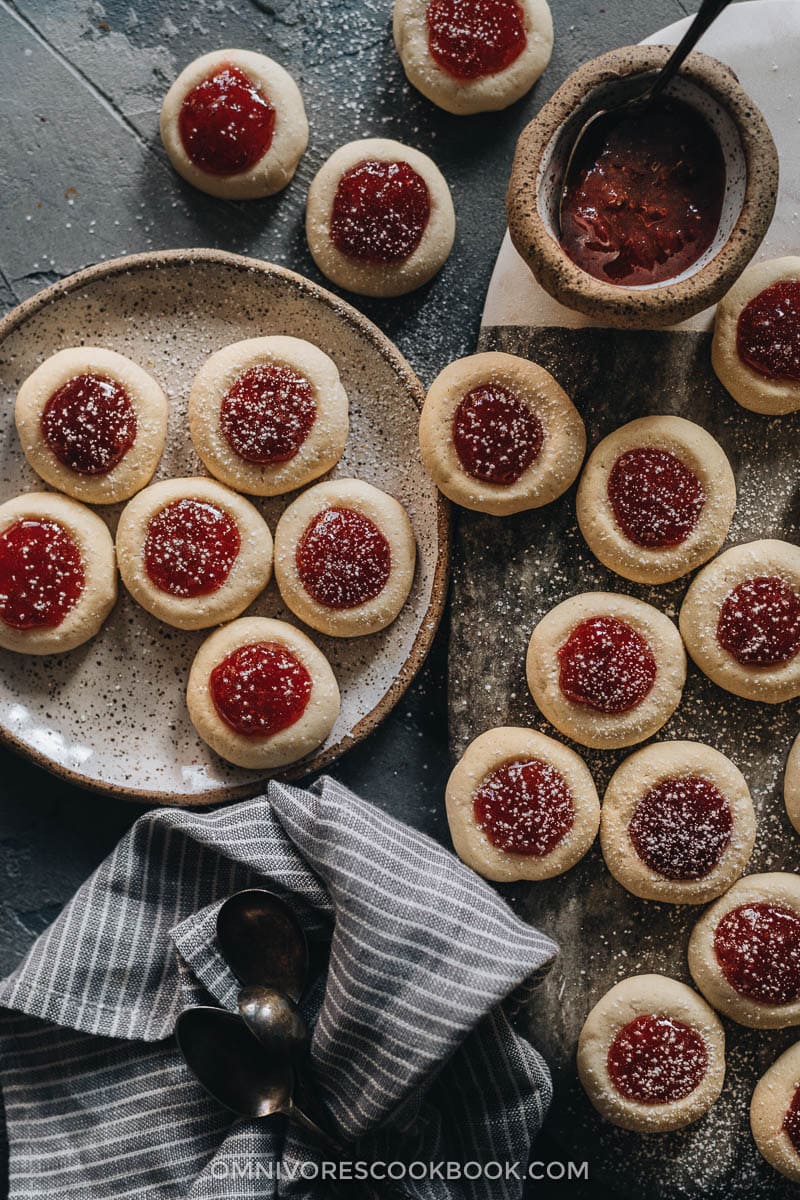 You might call me weird, but I've always liked Western cookies more than traditional Chinese ones, even though I was born in China and lived there for 30 years before moving to the US. In a previous post, I talked about why I didn't like the traditional sandy almond cookies, so I made alterations to create a more buttery almond cookie.
Thumbprint cookies are my eternal love. When I was a kid, it was a once-a-year treat that I could only get during Chinese New Year. Now that I live in New York, I can go to the bodega around the corner, any time of the day, to get my fix. You can spot me in my pajamas running downstairs in the middle of the night for a cookie run, way too often than I should be. And you'll see me navigating through hundreds of products swiftly and directly, reaching for the Pepperidge Farm Apricot Raspberry Thumbprint Cookies.
After doing this "routine" practically every two weeks, for about a year, I thought maybe it was time to find out how to make them at home to save on cost.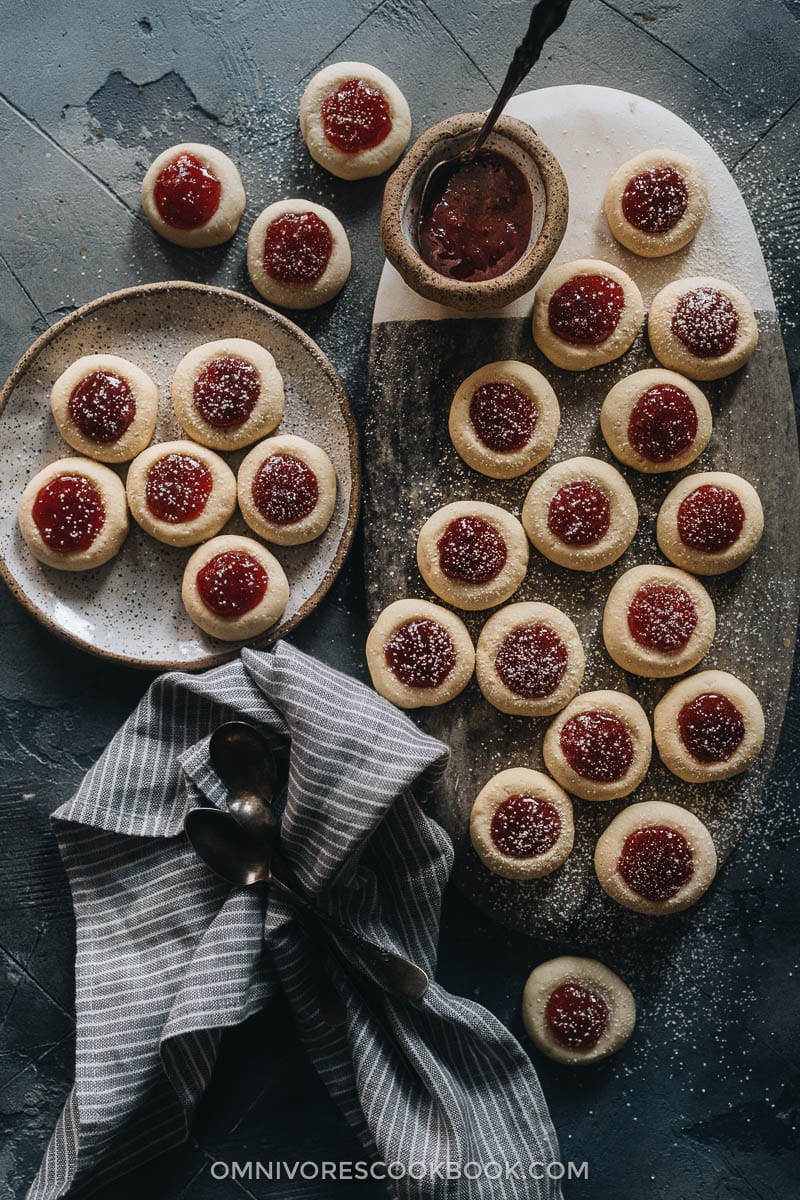 Why this recipe
Thumbprint cookies are one of those super easy things that you can make with your kids (or friends). It's such a delight to work with the buttery dough and bright jam. And it's a lot of fun to work on the cookies using your fingers.
At a glance, it might seem counterintuitive to make your own jam for such a simple recipe. But once I had tried it, I loved the result so much that I would never use store-bought jam for this recipe again.
I infused star anise into the jam to create a round and warm taste that works perfectly with the cookie dough. Not only does the jam have a more interesting flavor, but it also has a thicker and stickier texture that store-bought jam lacks.
I also found that it's best to add the jam after baking the cookies. I've tried both ways. When I baked the cookies with the jam already filled in, the jam seeped into the dough and the color lost its luster.
Cooking process
Making strawberry thumbprint cookies is a two-part process.
(1) Make the star anise infused jam
Remove the leafy tips of the strawberries and use a paring knife to further remove the tough ends.
Add the sugar and strawberries into a saucepan.
Use your hands to smash the strawberries to release some juice.
Simmer with star anise.
Use a skimmer to remove the foam from the top, to get a better colored jam.
The jam is ready when it pulls away from the bottom when stirred. The jam will further thicken once cooled.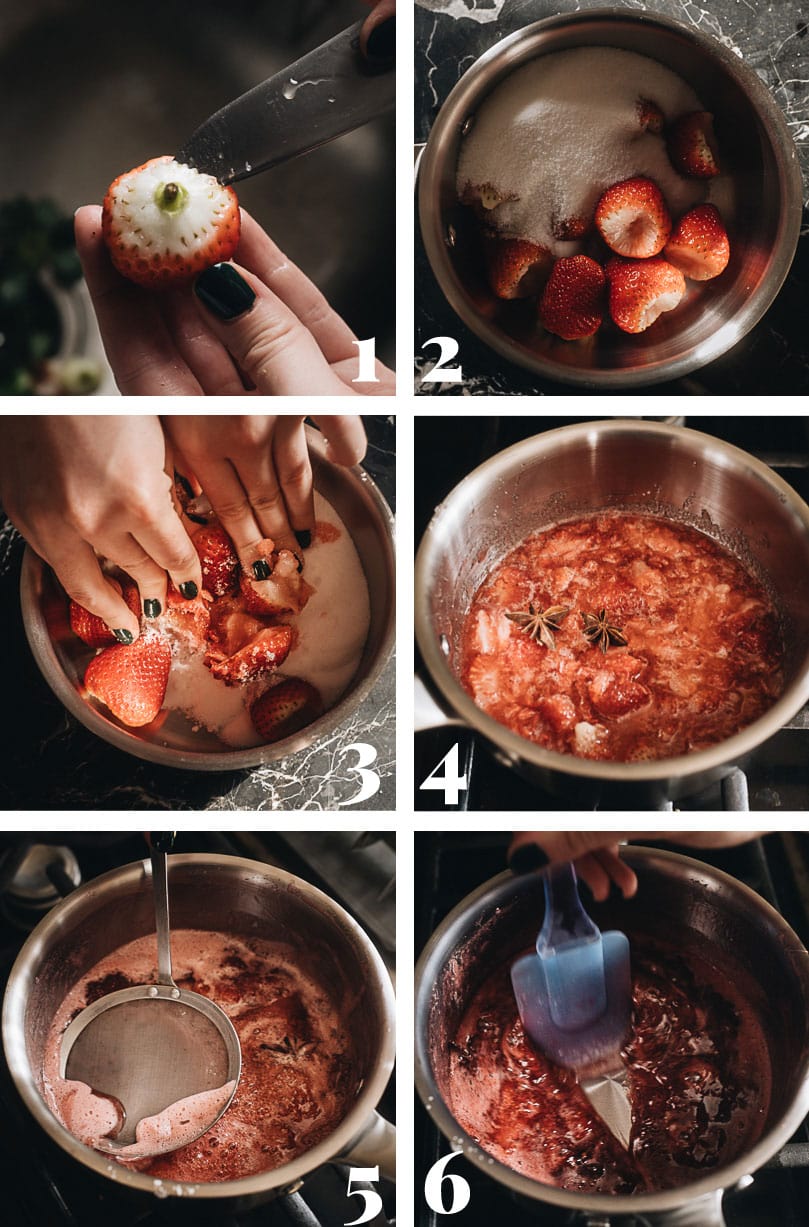 This recipe yields more jam than needed for the cookies. I use the leftover jam to make buttered jam toast.
(2) Make the dough
Cream the butter and sugar.
Add the egg and vanilla.
Beat in the egg.
Add the flour and mix until it forms a dough.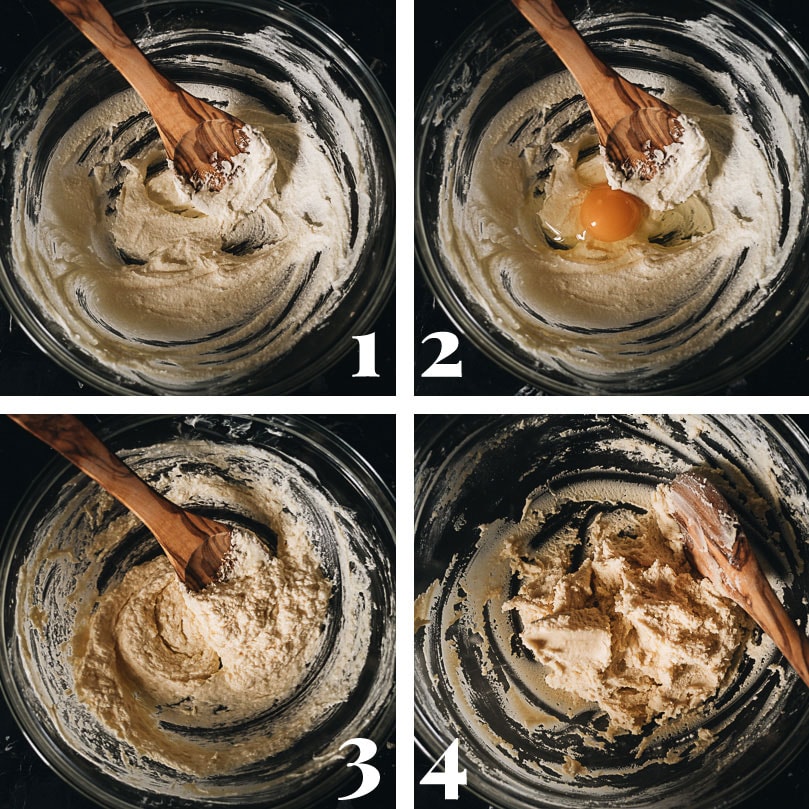 (3) Shape cookies
Get a heaping teaspoon of dough.
Roll it into a dough ball.
Press the dough using your finger, to shape it into a small bowl to hold the jam.
Bake and enjoy!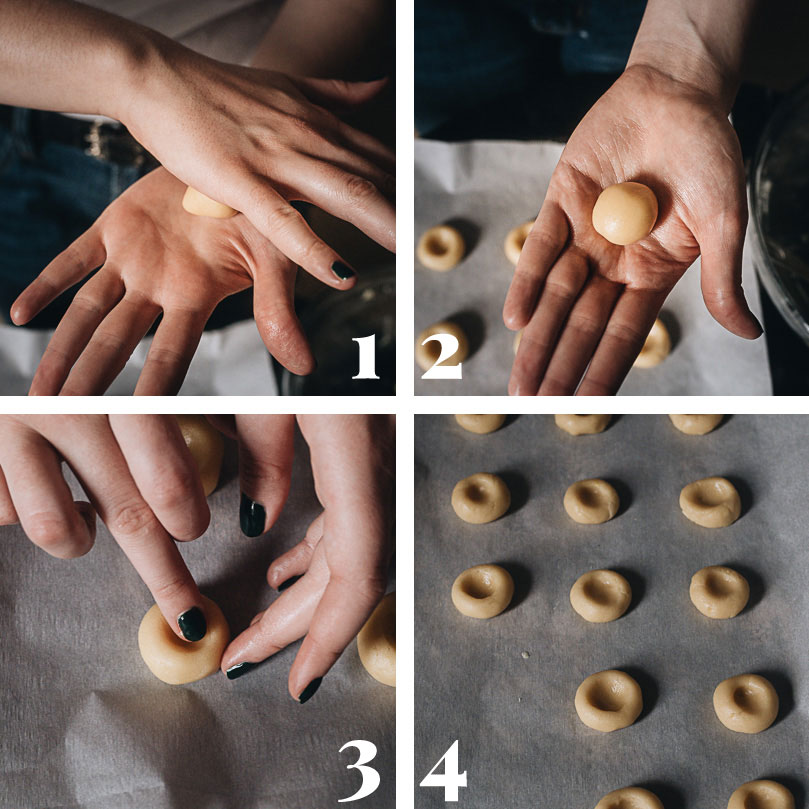 One heaping teaspoon of dough might seem like a very small amount when you make the cookies, but it produces the best mouthfeel and jam-to-cookie ratio once cooked. I've tried making slightly bigger cookies. I felt like the jam ratio was off in that case and it felt like there was too much cookie dough.
(4) Final assembly and storage
Once the baked cookies are cooled, add the jam into the center and they're ready to serve.
To store the filled cookies, I prefer to use a large ziplock bag and spread the cookies into a single layer without overlapping. This way the jam won't get smooshed onto the other cookies.
These cookies are buttery, melt-in-your-mouth soft, and spiced up with the star anise jam. Dust them with powdered sugar and you'll immediately feel the Christmas spirit in your home.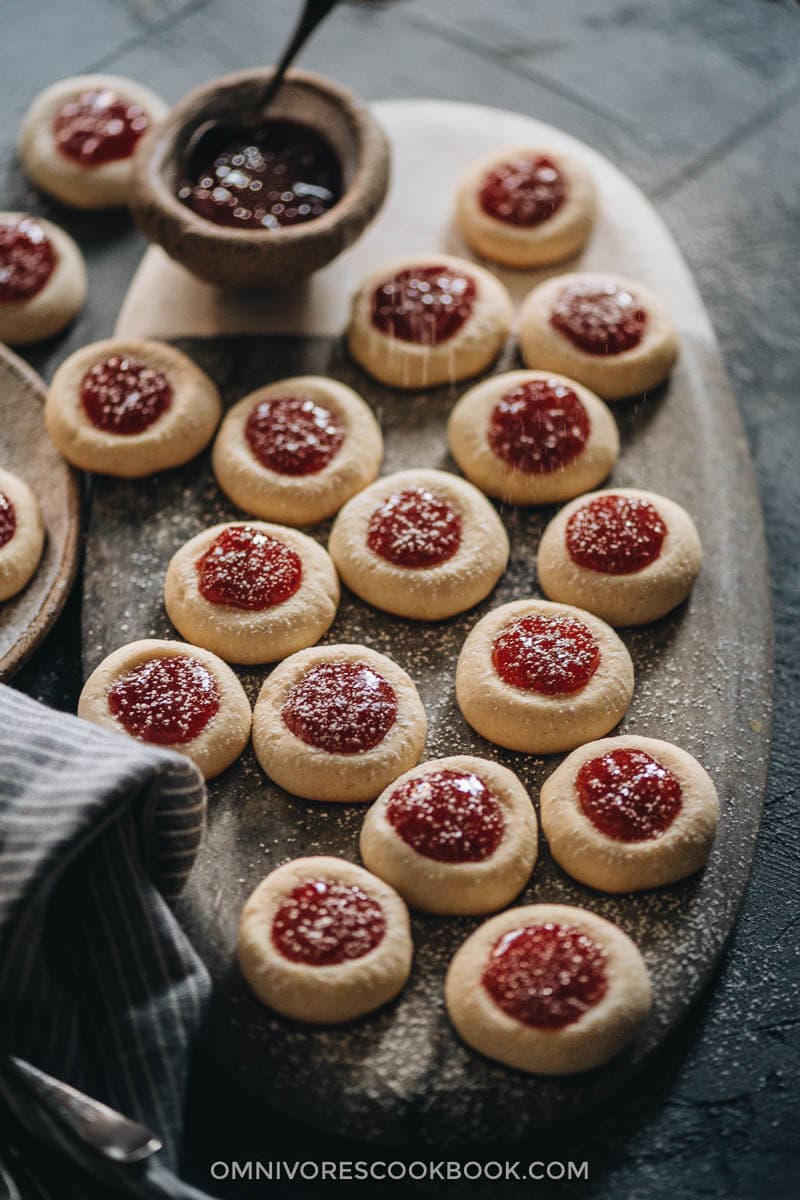 More holiday baking recipes
If you give this recipe a try, let us know! Leave a comment, rate it (once you've tried it), and take a picture and tag it @omnivorescookbook on Instagram! I'd love to see what you come up with.
Want to Know More?
Receive our 5-Day Chinese Cooking Crash Course & Recipe Updates! Subscribe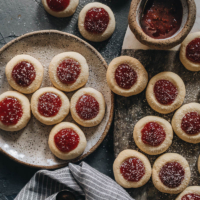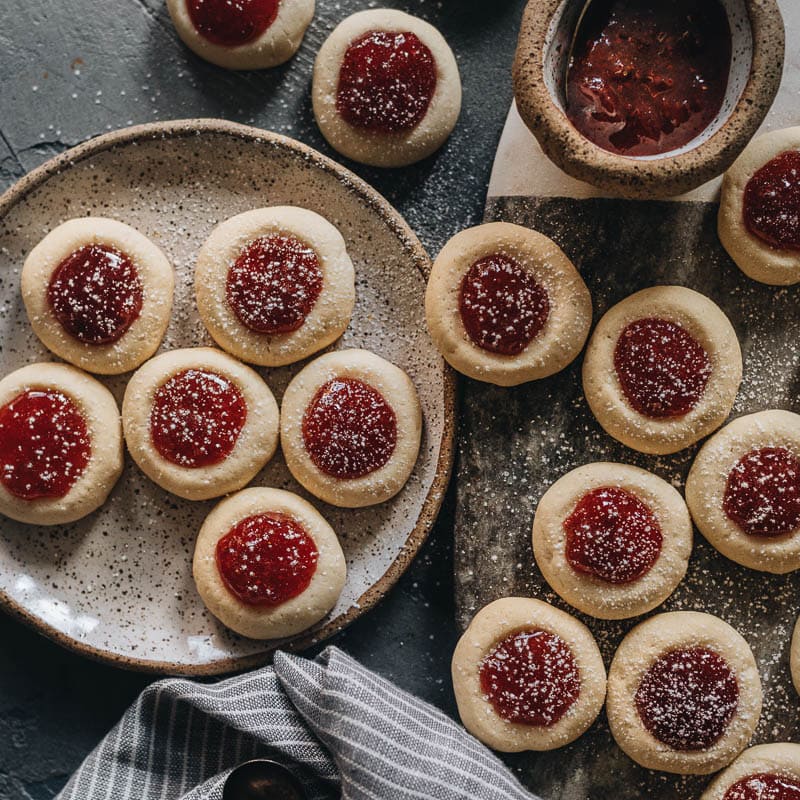 Strawberry Thumbprint Cookies
Buttery and soft cookies are filled with sticky star anise infused strawberry jam. It's a super easy yet unique thumbprint cookies recipe that takes no time to put together. It's perfect for Christmas or any holiday, but I always make a few dozen to snack on after dinner.
Ingredients
1/2

cup (115 g)

unsalted butter

, softened

1/3

cup (70 g)

sugar

,

1

egg

1/2

teaspoon

vanilla

1 1/4

cup (200 g)

all-purpose flour
Strawberry Anise Jam (or use 1/2 cup store-bought jam)
8

oz (225 g)

strawberries

, hulled

1

cup (130 g)

sugar

4

star anise pods
Instructions
(Optional) Make the strawberry anise jam
Combine the strawberries and sugar in a saucepan. Smash the strawberries into the sugar using your hands to release the juices. Add the star anise.

Heat the strawberry mixture over medium-high heat, stirring frequently, until bringing to a boil. Turn to medium-low heat. Let simmer, stirring and mashing regularly, until the strawberries are fully broken down and the jam is thick enough to not run back immediately when stirred, 20 to 30 minutes. You can skim with a spoon to remove the foam, if you want the end result to have an even, bright color.

Transfer the jam to a heat-proof container and let cool completely.
Prepare the cookie dough
Combine the butter and sugar in a big bowl. Whisk with a wooden spatula until the sugar is fully incorporated and fluffy, with a white color, 5 minutes or so. You can also use a handheld mixer for this process.

Add the egg and vanilla. Beat the egg until fully mixed.

Add the flour. Mix until it forms a smooth dough.

Line a baking sheet with parchment paper. Transfer 1 heaping teaspoon of dough into your palm. Roll it into a dough ball with your hands. Place it onto the lined baking sheet. Repeat the process, spacing out the dough balls with 2" (5cm) between them. You might need to bake the cookies in two batches.

Use your finger to gently press the cookie dough balls, one at a time, to form a bowl shape to hold the jam.

Once you form a batch of cookies, let it chill in the fridge for 10 minutes before baking.
Bake
Chill the dough in the fridge for 10 minutes.

Meanwhile, preheat the oven to 350 °F (176 °C).

Bake the cookies for 8 to 10 minutes, until fully cooked through and the edge of the bottom turns light golden. Let cool for 5 minutes. Transfer the cookies onto a cooling rack to cool until they firm up.

Place 1 teaspoon of jam onto the center of each cookie and lightly press it with the spoon. Serve and enjoy!
Nutrition
Serving:
1
cookie
,
Calories:
48
kcal
,
Carbohydrates:
6.5
g
,
Protein:
0.6
g
,
Fat:
2.2
g
,
Saturated Fat:
1.4
g
,
Cholesterol:
9
mg
,
Sodium:
16
mg
,
Potassium:
11
mg
,
Fiber:
0.2
g
,
Sugar:
3
g
,
Calcium:
2
mg
Lilja Walter is a part of the Omnivore's Cookbook team and worked closely with Maggie to develop and test this recipe.