Soft cinnamon rolls made with a Japanese milk bread formula to create an airy, fluffy texture with a crispy crust, stuffed with cinnamon sugar and a buttery sesame paste. Using a mixer, they're easy to put together. And I guarantee you the result is addictively good. Detailed storage and reheating processes are included, but you probably won't need them since it's so easy to finish half a dozen of them in one sitting.
I can't get over these soft cinnamon rolls lately. It's one of the creations born since I introduced Lilja to the team, and it combines American comfort food with an Asian twist. As I remember, the conversation started with how much I loved Cinnabon, even though it gives me a food coma immediately after I consume one. Then I tossed out the idea that it would taste great if we put some Chinese sesame paste into the filling of a cinnamon bun.
I was inspired by the Chinese sesame steamed bun (Hua Juan). It uses a yeast dough to create cinnamon roll shaped buns, stuffed with sesame paste and sugar. My grandma used to make them all the time and they were a favorite childhood snack of mine. Long story short, Lilja made these soft cinnamon rolls with a Japanese milk bread dough we've been working on lately. I was blown away by the result.
The cinnamon rolls are so airy and light, with an amazing soft texture. They're also beautifully caramelized on top, where there is a crispy sugar crust. The buttery sesame paste adds moisture to the dough and a Cinnabon-style sticky fragrant goop inside. We made a dozen and they were gone the next day. And I wanted more. That's why I also shared a video of how to make them. Because (1) I couldn't wait to show you how easy it is to make them so you can enjoy their heavenly taste. (2) I wanted to eat more soft cinnamon rolls so I cooked another batch and shot video of it.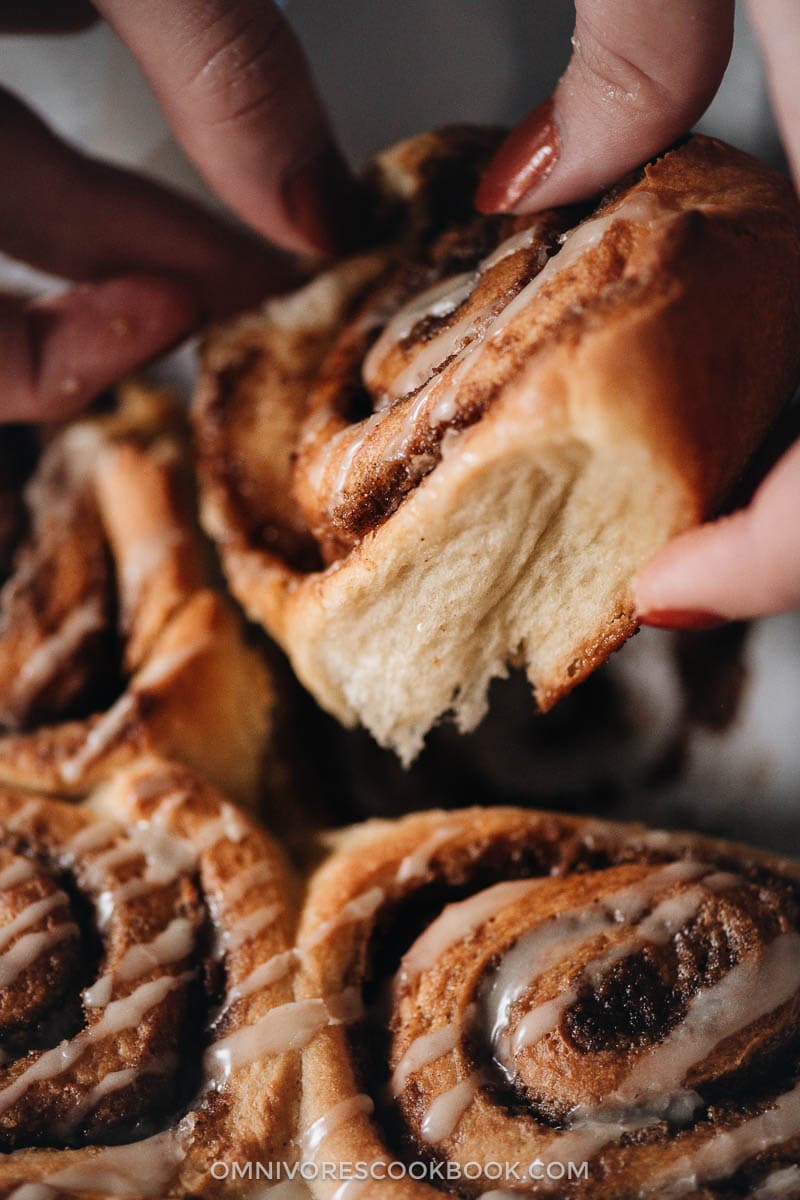 Why this recipe
1. Japanese milk bread dough
The recipe uses milk bread dough that yields super soft results, but it's just hard enough to hold a lot of filling. Compared to many milk bread dough recipes, this one doesn't require a starter and it's easy to put together. Look no further if you want your cinnamon rolls extra soft.
2. Sticky filling made better with sesame
On top of the regular cinnamon sugar, the filling also uses a butter and Chinese sesame paste mixture to give it a nutty taste and moist texture. If you like the taste of sesame, you'll love this.
3. Easy to make
All you need to do is add ingredients and use a standard kitchen mixer to knead the dough. I know the ingredient list looks quite long, but once you watch the video, you'll see how easy it is to put together.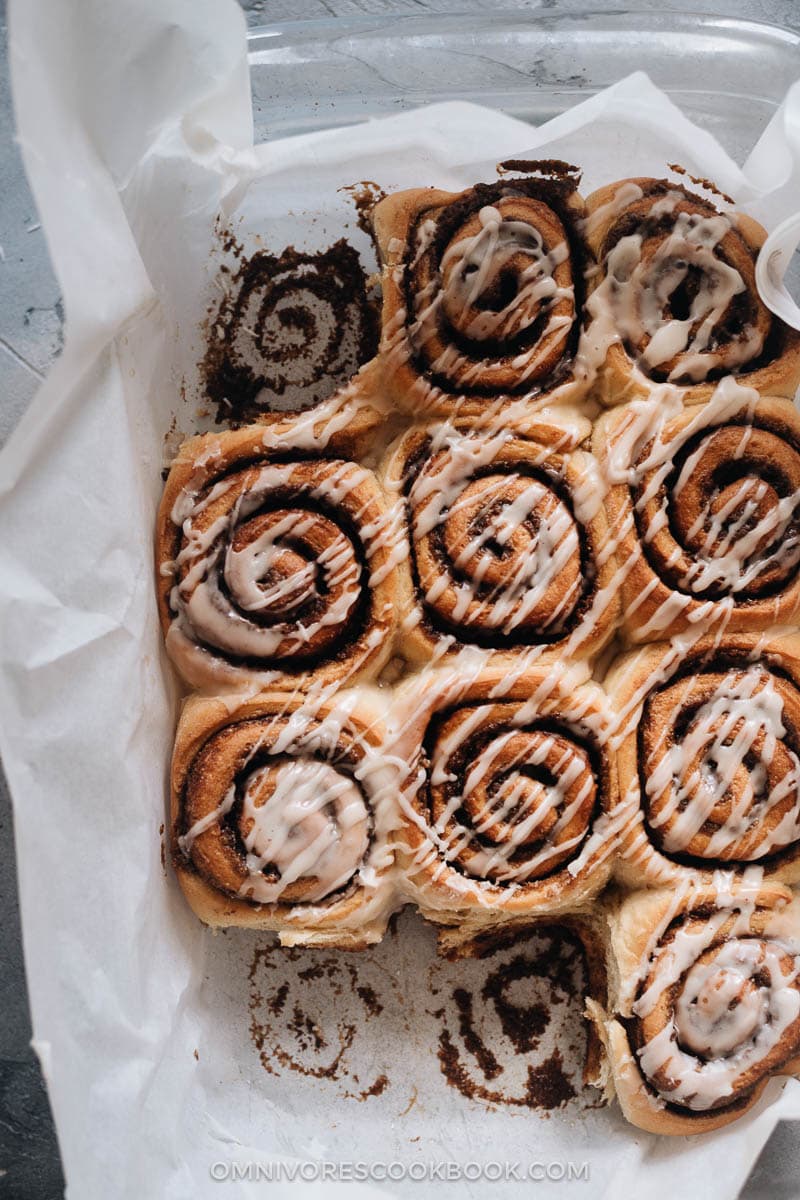 Cooking process
1. Prepare the dough – 1st rise
The recipe starts by activating the yeast. Even though you can get away without this step, I feel that it's quite necessary to make sure your yeast is fresh and will work properly. So you don't end up wasting a lot of time and ingredients with expired yeast.
Once you put the dough together, let it sit for 20 minutes to let the yeast work.
Then add the rest of the wet ingredients and knead it with a mixer until the dough is smooth.
Rest the dough for about 1 hour.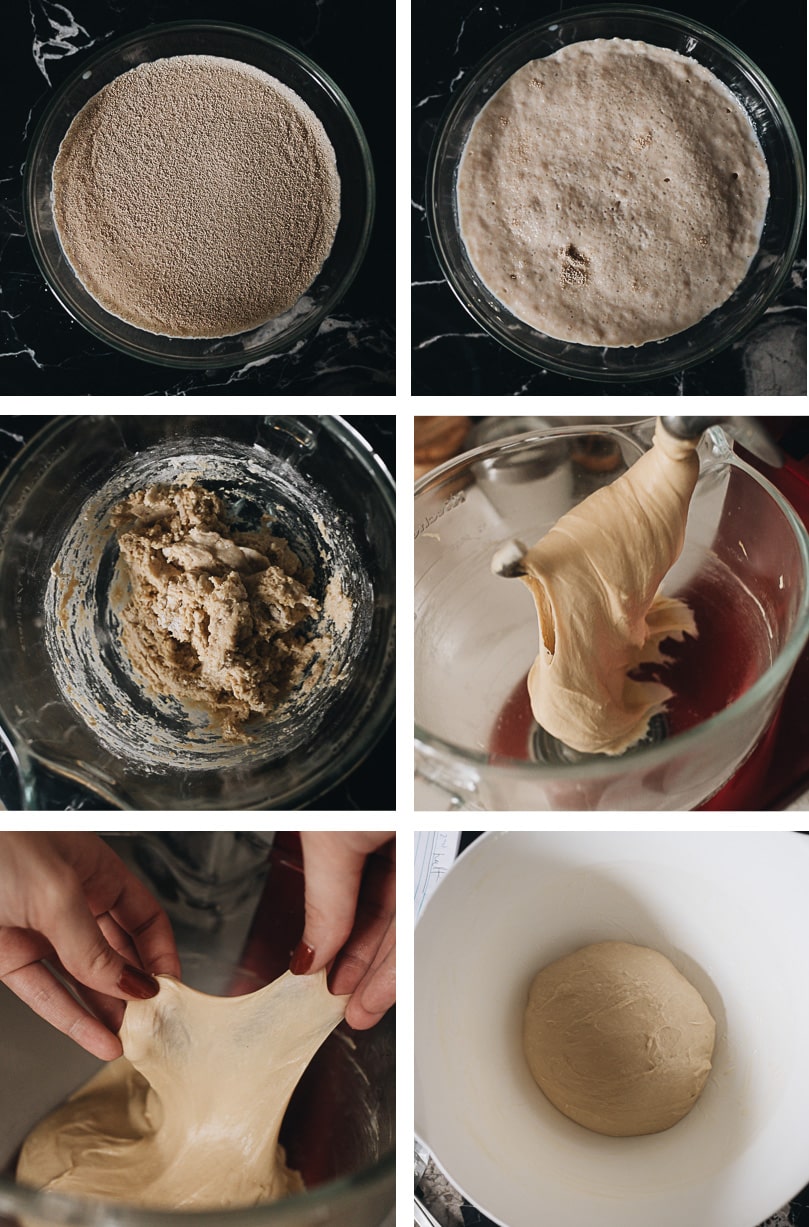 2. Make the filling – what is sesame paste and how to adapt it
This recipe uses Chinese sesame paste. It's similar to tahini, but it's made from toasted sesame seeds, which give it a darker color and nuttier taste.
If you want a more intense sesame taste, feel free to replace the sesame paste with black sesame paste.
To make the filling, simply whisk the sesame paste together with softened butter.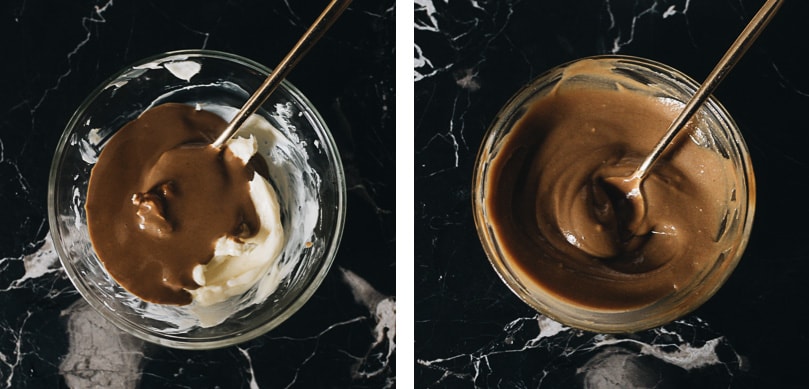 3. Assemble – 2nd rise
The dough will double in size once rested, as well as become soft and silky. You'll need to punch the dough to squeeze out the air, so the end result will have an even texture.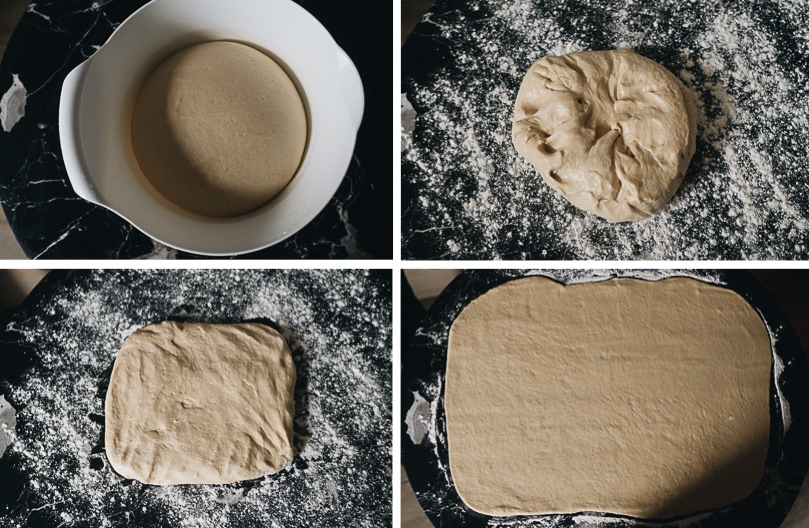 Then roll out the dough into a rectangle, add a layer of sesame paste, then the cinnamon sugar.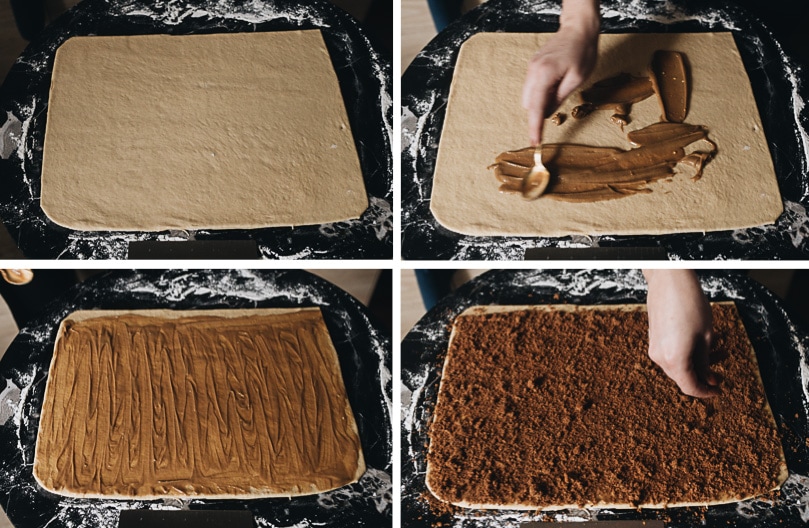 It's quite a lot of filling, but I feel the dough is actually easier to roll because the sticky sesame paste helps keep the sugar in place.
Once cut, let the cinnamon rolls rest a second time before baking.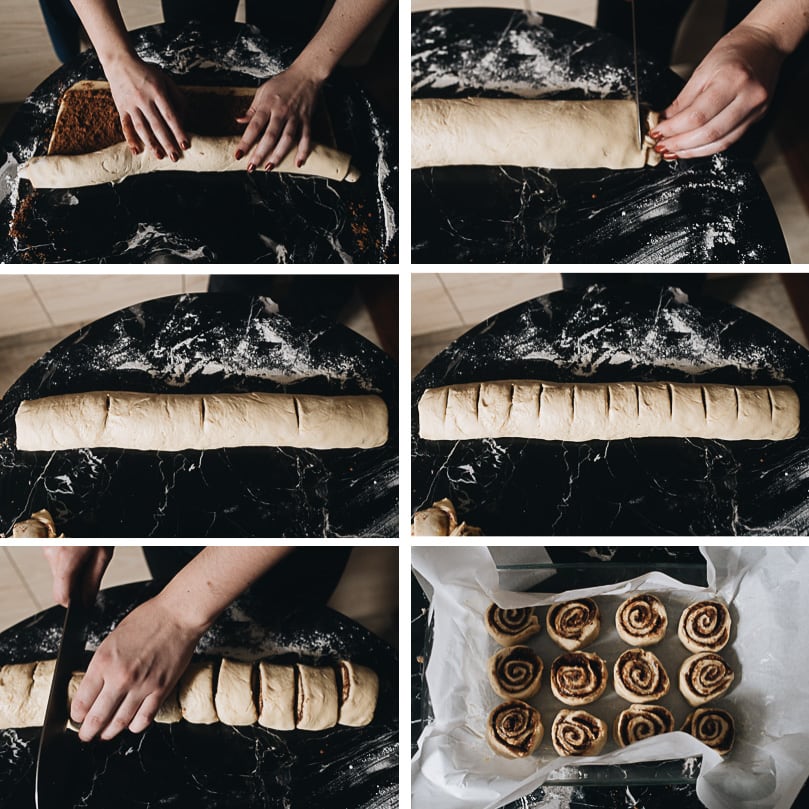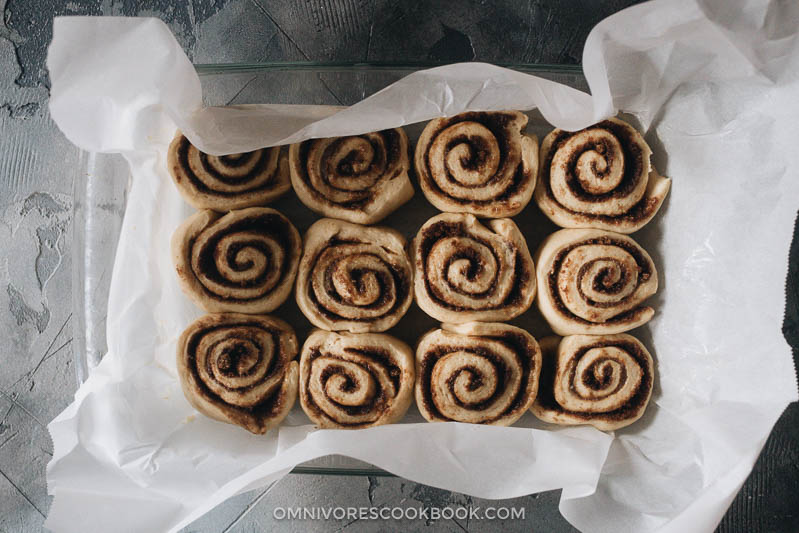 4. Bake and glaze
The rest is easy. Simply bake the rolls until crispy on the outside and soft inside.
You can whisk the glaze together while the rolls bake. It takes 2 minutes. I added some sesame paste to the glaze, as well, to give it an extra sesame boost.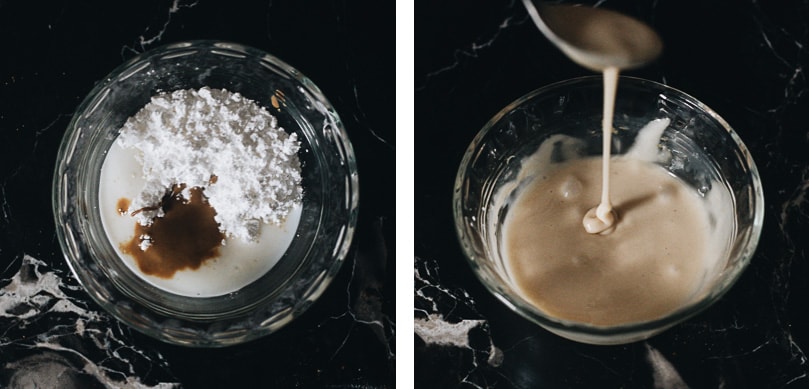 Note, this recipe makes a lot of glaze and you might not need it all. I personally like my cinnamon rolls not overly sweet, so I only drizzled a very thin layer of glaze. Feel free to use it all if you have a sweet tooth.
One the cinnamon buns are baked, add the glaze and serve them hot. They taste heavenly when they're fresh out of the oven (be careful, the sugar filling will be very hot!).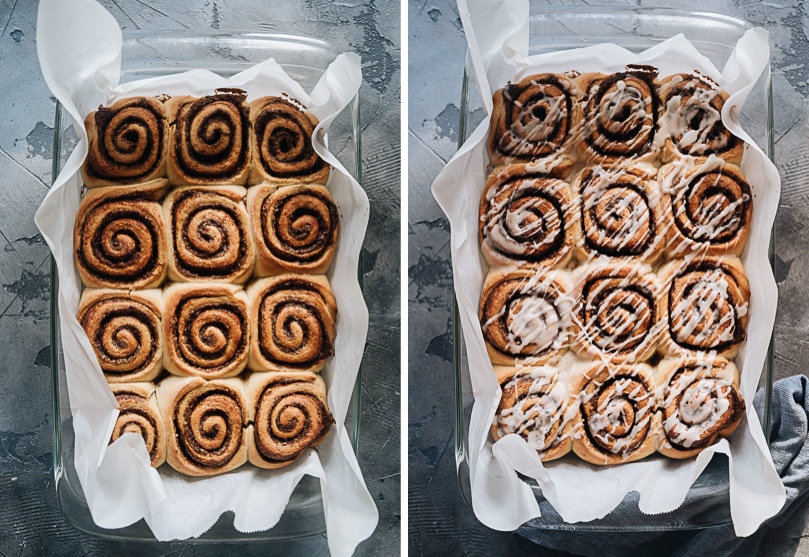 In case you need to store these rolls for a longer time (which is unlikely since they usually disappear very quickly), I've also included instructions on how to freeze and reheat them in the recipe below.
Afterthoughts
Even though I'm quite confident in my photography skills, I feel like these photos don't do the cinnamon rolls justice. They are THAT good. No further explanation needed. Watch my video and see their texture in real time. Hope you enjoy!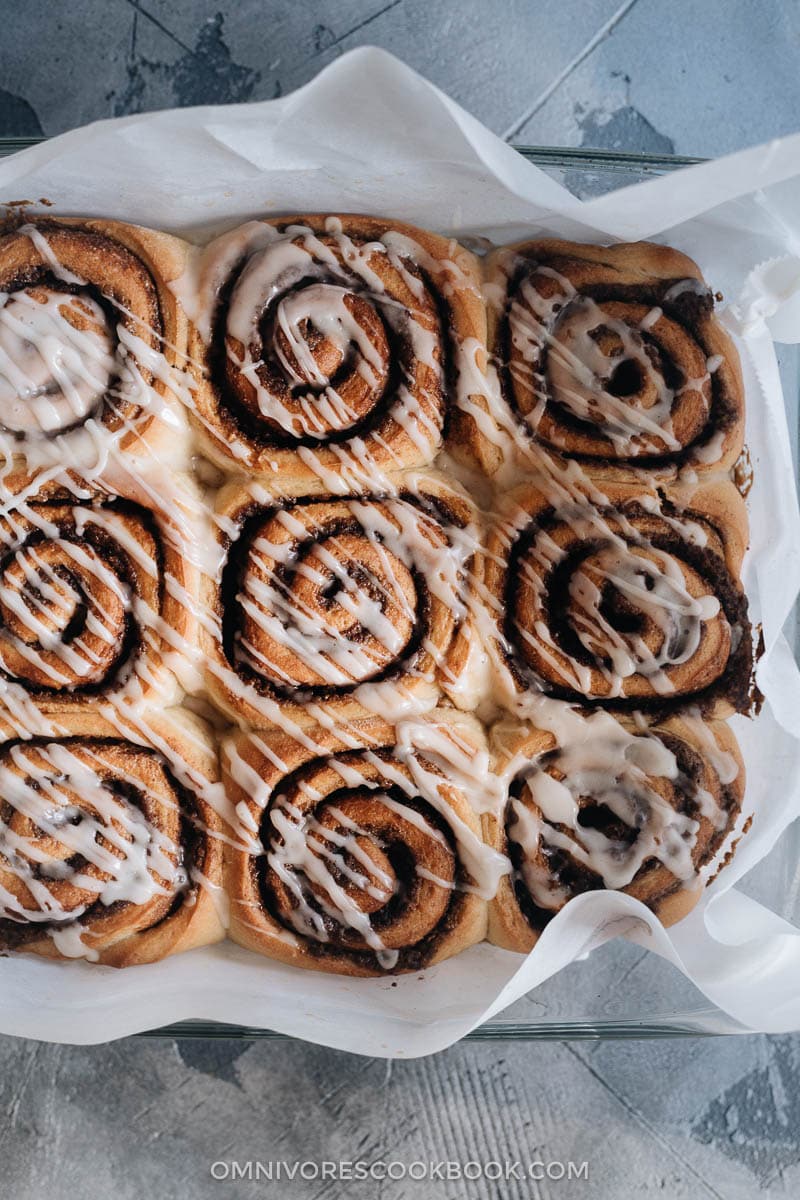 More delicious sweets & dessert
If you give this recipe a try, let us know! Leave a comment, rate it (once you've tried it), and take a picture and tag it @omnivorescookbook on Instagram! I'd love to see what you come up with.
Want to Know More?
Receive our 5-Day Chinese Cooking Crash Course & Recipe Updates! Subscribe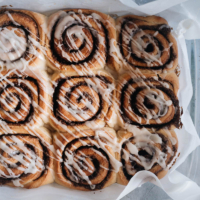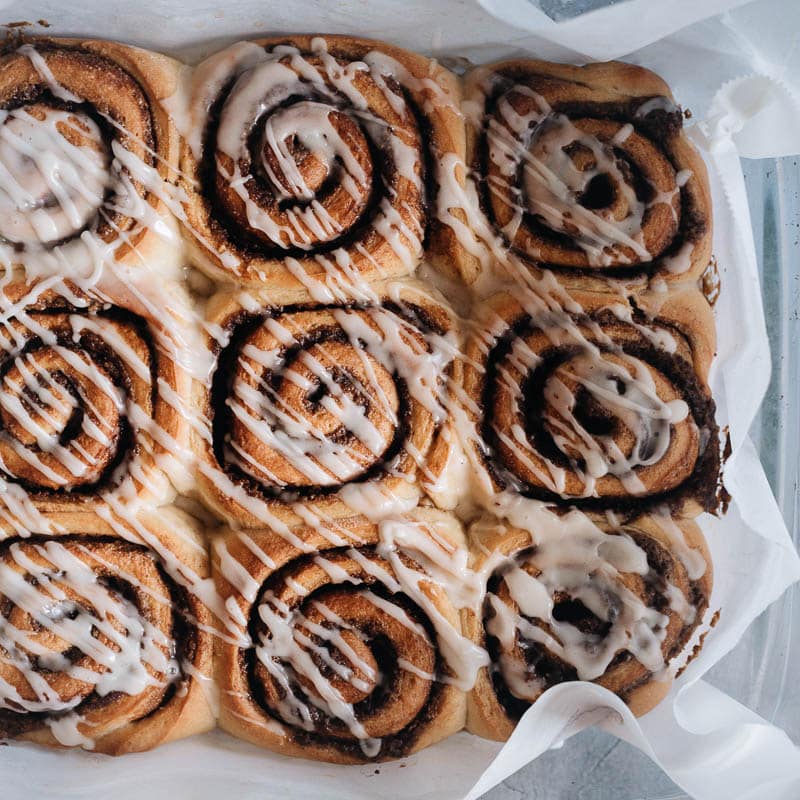 Soft Cinnamon Rolls with Sesame
Soft cinnamon rolls made with a Japanese milk bread formula to create an airy, fluffy texture with a crispy crust, stuffed with cinnamon sugar and a buttery sesame paste. Using a mixer, they're easy to put together. And I guarantee you the result is addictively good. Detailed storage and reheating processes are included, but you probably won't need them since it's so easy to finish half a dozen of them in one sitting.
Ingredients
Dough
300

g (2 1/3 cup)

bread flour

40

g (3 tablespoons and 1 teaspoon)

sugar

4

g (1/2 teaspoon)

salt

7

g (2 teaspoons / 1 packet)

dry active yeast

135

ml (3/4 cup)

whole milk

75

ml (1/3 cup)

heavy cream

1

large egg

2

tablespoons

butter

, melted & cooled

2

tablespoons

toasted sesame paste
Filling
4

tablespoons

butter

, softened

3

tablespoons

toasted sesame paste

3/4

cup (150 g)

dark brown sugar

1 1/2

tablespoons

cinnamon powder

1/8

teaspoon

salt
Instructions
Prepare the dough
Warm milk to approximately 100-110°F (38°C), about 30 seconds in the microwave. The milk should be warm, just a bit above body temperature. Add 1 teaspoon of sugar and the active dry yeast. Let sit for 5 minutes so the yeast will activate.

While the yeast activates, combine the flour, salt, and remaining sugar in the bowl of your mixer.

Once the yeast is activated, you should see bubbles on the surface of the mixture. Pour it onto the flour mixture. Add the heavy cream, egg, butter, and sesame paste. Stir with a spatula until everything just comes together (do not over stir). Cover the bowl with plastic wrap and let rest for 20 minutes.

Install the dough hook on your mixer (I used a KitchenAid). Start at low speed, then gradually increase to setting 6 out of 10. Knead for 10 to 12 minutes, until the dough is very smooth. Test the dough by pulling a piece of it using both of your hands. It should stretch into a very thin and translucent sheet. The dough should be soft, a bit sticky, but not stick to your fingers.

Grease a big bowl with a thin layer of oil. Place the dough in the bowl. Cover with plastic wrap. Let rise until the dough doubles in size, 50 to 70 minutes.
Prepare the filling
Prepare the filling while resting the dough. Combine the softened butter with the sesame paste in a small bowl. Stir until it forms a smooth mixture.

In a separate bowl, combine the brown sugar, cinnamon powder, and salt. Stir to mix well.
Assemble
Line a 13" x 9" (33cm x 23 cm) baking pan with parchment paper.

Punch the air out of the dough. Transfer it onto a lightly floured working surface. Use your hands to form the dough into a rectangle so it's easy to roll.

Roll the dough with a rolling pin until it forms a 17"x13" (43cm x 33cm) rectangular sheet. Use a dough cutter or a knife to slice off the irregular edges and discard.

Add the butter sesame paste mixture onto the dough. Use the back of a spoon to spread it out into a thin, even layer. Make sure to leave a thin gap on the top of the long edge without the paste, so it won't spill when you roll up the dough.

Sprinkle the cinnamon sugar mixture evenly over the sesame paste.

Starting at the top of the long side (17" / 43cm), tightly roll the dough towards yourself into a long log. Once fully rolled, make sure the seam is tableside down. Press gently to seal.

Use a sharp knife to cut the dough. Slice off the irregular part on both edges and discard the dough. Score the roll, once in the center, then in the center of the two halves, then 3 times between each quarter. Slice along the scored lines, making 12 cinnamon rolls. Transfer the cinnamon rolls onto the parchment paper, evenly spaced, in a 4 by 3 array.

Cover the baking pan with plastic wrap. Let rise again for 30 minutes.
Bake & garnish
Preheat the oven to 350° F (176° C). Bake the cinnamon rolls on the middle rack for 25 minutes. The top of the cinnamon rolls should turn golden brown, and the inside fully cooked.

Prepare the glaze while the rolls are baking. Whisk together the confectioners sugar, milk, and sesame paste in a small bowl, until it forms a runny glaze.

Once the cinnamon rolls are baked, let rest for 5 minutes. Drizzle the glaze on top of the rolls.
Serve and store
I highly recommend serving the cinnamon rolls when they're fresh out of the oven and still warm. At this point, they're super soft inside and crispy on the outside.

Once cooled completely, you can store them in an airtight container on your kitchen counter for 1 to 2 days. Due to the very soft and moist dough, the cinnamon rolls will have dried out a bit by the second day. I usually microwave a roll for 10 seconds or leave it in a 350° F (176° C) oven to warm up before serving.

For longer storage, place the cinnamon rolls in a ziplock bag, squeeze out as much air as possible, and store them in the freezer for up to a month. To reheat, bake the cinnamon rolls at 350° F (176° C) without thawing, until warm throughout, 10 minutes or so.
Nutrition
Serving:
12
g
,
Calories:
271
kcal
,
Carbohydrates:
40.3
g
,
Protein:
5.3
g
,
Fat:
11.7
g
,
Saturated Fat:
5.4
g
,
Cholesterol:
37
mg
,
Sodium:
151
mg
,
Potassium:
142
mg
,
Fiber:
8.4
g
,
Sugar:
9.5
g
,
Calcium:
188
mg
,
Iron:
3
mg
Lilja Walter is a part of the Omnivore's Cookbook team and worked closely with Maggie to develop and test this recipe.