These Chinese-style walnut cookies have a crispy and crumbly texture and heavenly walnut aroma.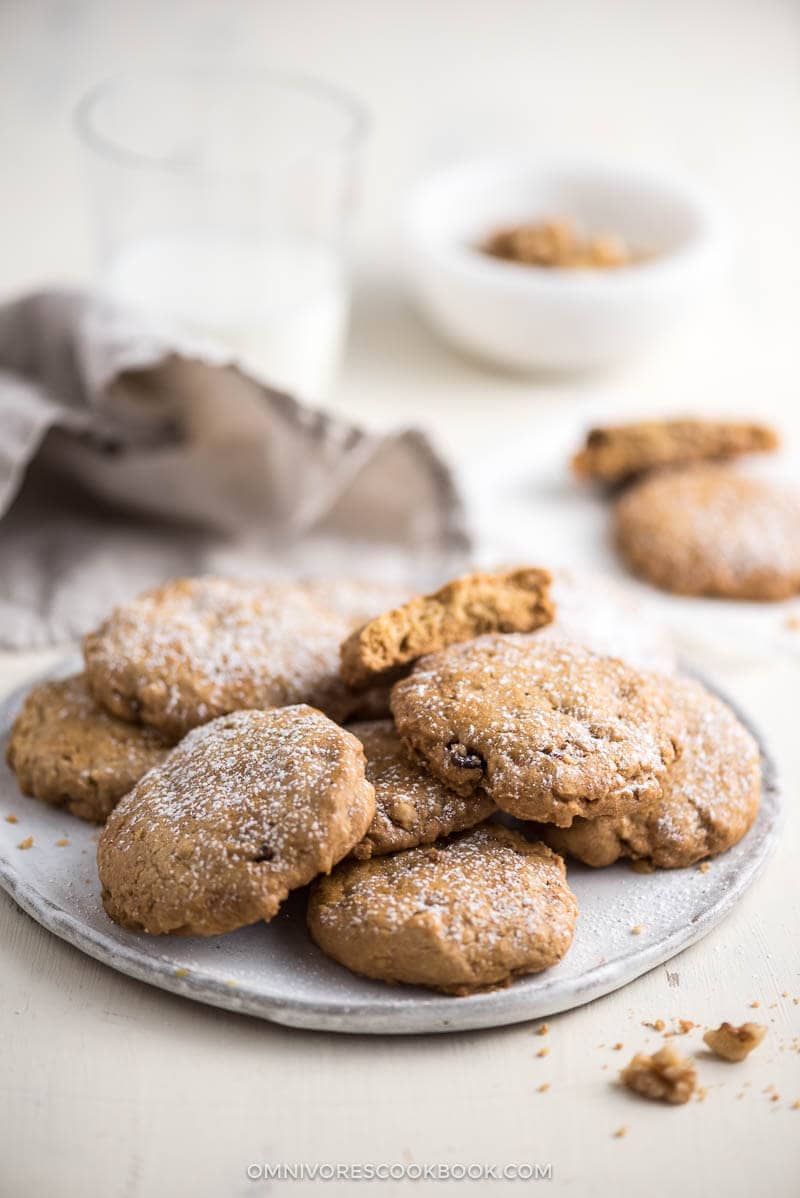 Growing up in China, dessert was a rare treat that we enjoyed once in awhile, especially during the Chinese New Year and festivals. To me it means abundance, the gathering of a family, and the coming New Year.
Walking on the streets of Beijing nowadays, you can still see those traditional dessert stores, where they stack cookies and pastries neatly behind the windows of the counter, with small paper tags in the front with hand-written characters revealing the filling or the flavor of the cookies. To purchase the desserts, you just tell the staff which flavor and how many cookies you want. The cookies will be scaled, priced by weight, and then carefully wrapped in a paper bag.
The whole process is slow paced and feels like a ceremony to me. The moment these bags filled with fragrant cookie are passed to my hand, I'd always have a difficult time suppressing my urge to jump from the floor and run home because I know that we'd have a sweet treat as soon as we got back.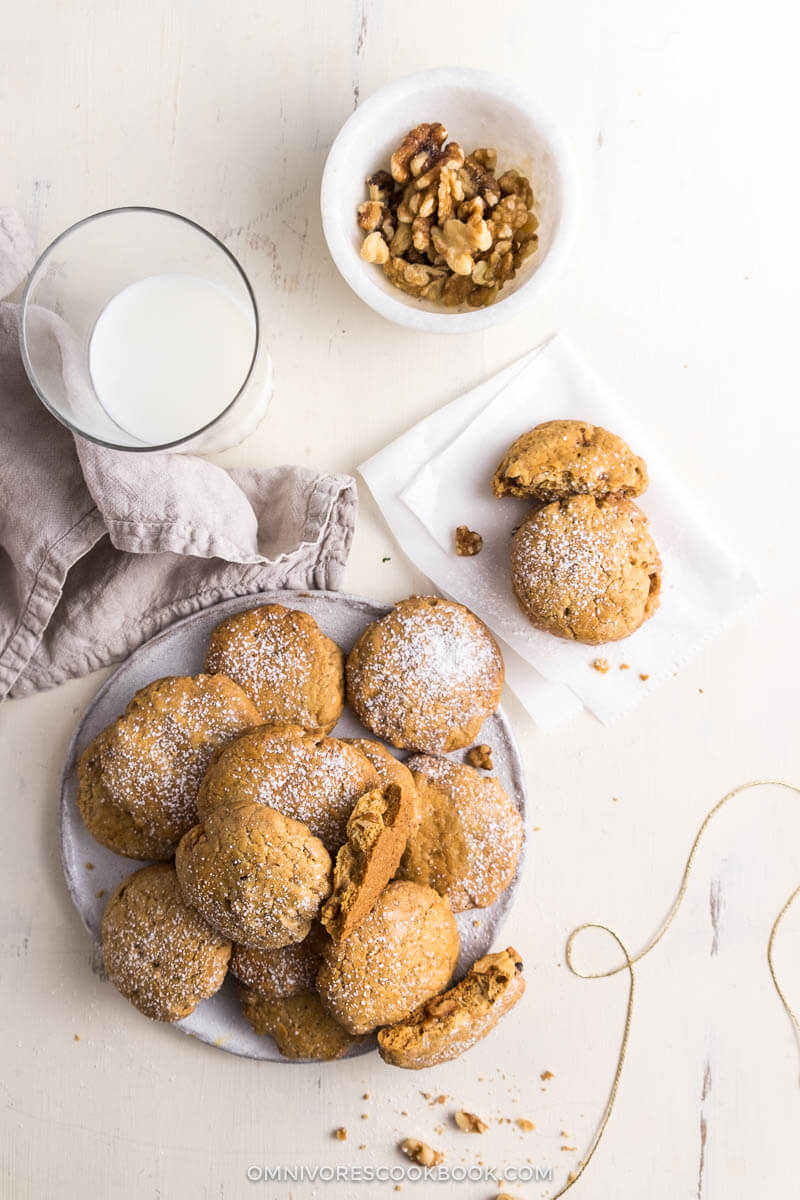 Most of the traditional Chinese desserts are quite different from the ones that I encountered in the US, like these walnut cookies. They are not overly sweet and do not look fancy at all. But, each bite is joyful. The crumbly and the nutty cookies are full of walnut aroma. It goes perfectly with a freshly brewed green tea, cold milk, or a cup of black coffee. The ingredients are on the healthier end, so you won't mind snacking on a few cookies late at night.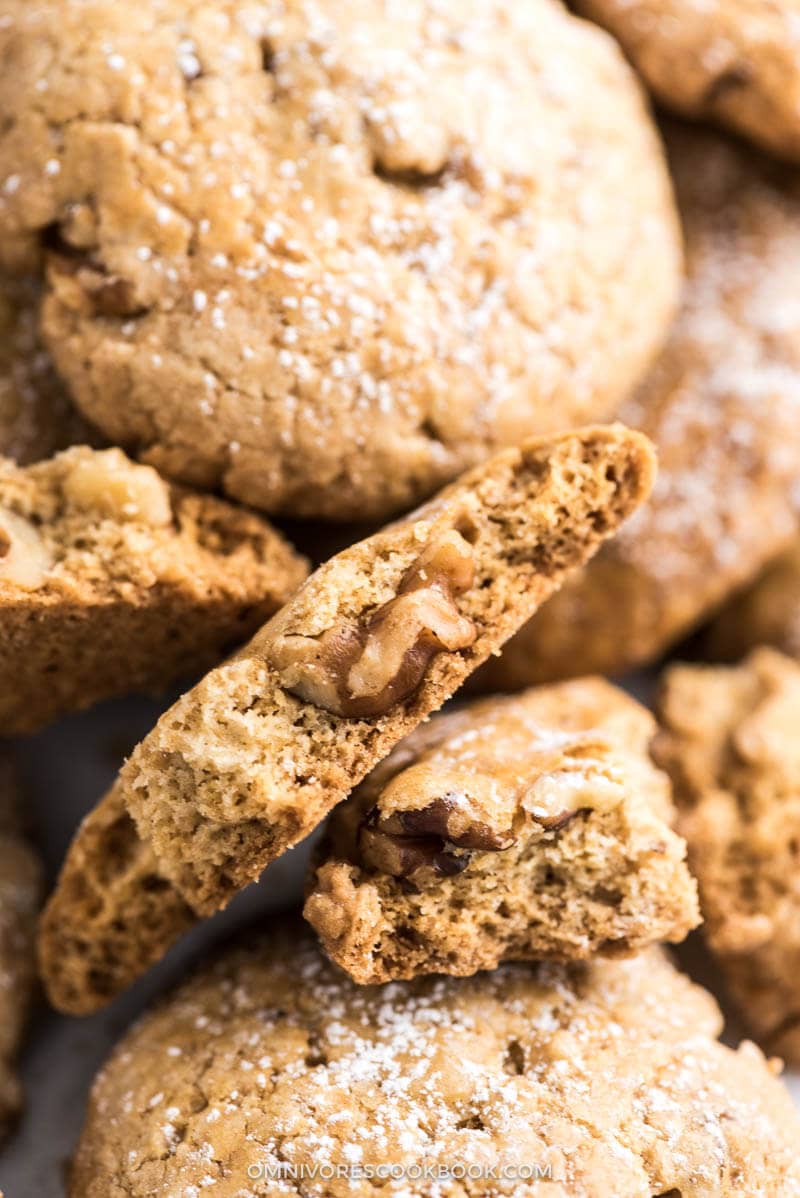 The recipe I'm sharing today is slightly adapted from "China: The Cookbook". It is a newly released book written by a couple from Hong Kong with decades of home cooking experience. The massive cook contains 650 traditional and authentic dishes from China and features various regional cuisines. The best part of this book is that it not only contains all your favorite recipes, but you can find many easy-to-follow everyday Chinese food recipes that are delicious and healthy. Some of my favorite recipes in the book include Hainanese Chicken with Coconut Milk, Beef in Oyster Sauce, Stir Fried Pea Shoots, and Shanghai Pork Chop Noodles Soup.
If you want to learn a bit more about this wonderful book, go to this page to see some sample recipes from the book and get a 30% discount on the retail price.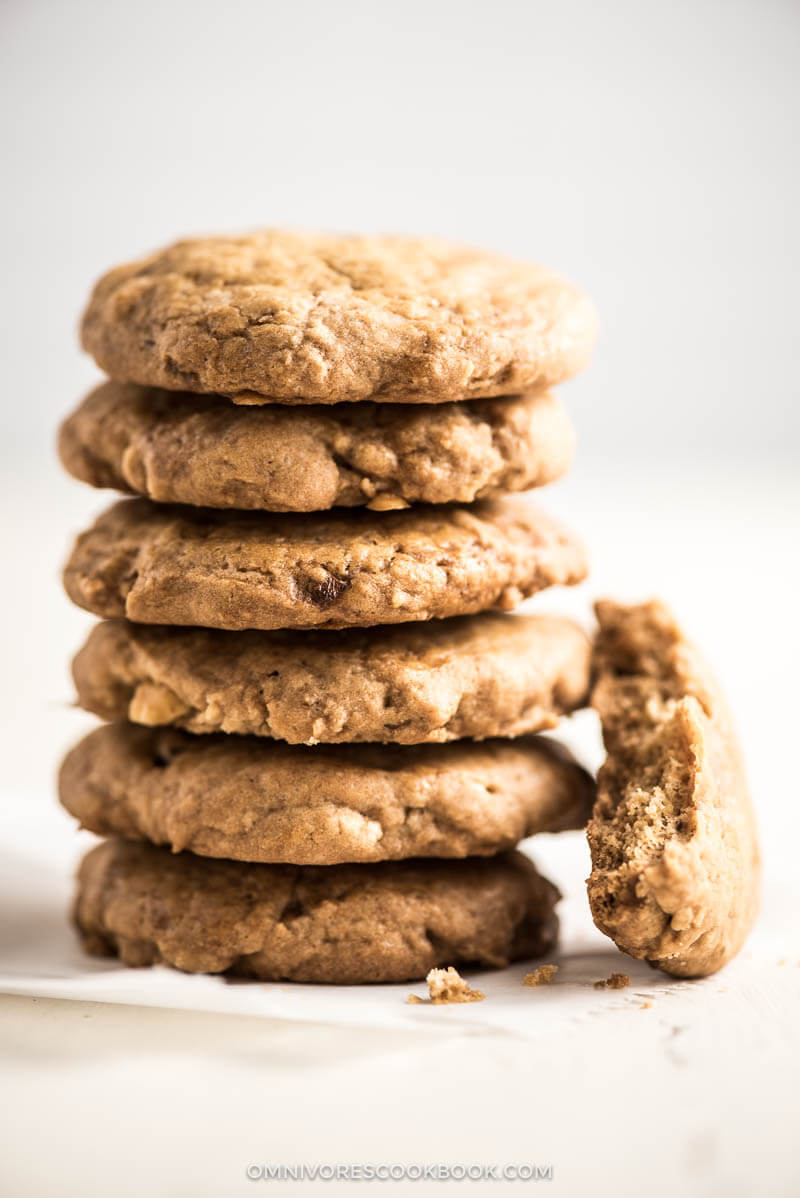 Further reads:
Check out my sesame brittles, almond crescent cookies and salted chocolate chip cookies for Christmas cookie ideas.
If you're preparing a dinner party for Chinese New Year, these top 25 recipes is the best place to start.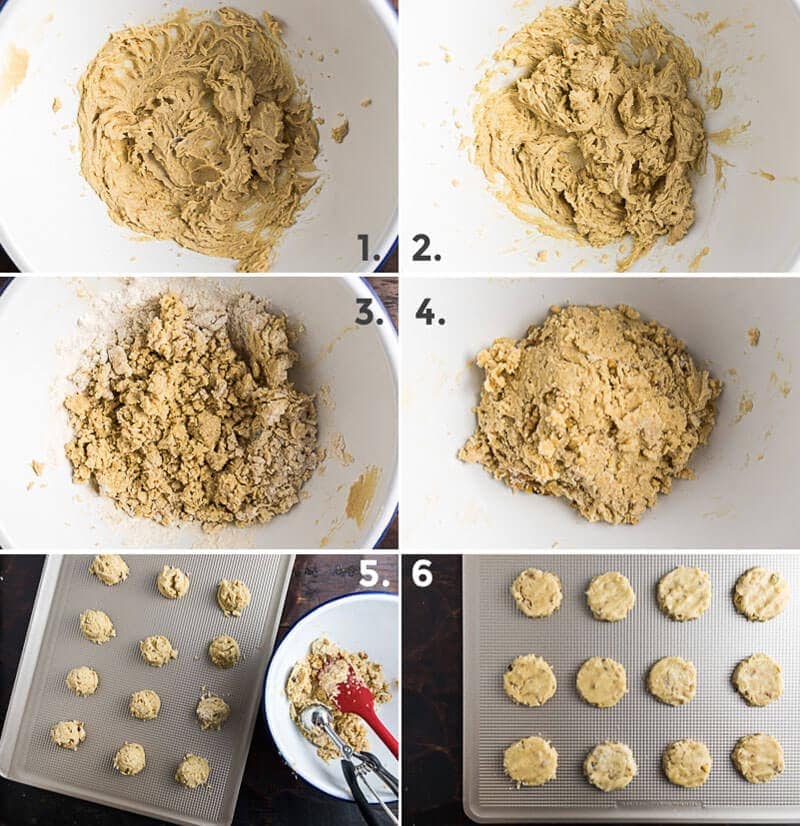 If you give this recipe a try, let us know! Leave a comment, rate it (once you've tried it), and take a picture and tag it @omnivorescookbook on Instagram! I'd love to see what you come up with.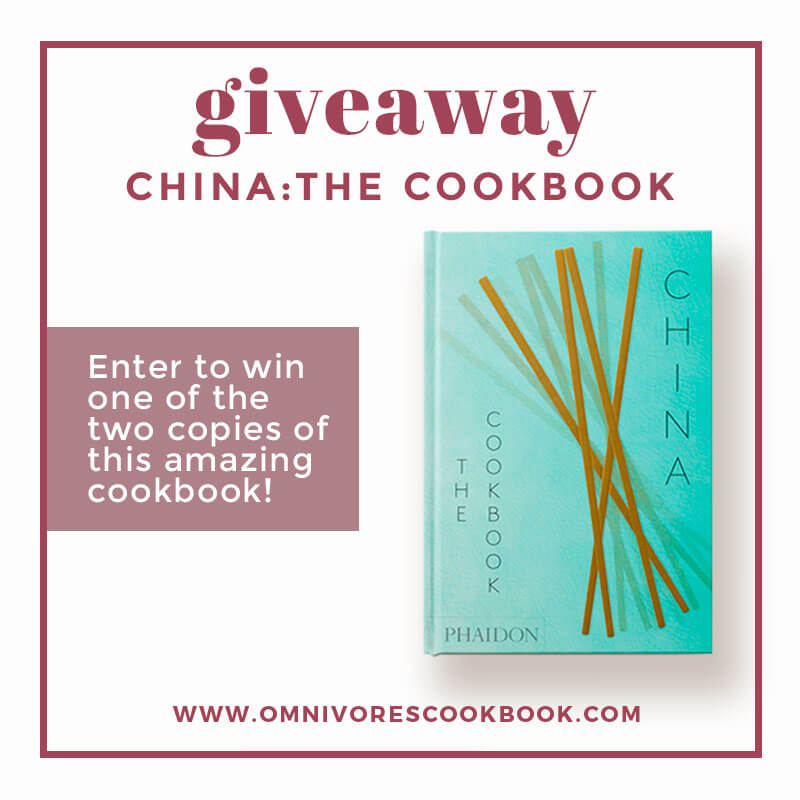 Want to Know More?
Receive our 5-Day Chinese Cooking Crash Course & Recipe Updates! Subscribe
Chinese Walnut Cookies (核桃酥)
These Chinese-style walnut cookies have a crispy and crumbly texture and heavenly walnut aroma.
Ingredients
120

grams (1 stick / 8 tablespoons)

unsalted butter, softened at room temperature

1/4

cup (55 grams)

granulated sugar

1/4

cup (45 grams)

brown sugar

1

large egg

, beaten

1 1/2

cup (220 grams)

all-purpose flour

1

teaspoon

baking powder

1/2

teaspoon

baking soda

Pinch of salt

1/2

cup (65 grams)

shelled walnuts

, broken to small pieces (*see footnote 1)
Instructions
Add butter, granulated sugar and brown sugar into a large bowl. Mix with a hand mixer on low until smooth.

Add 2 tablespoons of egg. Keep mixing until fully and combined.

Add flour, baking powder, baking soda, and salt. Mix until it just forms a dough. Do not over mix. It is OK if there is a bit of dry flour left in the bowl.

Change to a spatula. Add walnuts and add them into the dough.

Preheat the oven to 180 degrees C (350 F).

Line a cookie sheet with parchment paper or prepare a nonstick cookie sheet. Scoop about 1 and 1/2 tablespoons cookie dough and transfer it to the cookie sheet, 1 scoop apart from each other. You can also use smaller cookies by using 1 tablespoon dough per cookie.

Once the dough is divided, flatten the dough into a round disk, about 6-cm (1/3-inch) in thickness.

Mix the remaining egg with 1 teaspoon water to make the egg wash. Right before baking, brush a thin layer of egg wash on the top of each cookies.

Bake for 31 to 35 minutes, or until the cookies are cooked through (*see footnote 2).

Remove the cookies from the oven and place them onto a cooling rack for 5 minutes. Then transfer the cookies onto the rack until completed cooled down.

You can store them in an airtight container for up to 3 days.