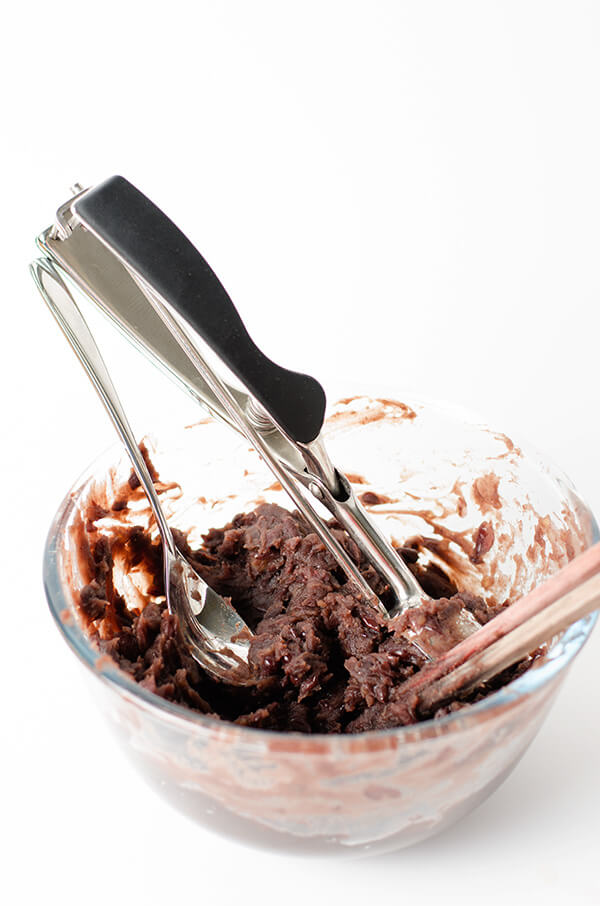 The azuki bean (赤红豆, Chi Hong Dou) is one of the most important ingredients for making Chinese desserts. It is commonly used in Mainland-style hot pastries and Cantonese and Taiwanese cold desserts. There are red bean popsicles, shaved ice with red bean sauce, fried dough with red bean paste filling, red beans with coconut milk, red bean pancakes etc. To make those yummy desserts, you will need red bean paste. This sweet and gooey red bean paste is so delicious that you can even eat it by itself.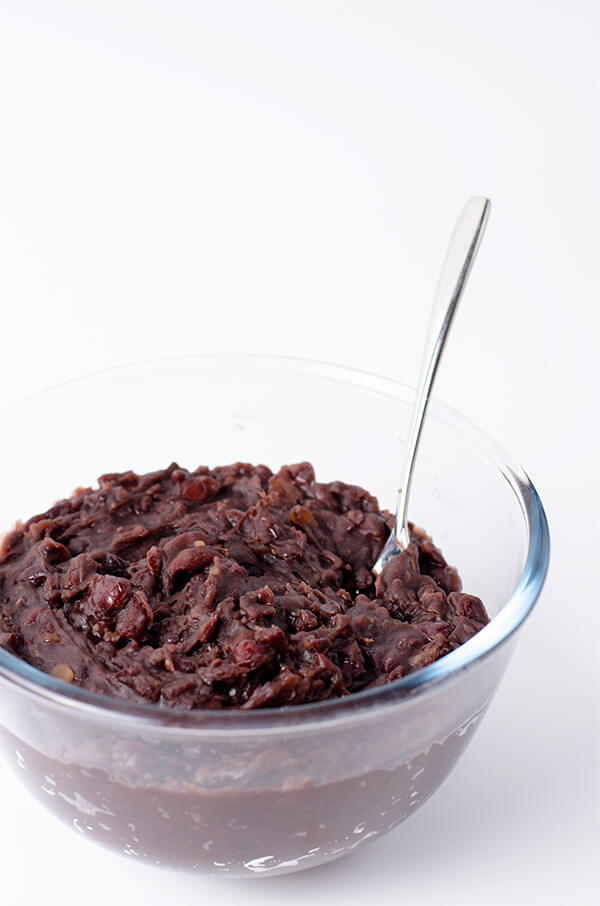 Types of Red Bean Paste
There are mainly two types of red bean paste in Chinese cuisine – mashed and smooth. The key difference is whether it contains the bean husk or not.
The mashed red bean paste is the most common for home cooking and is the one I include in the recipe below. You only need to boil the azuki beans with sugar until very soft, then smash them to the texture you prefer. The finished paste will have a consistent thick texture that is easy to shape, and contains some whole and broken beans.
The smooth red bean paste is a bit of a hassle to make and normally can just be purchased from a Chinese or Japanese market. For smooth paste, the azuki beans are boiled and mashed without adding sugar. The mashed beans are diluted into a slurry, then strained to remove the husk. To make the texture of bean paste smooth and gooey, a substantial amount of sugar and lard (or vegetable oil) will be blended into the paste. This is the reason you find that supermarket red bean paste has a better mouthfeel than the homemade kind.
If you cannot easily find pre-made red bean paste your local Asian market, I highly recommend you to make it at home. It is much healthier this way, and you can adjust the amount of sugar to your taste, and you can select high quality azuki beans to make the paste taste great.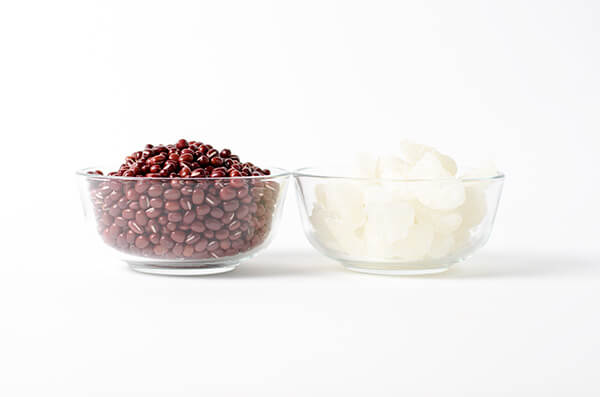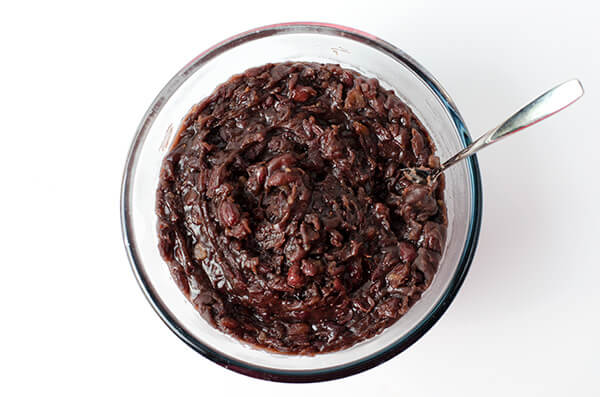 How Much Sugar?
One more word about the sugar in this recipe. If you are not sure about the sweetness, you can divide and add the sugar in two to three batches. To serve the red bean paste directly, or if the red bean paste is the main ingredient in the dessert, you should use 200 grams (7 ounces) of sugar. This way, the red bean paste will taste just right by itself. However, if you want to use the paste as a pastry filling, you should make the paste sweeter by following the recipe below, so the finished bread or cake will taste just right.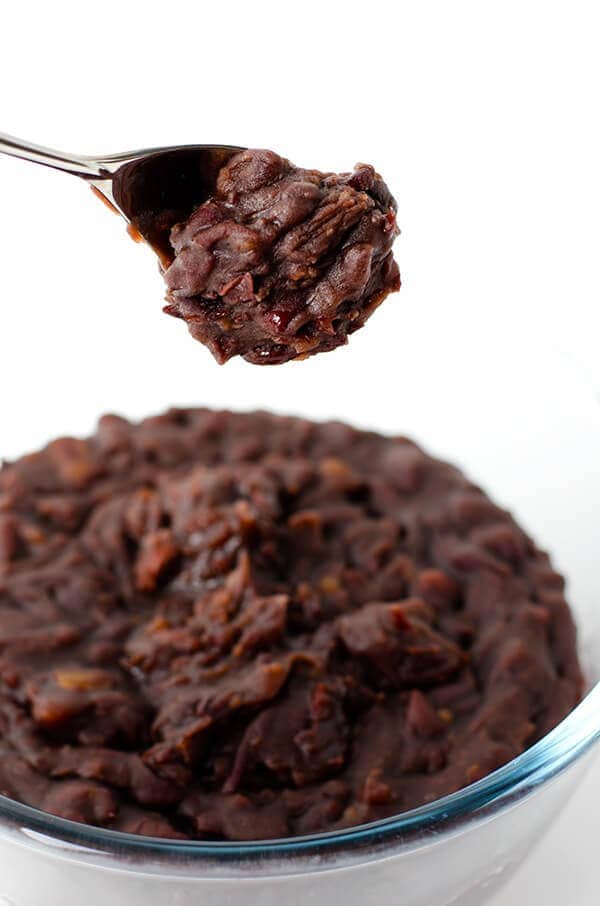 This recipe introduces 2 ways to make the bean paste – with and without a pressure cooker. I really like using the pressure cooker to prep beans. It does not require pre-soaking the beans overnight, and it reduces the cooking time by more than two thirds. But if you don't own a pressure cooker, no worries! You can still use a normal pot to cook this one easily.
I have created a short video below to walk you through the cooking process. If you are new to Chinese cooking, don't forget to check out my YouTube channel. I have a collection of cooking videos that is focused on Chinese cuisine, which will help to get familiar with preparing Chinese dishes in a very short time.
How to Use Red Bean Paste
Come back Thursday to check out (updated on 25th Sept. 2014) To use red bean paste, you could check out the sticky rice cake with red bean paste recipe. It's super yummy, healthy, and gluten-free!
Subscribe to our weekly newsletter now so you won't miss a recipe! For an extra bonus, you will get a free e-book that contains the 25 top recipes from Omnivore's Cookbook. We only send out one email per week and we promise not to spam your inbox.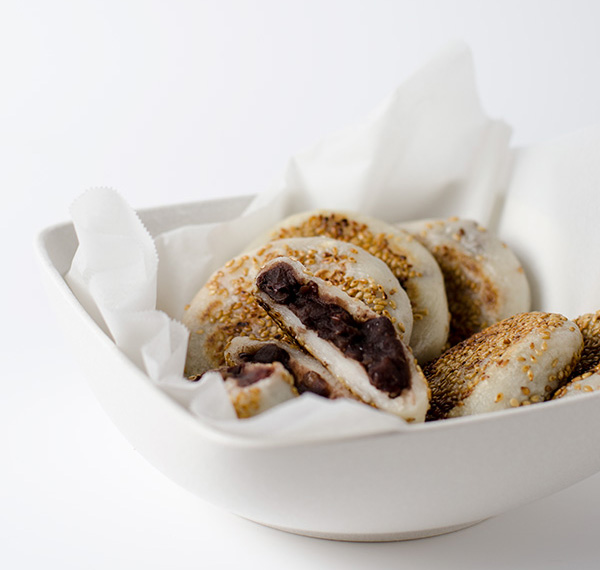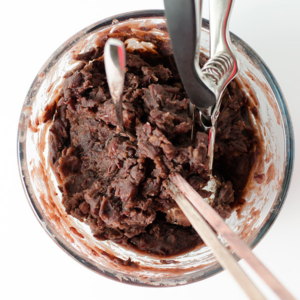 How to Make Red Bean Paste
The azuki bean (赤红豆, Chi Hong Dou) is one of the most important ingredients for making Chinese desserts. It is commonly used in Mainland-style hot pastries and Cantonese and Taiwanese cold desserts. 
Print
Pin
Rate
Ingredients
300

grams (10 ounces)

azuki beans

200

to 250 grams (7 - 9 ounces)

rock sugar

(or white sugar)

1/8

teaspoon

salt
Instructions
To Cook with pressure cooker
Combine red beans and 3 cups of water in pressure cooker. Lock the lid and heat over medium high heat until rated pressure has been reached. Turn to lowest heat and cook at high pressure for 20 minutes. Turn off heat and allow the pressure release naturally.

Remove the lid and stir the beans several times. Add rock sugar and turn back to medium high heat. Stir the beans constantly with a spatula and boil until the mixture has thickened. When you draw a line in the mixture with a spatula and can see the bottom of the pot for 1 or 2 seconds, the beans are finished. Remove from heat and transfer to a large bowl. The red bean "soup" is, at this point, still a thick liquid and not quite as thick as a paste. It will thicken quickly after cooking down, and transform into a paste after it has been chilled.

The paste will last about a week in an airtight container in the fridge, or about a month in the freezer.
To Cook without pressure cooker
Rinse azuki beans and pre-soak them in room temperature water overnight.

Discard the soaking water. Combine beans and 4 cups water in a large pot. Bring the water to a boil, then turn to lowest heat. Simmer, covered, for about 1 hour, until beans are soft and can be easily mashed with a spatula. Throughout the simmering, check the water level and make sure the water still covers the beans, so they won't be burnt on the bottom. Add water in small amounts, if necessary. Stir beans gently (without mashing them), occasionally during simmering.

Follow steps 2 and 3 above to complete the paste.
Nutrition
Serving:
42
g
|
Calories:
147
kcal
|
Carbohydrates:
32
g
|
Protein:
5.6
g
|
Fat:
0.3
g
|
Sodium:
26
mg
|
Potassium:
340
mg
|
Fiber:
3.8
g
|
Sugar:
17.2
g
|
Vitamin C:
2
mg
|
Calcium:
2
mg
|
Iron:
9
mg