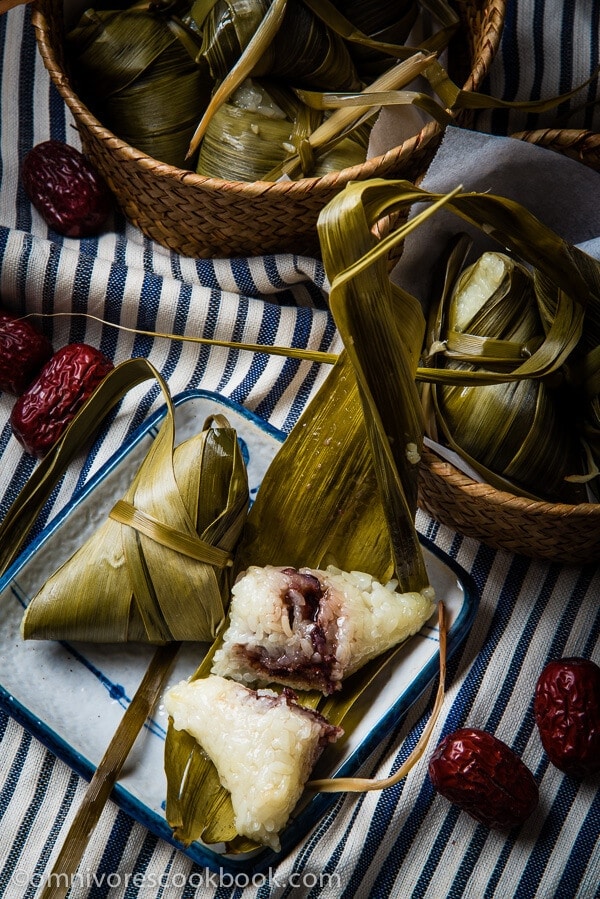 These sweet rice dumplings are gooey, sweet, and infused with the nice grassy aroma of the bamboo leaves. Learn the traditional Chinese cooking method in minutes with the video and step-by-step pictures.
In this post you can find:
What is a zongzi?
The backstory
Cooking Notes
Cooking Video
Recipe
I never thought about sharing a zongzi recipe until a reader brought it up. It uses very few, but quite unique, ingredients that might not be very easy to find outside of China. Plus, it's the type of traditional Chinese food that most fast-paced families don't cook at home. They buy frozen ones instead, just as they do for other types of dumplings and buns.
My mood was brightened by cooking zongzi last week. The room was filled with the sweet aroma of the sticky rice and the refreshing smell of the leaves. It was like the nice air at a lotus pond shortly after the rain. It reminded me of the running river and the blooming flowers. The fragrance gave me great peace of mind. I was so happy about my decision to cook zongzi (Thanks so much, Kara!).
However, the zongzi wrapping process was quite a dramatic one. Before rambling about my miserable cooking failure, I'll give you a short introduction to zongzi first.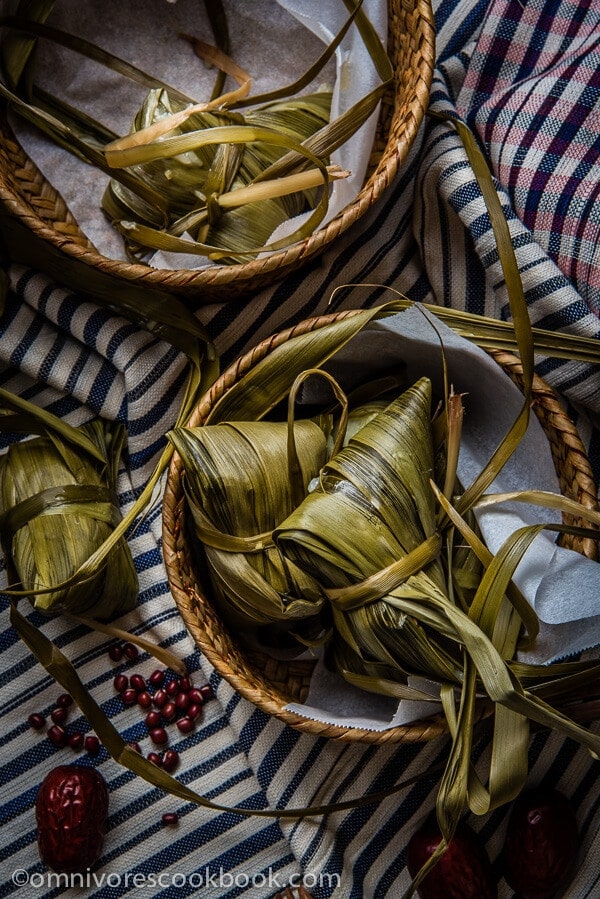 What is a zongzi?
Zongzi (粽子), or sticky rice dumpling, is a traditional Chinese dessert eaten to celebrate the Dragon Boat Festival (5th day of the 5th month of the lunar calendar). The idea of the zongzi is similar to that of tamales. The sticky rice is wrapped with all kinds of fillings in a wrapper (usually bamboo, reed, or banana leaves) and then boiled or steamed. It's a comforting snack loved by a lot of people.
There are so many types of zongzi, that it is difficult to cover them all in a short post like this. Generally speaking, there are sweet and savory zongzi. The sweet zongzi can be filled with red bean paste, marinated or dried jujubes, or marinated fruits. The savory zongzi are filled salted or chashu pork, salted egg, fish, chicken, mushrooms, or beans. Just like for dumpling fillings, there are countless combinations. For northerners, we usually cook sweet zongzi instead of savory ones.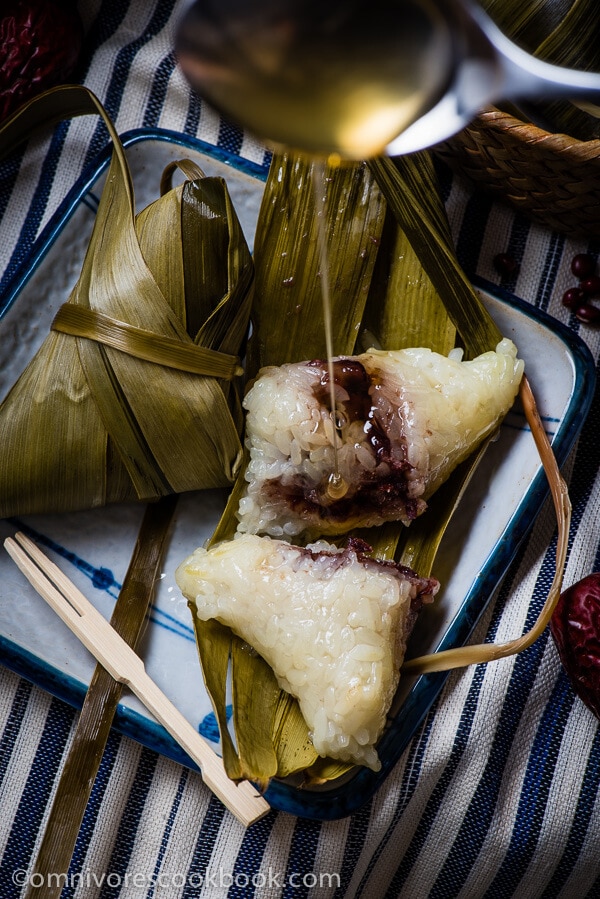 The backstory
First of all, I need to give full credit for the recipe to my mom. Thanks to her, I was able to put the recipe together. I'd mess up everything without her help.
My trouble originated from the pride and prejudices of a northerner.
When I mentioned that I needed to purchase some bamboo leaves online to cook this dish, my mom suggested we get some fresh leaves from my grandma's place. She cooks zongzi throughout the year and often enjoys them as a staple. She always has zongzi wrappers on hand.
When I looked at the leaves, I was surprised at how narrow and tiny they were. "It is impossible to make zongzi out of these!" I claimed. They were reed leaves that a relative gathered by hand and shipped from their northern hometown. Very special and with a great aroma, but not really the bamboo ones I was expecting.
However, my grandma insisted I HAD TO use the reed leaves.
To quote her original words – The bamboo leaves suck and don't have a nice aroma. We northerners only use reed leaves and that is the only way to cook good zongzi.
She just officially banned me from using any other type of leaves!
But how do I make zongzi from these tiny leaves?
She told me it's easy. Just overlap three leaves together and wrap.
In the end, I brought the leaves home without feeling very confident. So I decided to ask for my mom's help (very smart of me!). We both had the experience of wrapping zongzi, from around 10 years old. So we guessed (read: hoped) the zongzi wrapping muscles were still there.
It turns out, wrapping zongzi with three leaves at a time is pretty damn difficult! After trying for 30 minutes without success, I turned to my mom and said I'd give her full credit for making this one, and that I'd care of the video shooting.
The wrapping wasn't even easy for her, although she claims she has a gift for wrapping things. Fortunately, we managed to wrap all the zongzi in the end.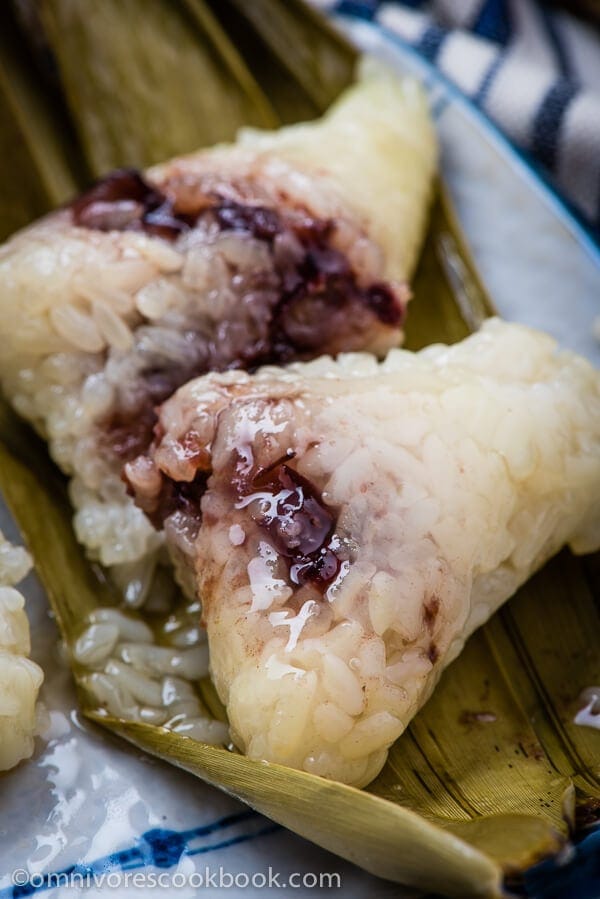 Cooking Notes
Don't be intimidated by folding with three leaves. If you are using bamboo or banana leaves, you only need to work with one at a time.
Boil the leaves for a few minutes so they won't break during the wrapping. But don't boil them for too long, otherwise they will lose their nice aroma.
Marinate the sticky rice overnight or longer, so it will be cooked through easier.
Wrap the zongzi carefully so the rice won't fall out during cooking.
If you are using more than one leaf at a time, dip the leaves in water before wrapping. The water on the leaves will help them stay together.
Don't tie the zongzi too tightly, because the rice will expand during cooking and end up with a funny shape.
Place a heavy plate on top of the zongzi during cooking, so they will stay under water and keep their shape.
It generally takes 3 hours to cook through a medium sized zongzi by boiling. You can cook for two and half hours if the zongzi is smaller, or up to 4 hours if the zongzi is huge.
You can double or triple this recipe easily.
Cooking Video
Here is the video on how to make zongzi. Don't forget to check out my YouTube channel too. I have a collection of cooking videos that walk you through the delicious recipes at Omnivore's Cookbook. It is one of the fastest ways for you to get used to the techniques that are used in Chinese cooking!
Want to Know More?
Receive our 5-Day Chinese Cooking Crash Course & Recipe Updates! Subscribe
Zongzi with Red Bean Paste (Sticky Rice Dumplings)
These sweet rice dumplings are gooey, sweet, and infused with the nice grassy aroma of the bamboo leaves. Learn the traditional Chinese cooking method in minutes with the video and step-by-step pictures.
Ingredients
20

to 30

sheets dried or fresh bamboo leaves

(or reed or banana leaves) (*see footnote)

2

cups (400 grams)

glutinous rice

1

cup

homemade red bean paste

(or a packaged one from a Chinese market)

Cotton twine or narrow stalks to tie the zongzi
Instructions
Rinse glutinous rice with water 2 to 3 times. Add glutinous rice into a big bowl and water to cover. Let soak overnight.
If using dried bamboo leaves
Bring a large pot of water to a boil. Add bamboo leaves and boil for 5 to 8 minutes, until the leaves turn soft but are still green in color. Transfer the bamboo leaves to a plate.
If using fresh bamboo leaves
Heat a large pot of water to just under boiling. Turn off heat. Dip bamboo leaves in the hot water and let them soak for 1 to 2 minutes, until soft.
To wrap zongzi
Place the bamboo leaves, cotton twine, red bean paste, glutinous rice (do not discard the water), and two spoons on the working surface.

If the bamboo leaves are less than 8 cm (3 inches) wide, use two at a time. Otherwise, you can use one leaf. Overlap the leaves by 50% to 60% if using more than one. Fold the leaves with both hands to shape them like a funnel, without leaving an opening at the bottom.

Hold the funnel with one hand. Start adding glutinous rice into it with a spoon with the other hand, until halfway filled. You should add water with the rice, so the rice fills the leaf nicely while the water drips away from the bottom. Scoop about 1 tablespoon of red bean paste (or more if the zongzi size is bigger) and place it on the rice. Continue to fill the funnel with rice, until almost level with the edge. Pat the rice a bit so the top is flat. You don't need to compress the rice too hard, otherwise the rice will be squeezed into the red bean paste.

Continue to hold the funnel with the same hand. Use the other hand to fold the longer side of the leaf as a lid to cover the rice. Continue to fold the longer side of the leaf, until it wraps the funnel. Hold the zongzi with one hand and use the other hand to tie it up with the cotton twine. The finished zongzi should have edges that are 8 to 10 centimeters (3 to 4 inches) long. Work on the rest of zongzi using the same method. (refer to the

video

for how to tie zongzi)

Place the zongzi in a large pot and add water until it almost covers the zongzi. Place a heavy plate on top to keep the zongzi in the water while cooking. Cover the pot and bring to a boil over high heat. Turn to low (or lowest) heat and let the water continue boiling. Keep covered and simmer for 3 hours.

Transfer one zongzi to a plate to cool off until you can handle it. Untie and slice it in half to make sure it's cooked through (if the zongzi is very large, it might require more cooking time, up to 4 hours). Transfer all the zongzi to a plate to cool off.

Untie the zongzi right before serving and discard the leaves. Serve warm or cold with honey or sugar. Dip the zongzi in honey or sugar while eating.

To store zongzi, place in a plastic bags after cooling off and seal the bag. Store in fridge up to 3 days or in freezer up to 2 months.

To serve leftover zongzi. Let thaw completely (if frozen). Steam or gently boil in a pot of water until warm. Or you can place the zongzi on the kitchen counter until they return to room temperature, then serve cold. I personally prefer warm zongzi, because they have a better texture than the cold one.
Notes
Depending on the type of leaves you use, you might need to use 2 to 3 leaves at a time. If you're using bamboo leaves that are approx. 8 centimeters (3 inches) wide, use one leaf at a time.
Nutrition
Serving:
36
g
,
Calories:
156
kcal
,
Carbohydrates:
34.3
g
,
Protein:
3.2
g
,
Fat:
0.2
g
,
Sodium:
6
mg
,
Potassium:
38
mg
,
Fiber:
1.1
g
,
Sugar:
4.7
g
,
Calcium:
10
mg
,
Iron:
1.8
mg