These nutty buttery sesame checkerboard cookies are designed to pair with your morning coffee and afternoon tea. Made with two different types of sesame paste and shaped into cute checkerboard patterns, these cookies have all the goodness of a peanut butter cookie, taste even nuttier, and are peanut-free. They are perfect for Christmas, holiday gifting, and anyone with a peanut allergy.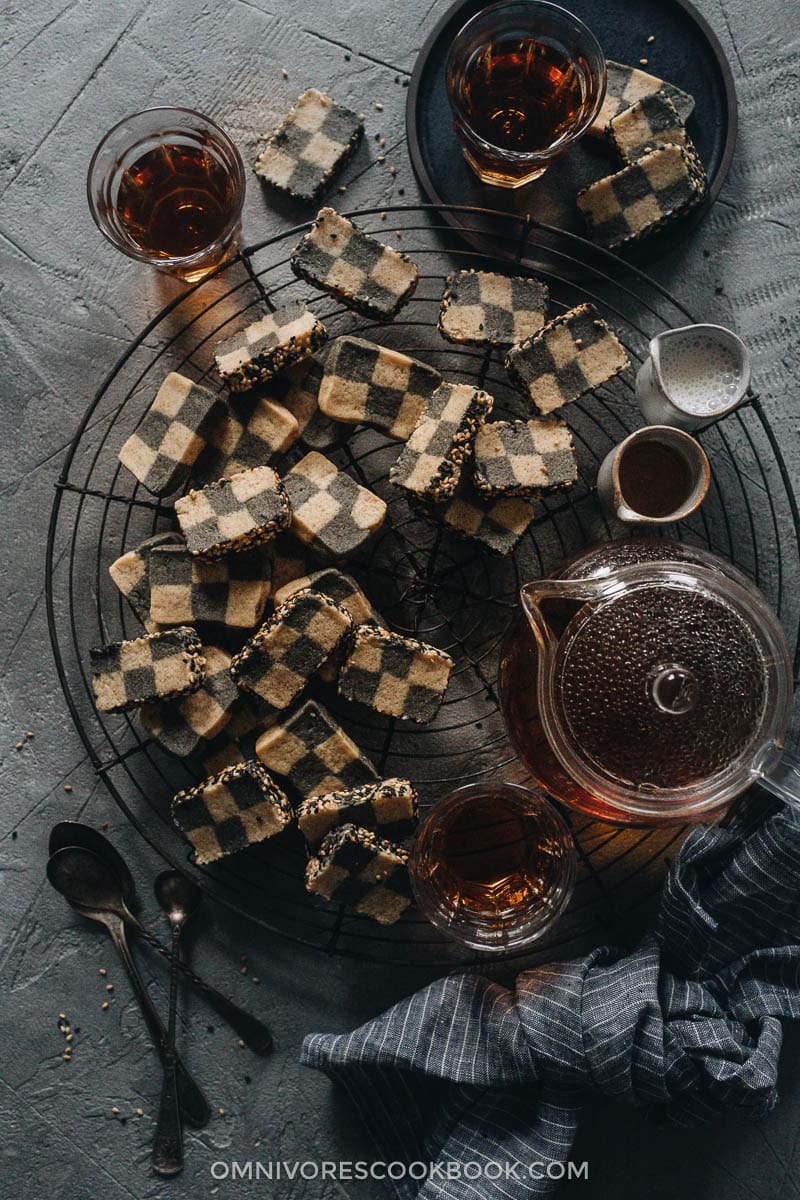 It's that time of year again. The weather has started to cool off, fall festivals are popping up on the street here and there, and people are starting to make plans for the upcoming holidays. When we can finally stop running the AC all day, our oven gets a little busier.
Today I want to share these cute sesame checkerboard cookies with you. They are easier to make than you're probably thinking. The result is a buttery soft nutty cookie that is perfect for pairing with a hot beverage like tea or coffee. If you love peanut butter cookies, you cannot miss this one. It is made with nut-free ingredients, so it's a great alternative for anyone who has a peanut allergy.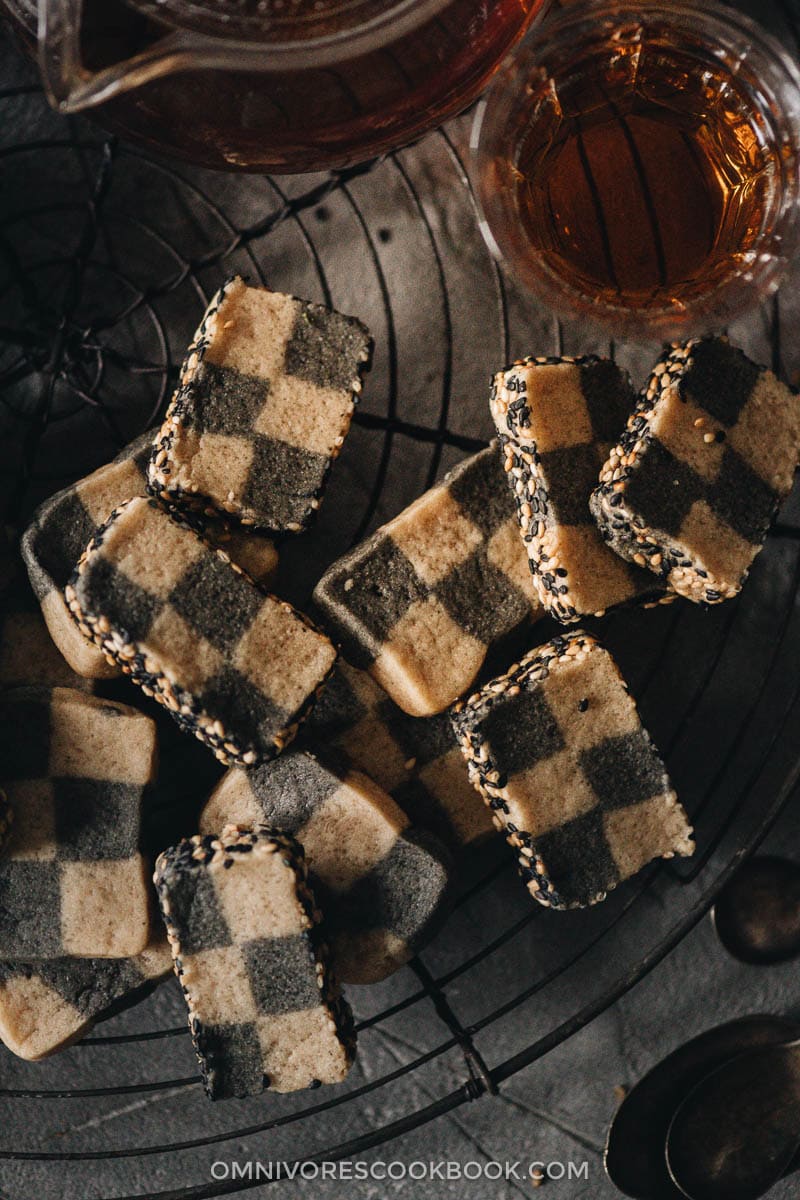 News on Omnivore's Cookbook
Today I have exciting news to announce. We have a new member on the Omnivore's Cookbook team – welcome Lilja Walter! She has been working in restaurants in New York since 2014 and is currently cooking at Momofuku Kawi. She will be working with me in the kitchen to assist me with cooking and developing recipes, focusing especially on Chinese baking and desserts.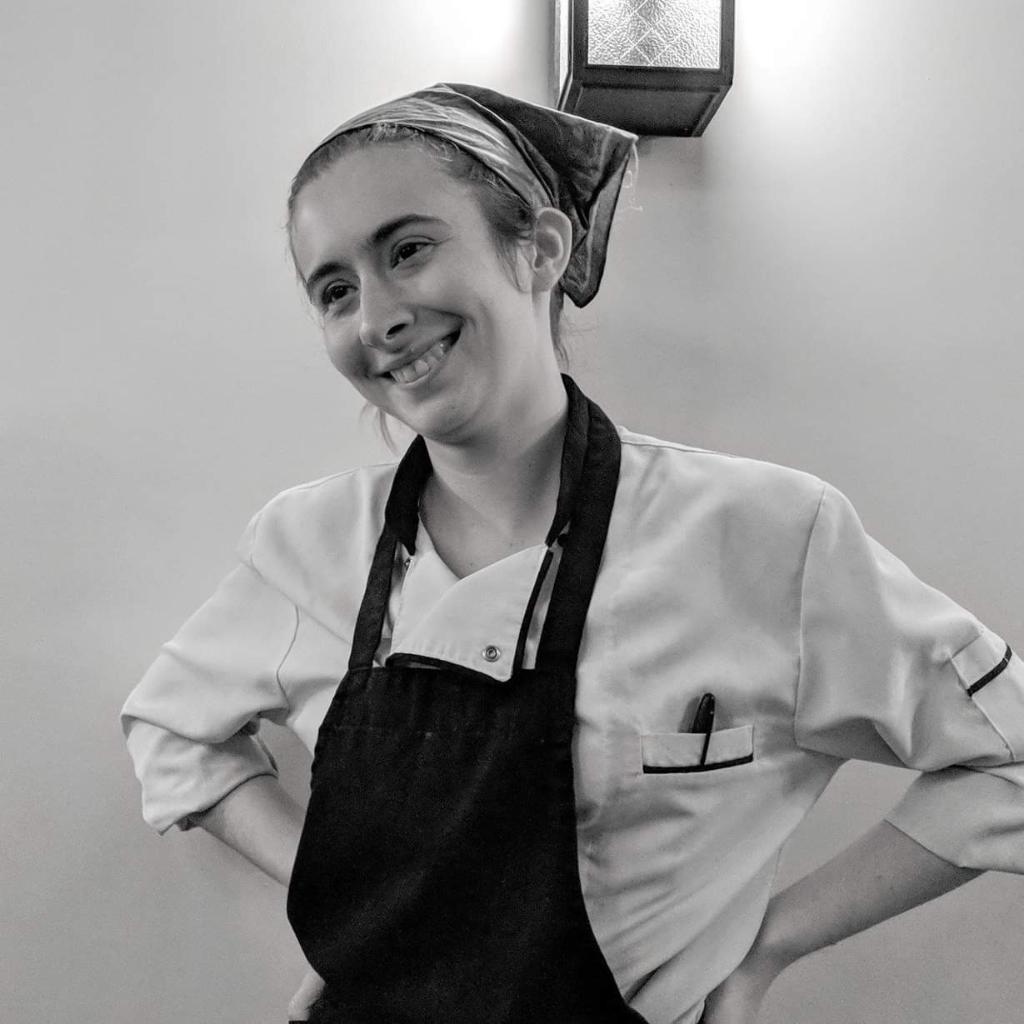 I'm really happy to have Lilja joining the force. We've been working together for a month, and I'm already asking myself why I didn't do this earlier. Not only is she an experienced cook who can help with research and testing of anything related to Chinese pastries and baking. But she also provides feedback on my savory dishes so I can make improvements. We also bounce ideas off each other in the kitchen and we're planning to create some very exciting recipes for the upcoming holiday season. And not to mention, it's such a relief that I have another pair of hands to help with prep and cleanup. Now, instead of running around, washing three dozen dishes after testing one recipe, we can test a dish multiple times and finish up the day with a clean kitchen.
And this sesame checkerboard cookie recipe is one that Lilja suggested and developed. I hope you like it as much as I do!
Sesame Checkerboard Cookies Cooking notes
What is black sesame paste
As its name suggests, black sesame paste is a black-colored paste made from ground roasted black sesame seeds. It is commonly used as a filling in Asian desserts and baked goods such as mooncakes and rice cakes.
You can find black sesame paste in an Asian market, especially in a Japanese market. You can also find it on Amazon too.
Alternatively, you can make black sesame paste at home, using this recipe from Just One Cookbook.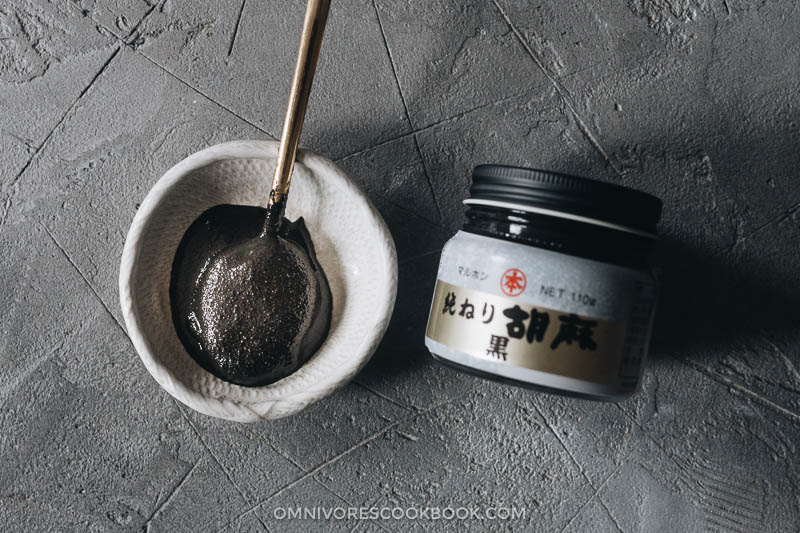 Chinese sesame paste and alternatives
Similar to black sesame paste, the Chinese sesame paste is made from ground roasted white sesame seeds. Different from tahini, sesame seeds are toasted until golden brown and then ground. The paste has a nuttier taste and a light brown color.
You can easily find Chinese sesame paste in an Asian market or online. Or you can simply use tahini to replace it.
Workflow
Making checkerboard cookies is easier than you're probably thinking.
(1) Make the cookie dough
Cream the butter and sugar
Add honey
Divide into two batches of dough
Add the black sesame paste and Chinese sesame paste to each batch separately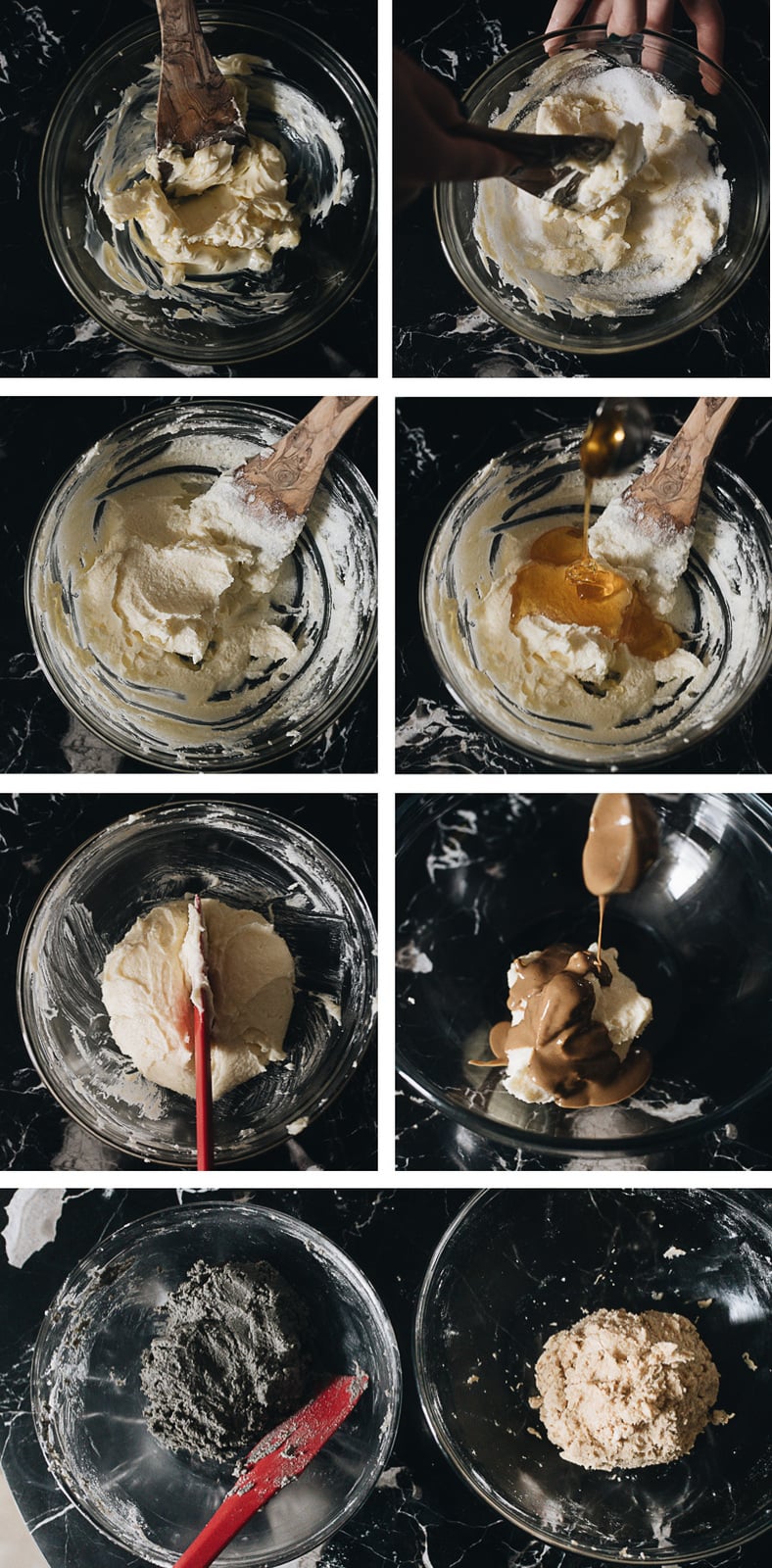 (2) Shape the checkerboard cookie dough
Shape the dough into rectangles and chill them
Cut the rectangles into long strips, then layer the strips in an alternating pattern to make the checkerboard design
Coat the dough with sesame seeds
Chill the dough again
Cut the dough into cookies and bake
We decided to make six-squared checkerboard cookies instead of nine-squared ones because we liked the rectangular shape. But you can make nine-squared cookies if you prefer.
An alternative approach
At the end of the cooking, we had some dough left. We simply smooshed them together, shaped it into a round log, then cut it into cookies. Some of them turned out like swirl cookies and some like abstract art. They looked pretty cool too!
So my conclusion is, don't let the checkerboard intimidate you. If you accidentally mess up the checkerboard pattern, your cookies will still turn out pretty cool!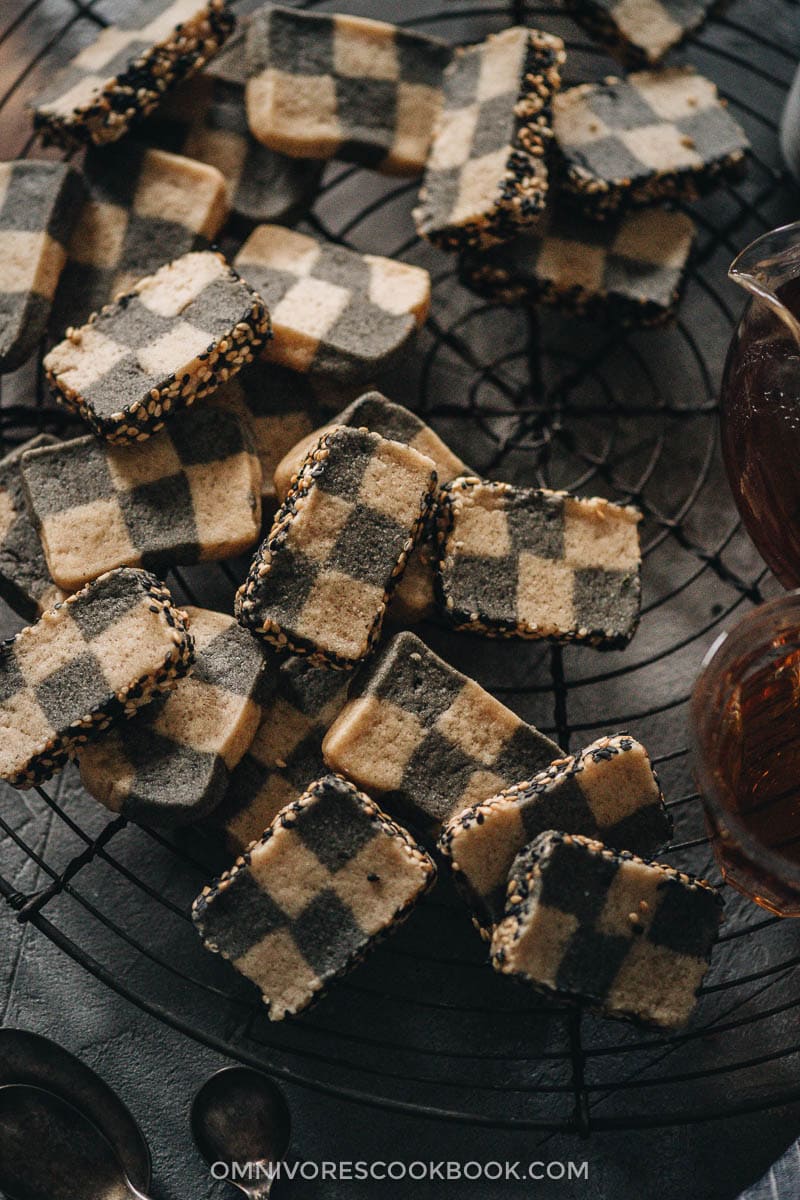 More Asian desserts and sweets
If you give this recipe a try, let us know! Leave a comment, rate it (once you've tried it), and take a picture and tag it @omnivorescookbook on Instagram! I'd love to see what you come up with.
Want to Know More?
Receive our 5-Day Chinese Cooking Crash Course & Recipe Updates! Subscribe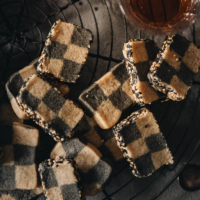 Sesame Checkerboard Cookies
These nutty buttery sesame checkerboard cookies are designed to pair with your morning coffee and afternoon tea. Made with two different types of sesame paste and shaped into cute checkerboard patterns, these cookies have all the goodness of a peanut butter cookie, taste even nuttier, and are peanut-free. They are perfect for Christmas, holiday gifting, and anyone with a peanut allergy.
Ingredients
1

and 1/2 stick (170 g)

unsalted butter

, softened

1/2

cup (100 g)

sugar

4

tablespoons

honey

3

tablespoons

black sesame paste

2

tablespoons

Chinese sesame paste

(or tahini)

2

cups (260 g)

all-purpose flour

1/4

teaspoon

salt

3

tablespoons

roasted sesame seeds

, black or white or both (optional)
Instructions
Prepare the dough
Add butter and sugar into a big bowl. Use a hand-blender set on low speed or a wooden spatula to mix for 2 to 3 minutes, until it forms an even, white, and fluffy mixture.

Add the honey. Stir until it is incorporated completely.

Gather the mixture into a ball shape and use your spatula to divide it into two even pieces. Transfer one piece to another big bowl.

Add the black sesame paste into one bowl and add the Chinese sesame paste (or tahini) into the other bowl. Stir separately to mix well.

Add the flour and 1/8 teaspoon of salt into each bowl. Stir with a spatula until it forms a dough. The dough should be soft but maintain its shape. If your dough is too wet, add more flour, one tablespoon at a time, and mix with a spatula until incorporated. If your dough is too dry, add a few drops of vegetable oil and mix again.

Place a piece of parchment paper onto your working surface. Transfer one dough ball onto the paper. Use your hands to gently shape it into a rectangular block, about 5.5" (14cm) x 3" (7.5 cm) x 1" (2.5 cm). Wrap the parchment paper around the block so it's completely covered while maintaining the shape. Transfer it to the freezer to chill for at least 20 minutes or in the fridge for 2 hours, until firm. Repeat the process to chill the other dough.
Assemble the cookies
Once the doughs are chilled, work on them one at a time to cut them into rectangular sticks. To cut the dough, slice it into 1/2" (1 cm) pieces, then evenly divide the pieces into long strips that are 1/2" (1 cm) tall and 1/2" (1 cm) thick.

To assemble, place three strips together, alternating the colors. Then place another three strips on top of the bottom ones, alternating the colors again. Gently press them together to form the checkerboard log.

(Optional) Spread the roasted sesame seeds onto a piece of parchment paper. Place the checkerboard log onto the seeds, one side at a time, and press gently so the sesame seeds stick the surface.

Wrap the checkerboard log with parchment paper again and chill for another 20 minutes in the freezer, until the dough doesn't feel soft when you touch the surface. Or you can leave the dough in the freezer until you're ready to bake. In this case, place the parchment wrapped cookie dough in a ziplock bag to prevent the dough from drying out. If the cookie dough is too hard to cut, let it rest on the kitchen counter for 5 to 10 minutes to soften before cutting.
Baking
Preheat oven to 350 degrees F (176 C). Line a large baking sheet with parchment paper.

Transfer the fully chilled checkerboard log onto a cutting board. Slice it into 1/4" (0.6 cm) pieces, and place it on the lined baking sheet. Make sure to leave about 1" (2 cm) of space between the cookies. You might need to bake the cookies in two batches. Bake for 15 minutes, until the bottom is browned and the center sets.

Leave the cookies on the baking sheet to chill for 10 to 15 minutes, until they firm up and don't fall apart when you lift them. Use a spatula to carefully transfer the cookies onto a cooling rack or a large plate without overlapping. Let cool completely. The cookies will firm up once they reach room temperature.

The cookies are ready now. You can also store them in a sealed jar or ziplock bag at room temperature for 5 days. If you plan to store them longer, layer the cookies on parchment paper without overlapping in an airtight container, placing parchment paper between layers. Freeze for up to 6 months. Thaw the cookies in the fridge overnight, then on your kitchen counter until they warm to room temperature before serving.

Enjoy the cookies with coffee or tea!
Nutrition
Serving:
1
cookie
,
Calories:
79
kcal
,
Carbohydrates:
8.3
g
,
Protein:
1.1
g
,
Fat:
4.7
g
,
Saturated Fat:
2.3
g
,
Cholesterol:
12
mg
,
Sodium:
42
mg
,
Potassium:
11
mg
,
Fiber:
0.3
g
,
Sugar:
3.9
g
,
Calcium:
5
mg
Lilja Walter is a part of the Omnivore's Cookbook team and worked closely with Maggie to develop and test this recipe.