A Chinese-style take on an American breakfast favorite, this recipe pairs buttery crumbly scallion biscuits with a richly flavored and decadent char siu gravy. It's a creative way of using the popular Chinese BBQ pork for a filling and quirky brunch.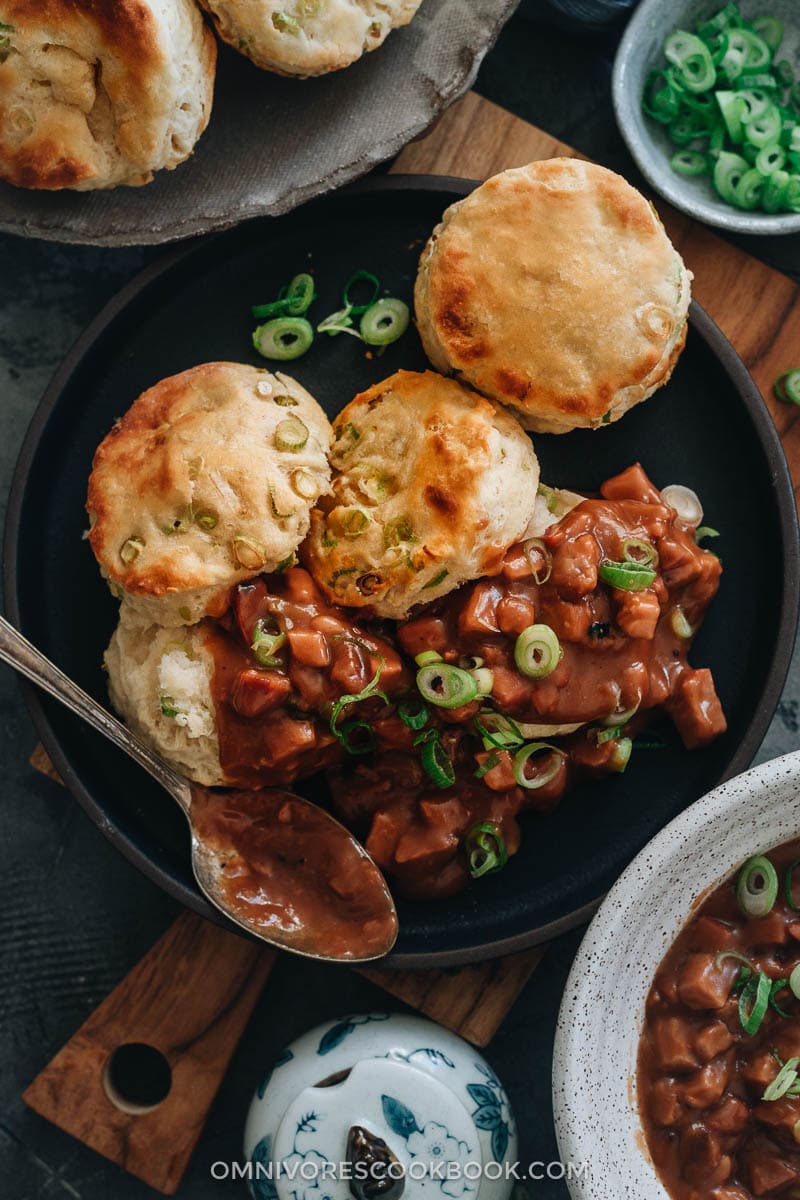 Before I moved to the US, I had never tried or even heard of biscuits and gravy. The first time I tried them, it was in Atlanta, on my way to visit my in-laws. When my husband suggested it for breakfast, I thought it was so bizarre to serve cookies in gravy. It turned out I had confused the American biscuit with the British type.
Instead of hard cookies, what was presented in front of me was buttery crumbly dough cakes smothered in a thick, almost-overwhelming sauce. It didn't take me long to come to love this new find, especially when it's paired with fried chicken. So much so that I felt I had to pay tribute to it in this recipe using the popular Char Siu pork from Cantonese cuisine.
I recently perfected the old recipe with a new formula. I was brainstorming with Lilja, my kitchen assistant, about what we could do with the leftovers. She suggested "we should do something with the delicious char siu drippings." Gravy, and obviously biscuits, was one of the first things that sprang to mind.
The first time we made the scallion biscuits and char siu gravy, I tried the gravy by itself and thought it might be too sweet. After all, it contains all the sugar from the BBQ pork glaze. But after I bit into the scallion biscuit, all my doubt melted away. The light, buttery biscuit and the refreshing green onion balance out the sweetness of the gravy and they make a perfect pair.
Cooking notes
1. To make extra fluffy and light scallion biscuits
Make sure to:
Chill the butter and shortening in the freezer before using.
Do not work on the dough too much to develop the gluten, which will toughen the texture of the biscuits.
Don't break up some of the larger pieces of butter (about pea-sized) while cutting the butter into the flour, to create the extra fluffy texture.
Always keep the dough cold. Chill thoroughly before baking.
Blend in shortening to create a better texture.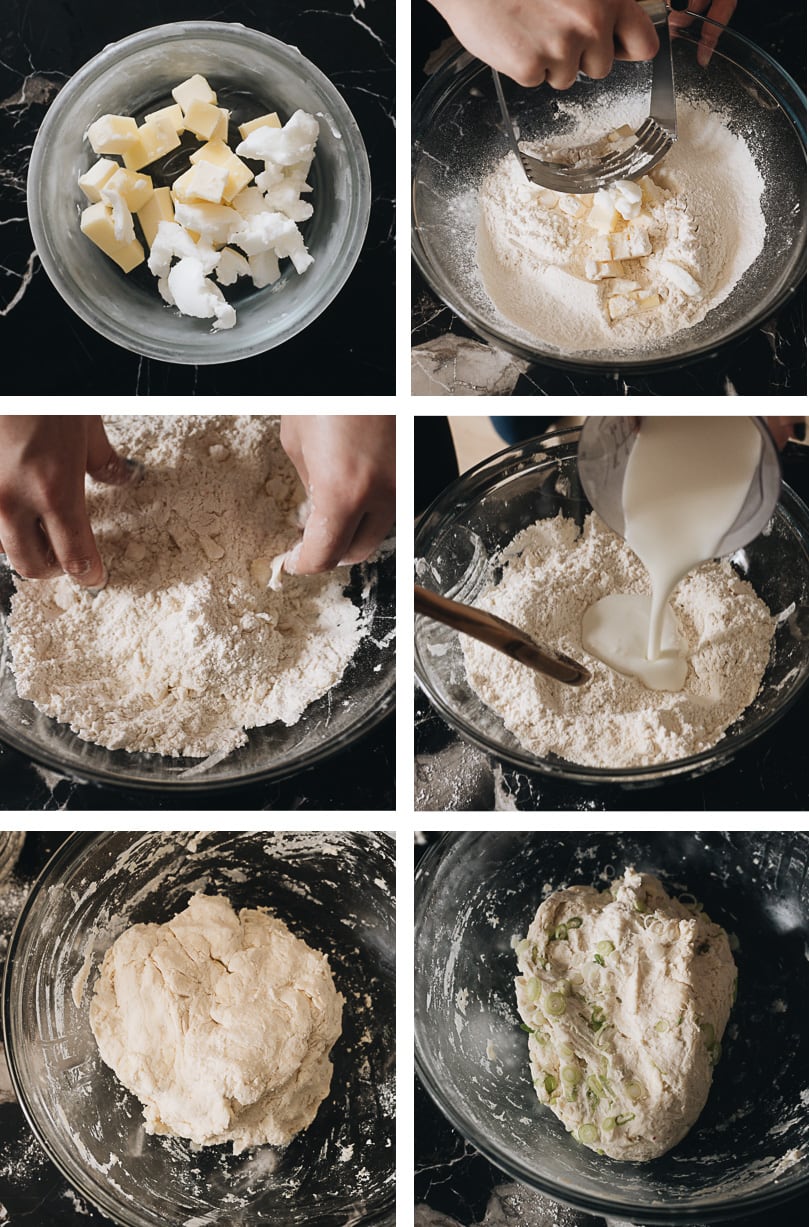 2. Special equipment you might need
Using a pastry cutter (instead of your hands) is just an extra safe way to make sure you keep the butter cold. You can always use your hands to mix the butter into the flour. Just make sure to move quickly without melting the butter.
You will need the biscuit cutter if you want to make the cute round biscuits. Do not use a glass cup or a bowl to cut the biscuits. Dishes usually have dull edges and will smash the dough and affect the rise of the biscuits. If you don't have a biscuit cutter, simply use a sharp knife to cut the biscuit dough into squares to yield a better result.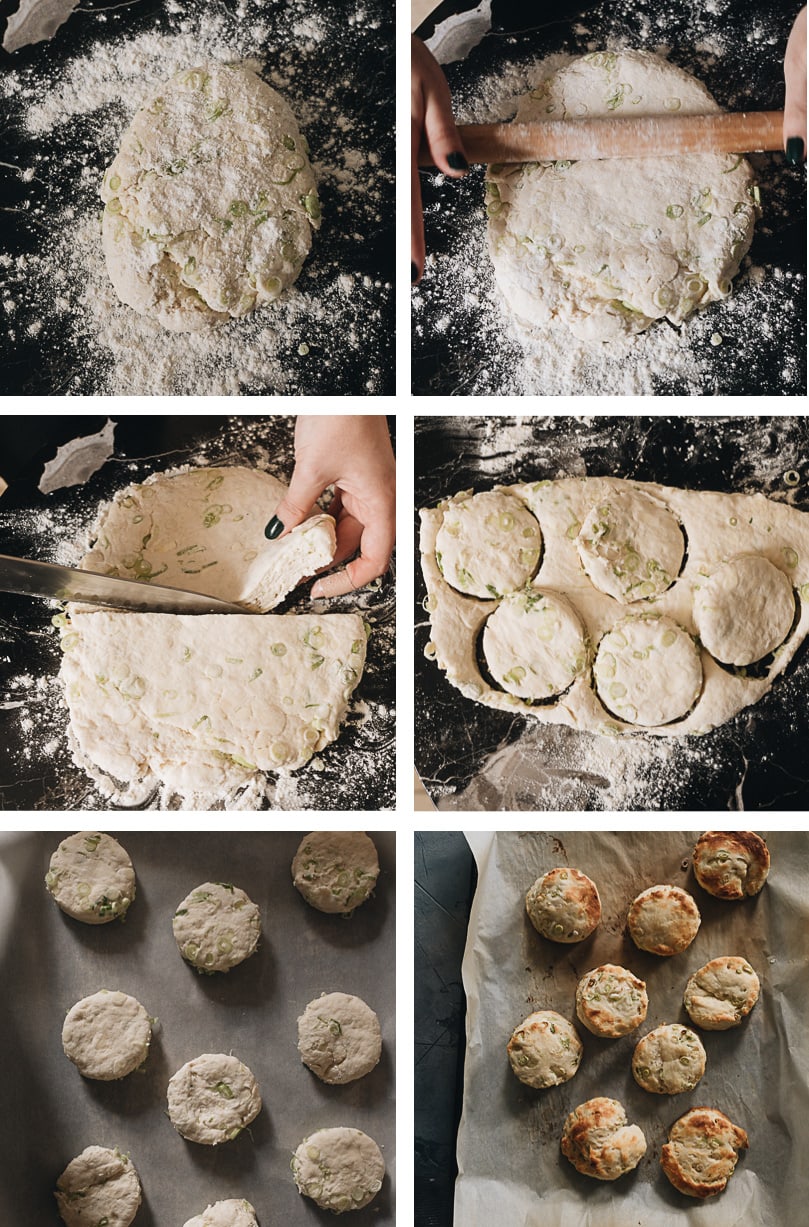 3. Char siu gravy
It's really easy to make and it uses all the delicious juice from roasting the char siu.
Simply whisk the flour into the char siu drippings (mostly fat) and cook the paste, then slowly add in beef stock and stir until it forms a silky sauce. I also added in chopped leftover char siu, to mimic the texture of the traditional sausage gravy.
If you are not making the biscuits, serving the gravy with Chinese scallion pancakes will be a great combo as well!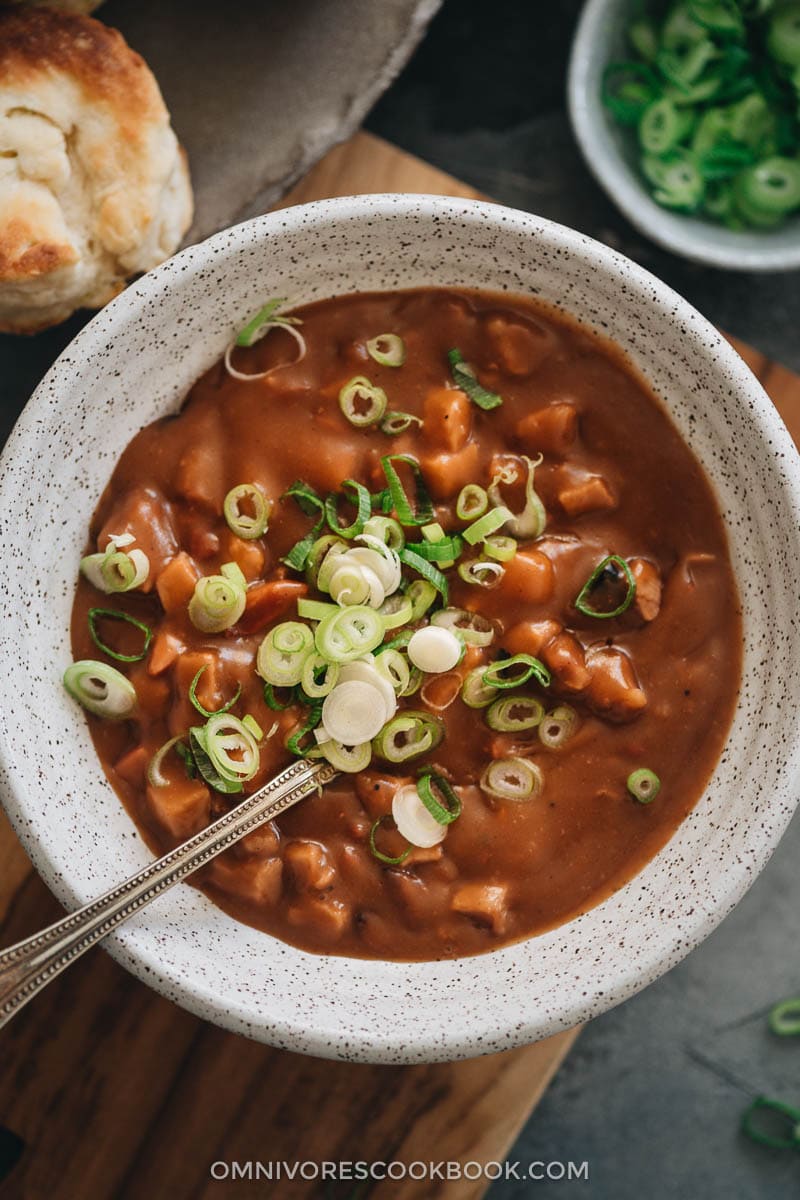 Afterthoughts
Char siu gravy might sound weird to you. But once you've tried it with these light and savory biscuits, you'll fall in love with the combo! Homey and comforting, yet daring and sweetly flavorsome all at the same time, I can promise you, you'll be telling all your friends about this Asian way of doing biscuits and gravy. Never throw away your char siu leftovers – they can be used to work undiscovered magic!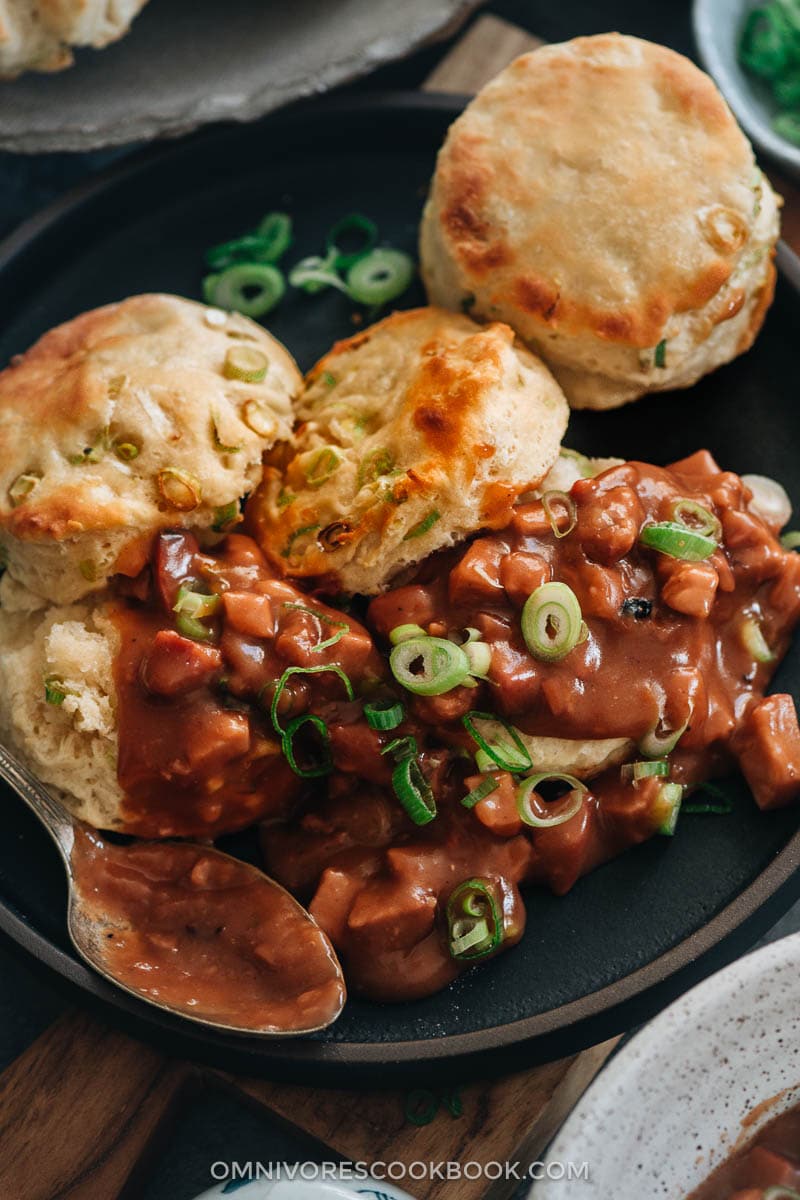 More delicious breakfast recipes
If you give this recipe a try, let us know! Leave a comment, rate it (once you've tried it), and take a picture and tag it @omnivorescookbook on Instagram! I'd love to see what you come up with.
Want to Know More?
Receive our 5-Day Chinese Cooking Crash Course & Recipe Updates! Subscribe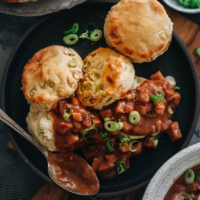 Scallion Biscuits & Char Siu Gravy
A Chinese-style take on an American breakfast favorite, this recipe pairs buttery crumbly biscuits with a richly flavored and decadent char siu gravy. It's a creative way of using the popular Chinese BBQ pork for a filling and quirky brunch.
Ingredients
Biscuits
2

cups (260 grams)

all-purpose flour

, and extra for dusting the working surface

1

tablespoon

baking powder

1

teaspoon

salt

4

tablespoons

butter

2

tablespoons

shortening

(or butter)

3/4

cup

chilled milk (or 1 cup chilled buttermilk)

, and extra to brush onto the biscuits

1/2

cup

sliced green onion

, divided
Gravy
1/4

cup (32 g)

all-purpose flour

2

cups

beef stock

1/2

teaspoon

salt

(or to taste)

3/4

cup

diced char siu

1/2

teaspoon

soy sauce
Instructions
Prepare the biscuit dough
Cut butter and shortening into 1/2" (1 cm) squares and put them in a medium-sized bowl. Transfer into freezer until hard, 15 minutes or so.

Line a strainer mesh srainer over a large bowl. Sift the flour over the strainer. Add the baking powder and salt. Stir to mix well.

Once the butter and shortening are fully chilled, add them into the flour mixture. Cut with a pastry cutter or using your fingers, until the mixture is mealy with some pea-sized chunks of butter.

Pour in the cold buttermilk. Stir with a spatula until a craggy dough forms. Add most of the green onion, saving about 2 to 3 tablespoons of it for garnish.

Lightly knead the dough in the bowl with your hand until it forms a dough ball, about 1 minute.

Chill the dough in the freezer for about 10 minutes, or cover with plastic wrap and chill in the fridge until ready to use.
Cook the biscuits
Preheat the oven to 450 degrees F (232 C).

Dust your working surface with a thin layer of flour. Transfer the chilled dough onto it. Press the dough into a flat square. Cut the dough in half and fold it over itself. Repeat one more time.

Roll the dough with a rolling pin into a 1" (2.5 cm) thick sheet. Use a biscuit cutter to cut the dough into circles or you can use a knife to cut the dough into 2" (5 cm) squares. If using a biscuit cutter, you will have leftover dough. Gently gather the leftover dough together and press it until it just becomes one piece of dough (The more you handle the dough, the less it will rise during baking). Cut it into more biscuits.

Brush the top of the biscuits with a thin layer of milk.

Bake for 13 to 16 minutes, until the top turns light golden and the bottom turns golden brown.
Gravy
Add the char siu drippings into a small saucepan. Heat over medium heat until hot.

Add the flour. Stir immediately until it's fully incorporated.

Gradually add the stock, a few tablespoons at a time, and whisk constantly. It should start to form a thick paste. Once the paste turns smooth, add more stock and keep whisking. Continue until all the stock is fully incorporated with the flour.

Keep stirring and cooking, until the sauce has thickened enough to coat your spatula.

Add the char siu and the soy sauce. Cook for another minute until the meat is heated through. Taste the gravy. Add a pinch of salt and stir to mix well, if needed.
To serve
Sprinkle the remaining green onion onto the gravy and serve it with the fresh biscuits.

You can make the dish in advance and heat it up later. Heat the biscuits in the oven at 350 F (176) until heated through. Heat up the gravy in the microwave or on the stove top.
Nutrition
Serving:
1
serving
,
Calories:
299
kcal
,
Carbohydrates:
26.9
g
,
Protein:
12.1
g
,
Fat:
15.9
g
,
Saturated Fat:
5.6
g
,
Cholesterol:
36
mg
,
Sodium:
515
mg
,
Potassium:
378
mg
,
Fiber:
1.1
g
,
Sugar:
1.1
g
,
Calcium:
112
mg
,
Iron:
2
mg
Lilja Walter is a part of the Omnivore's Cookbook team and worked closely with Maggie to develop and test this recipe.