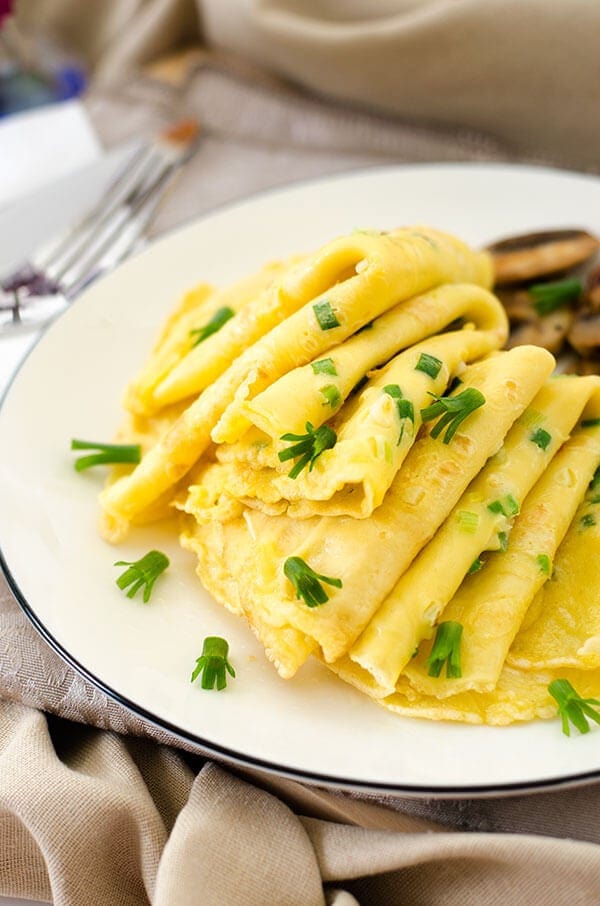 The egg and green onion crepe is light and fluffy. Its flavor simple and comforting. When I am alone, I love to snack on crepes fresh out of the skillet, to enjoy the crispy edges and melt-in-your-mouth texture. The recipe contains only 5 ingredients and takes 10 minutes to cook. Enjoy this hearty dish for a lazy breakfast in bed or a late night snack.
Simple & Savory
Simple is the best. This is especially true when it comes to Chinese crepes. It doesn't use milk in the batter. It doesn't mess with cream or fancy fruit. It isn't drizzled with decadent chocolate sauce or syrup. It is savory, has a very plain look and a hearty taste. It contains only 5 ingredients and needs only 15 minutes to prep and cook.
This is a dish that my dad often cooked when I was small. He is a great cook but seldom enters the kitchen. He would definitely cook this savory crepe for me, though, if I said I was hungry but we didn't have anything to snack on in the house.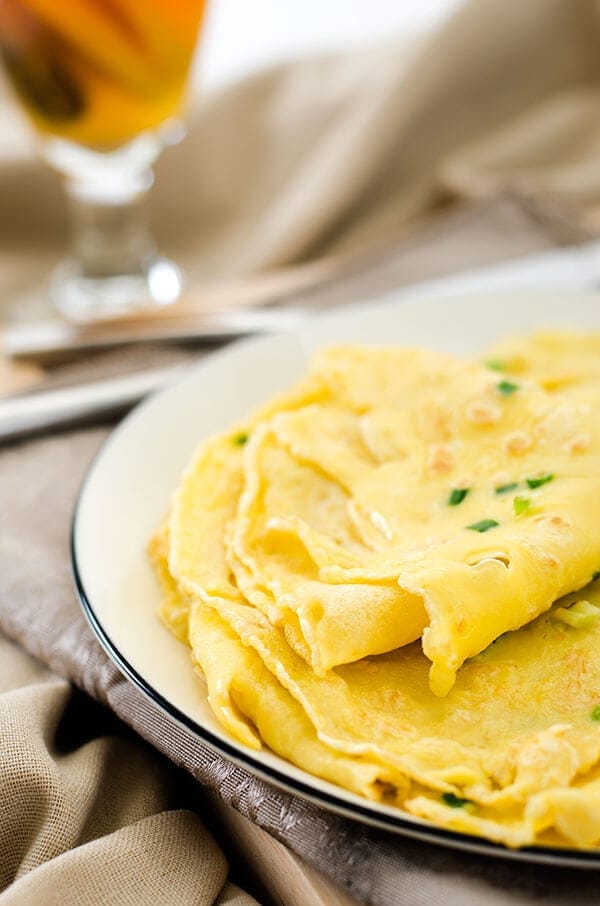 I continued the tradition and always kept this dish as my secret weapon. Because even if my fridge is almost empty, I can still whip up some batter and get the snack done in 5 minutes. The recipe might look overly simple, but sometimes, the simplest thing is the best way to satisfy your appetite.
When I serve the savory crepe as breakfast or brunch for two, I make it fancier by adding stir-fried mushrooms or a grilled tomato. The meal goes very well with cafe au lait, black tea or lemonade. When I am alone, I snack on the just-out-of-skillet crepes and my meal will be finished by the time the cooking is done.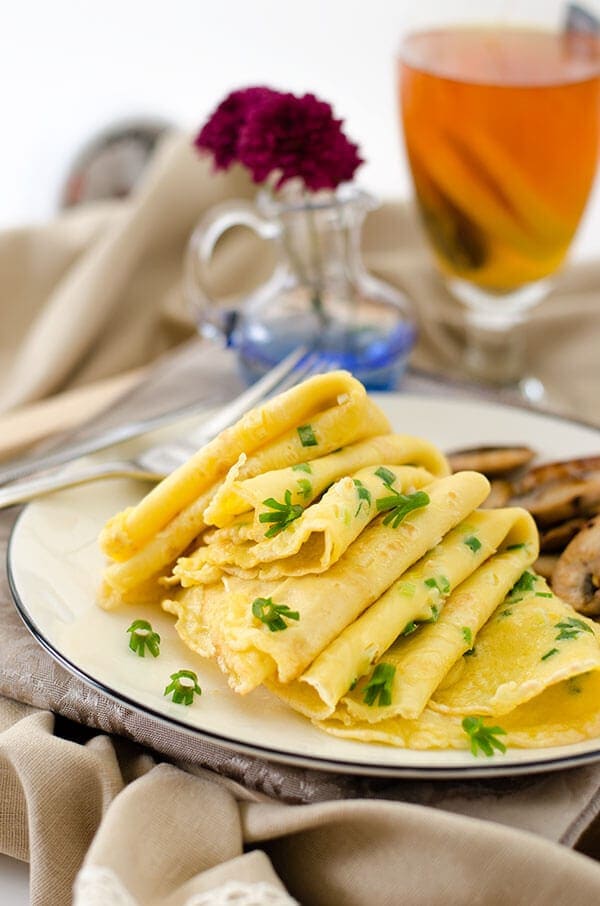 To Create a Perfect Texture
Although cooking crepes requires few ingredients, you will need a few tips to do it perfectly. By perfect, I mean a crepe that is thin, light, fluffy, and stays in one piece.
Ratio of egg to flour to water is the key. You need the right amount of egg to get the fluffy texture, enough flour to make the batter consistent and stick together, and enough water to make it thin and light without falling apart when flipped.
Make sure to grease every inch of the bottom of the skillet with oil. It's easier to use a nonstick skillet to cook and flip crepes. If you are using a normal skillet, use double or triple the amount of oil.
Cook smaller crepes so they will be easy to flip. I personally feel comfortable adding 2 to 3 tablespoons of batter at a time.
Keep the skillet warm without letting it get too hot. Otherwise you will find that the crepe cooks too quickly, before you have a chance to spread the batter into shape.
Do not overcook. A thin crepe will cook very fast. Depending on the oil temperature, a single side will be done in 20 to 40 seconds. Nudge the crepe with a spatula to test whether the batter is set. When you can move the whole crepe, flip or transfer it immediately. The texture of the crepe will become tough if overcooked.
What is your favorite way to enjoy crepes? I'm a big fan for the savory crepe and one of my favorite moments is enjoying these cozy egg and green onion crepes for breakfast in bed! 🙂
Print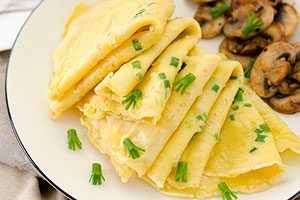 Egg and Green Onion Crepe
---
Author:

Prep Time:

5 mins

Cook Time:

10 mins

Total Time:

15 mins

Yield:

2

-

3

1

x
Category:

Breakfast

Cuisine:

Chinese
Description
This recipe yields 6 to 8 crepes.
---
Ingredients
3

eggs

120

grams (4 ounces) all-purpose flour, about

1 cup

1/2 teaspoon

salt

4 tablespoon

s chopped green onion (green part)

2

–

3

tablespoons vegetable oil
---
Instructions
Combine eggs and 1/2 cup water in a medium-sized bowl. Whisk until egg is just combined with water.

Sift in flour and whisk until flour is fully combined and there are no lumps in the mixture. The batter should be very thin and easy to spread once added into the skillet.

Add salt and green onion and mix well.

Heat 1 teaspoon oil in a medium-sized nonstick skillet until warm. Swirl the skillet and use a spatula to spread oil over every inch of the bottom of the pan. Use a small ladle to add about 4 tablespoons of batter to the skillet and immediately swirl the skillet to spread the batter into a thin, round-shaped crepe.

Cook over medium heat until bottom side is just set, about 30 seconds. Use a spatula to nudge the crepe to test whether it's set. Flip with a spatula and cook the other side until just cooked through, about 30 seconds. Immediately transfer the crepe to a plate and set aside. Continue to cook the rest of the crepes in the same manner. Take care to adjust the heat so the skillet won't get too hot. If the batter becomes too thick to spread, add 2 tablespoons water to the batter, mix well and try again.
Serve immediately.
The nutrition facts are calculated based on 1 of the 3 servings generated by this recipe.