Want to make that addictive Sichuan saliva chicken just like Chinese restaurants serve it? This is the only recipe you need.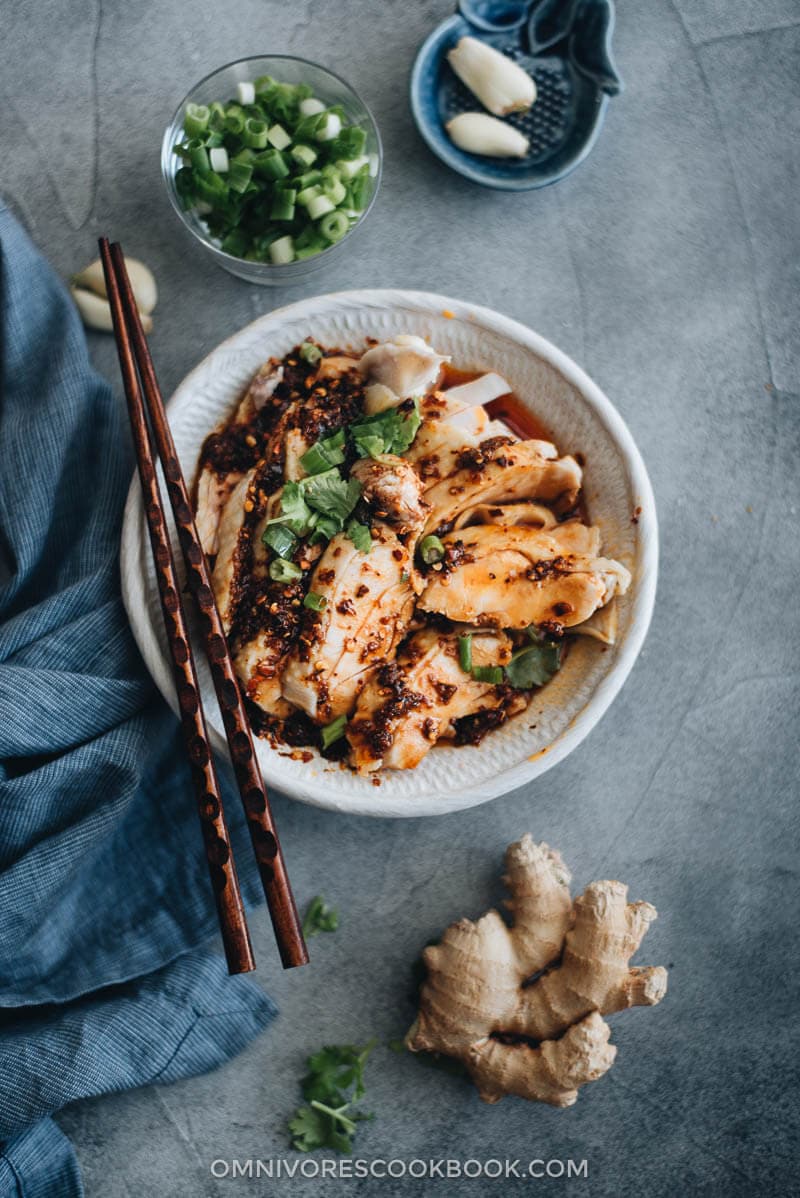 The literal translation of 口水鸡 is saliva chicken, which does not sound very wonderful. But in fact, the Chinese dish name means "mouthwatering chicken", which is a more proper name for this famous dish. It might be one of the most famous Sichuan dishes in China but is lesser known overseas.
The juicy chicken is smothered in a thick, red-oil-based sauce. Rich, spicy, numbing, sweet, and savory, it wakes up your senses and makes you crave for more. If you've tried the dish before and want to replicate that ultra-rich flavor at home, you've come to the right place!
Cooking notes
1. Key ingredient 1 – Chili oil
The key ingredient in the dish is homemade chili oil. Compared to bottled chili oil, the homemade version is way more fragrant, fresh, and bursting with flavor. Don't worry about it making your dish too spicy. If you choose the proper Chinese chili pepper flakes, the recipe makes an aromatic oil that is less spicy and more flavorful. It might sound intimidating to make chili oil at home, but once you try it, you'll find the process is rather easy and only takes about 10 minutes.
2. Key ingredient 2 – flavored sweet soy sauce
Over the years I've been making this dish without achieving the great flavor you'd get in a Chinese restaurant. Recently, I finally discovered a secret ingredient to make all my Sichuan sauces taste better. It is a homemade flavored sweet soy sauce – a very thick sauce made with soy sauce, sugar, aromatics, and braising spices such as cinnamon, fennel, and bay leaves. By adding the sweetened soy sauce instead of soy sauce and sugar, it thickens the sauce and makes it coat the ingredients easily. Plus, it has a more fragrant taste with greater depth.
3. Which cut of chicken should you use?
Authentic Chinese dishes usually use whole chickens and call for you to chop them up once they're cooked and serve them with bone in and skin on. I opt for bone-in, skin-on thighs to make the recipe more practical for home cooks. I remove the bone once the chicken is cooked, then slice it into thin pieces. If you do not like chicken skin, you can also use boneless, skinless cuts. The biggest benefit of using bone-in thighs is that it makes a flavorful broth that you can later use to make egg drop soup.

4. Boil the chicken properly
The chicken boiling process is rather straightforward. The key is not to overcook. If you use a boneless, skinless cut, reduce the boiling time to 15 minutes. Also, plunge the cooked chicken into ice cold water immediately. It helps to tighten the meat and skin, to make the chicken texture more delightful. It also stops the chicken from cooking, thus preventing it from overcooking.
5. Prep and serve
Saliva chicken requires some time to prepare if you do not have homemade chili oil and sweet soy sauce already made. That's why I always prepare the sauce in advance, usually a few hours before serving. I also like to pour the sauce over the chicken about 1 hour before serving, so the chicken will absorb the flavor.
If you're preparing for a dinner party, go ahead and make the chicken and the sauce a day ahead and store them in the fridge.
Next time you're hosting a Sichuan-themed party, try out this dish and I assure you, your guests will be impressed. It is as addictive as the saliva chicken you'd get in China.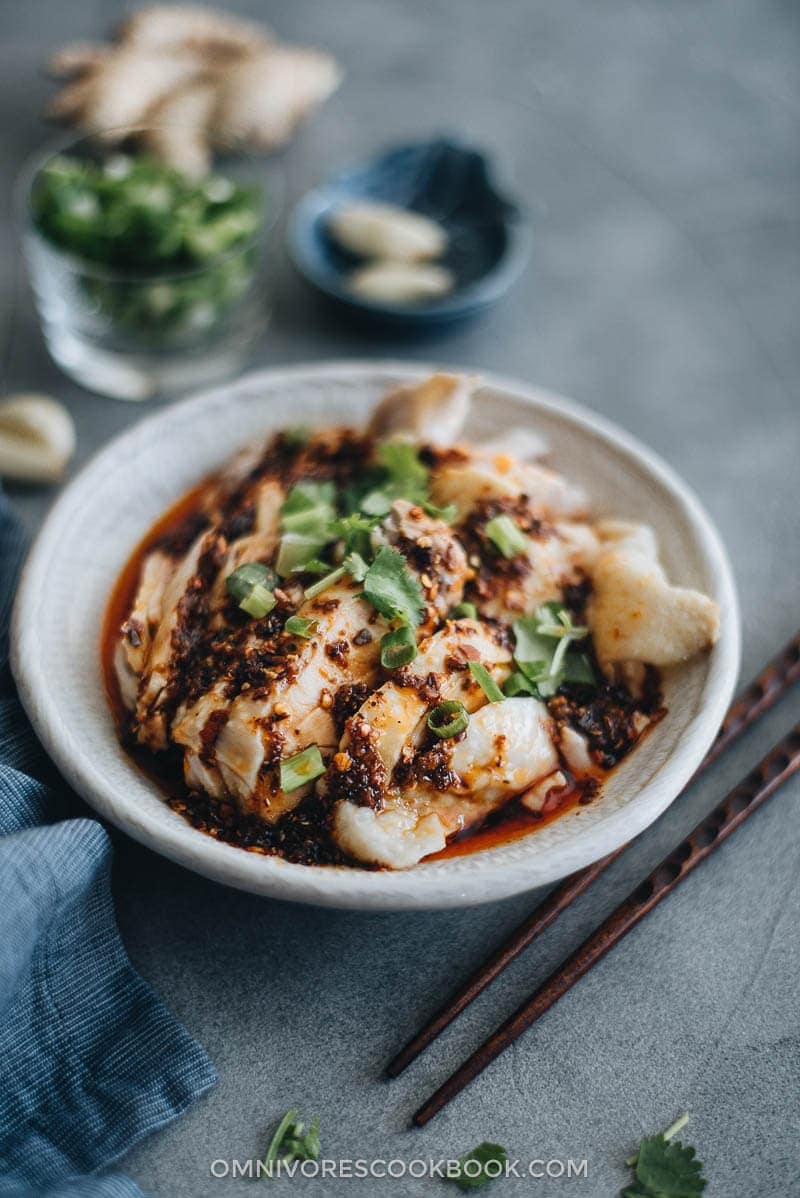 More real-deal Sichuan dishes
If you give this recipe a try, let us know! Leave a comment, rate it (once you've tried it), and take a picture and tag it @omnivorescookbook on Instagram! I'd love to see what you come up with.
Want to Know More?
Receive our 5-Day Chinese Cooking Crash Course & Recipe Updates! Subscribe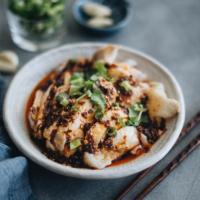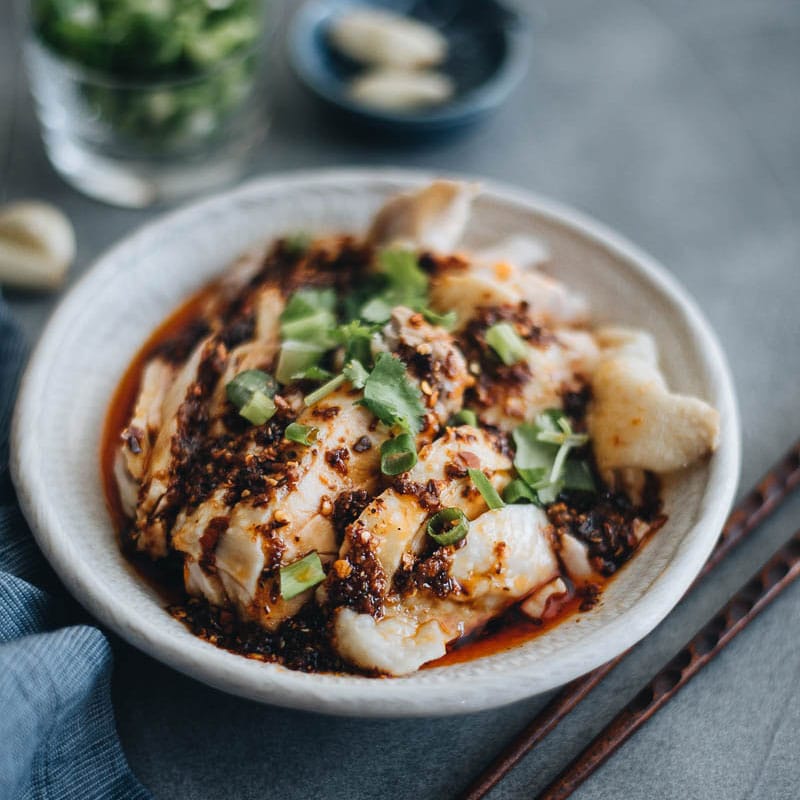 Real-Deal Sichuan Chicken in Red Oil Sauce (口水鸡, Saliva Chicken)
Want to make that addictive Sichuan saliva chicken just like Chinese restaurants serve it? This is the only recipe you need.
Ingredients
1

pound (450 g)

chicken thighs

, skin-on or boneless, skinless

2

tablespoons

Shaoxing wine

(or dry sherry)

2

slices

ginger

4

green onions

1

bay leaf

1

teaspoon

salt

1/2

tablespoon

Sichuan peppercorns
Instructions
Place chicken in a small pot and add water to cover. Add the dried chili peppers, Shaoxing wine, ginger, green onion, bay leaf, salt, and Sichuan peppercorns. Cook over medium high heat until bringing to a boil. Turn to medium low heat. Simmer for 20 to 25 minutes, until the chicken is just cooked through. You can test it by inserting a knife into the thickest part and checking whether the juice runs clear. If it's clear, the chicken is cooked.

Prepare an ice bath while boiling the chicken by adding ice into a big bowl and water to cover.

Mix all the sauce ingredients together in a small bowl.

When the chicken is cooked, transfer it into the ice bath using a pair of tongs. Set it aside for 10 minutes, until the chicken is completely cooled down. Transfer the chicken onto a cutting board. Remove the bones using a paring knife, then slice chicken into 1/4-inch (1/2-cm) pieces. Transfer chicken to a small bowl.

Pour the sauce over the chicken and garnish with cilantro.

Serve cold as an appetizer.
Notes
The prep time does not include the time you need to cook the homemade chili oil and homemade flavored sweet soy sauce.
Nutrition
Serving:
1
serving
,
Calories:
200
kcal
,
Carbohydrates:
2.7
g
,
Protein:
13.3
g
,
Fat:
16
g
,
Saturated Fat:
3.3
g
,
Cholesterol:
60
mg
,
Sodium:
501
mg
,
Fiber:
0.1
g
,
Sugar:
1.5
g