The crispy eggplant is served with a pungent Szechuan-style spicy garlic sauce. A vegetarian dish that is so satisfying that it can be served as a main.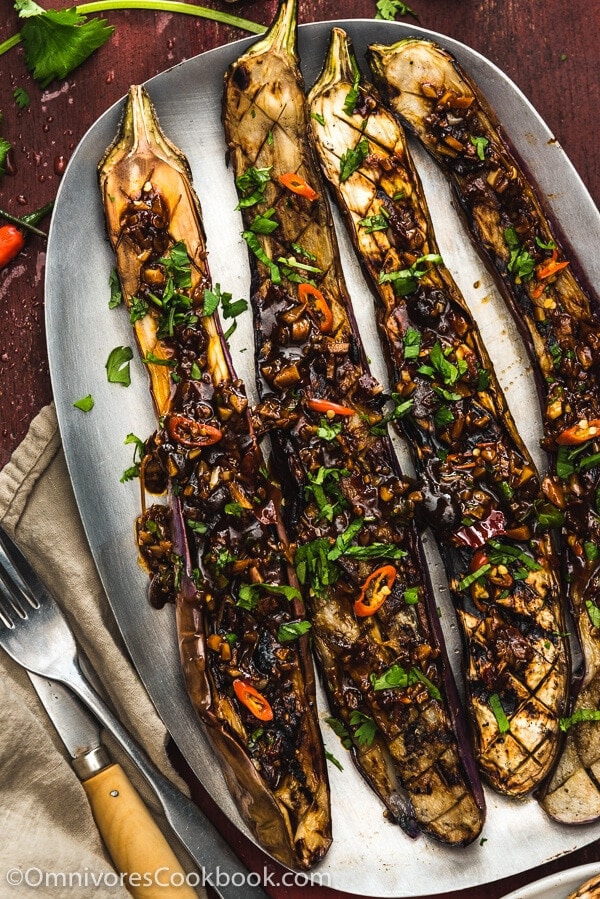 Each cuisine has its own specialties. Growing up in Beijing, I'm confident and proud to say that Chinese cuisine has many great eggplant dishes. My recipe Chinese Eggplant with Garlic Sauce, a simple vegetarian stir fried dish that features crispy eggplant with a rich sauce, has been the most popular recipe on my blog since it was published.
This grilled eggplant recipe was inspired by the Szechuan style eggplant, also known literally as stir fried eggplant with "fish fragrant" sauce, or xu xiang qie zi (鱼香茄子). Although the original name of the sauce includes the word "fish", fish has nothing to do with it. The term refers to a complex Szechuan flavoring that perfectly balances sour, savory, spicy, and sweet – a combination frequently used to season fish.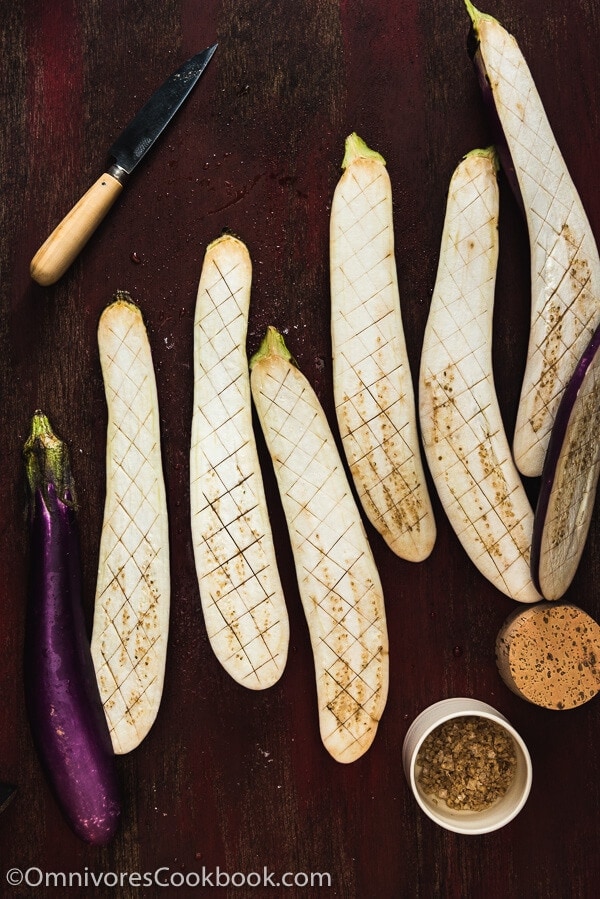 Cooking eggplant on the grill has a great benefit – you can easily create perfectly cooked eggplant with a crispy surface and buttery flesh. You don't need to take any extra steps, such as pre-seasoning the eggplant with salt to draw out moisture, or coating it with cornstarch to make it extra crispy. Especially when you use a charcoal grill, the high heat will char the eggplant beautifully in a few minutes, without using tons of oil.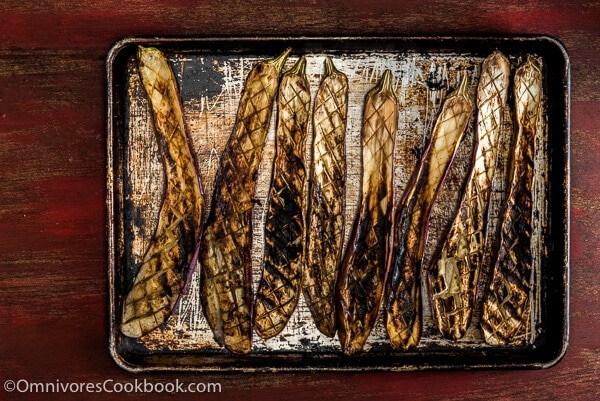 On the other hand, I always find grilled eggplant a bit dry if served without sauce. That's the reason I recreated the sauce from the original Szechuan style stir-fried eggplant, to add another dimension.
The ingredient list might look a bit long for a veggie dish. But I promise, it is so satisfying that you won't have any problem serving it as a main dish with some steamed rice. You can prepare and cook the sauce while heating up the grill. Or, if you have the habit of throwing some vegetables on the grill after grilling the meat (like me), you can make the sauce later, to serve with leftover vegetables. It works very well with bell peppers, jalapenos, asparagus, and leeks.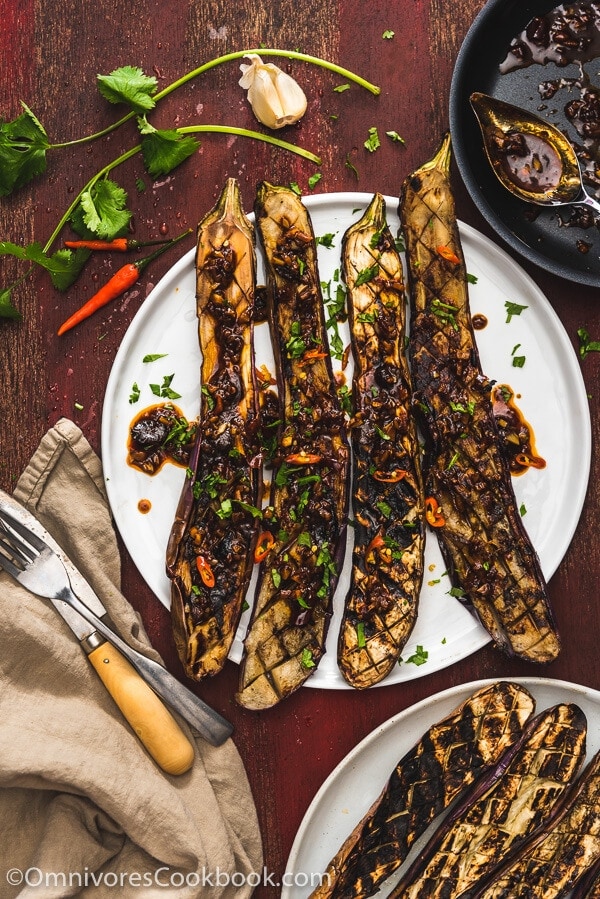 Cooking notes
Try to select long Asian eggplants that are evenly shaped and smaller in size. They are easier to split and cook more evenly. Asian eggplants contain less moisture, so they often generate better results compared to other types of eggplant.
If you're using other large eggplants, slice them into 2 cm (¾ inch) thick pieces (crosswise) instead of halving them.
Scoring the eggplant helps it cook through faster. It also allows the eggplant trap more oil, which will generate a buttery texture after cooking.
Do remember to brush oil onto the eggplant generously. Skipping or skimping on the oil will result in dry eggplant.
Need more grilling recipes? Check out the Grilled Five Spice Chicken, Grilled Chicken Breast with Black Bean Sauce, and Cha Siu Kebab (Chinese BBQ).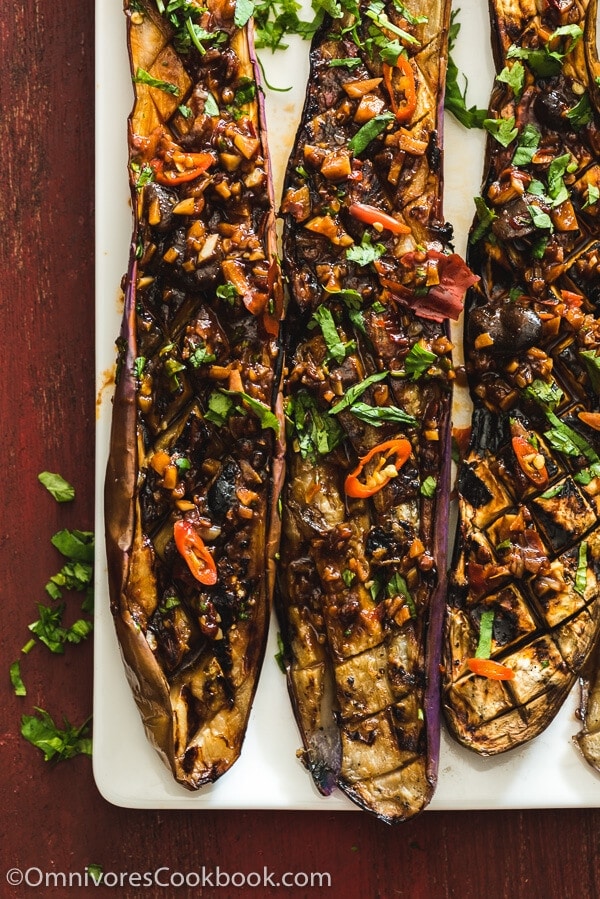 If you give this recipe a try, let us know! Leave a comment, rate it (once you've tried it), and take a picture and tag it #omnivorescookbook on Instagram! I'd love to see what you come up with. Cheers, friends!
Want to Know More?
Receive our 5-Day Chinese Cooking Crash Course & Recipe Updates! Subscribe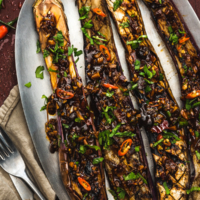 Grilled Eggplant with Yu Xiang Sauce (鱼香烤茄子)
The crispy eggplant is served with a pungent Szechuan-style spicy garlic sauce. A vegetarian dish that is so satisfying that it can be served as a main.
Ingredients
Sauce
2

tablespoons

Chinkiang vinegar

1

tablespoon

light soy sauce

1

tablespoon

Shaoxing wine

(or water)

1

tablespoon

spicy fermented bean paste

doubanjiang

2

tablespoons

sugar

4

tablespoons

peanut oil

(or vegetable oil)

1/8

teaspoon

Sichuan peppercorn powder

, freshly grated (or black pepper powder)

4

cloves

garlic

, chopped

2

teaspoons

ginger

, minced

2 to 3 tablespoons chopped cilantro for garnish

(Optional)
Instructions
Prepare sauce
Mix Chinkiang vinegar, light soy sauce, Shaoxing wine, spicy fermented bean paste, and sugar in a small bowl.

Heat peanut oil in a small saucepan over medium heat until warm. Add ginger and garlic. Stir and cook until fragrant. Turn to medium low heat. Add the vinegar mixture. Stir and cook until bringing to a simmer. While grilling eggplant, put the saucepan on the grill, over indirect heat to keep warm. Add a bit of water if the sauce gets too thick.
Cook eggplant
Halve the eggplants lengthwise. Score the inside flesh in a criss-cross pattern using the tip of a small knife. Cut as close to the skin as you can without cutting through it.

Light one chimney full of charcoal. When all the charcoal is lit and covered with gray ash, put on heat resistant gloves, pour the charcoal into the grill, and spread it in an even layer. Set the cooking grate in place, cover the grill, and preheat for 5 minutes. If using a gas grill, set all the burners to high heat and preheat for 15 minutes. Clean the cooking grate. Make sure the grill has reached medium-high heat (*see footnote 1).

While waiting for the grill to heat, brush cut sides of the eggplant slices with peanut oil. Season with salt.

Grill eggplant over medium-high heat with the lid open, for 8 to 10 minutes, until the surfaces are charred with dark grill marks. Flip once in the middle. If the eggplant gets charred too quickly, move to the cooler side of the grill, but not too far from the fire. Cook until the texture becomes creamy. Transfer to a plate to cool.

Pour sauce onto eggplant right before serving. Serve warm, or at room temperature.
Notes
To measure the actual temperature of the grill, hold your hand 13 cm / 5 inches above the cooking grate and time how many seconds you can comfortably leave it in place. For medium-high heat, you should last 3 to 4 seconds.
Nutrition
Serving:
136
g
,
Calories:
130
kcal
,
Carbohydrates:
15.9
g
,
Protein:
1.8
g
,
Fat:
7
g
,
Saturated Fat:
1.2
g
,
Sodium:
486
mg
,
Potassium:
270
mg
,
Fiber:
3.8
g
,
Sugar:
10.2
g
,
Vitamin C:
4.1
mg
,
Calcium:
20
mg
,
Iron:
0.5
mg