The popular flavors from the local Chinese restaurant are yours with a ginger chicken recipe that's as easy as it gets for savory and sweet taste!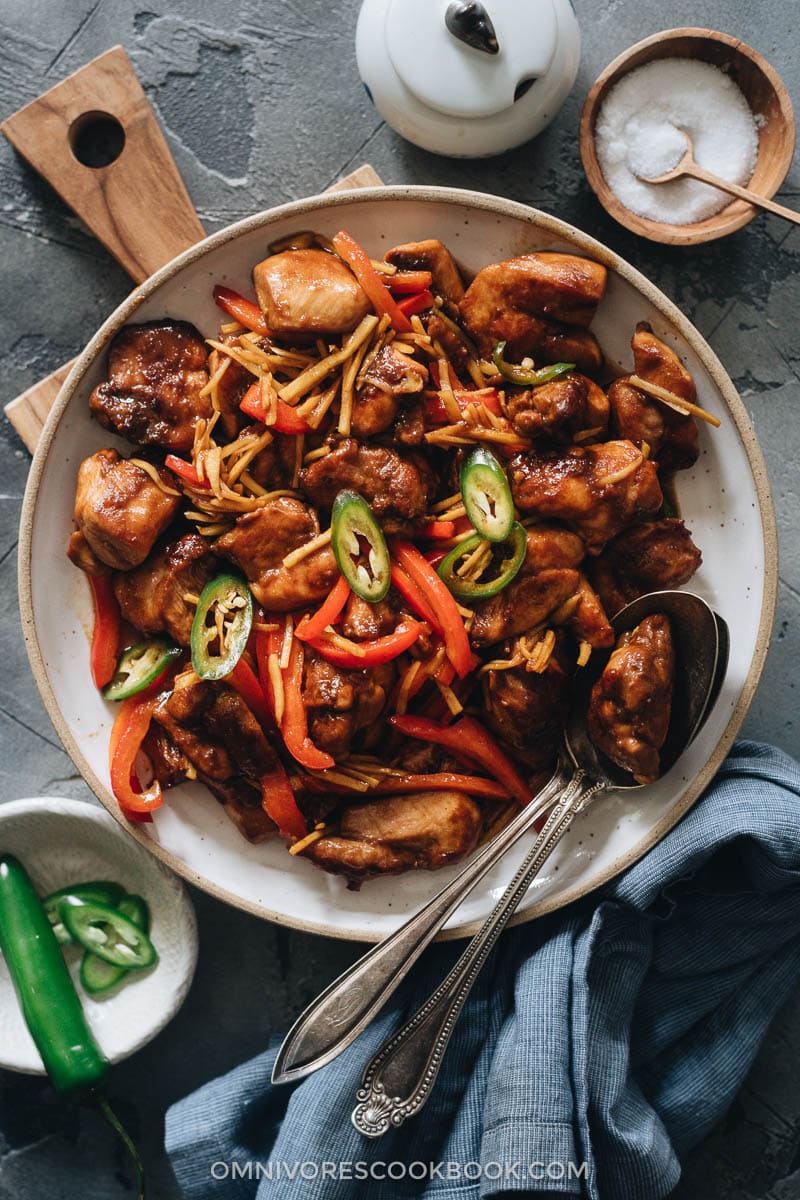 Authentic Chinese dishes go far beyond what you usually see on your takeout menu. I love ginger chicken because this simple stir-fry dish takes the best of Chinese techniques and makes it easy for you to cook in your own kitchen.
If you've never had ginger chicken stir fry, the sauce is mild and savory with just a hint of sweetness that accentuates the ginger. In Chinese cookery, we use a LOT of ginger. Ginger has been used in traditional Chinese medicine for ages because it is an anti-inflammatory and a natural healer.
Stir fry always comes together so quickly. It helps to have everything chopped and ready to go since this technique is all action. I've got tips for you below on that, as well as key steps that will make creating your own ginger chicken stir fry dish easier than you could ever imagine.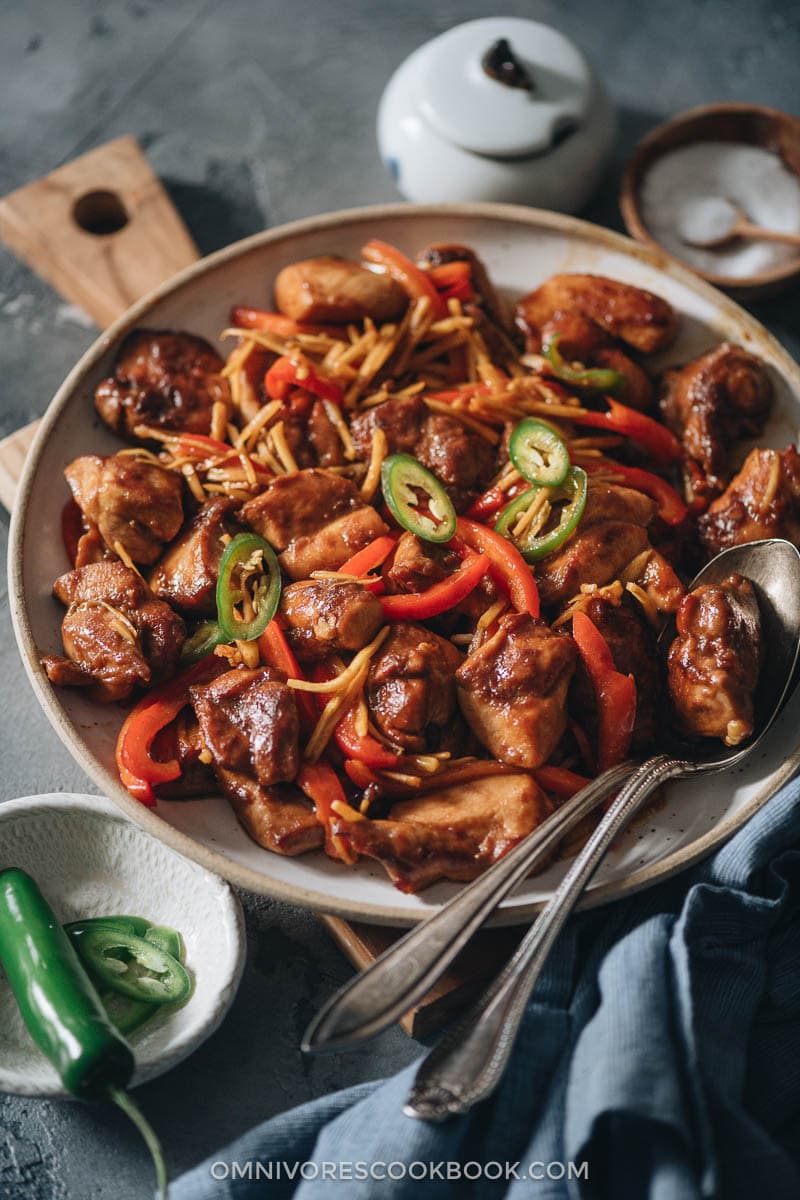 Cookware
No wok, no problem! I use a nonstick pan to cook 95% of my stir fry recipes. And many readers have reported back that the results taste even better than the restaurant version.
Like I mentioned in my previous post, there are certain dishes that benefit a lot from a wok, but takeout-style dishes with sauce, like this ginger chicken, are not among them.
My Ginger Chicken Stir Fry can be on the table faster than your local Chinese delivery place can get it to your door. It's healthy, delicious, and not as complicated as it looks.
Ingredients
Before you start cooking, your table should have: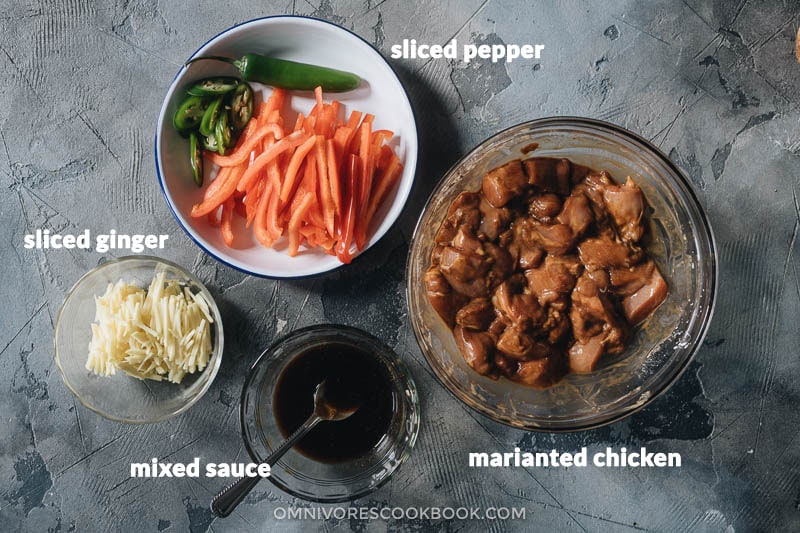 PS: I threw in some serrano peppers to add some spiciness and color, but my dish turned out a bit too spicy! Highly recommend replacing them with milder peppers such as jalapenos or fresnos, and only use them in small quantities (one pepper or less).

Cooking process
Brown the chicken
Add half of the ginger
Pour in sauce and cook to thicken it
Toss in the pepper and the rest of the ginger
NOTE:
The marinade will help brown the chicken, so it's totally OK to use a nonstick pan.
I reserved half of the ginger to add at the end, for a more diverse texture and intense ginger taste.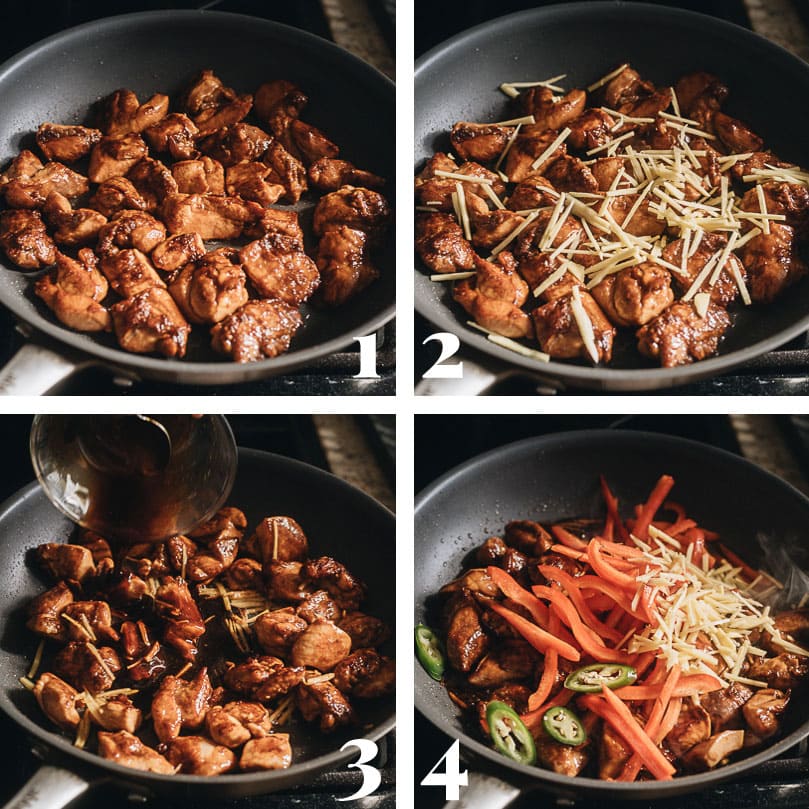 Afterthought
Ginger contains abundant minerals and boosts the immune system. Pregnant women are often encouraged to drink ginger tea to relieve morning sickness. If you are feeling unwell, having a little fresh ginger can really help you get back on your feet. Using ginger in cooking adds a delicious and complex flavor. With it, you'll be less inclined to use more salt or sugar and that simple swap leads to a healthier lifestyle. My Ginger Chicken Stir Fry makes good use of fresh ginger and other fresh herbs for a tasty and healthy meal you'll want to whip up any night of the week!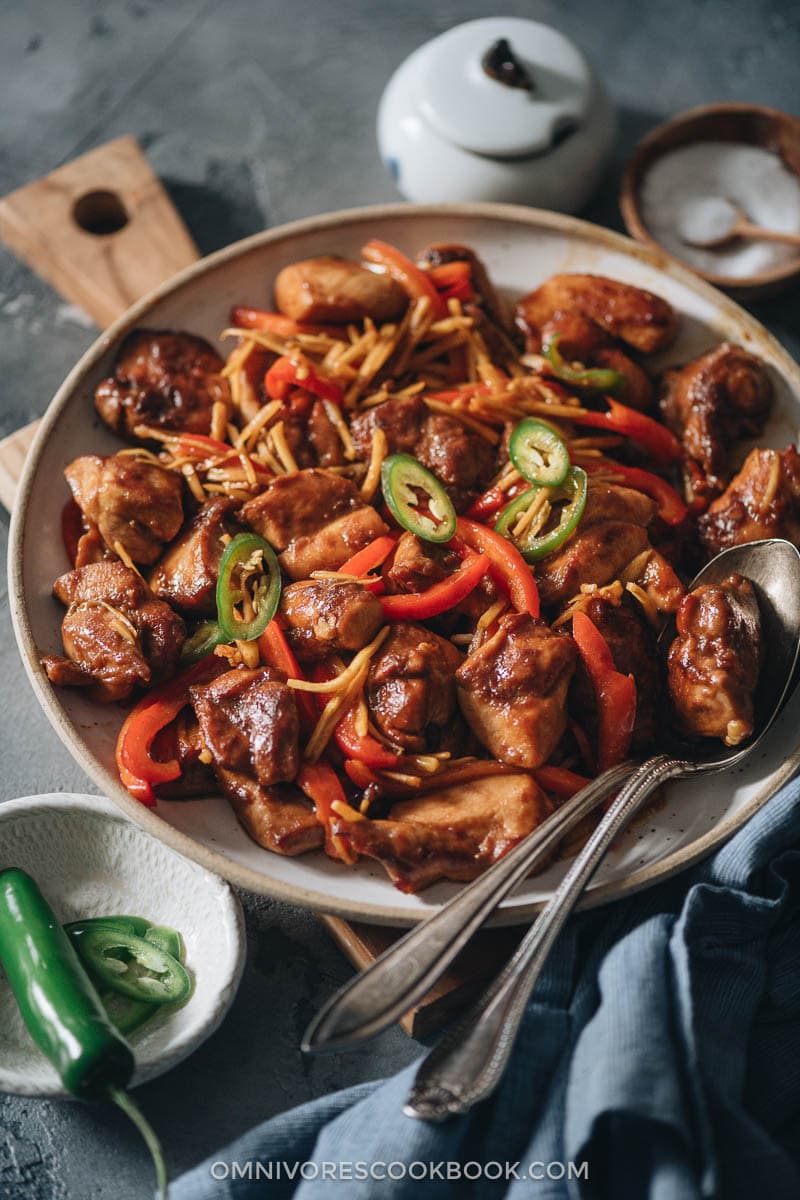 More delicious Chinese takeout recipes
If you give this recipe a try, let us know! Leave a comment, rate it (once you've tried it), and take a picture and tag it @omnivorescookbook on Instagram! I'd love to see what you come up with.

Want to Know More?
Receive our 5-Day Chinese Cooking Crash Course & Recipe Updates! Subscribe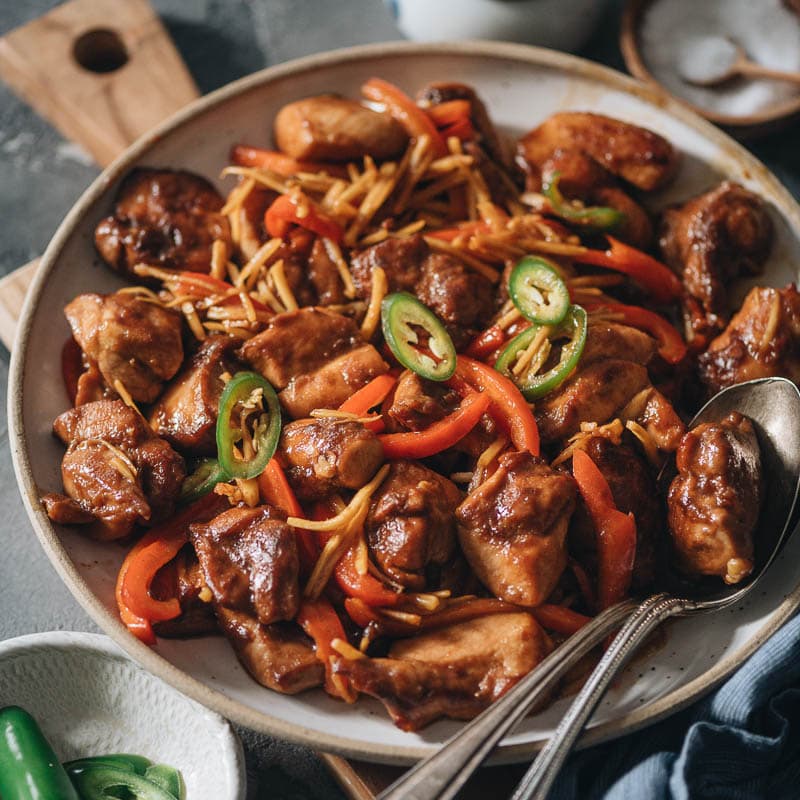 Ginger Chicken Stir Fry
The popular flavors from the local Chinese restaurant are yours with a ginger chicken recipe that's as easy as it gets for savory and sweet taste!
Ingredients
1

lb (450 g)

boneless skinless chicken thighs

, cut into 1" (2.5 cm) chunks
Stir Fry:
1

tablespoon

peanut oil

(or vegetable oil)

2

" (5 cm)

ginger

, julienned, divided

1

small red bell pepper

, sliced

1

chili pepper

, sliced (Optional)
Instructions
Add the chicken and the marinade ingredients into a medium-sized bowl. Mix everything together until the strips are all fully coated. Set aside and allow it to marinate for 10 to 15 minutes.

Mix together the sauce ingredients in a small bowl and set them aside.

Heat the oil over medium-high heat in a large non-stick skillet. Add the marinated chicken into the heated pan. Separate any pieces that may be stuck together. Cook until the bottom turns brown and flip the chicken. Add half of the julienned ginger to the pan and fry it with the chicken, until the bottom of the chicken is browned.

Add the sauce to the pan and stir for about 30 seconds so that the sauce thickens slightly.

Add the rest of the ginger, bell pepper, and chili pepper (if using). Saute and stir briefly to coat everything, about 30 seconds.

Serve hot over steamed rice or boiled noodles as a main dish.
Nutrition
Serving:
1
serving
,
Calories:
283
kcal
,
Carbohydrates:
9
g
,
Protein:
33.4
g
,
Fat:
11.9
g
,
Saturated Fat:
2.9
g
,
Cholesterol:
101
mg
,
Sodium:
462
mg
,
Potassium:
354
mg
,
Fiber:
0.6
g
,
Sugar:
4.5
g
,
Calcium:
22
mg
,
Iron:
2
mg
Lilja Walter is a part of the Omnivore's Cookbook team and worked closely with Maggie to develop and test this recipe.