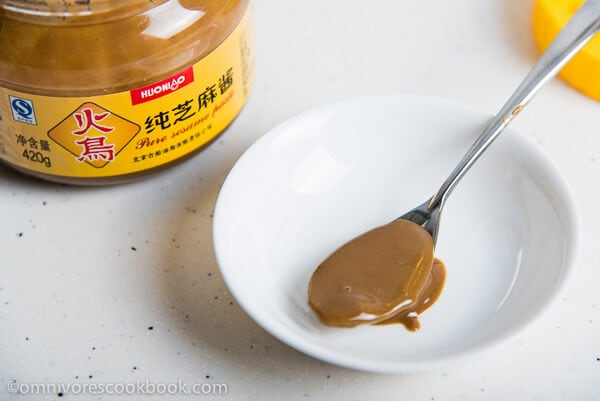 Chinese Sesame Paste (芝麻酱, zhī ma jiàng) is also known as roasted sesame paste. It is thick and light-brown in color, made from roasted white sesame seeds. It has a similar texture to natural smooth peanut butter, but with a smokier, nuttier, richer flavor. Its versatility has made this ingredient a mainstay of classic dishes such as Bang Bang Chicken and Sesame Noodles. This stuff adds a complex nutty flavor to dinner centerpieces like nothing you've tried before!
Understand
Sesame paste is a nutty condiment made predominantly from black or white sesame seeds. However, roasted (or white) sesame paste is the one used in everyday cooking, espeicially in savory cooking. Black sesame paste is normally used in various desserts such as traditional mooncake or sticky rice cakes. When not specifically mentioned, Chinese sesame paste usually means the roasted (white) sesame paste.
Sesame seeds have been popular in China for centuries. It is rich in protein, unsaturated fats, vitamins and minerals. It is prepared by first washing, cleaning and drying the sesame seeds. They are then roasted or toasted before being air cooled. Finally they are ground, milled or blended until they become a smooth sauce. Many Chinese market stalls will make fresh sesame paste using a machine to grind and blend the toasted seeds. The aromas as you pass are incredibly alluring.
Alternative
Please note, tahini, which is made from hulled unroasted sesame kernels, tastes very different from Chinese sesame paste, which uses unhulled and roasted. Tahini is more zesty and piquant and not as sweet or mellow. If you are trying to replace Chinese sesame paste, you can try mixing one part tahini with one part natural peanut butter, with a few drops of toasted sesame oil.
Use
Given its nutty and toasty flavor, one of the most common ways to use sesame paste in Chinese cuisine is to make sauces for salads and noodles, fillings for buns and bread, and dipping sauces for hot pot for an extra nutty creaminess.
Buy
There are two types of white sesame paste. Pure sesame paste is made from 100% sesame, while others (cheaper brands) are made from a combination of sesame seeds and peanuts. Naturally, the former has a deeper, superior taste, so I highly recommend it.
You can find sesame paste at any Chinese or Asian grocery store or supermarket. Try to find one labeled "pure sesame paste" and check the ingredient list to make sure that it contains 100% sesame without blended peanut. Or you can purchase it on Amazon.
Sometimes the sesame paste will have separated in the jar, and sesame oil will be floating on the top. You just need to stir it well before using.
If you are familiar with making nut butters at home, you may find that the sesame paste process is very similar and might like to experiment with making your own. Recipe will be on blog soon!
Store
Unopened sesame paste can be stored in its original airtight jar in a cool, dark place.. Once opened, store it in the fridge for up to 6 months.