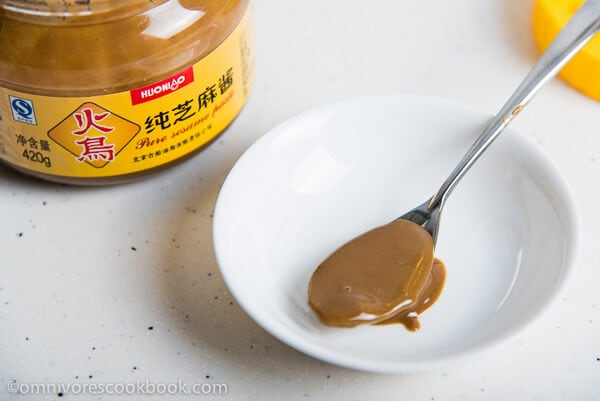 Chinese Sesame Paste (芝麻酱, zhi ma jiang) is a thick paste made from roasted sesame seeds. It has a similar texture to natural peanut butter, but with a darker, nuttier, richer flavor. It's widely used in Chinese cooking, to make sauces for salads and noodles, fillings for buns and bread, dipping sauce for hot pot, etc.
There are two types of sesame paste. Pure sesame paste is made from 100% sesame, while others are made from a combination of sesame seeds and peanuts. The former has a superior taste.
Please note,  tahini, which made from raw sesame seeds, tastes very different from Chinese sesame paste. If you are trying to replace Chinese sesame paste, you can try mixing one part tahini with one part natural peanut butter, with a few drops of toasted sesame oil.
Buy
You can find sesame paste at a Chinese market. Try to find one labeled "pure sesame paste".
Storage
Sesame paste can be stored in a cool, dark place for up to 6 months.
Use