A takeout style cashew chicken recipe that teaches you how to make restaurant-style cashew chicken with super juicy and tender meat and crisp pepper and cashews, all brought together with a rich, gingery, garlicky sauce. It is very easy to make and you don't need a wok!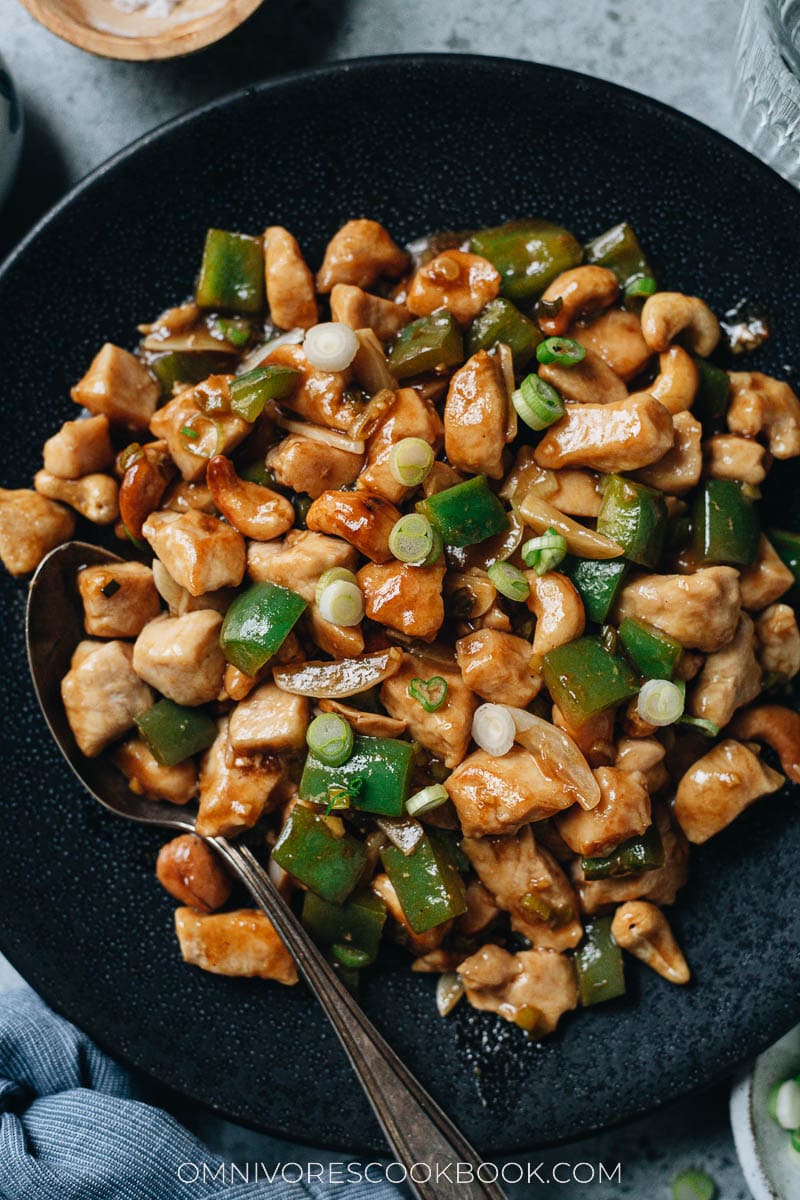 On the dinner table of a Chinese family, it's quite important to serve food that is nutritious, balanced with veggies and grains, bursting with flavor, and beautiful to the eyes. Cashew chicken is no doubt a winner by these metrics.
The chicken breast is briefly marinated, resulting in juicy, tender bites that are very flavorful. The sauce is made from rich oyster sauce, a touch of vinegar, some soy sauce, some sugar, and tons of aromatics, which combine to make the sauce very fragrant, gingery, and garlicky. Then you finish up the dish with colorful pepper and nutty cashews. Scoop a spoonful with some hot steamed rice. Oh my, it's like an amusement park in your mouth!
Cashew chicken ingredients
What cut of chicken to use
The authentic Chinese version uses chicken breast, and so does the recipe below. But if you like a richer flavor and texture, boneless, skinless chicken thighs work perfectly, too.
Marinating ingredients
This key step takes an extra three minutes but will make such a difference to your dish. Using Shaoxing wine and salt makes the chicken so much more flavorful. The cornstarch protects the chicken from the hot pan so it won't get overcooked. It's especially important for chicken breast because it can dry out so easily if you leave it in the pan a bit too long.
The sauce
The sauce uses oyster sauce as a base, with a small amount of Shaoxing wine, soy sauce, Chinkiang vinegar and a touch of sugar to create a rich and complex sauce that is savory, sour and slightly sweet.
I believe you should always use high-quality oyster sauce (such as LKK oyster sauce) in this dish instead of hoisin sauce, to create a richer taste.
Mise en place
Once you're ready to cook, your table should have:
Mixed sauce
Marinated chicken
Diced pepper
Cashews
Aromatics (green onion, garlic, ginger)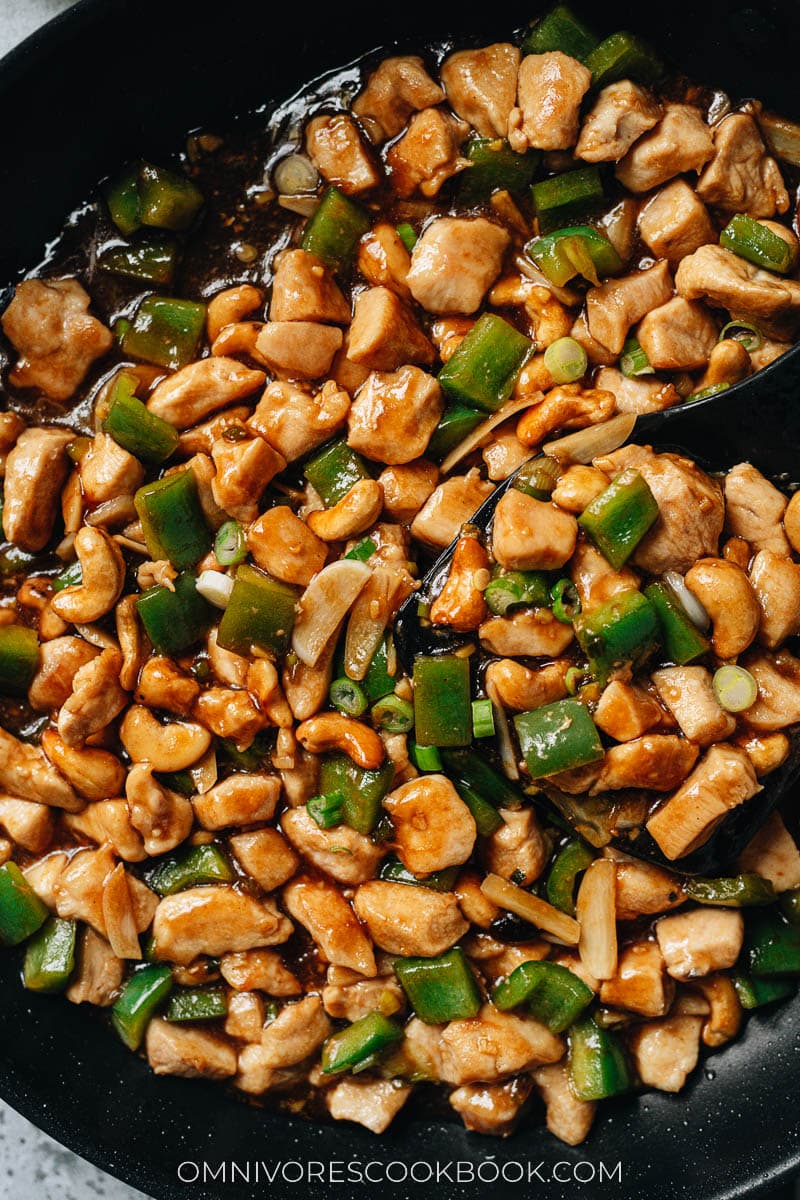 How to cook cashew chicken
No wok required!
If you, like me, don't own a gas stove, the best way to cook this dish is to use a large nonstick pan. Not only does it create juicy chicken with less oil, but the finished dish will taste as great as if you had cooked it in a wok. I wrote a lengthy post (wok vs. stir fry pan) to explain the reasons behind this. Long story short – your home stove usually cannot generate enough heat for cooking. Plus, since the cashew chicken sauce contains vinegar, it will unseason a cast iron or carbon steel wok. So a large flat non-stick pan is your next best choice.
Cooking cashew chicken step-by-step
Make sure you have all the ingredients ready near your stove. Chinese stir fry is a very fast-moving process. Once you heat up the pan, the cooking won't take more than 4 to 5 minutes. So it's very important that you've got everything ready to go and that you've read through the recipe.
Sear the chicken
Take out the chicken once it's just cooked through
Saute the aromatics
Reduce the sauce slightly
Cook the pepper briefly
Add back the chicken and mix everything together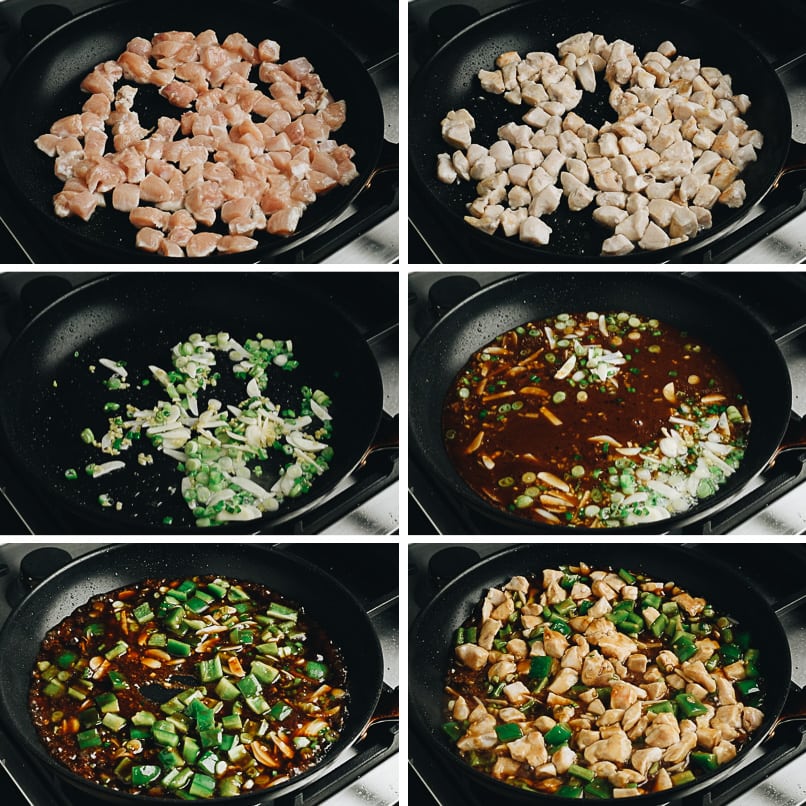 Once done, the chicken will be just cooked through, tender and juicy, and the pepper still crisp. Everything is brought together by the sticky sauce that is savory, sour and sweet. Top it on your rice and you'll have a satisfying and healthy meal in no time!
That's all for today! Happy cooking and I hope you enjoy the dish 🙂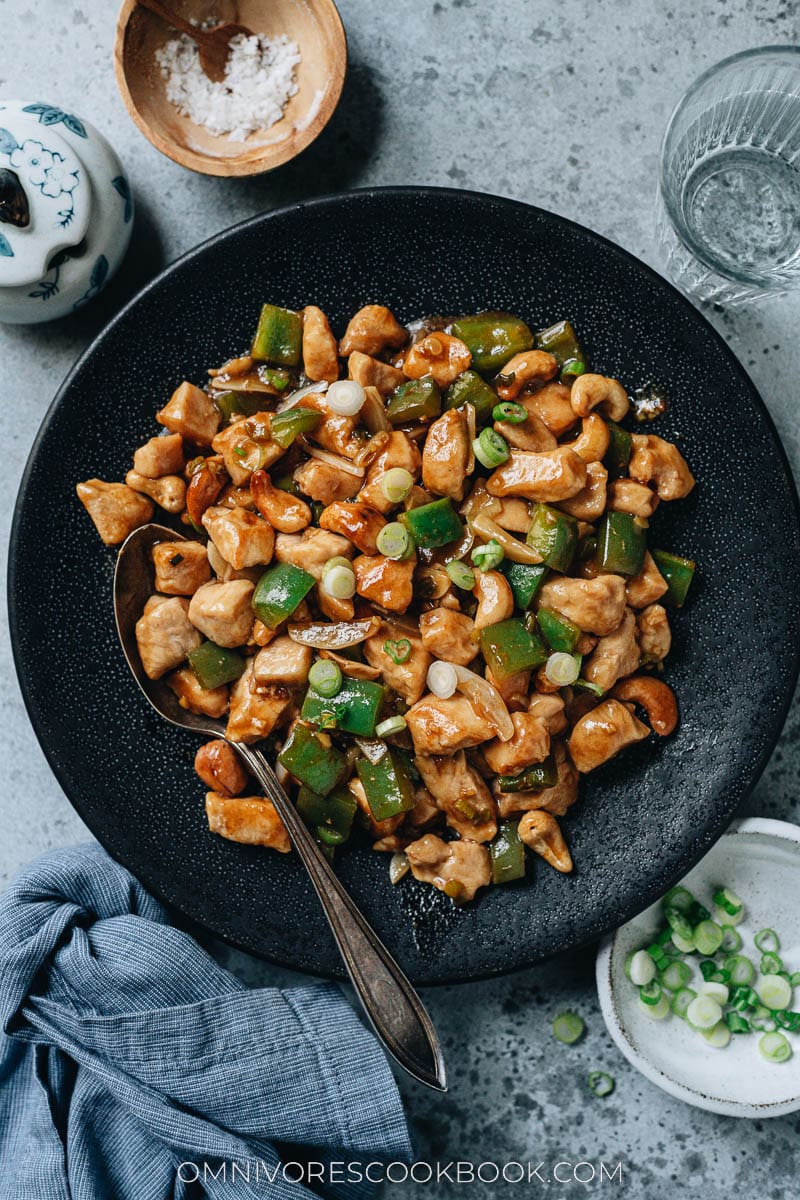 More delicious Chinese takeout recipes
Want to Know More?
Receive our 5-Day Chinese Cooking Crash Course & Recipe Updates! Subscribe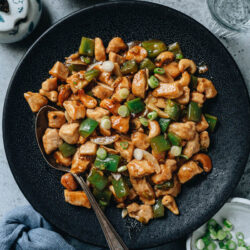 Cashew Chicken (腰果鸡丁)
A takeout style cashew chicken recipe that teaches you how to make restaurant-style cashew chicken with super juicy and tender meat and crisp pepper and cashews, all brought together with a rich, gingery, garlicky sauce. It is very easy to make and you don't need a wok!
To make this dish gluten-free, use a gluten-free oyster sauce such as LKK gluten free oyster sauce. Use dry sherry instead of Shaoxing wine. Use tamari or coconut aminos instead of soy sauce. Replace Chinkiang vinegar with rice vinegar.
Ingredients
1

lb (450 g)

skinless boneless breast

, cut into 2/3-inch (1 cm) pieces (or thigh)
Marinade
1

tablespoon

Shaoxing wine

(or dry sherry)

1/4

teaspoon

salt

2

teaspoons

cornstarch
Stir fry
2

tablespoons

peanut oil

(or vegetable oil)

4

cloves

garlic

, sliced

2

teaspoons

ginger

, finely chopped

2

green onions

, chopped

1

bell pepper

, seeded and diced

1/2

cup

roasted unsalted cashews
Instructions
Combine chicken, Shaoxing wine, salt, and cornstarch in a medium-sized bowl. Mix well so the chicken is evenly coated with a thin slurry.

Mix all the sauce ingredients together in a small bowl.

Heat 1 tablespoon of oil in a large nonstick skillet over medium-high heat until hot. Spread the chicken with minimal overlapping. Let cook until the bottom side is light golden, 1 minute or so. Turn to the other side and cook until light golden. Stir a few times until all surfaces turn white. Transfer the chicken to a big plate.

Add the remaining 1 tablespoon oil, garlic, ginger, and green onion. Stir a few times to release the fragrance.

Add the pepper. Stir and cook until the pepper just turns tender, 1 to 2 minutes.

Stir the sauce again to dissolve the cornstarch completely. Pour into the pan. Quickly stir a few times until the sauce thickens. Return the chicken to the skillet and mix again.

Add the cashews, quickly give it a stir and immediately transfer everything to a plate. Serve hot as a main dish.
Nutrition
Serving:
1
serving
,
Calories:
335
kcal
,
Carbohydrates:
16.2
g
,
Protein:
28.6
g
,
Fat:
18.7
g
,
Saturated Fat:
3.5
g
,
Cholesterol:
65
mg
,
Sodium:
598
mg
,
Potassium:
206
mg
,
Fiber:
1.4
g
,
Sugar:
5.7
g
,
Calcium:
25
mg
,
Iron:
2
mg