Introducing one of the best chicken marinades ever – homemade black bean sauce. The chicken breasts are briefly brined and then grilled over charcoal. It results in a crispy and flavorful crust, juicy and tender meat, and a heavenly smoky aroma.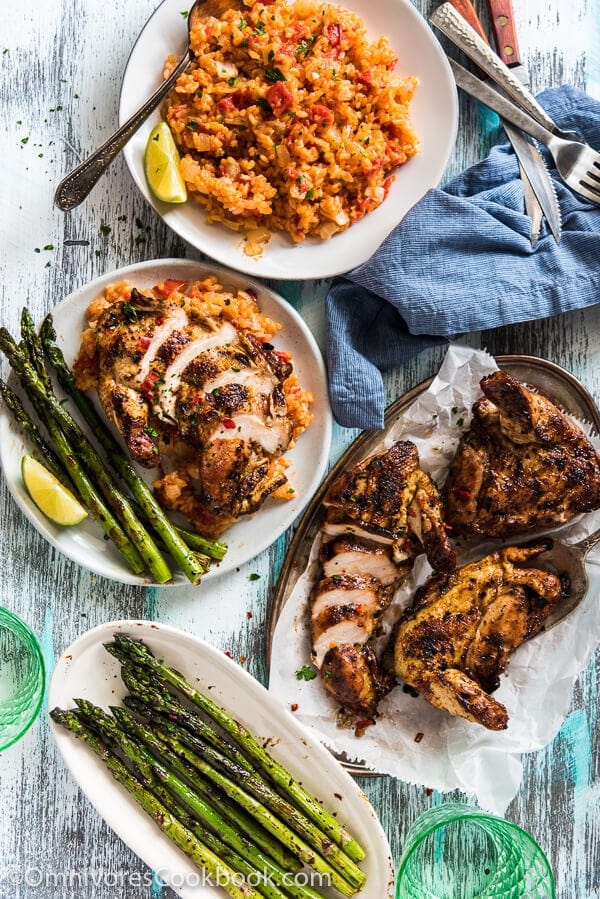 One of the most attractive features of Chinese cuisine is the variety of savory sauces. Chinese chefs are really good at using herbs and fermented ingredients to create rich and balanced sauces that are full of umami. Or, to use a trendy term, "big in flavor."
When I was planning to cook with chicken breast, the first thing that came to mind was seasoning. If not prepared and seasoned properly, chicken breast will usually end up plain and dry. To create a perfect-tasting chicken breast, I chose to use the combination of a charcoal grill and homemade black bean sauce.
In this recipe, I use fermented black beans, soy sauce, and tons of fresh herbs to create a scrumptious marinade to brine the chicken briefly. Then I cook it on charcoal grill, with high heat at first, and then slow cook it with indirect heat. It results in a perfectly cooked chicken breast with a crispy and flavorful crust, juicy and tender meat, and a heavenly smoky aroma.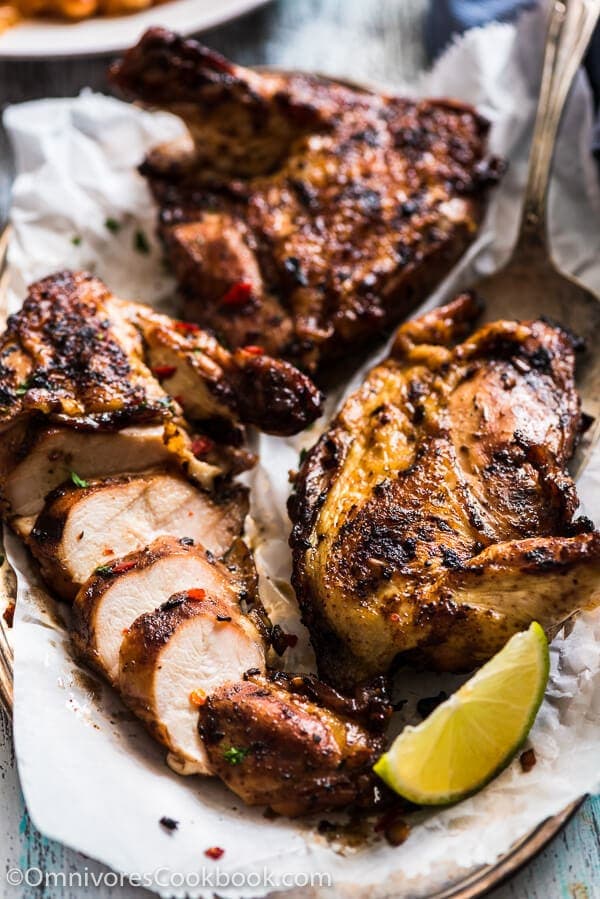 Fermented black beans 101
Fermented black beans are called Dou Chi (豆豉) in Chinese. These black beans are pre-seasoned, fermented, preserved in salt, and packed in plastic bags or cardboard containers. They are the key ingredient in black bean sauce. Their flavor is similar to that of soy sauce, just more pungent and powerful. I especially like to use them in marinades, because they add tons of savory umami and thicken the sauce at the same time.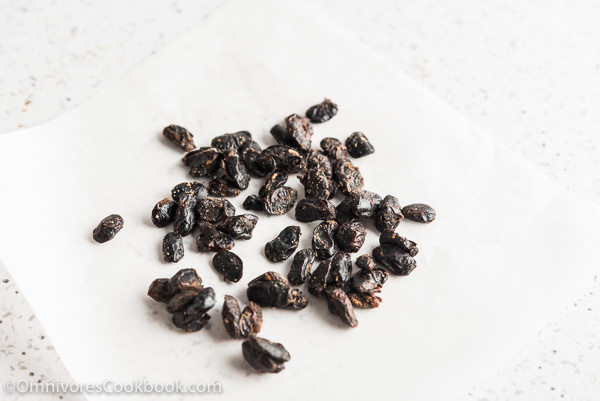 You can find fermented black beans in Asian or Chinese markets or on Amazon. Note that they are sometimes labeled as "salted black beans", "douchi", "fermented beans" or "preserved beans.". Before purchasing, always look at the ingredient list. Some of them are pre-seasoned with five spice, ginger, and / or orange peels. I personally like to use the ones only seasoned with salt. It gives me more flexibility and reduces the chance I'll over-season the food.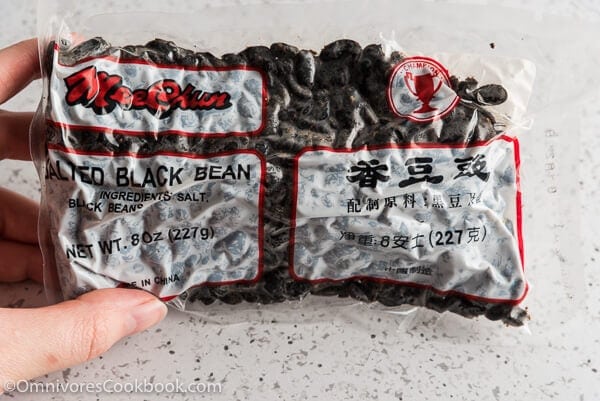 To use fermented black beans, always wash and rinse them a few times, to get rid of any excess salt. This way your dish won't end up too salty. Rinsing the beans also softens them, so it will yield a tender texture after cooking, without tasting chewy or rubbery.
Once you open the package of black beans, transfer them into an airtight container and store them in the fridge. They will stay good for many months (six months to a year).
When the beans are ready to use, add plenty of ginger, garlic, and shallot, to add depth of flavor. Don't forget to add a small spoonful of sugar. The goal is not to add sweetness, but to balance the saltiness and create a more concentrated flavor.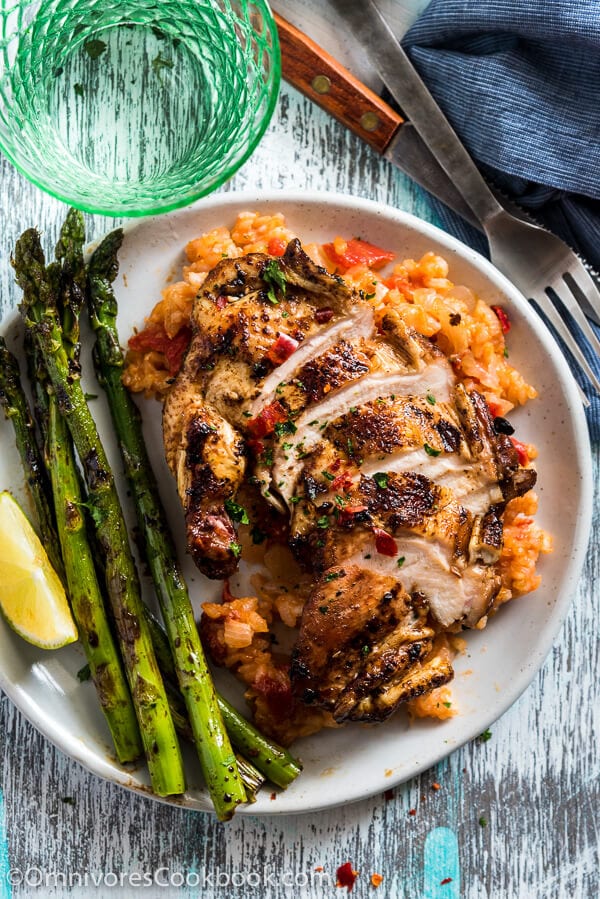 Introducing Butcher's Box
A week ago I received a box of beautiful cuts of meat from Butcher Box. Their concept is really cool, so I'd like to share their awesome product with you, too. The guys at Butcher Box curate cuts of grass fed beef and organic chicken and pork from a few collectives of small farms, pack different selections of cuts into a box with beautiful recipe cards, and deliver them to your door on a monthly basis.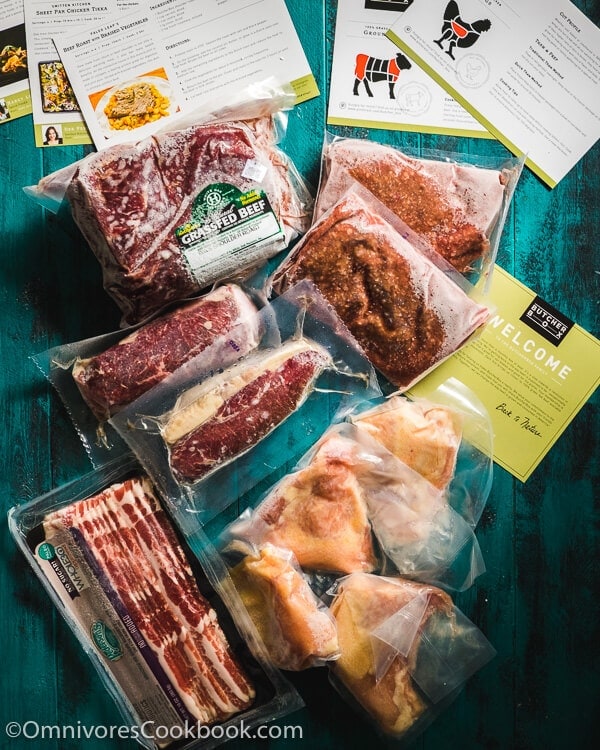 When I opened the box, I could really tell the quality and freshness of the cuts from their color and the size. For example, my box contained four airline chicken breasts – a boneless cut of chicken breast with the skin on and the drumette attached. The size of the breasts was about like my palm, less than an inch thick, with a vibrant pink color. In other words, real chicken that grew up running around in a yard. It was totally the opposite of the giant, thick, and tasteless chicken breasts that come from industrial, antibiotic-pumped, caged birds.
As a matter of personal preference, I rarely roast or grill whole chicken breasts (as they taste much better when cut up and stir fried). But I found that the airline cut is perfect for grilling because the skin will keep the meat very moist and tender. The result of the grilling was even better than I expected. Some of the juiciest and most flavorful chicken breast ever!
Check out Butcher Box if you appreciate better tasting meat, and save yourself a trip to the grocery store.
How to serve
Just like my five spice grilled chicken, this recipe produces a very flavorful dish that does not require additional sauce or dressing. You can serve it along with a simple vegetable side. We also enjoy it on top of rice with grilled vegetables. The chicken will retain its great texture and flavor, so you can serve it at room temperature on top of a salad, too.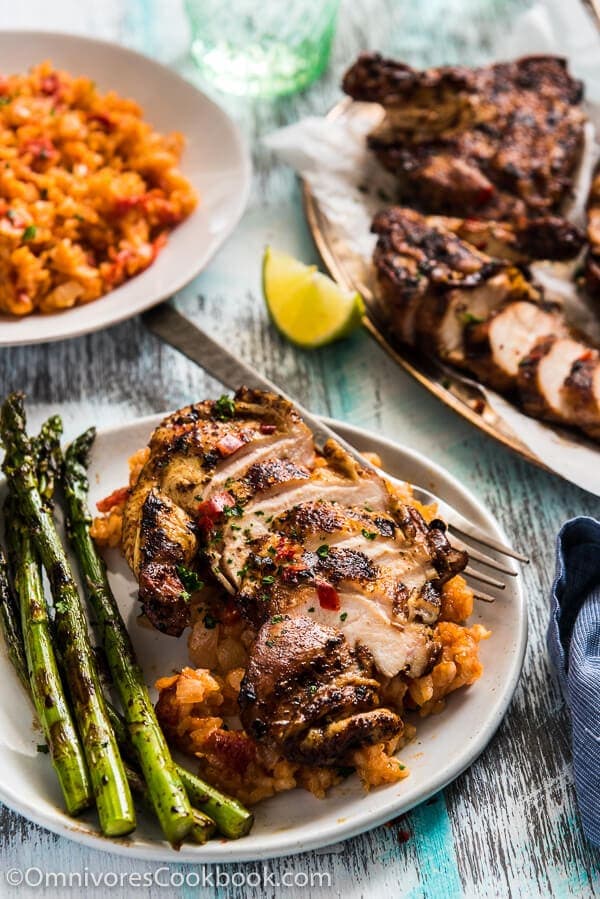 Cooking video
I recorded a short video to show you how easy it is to cook this dish. Find more videos to learn Chinese cooking on my YouTube channel!
If you give this recipe a try, let us know! Leave a comment, rate it (once you've tried it), and take a picture and tag it #omnivorescookbook on Instagram! I'd love to see what you come up with. Cheers, friends!
Thanks Butcher Box  for providing this awesome box of cuts! All the opinions in this articles are my own.
Want to Know More?
Receive our 5-Day Chinese Cooking Crash Course & Recipe Updates! Subscribe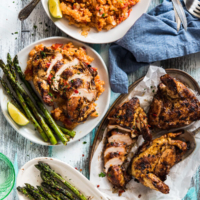 Grilled Chicken Breast with Black Bean Sauce
Introducing one of the best chicken marinades ever – homemade black bean sauce. The chicken breasts are briefly brined and then grilled over charcoal. It results in a crispy and flavorful crust, juicy and tender meat, and a heavenly smoky aroma.
Ingredients
4

chicken breasts

(or thighs) (*see footnote 1)

Sauce

1/4

cup

dried fermented black beans

1/4

cup

soy sauce

(or tamari for gluten-free)

2

tablespoons

shallot

, minced (from one medium-sized shallot)

2

teaspoons

garlic

, minced

2

teaspoons

fresh ginger

, minced

2

teaspoons

sugar

1/4

teaspoon

cayenne powder

(or paprika for less spiciness)

2

teaspoons

sesame oil
Instructions
Add fermented black beans into a bowl and water to cover. Gently wash the beans by hand, rinse a few times, drain, and transfer to a small bowl. Mash with the back of a spoon.

Add the rest of the ingredients. Stir to combine.

Dry chicken breasts with paper towel. Transfer to a large zipper bag. Pour in sauce, use a spoon to arrange the sauce, so the marinade is on the meat side of the chicken. Squeeze out as much air as possible and seal the bag. Massage the bag a few times. Let marinate for 30 minutes to 1 hour. If you aren't going to cook the chicken immediately, you can store the chicken in the fridge for 2 to 3 hours.

Light one chimney full of charcoal. When the charcoal at the top of the chimney is lit, put on heat resistant gloves, and pour the charcoal halfway over the coal grate to create a moderate two-zone fire. Set the cooking grate in place, cover the grill, and preheat for 5 minutes. Clean the cooking grate. Use a pair of tongs to dip a paper towel in oil, and brush grate with a thin layer of oil. Skip this step if you're using a skin-on cut.

Place chicken breasts on hottest part of the cooking grate, skin side down. Grill uncovered until the bottom is browned, about 3 minutes. Flip to cook the other side until browned.

Transfer the chicken breasts to the cooler part of the grill, skin side up. Cover and cook for 10 minutes. Flip and cook covered again, until the internal temperature of the thickest part reads 68 degrees C (155 F). Remove chicken from the grill and let rest for 5 minutes. The residual heat will continue to cook the chicken a bit more.

Serve warm or at room temperature with rice and grilled vegetables, or over salad.
Notes
Try to select chicken breasts that are smaller and thinner in size. They will cook faster and result in a more flavorful dish.