Spicy squid stir fry featuring tender juicy squid stir fried with onion and peppers in a super rich savory spicy sauce that's loaded with aromatics. Serve this over steamed rice for a colorful delicious dinner!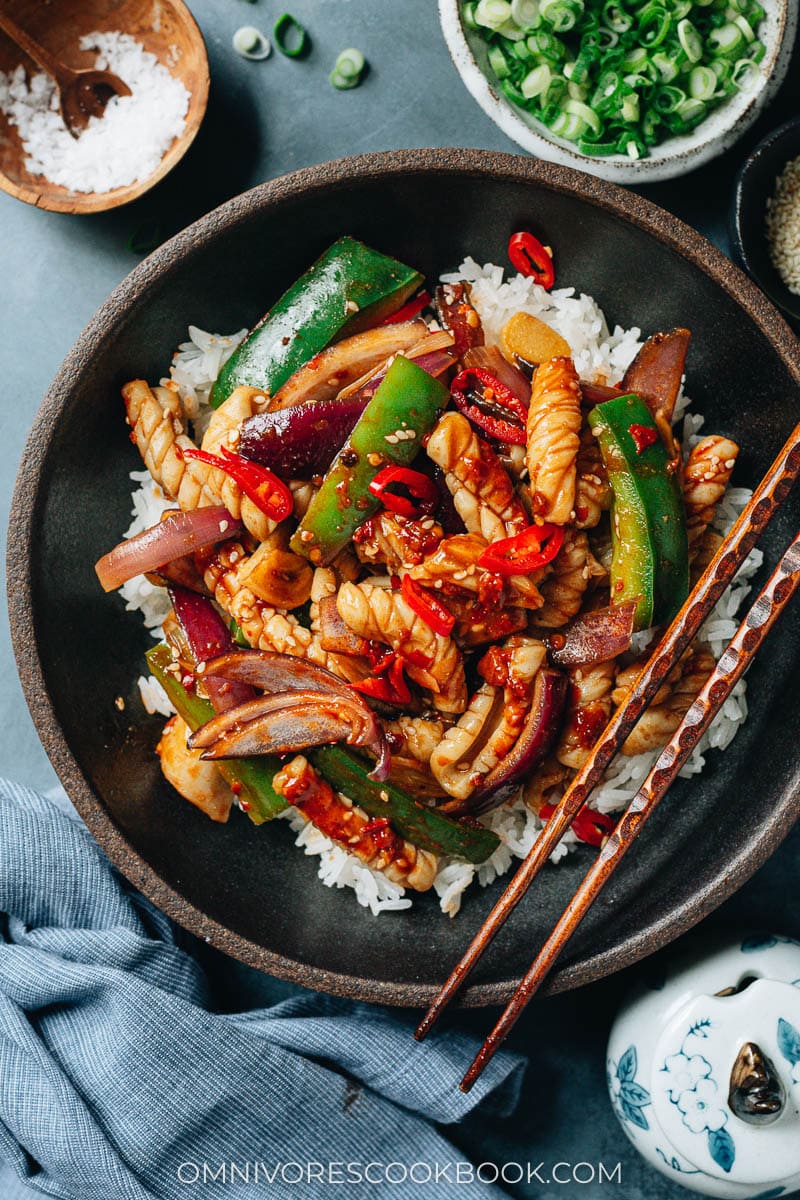 This spicy squid stir fry, which is called literally in Chinese "fierce squid stir fry", is one of my favorite ways to enjoy squid. The squid tubes are scored to create grooves, which grab onto the sauce better. It is briefly marinated with Shaoxing wine to eliminate any fishy taste. Then it's stir fried with plenty of aromatics and crispy vegetables until tender, then finished up with a spicy savory sauce. The sauce is made with doubanjiang (fermented spicy bean paste), oyster sauce, and cumin powder. It's a popular flavor combination for Shao Kao, or Chinese BBQ. Because it creates this super rich taste that has a lot of depth, fermented umami, and just a touch of sweetness.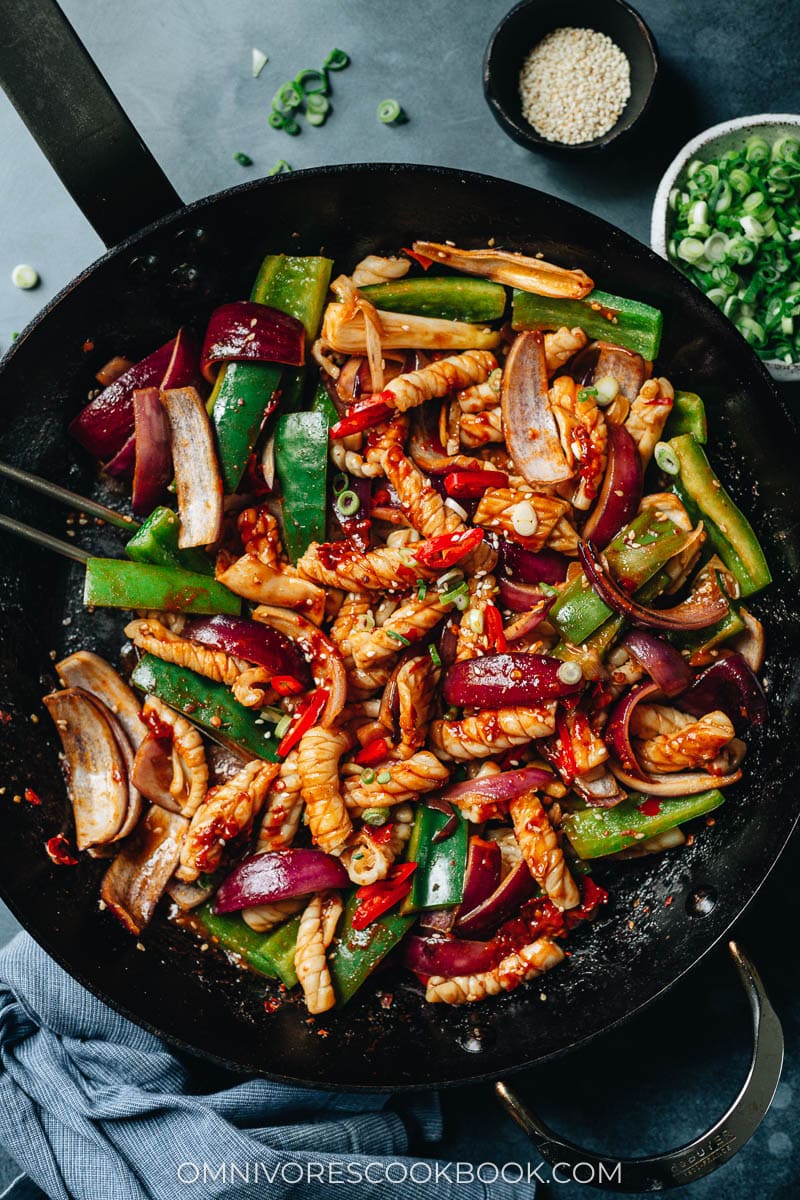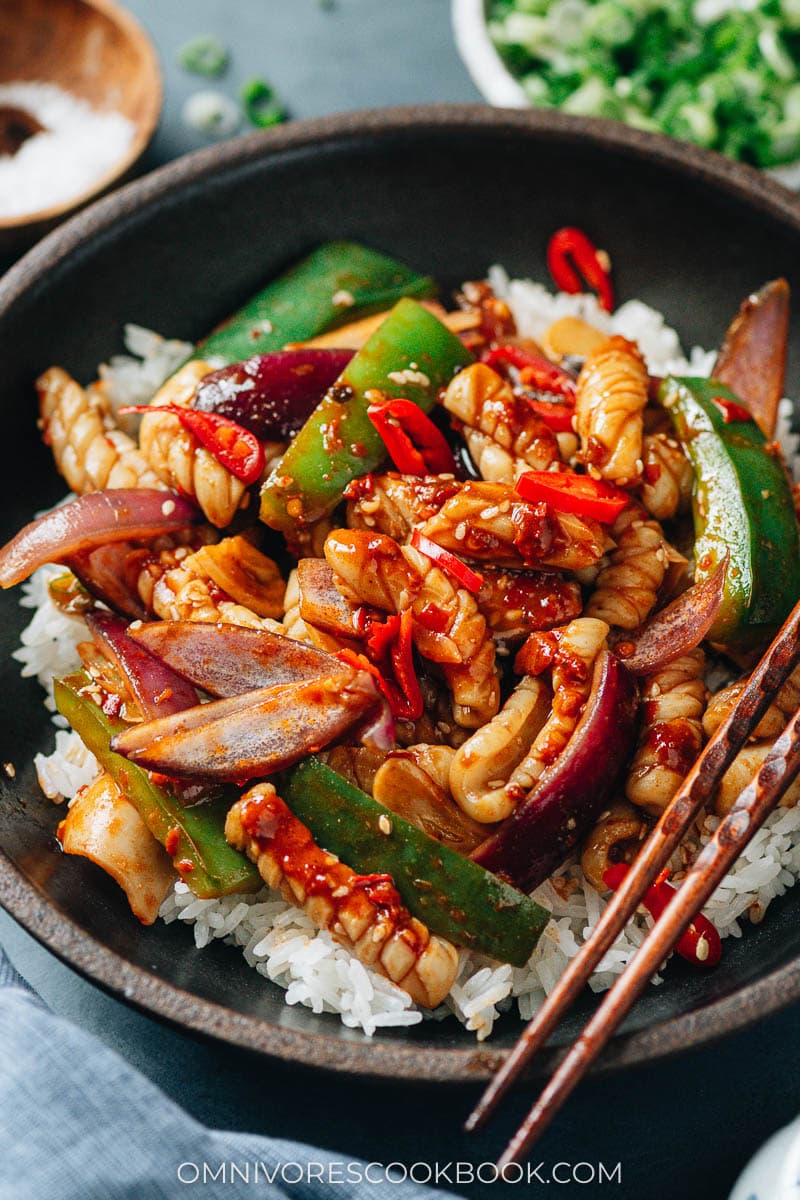 How to score squid tubes
In China, this dish is always cooked with whole squid. Unfortunately, where I live now, whole squid is very hard to come by. That's why I opted to use squid tubes, which are already cleaned and ready to use.
Lay the squid tube out on a cutting board and use your knife to cut along the side of the tube.
Open the tube to lay it flat, the inner side up. Use the tip of your knife to gently slice the flesh without slicing through, along one side of the tube.
Rotate the tube and slice along the other side of the tube to create a diamond shape pattern.
Slice in between the tube to cut it into two parts.
Further slice each part into 1" (2.5 cm) wide pieces.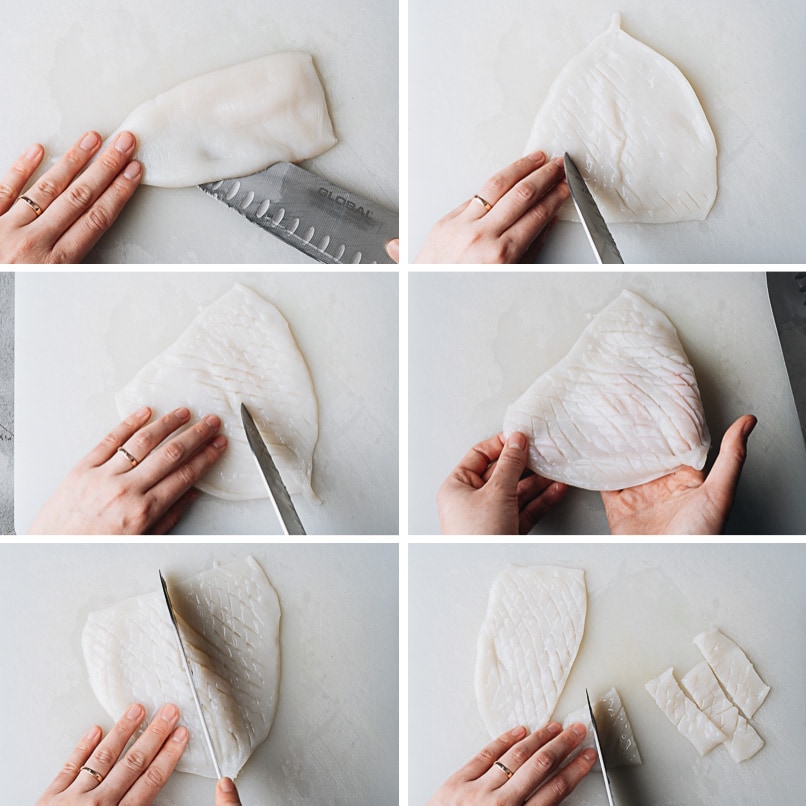 Scoring the squid creates a wow factor for the appearance of the dish. Plus, the squid will have more surface area so it will grab onto the sauce better.
If you're using whole squid, check out this video to see how to clean it.
And of course, you can always use squid rings for this recipe if you want to skip the scoring altogether.
Mise en place
When you're done prepping, your table should have: the marinated squid, mixed sauce, ginger and garlic in a bowl, and chopped pepper and onions on a plate.
By grouping ingredients together like this, you will have a clear workflow and use fewer dishes.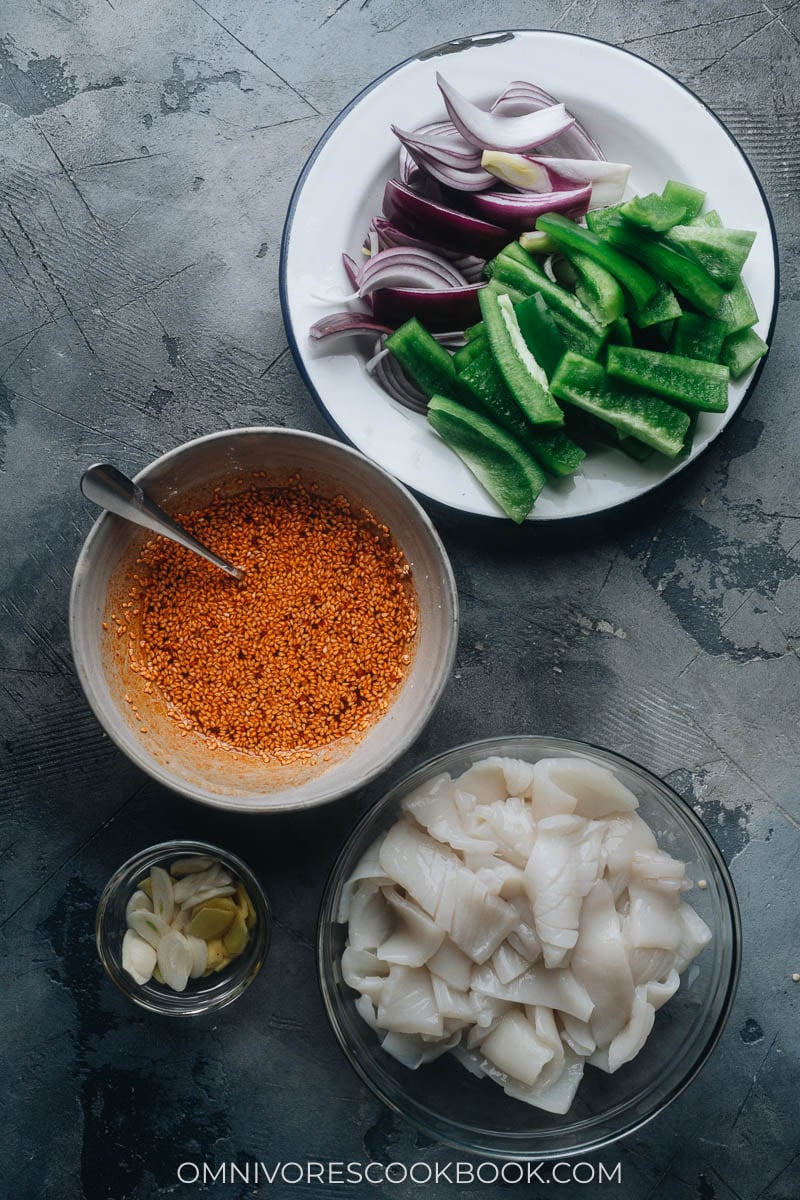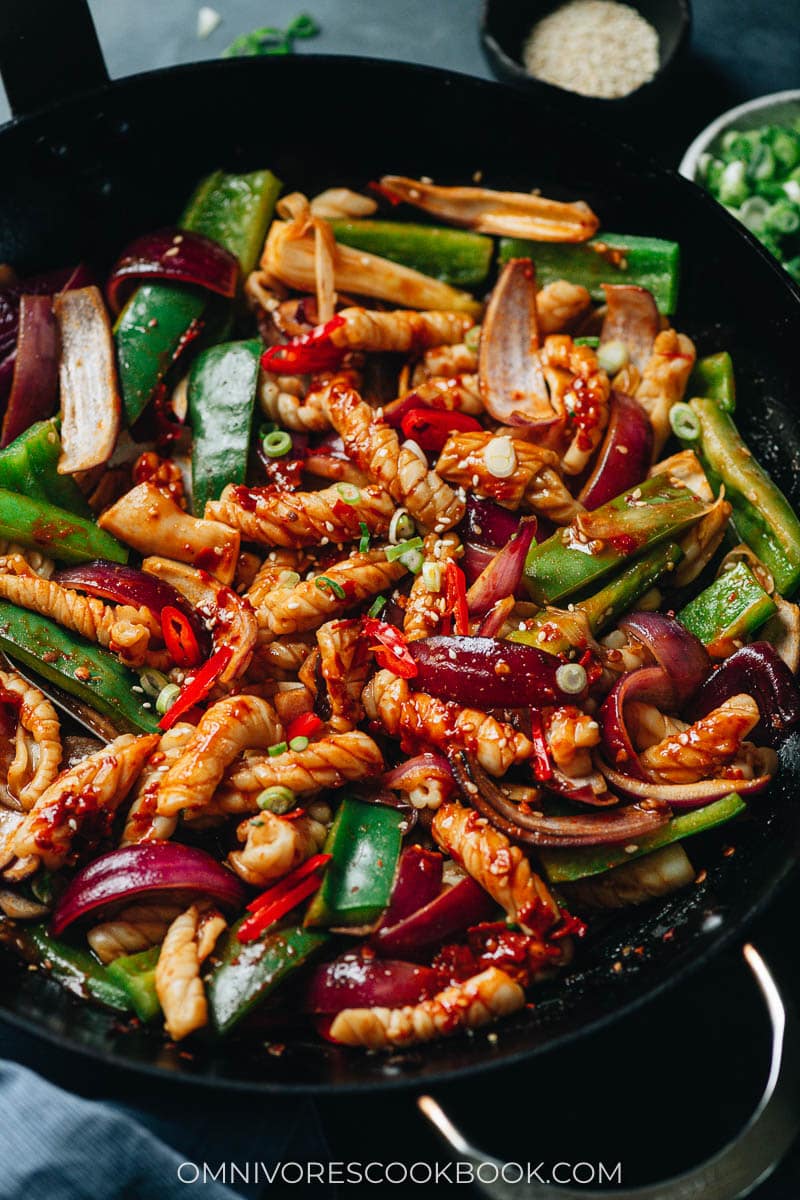 How to cook spicy squid stir fry
Drain as much water as you can from the marinating bowl. Cook the squid on a hot pan by spreading them out.
Once the squid just curled up, remove them from the pan, wipe off any liquid left on the pan.
Saute the aromatics
Gently saute the vegetables
Add back the squid and pour in the sauce
Stir a few times to thicken the sauce
That's it!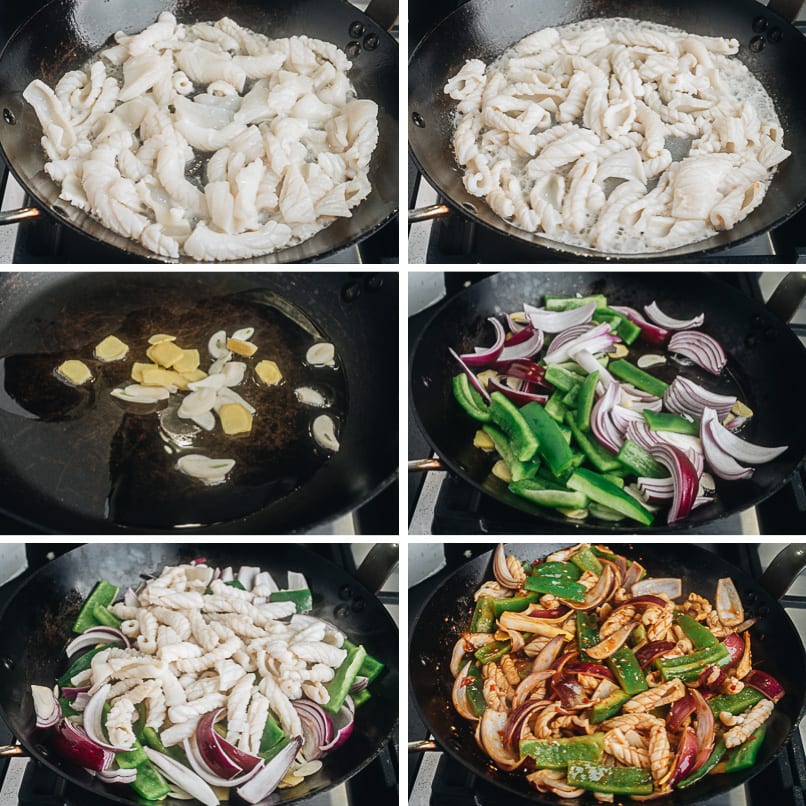 How to cook squid properly
To yield a tender texture, you should use a hot pan, very high heat, and cook the squid just enough so it curls up. The longer it stays in the pan, the tougher it gets. That's why I take it out as soon as it's cooked, and add it back at the very end of the stir fry.
I used thawed frozen squid in my recipe and it created a LOT of excess liquid, which was a little annoying. This is usually less of an issue if you use fresh squid that wasn't frozen previously.
I do want to mention that, in Chinese cooking, the squid is usually blanched and drained before any stir frying. Doing this helps get rid of any excess water when using frozen squid. However, I do think it's a bit redundant to use another pot for blanching, so I used the same pan to stir fry the squid instead. If you do not mind the trouble, try blanching the squid very briefly, skipping the stir fry (step 4), then removing the squid from the pot. Drain it well and pat it dry. It works slightly better than the stir frying method.
If you do use the stir fry method, make sure to drain the squid very well once you cook it, before adding it back to the pan with the vegetables.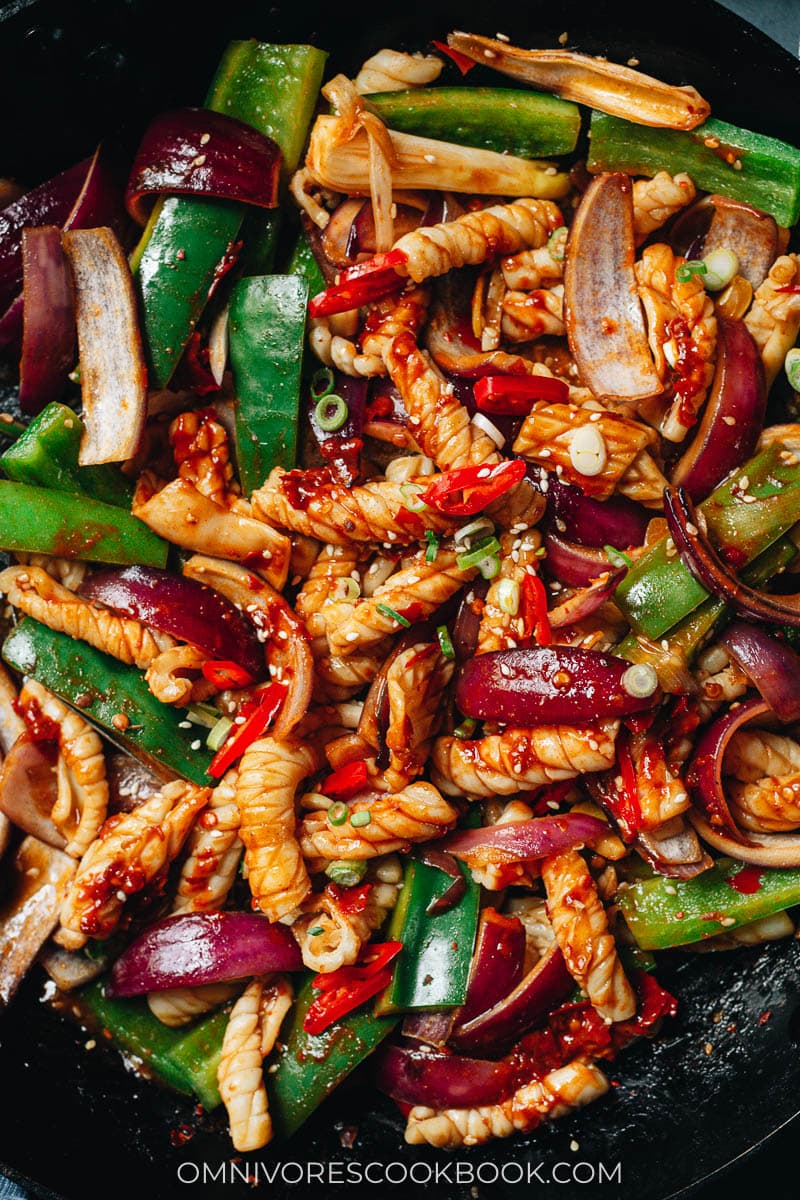 How to serve spicy squid stir fry
You can serve spicy squid stir fry as a stand alone main dish, but my favorite way is to serve it with steamed rice. The sauce is quite rich and spicy, which pairs super well with the rice.
Replace squid with other ingredients
Spicy squid is an easy stir fry that's quite simple to put together, excluding the scoring part!. I genuinely think you should use squid rings instead, if the scoring part looks like too much trouble. And another note, if squid is not your jam, you can use this sauce to cook other proteins or vegetables because it's so good. Try replacing the squid with sliced chicken (breast or thigh), adding 1 teaspoon cornstarch to the marinade. Or use king oyster mushrooms to replace the squid (skip the marinating) and use vegetarian oyster sauce if you want to make a vegetarian dish.
I hope you enjoy this one and happy cooking!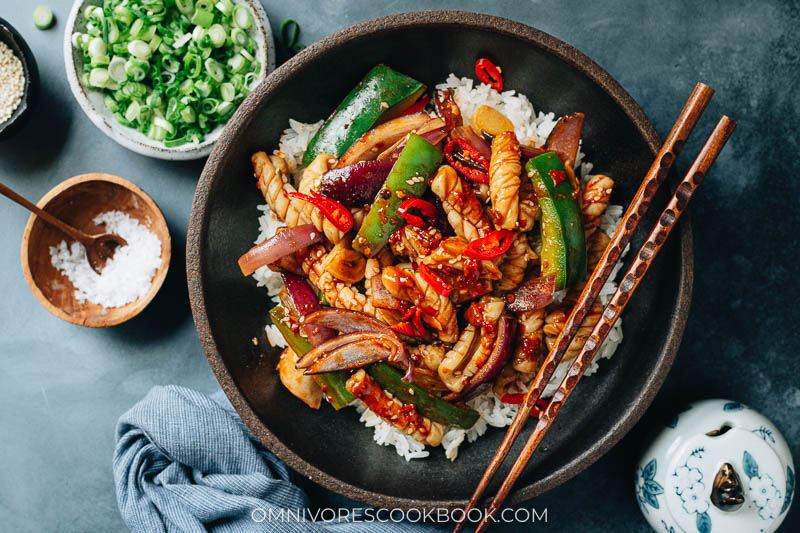 Other delicious stir fries for dinner
Want to Know More?
Receive our 5-Day Chinese Cooking Crash Course & Recipe Updates! Subscribe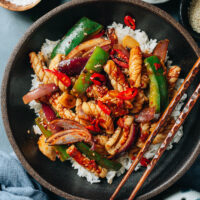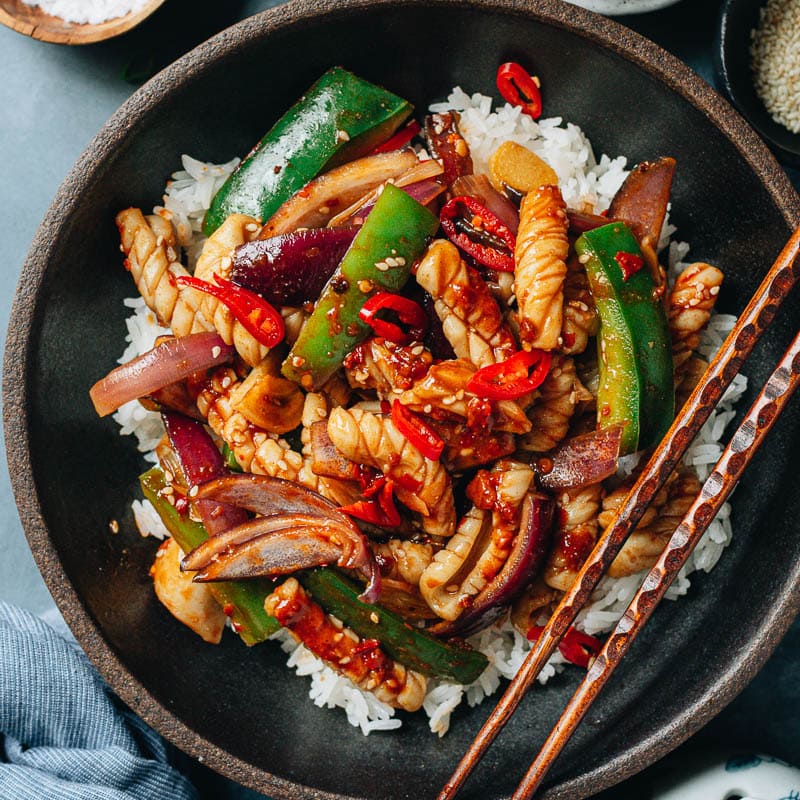 Spicy Squid Stir Fry (爆炒鱿鱼)
Spicy squid stir fry featuring tender juicy squid stir fried with onion and peppers in a super rich savory spicy sauce that's loaded with aromatics. Serve this over steamed rice for a colorful delicious dinner!
Ingredients
Marinade
1

lb (450 g)

squid tubes

(or rings) (*Footnote 1)

2

teaspoons

Shaoxing wine

1/8

teaspoon

salt
Sauce
1/3

cup

water

1

tablespoon

oyster sauce

1

tablespoon

doubanjiang

(or 1 tablespoon oyster sauce for a less spicy dish)

2

teaspoons

light soy sauce

2

teaspoons

toasted white sesame seeds

2

teaspoons

cornstarch

1

teaspoon

cumin

1

teaspoon

sugar

1/2

teaspoon

chili flakes
Stir Fry
2

tablespoons

peanut oil

(or vegetable oil)

2

cloves

garlic

, minced

1

thumb ginger

, sliced

1

small red onion

, sliced into bite-size pieces

1

bell pepper

(or 2 to 3 hot peppers, sliced into bite-size pieces) (*Footnote 2)
Instructions
If using squid tube: Use a knife or a pair of scissors to cut along one side of the tube. Open the tube to lay it flat, inner side up. Score the inner flesh of the tube, first parallel to the edge, then rotate the tube and slice to create an "X" shaped pattern, spaced about 1/4" (4 mm) in between. Cut the tube in half lengthwise, then slice into 1" (2.5 cm) strips.

To marinate the squid: add the squid into a big bowl along with the Shaoxing wine and salt. Stir to mix well and set aside while preparing the rest of the ingredients.

To make the sauce: Combine the sauce ingredients in a medium-sized bowl and stir to mix well.

To cook the stir fry: Heat 1 tablespoon of oil in a skillet over medium-high heat until hot. Add the squid. Let cook for 1 minute, until the bottom turns slightly golden. Stir and cook until the squid just curls up. Transfer the squid to a big plate and set aside.

Add the remaining 1 tablespoon oil, garlic, and ginger. Stir a few times to release the fragrance.

Add the onion and bell pepper. Cook and stir fry for 1 minute. Add back the squid. Stir the sauce again to dissolve the cornstarch completely, then pour it into the pan. Cook and stir until the sauce is thickened, 1 minute or so. Transfer everything to a big plate. Serve hot as a main dish.
Notes
Using the squid tube (or a whole squid) and by scoring it will create a nice presentation. The scored squid also grabs the sauce better and tastes a bit more flavorful. However, it's entirely OK to use squid rings instead.
For a spicier dish, you can use hot peppers instead of bell pepper. Or you can use a mix of bell pepper and hot
Nutrition
Serving:
1
serving
,
Calories:
219
kcal
,
Carbohydrates:
12.5
g
,
Protein:
18.4
g
,
Fat:
9.8
g
,
Saturated Fat:
1.3
g
,
Cholesterol:
260
mg
,
Sodium:
399
mg
,
Potassium:
149
mg
,
Fiber:
1.5
g
,
Sugar:
3.9
g
,
Calcium:
74
mg
,
Iron:
2
mg