This recipe uses a simple sushi rice that is slightly sweet and sour, which brings out the umami of salmon sashimi. This is also a perfect last-minute party food – fancy and delicious, takes practically no time to prepare, and is a delight to the eyes.
Do you like sushi? If so, this recipe is perfect for you! It lets you enjoy the great flavor of sushi with the least amount of effort.
It took me some time to be able to appreciate the flavor of raw fish. If you didn't grow up eating sashimi, I believe it is the type of food that takes some time getting used to. But once you start to taste the umami, you'll be hooked.
Living in Japan entirely altered my attitude towards sushi. We have tons of Japanese restaurants here in Beijing, and I'd been eating sushi for years before going to Japan. But then I found that real sushi in Japan is a totally different story.
There are various types of sushi in Japan. When people talk about eating sushi outside, especially for a small treat for themselves or for a celebration, they usually refer to nigiri sushi – the one that comes with a small clump of rice and a piece of raw fish on top. Compared to the sushi I'd had in Beijing, the nigiri sushi I had in Japan was much more flavorful and had a better mouthfeel. The sushi usually has a very thick and massive cut of fish that covers the rice entirely – a real luxury in Beijing. There is no mayonnaise, no fancy rolls. But the chef knows how to tweak a thousand tiny details to bring out the best flavor of the fish (You'll understand this if you ever watch Jiro dreams of Sushi), even at a small bistro in a random back alley.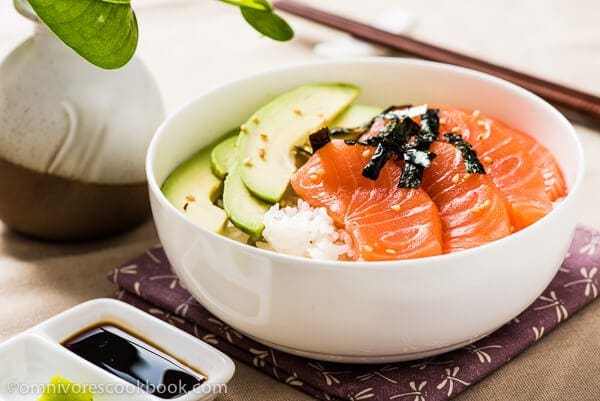 After I had tasted the "real" sushi in Japan, it was difficult to satisfy my taste buds after coming back to Beijing. Yes, you can find very authentic Japanese restaurants here, but the food is generally pricey and they are a bit stingy with the fish.
When I discovered that my neighborhood supermarket had started selling sushi grade salmon, I was so excited and immediately bought a small filet to enjoy. I cooked some rice, whipped it into a quick version of sushi rice, and made this super satisfying salmon sashimi bowl with some avocado.
Why didn't I make nigiri sushi? If you've ever tried to make sushi by hand, you know it takes quite a bit of time and effort. The way it's presented is beautiful, but it's not ideal if you want to get dinner on the table in 30 minutes or cook for 20 people. That is why normal Japanese households and business lunch places serve sashimi bowls instead. Instead of packing rice into clumps, you just arrange a few toppings on top of some sushi rice. And the flavor is just as good.
Not matter whether it's for a romantic dinner on Valentine's Day or to serve at a party, you can easily assemble this beautiful bowl in under 5 minutes.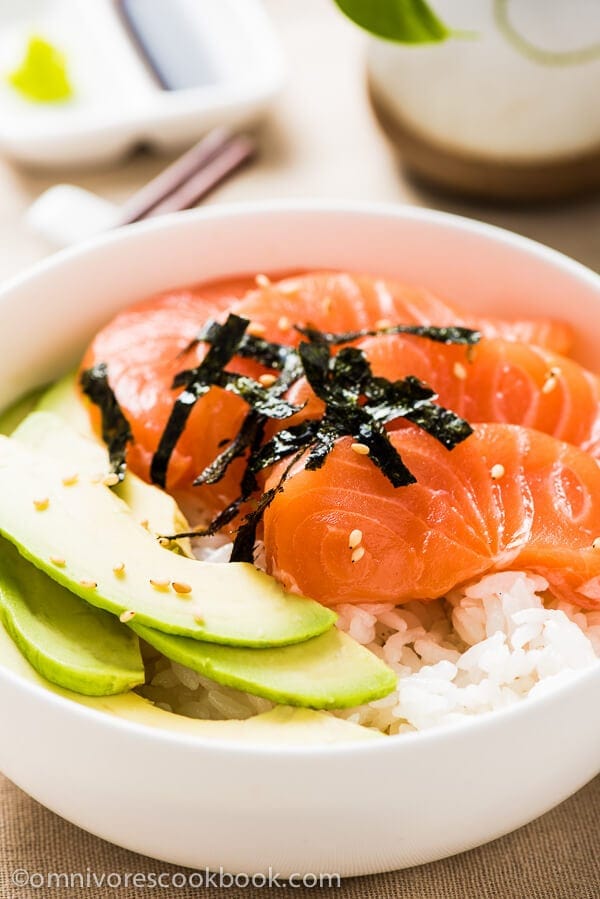 Make the Quick Version of Sushi Rice
I always prefer to use sushi rice with sashimi instead of plain steamed white rice. Sushi rice has a subtle sweet and sour flavor that goes perfect with the fish and brings out its flavor.
If you like raw fish, definitely try to use sushi rice in your favorite sashimi bowl. It makes a huge difference.
By the way, if you need to know how to cook authentic sushi rice, check out this recipe from Just One Cookbook. Nami has a very detailed recipe with an instructional video to show you how to make real-deal sushi rice.
In this recipe, you only need three ingredients to cook the quick version of sushi rice – sugar, salt, and rice vinegar (or Chinese white vinegar), in addition to some freshly cooked rice.
All you need to do is to mix the ingredients into the rice and wait until the rice cools down (it usually takes 20 minutes). Then you can add your preferred toppings. Here I used my favorite combination – salmon and avocado – with some nori to enhance the flavor (very important) and a drizzle of soy sauce.
To sum up, you only need 10 minutes in the kitchen throughout the whole process to get everything ready. Isn't it wonderful?
I hope you enjoy this super delicious and fancy salmon bowl!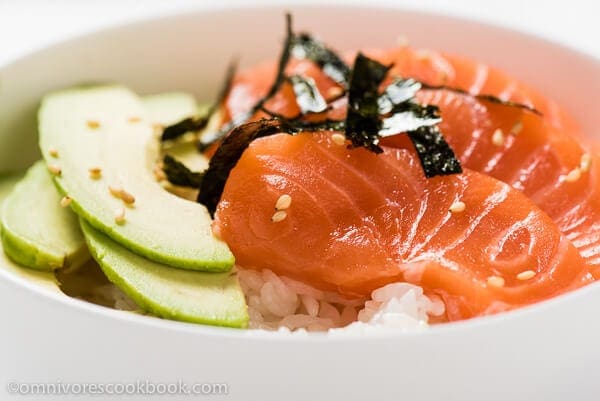 Want to Know More?
Receive our 5-Day Chinese Cooking Crash Course & Recipe Updates! Subscribe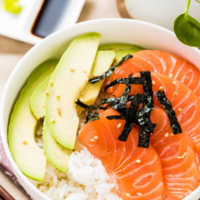 Salmon Sashimi Bowl with Avocado
Ingredients
For quick sushi rice
1

cup

180 milliliters uncooked rice

2

tablespoons

Japanese rice vinegar

or Chinese white vinegar

1

tablespoon

sugar

1/2

teaspoon

salt
For the bowl
200

grams

7 ounces fresh raw salmon, sliced

1/2

avocado

sliced

5

pieces

dried nori

cut into strips

2

tablespoons

sushi soy sauce

or light soy sauce or to taste

optional pinch of wasabi

optional pinch of toasted sesame for garnish
Instructions
To make sushi rice
Add rice and water into a rice cooker and cook according to instructions.

Combine rice vinegar, sugar, and salt in a small bowl. Heat in microwave for 1 minute. Stir well until the sugar and salt are dissolved.

When rice is cooked, transfer to and spread over a large plate. Swirl in the vinegar mixture slowly and use a spatula to mix well.

Let rice sit until cool, 15 to 20 minutes.
To assemble the bowl
Add rice into a small bowl, top with salmon, avocado and dried nori. Serve with sushi soy sauce and wasabi.
To eat
Add 2 tablespoons soy sauce and 1/8 teaspoon wasabi to a small dish, mix until wasabi is dissolved and blended into the soy sauce.

Drizzle the sauce into the bowl according to taste and enjoy!
The nutrition facts are calculated based on 1 of the 2 servings generated from this recipe.