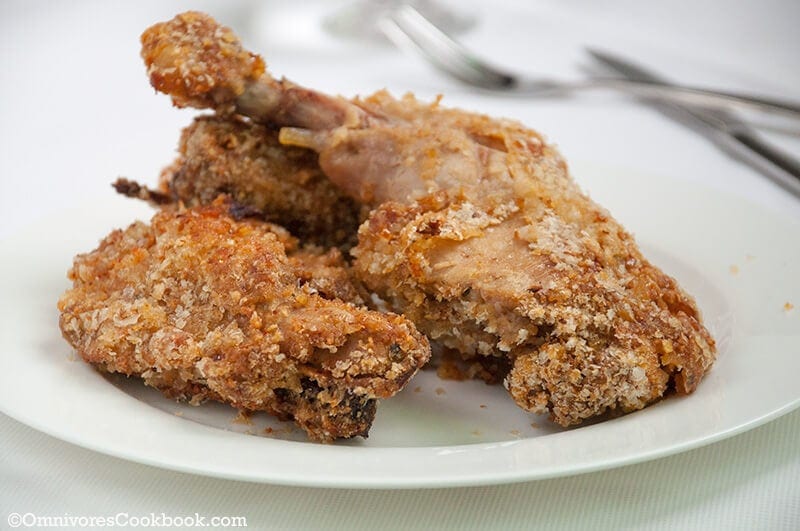 I love eating chicken cooked in all kinds of way since I was small, especially fried chicken.
I grew up in my grandparents house. Back at 90s, household income was pretty low, plus my grandparents do not like cooking so much, so we used to have very simple food everyday. While I was in junior school, my grandpa went to the market every Wednesday and buy me a huge fried chicken leg with thigh. Then I'll just devour the whole thing in a few seconds. The fried chicken day was used to be my holiday every week. After several years, KFC come to Beijing and I start to have American fried chicken. Loved it!
Nowadays, I eat fried chicken less for healthy sake, but I sill enjoy baked or fried chicken dishes. But I seldom cook fried chicken at home, because it requires too much oil. This baked chicken leg is my alternative way of having fried chicken. It was baked with tiny portion of oil, but the chicken is juicy and skin is very crispy.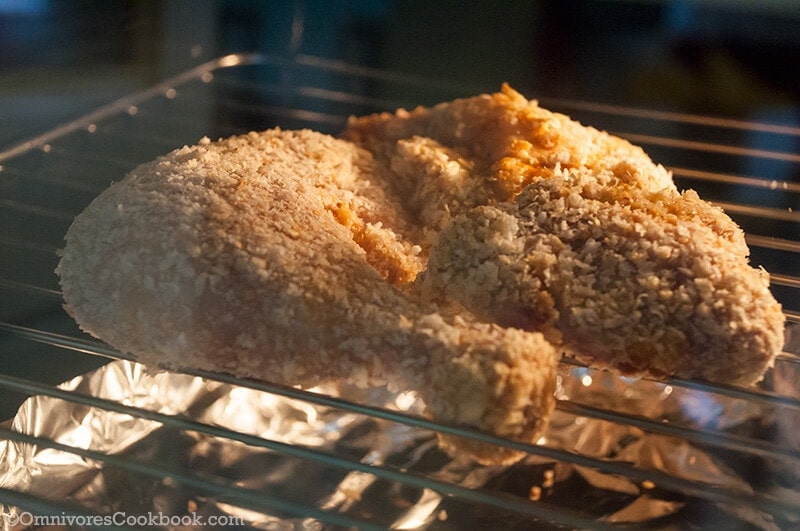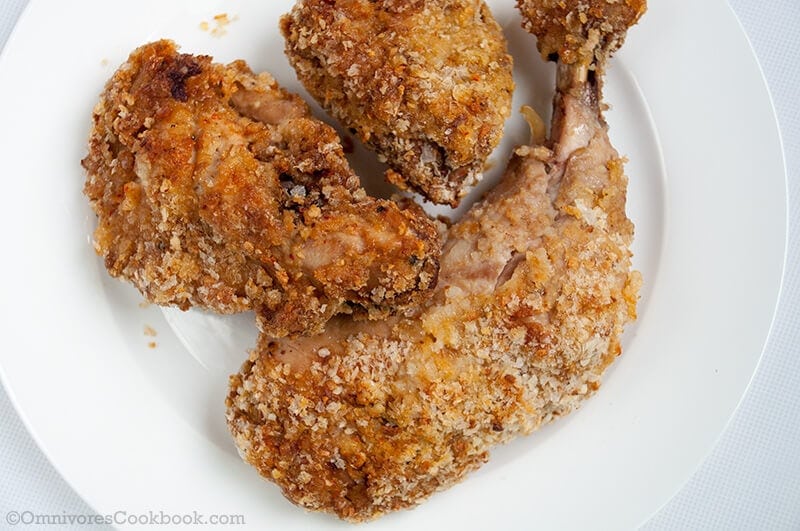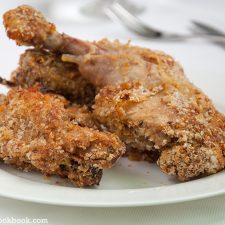 Ingredients
2

Chicken legs with thigh

1

tablespoon

minced ginger

or 1 teaspoon powder

3

teaspoons

salt

1

tablespoon

lemon juice

4

tablespoon

flour

1

teaspoons

chili pepper flakes

1

teaspoon

paprika

1/2

teaspoon

black pepper

1

egg

1/2

cup

bread crumbs

2

teaspoons

onion flakes

option

1

teaspoon

vegetable oil

2

wedges lemon

option
Instructions
Rub chicken with ginger, 2 teaspoons salt and lemon juice. Marinate for 1 hour to overnight.

Mix flour, chili pepper, paprika, black pepper and 1/2 teaspoon salt in plastic bag.

Beat egg in a plate.

Mix bread crumbs, onion flakes and the rest of salt in a plastic bag.

Dry chicken legs with paper towel and put in bag of flour mixture, shake the bag to coat chicken legs well. Dip chicken leg in egg liquid, then put in bread crumbs mixture. Shake the bag until bread crumbs coat chicken legs evenly. Add more bread crumbs if necessary. Place the bag in fridge to let bread crumbs settle.

Preheat oven to 180C (350F). Line oven trey with aluminum foil and place on the bottom level in oven. Brush grill rack with vegetable oil. Place chicken legs on cooling rack and bake for 50 minutes to 1 hour, until surface turns golden and juice runs clear.

Serve while hot with lemon wedges.