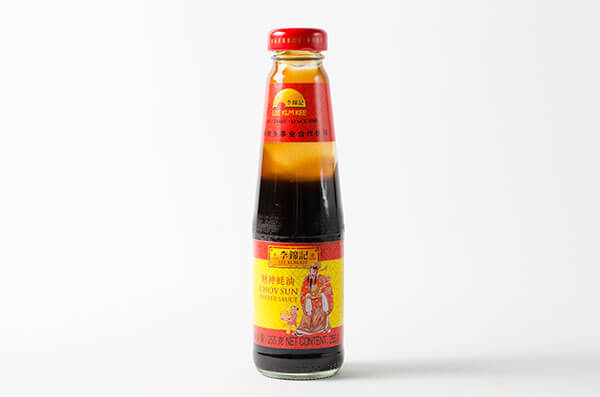 Oyster Sauce (蚝油, hao you) is a thick, dark brown liquid condiment and is very commonly used in Chinese cooking. It has a sweet, salty, and deeply savory flavor. It is made from essence or extract of oyster, with a few other ingredients, such as caramel and cornstarch. It contains an umami flavor with a strong resemblance to seafood, and is a great flavor enhancer in cooking.
For a vegetarian alternative, choose oyster sauce that is made from mushrooms.
Usage
Oyster sauce is commonly used in Chinese cuisine, especially Cantonese. It is widely used in salad, stir-fry, noodles, soup, stew, and dipping sauce. Its flavor goes well with a lot of ingredients, especially vegetables, tofu, mushroom, seafood, beans, meat and poultry.
A few tips:
The oyster sauce will lose its umami if cooked for too long. Always add it at the end of braising or cooking soup.
Do not cook oyster over high heat, it will lose its flavor and turn bitter.
Using oyster sauce to marinate will eliminate fishiness from meat and seafood, and enhance its flavor.
Oyster sauce is quite salty. Reduce or eliminate salt when cooking with oyster sauce.
For using oyster sauce, you can find a few recipes on Omnivore's Cookbook to get you started:
Char Siu Pork Lo Mein
Chinese Broccoli with Oyster Sauce
Thai Curry Chicken Fried Rice
Curry Pork and Green Bean Stir-Fry
African Chicken
Buy
You can find oyster sauce at large supermarket and almost any Asian market. You can find it on Amazon or Lee Kum Kee's online store in your region. For cooking vegetarian dishes, use mushroom oyster sauce as an alternative.
Storage
Once opened, you should always store oyster sauce in the fridge. It will last in the fridge for up to 6 months. If the color of the oyster sauce turns dull and loses its aroma, you should discard it.