Sweet and sour ribs is a classic Shanghainese appetizer that will be the highlight of your dinner table. The ribs are browned with sugar until crispy and caramelized, then finished up in a sticky and fragrant sweet and sour sauce.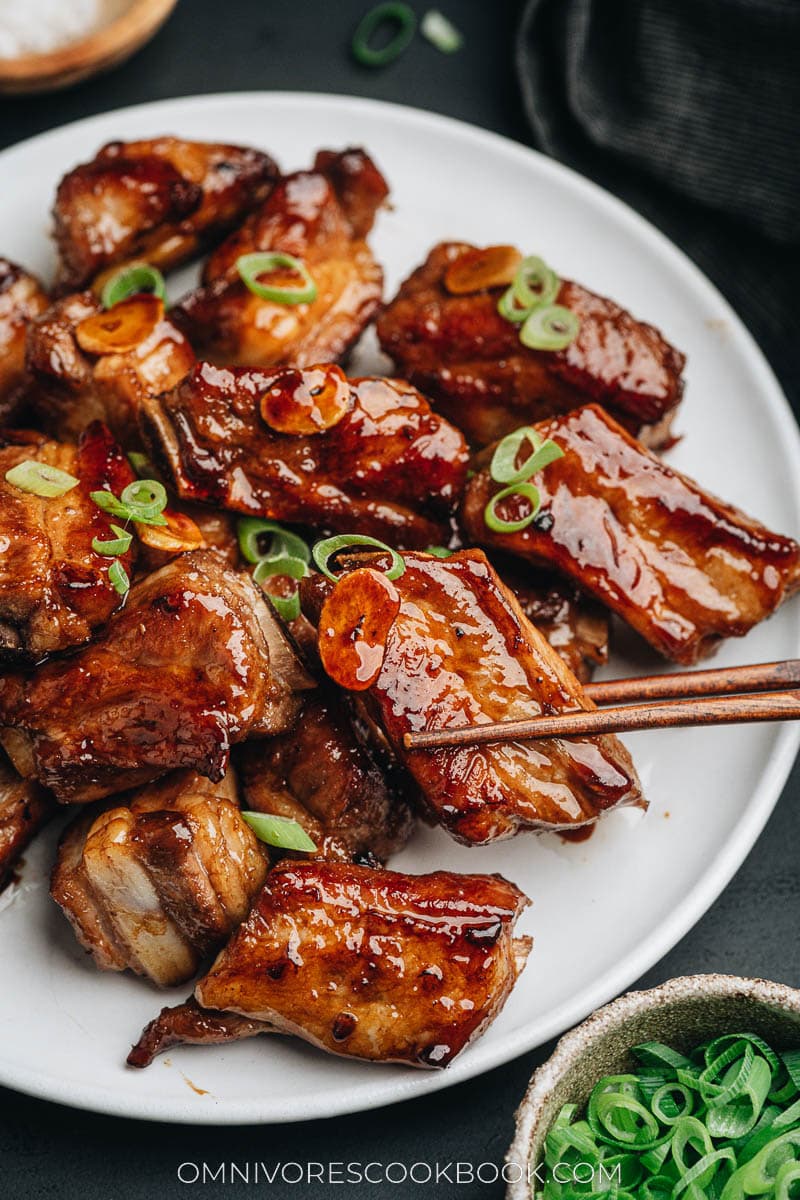 What is sweet and sour ribs
Sweet and sour ribs (糖醋小排, tang cu xiao pai) is a famous dish from Shanghai cuisine. The small pork ribs are fried until golden crispy, then coated with a thin layer of sticky sweet and sour sauce. The ribs have a special chewy texture and a crunchy caramelized surface, and they're bursting with flavor. The dish can be served hot or cold, usually in small quantities as an appetizer.
Why this recipe
There are a few different approaches to recreating this dish at home. For example, the traditional way is to marinate, deep fry, and then cook the ribs with the sauce. However, I found the approach below is slightly easier and yields a great result:
Blanch the ribs with aromatics to get rid of any gamey taste, and quickly cook through the interior.
Brown the ribs using the melted sugar method (more details below) for the caramelized texture.
Stir the ribs with the sauce to finish up.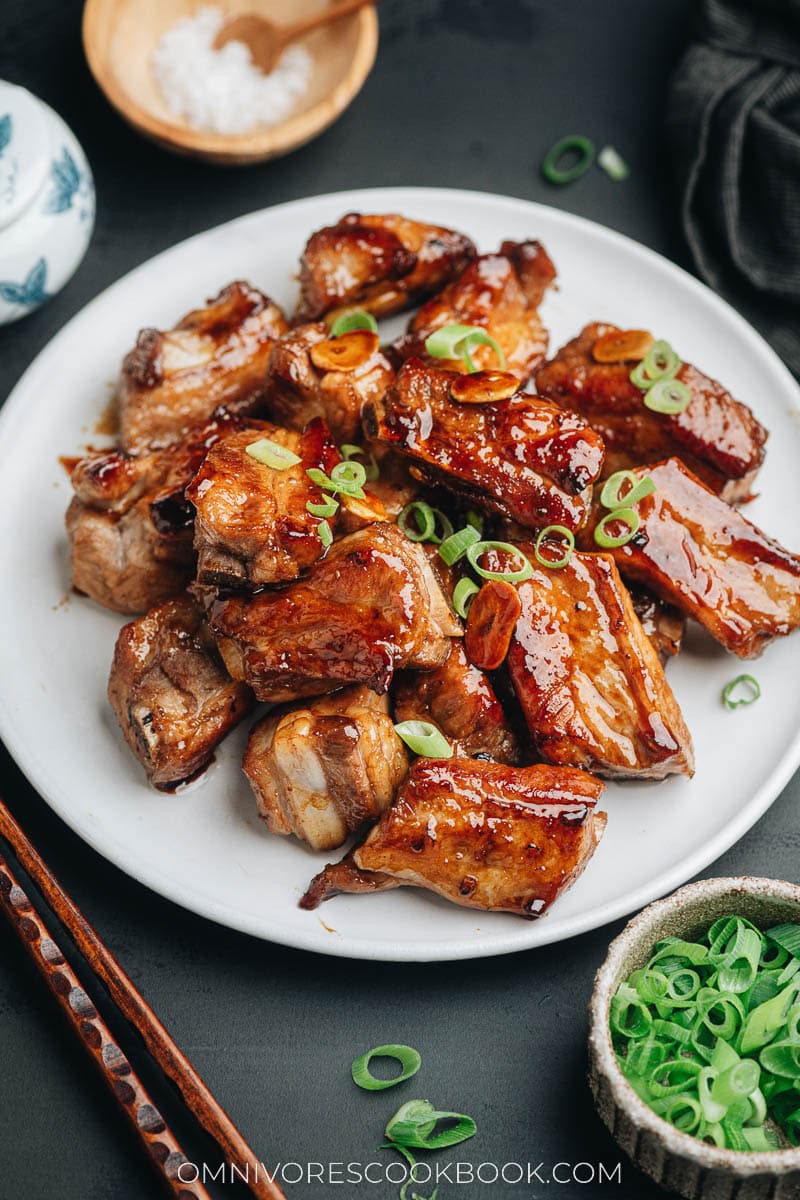 Ingredients for sweet and sour ribs
This sweet and sour ribs recipe requires a few very simple ingredients.
What type of pork ribs to use
The most important thing for sweet and sour ribs is to use the correct type of pork ribs. To mimic the authentic restaurant dish, you should use 2" (5 cm) long small single riblets. Spare ribs work better than baby back ribs because they have a thinner layer of meat. The thin layer will cook better in this recipe because the meat will cook through more quickly and yield a better texture given the short cooking time.
You can usually find this type of ribs at Asian markets, especially Chinese and Korean markets (like H Mart). They are often sold in fully cut-up form in a package. Either that, or a slab of partial ribs that is cut crosswise. These days, you can even shop for them online and get them delivered using online Asian grocery stores such as Umamicart.
If you do not have access to an Asian market, it's possible to buy a slab of regular spare ribs. And you could ask the butcher to slice the ribs crosswise using their saw. Then you only need to cut them into single riblets at home, which is quite easy to do with your regular knife.
It is also possible to use whole riblets without cutting them short. In this case, try to find a smaller slab with flat ribs, which will be easier to brown.
The sauce
The sweet and sour sauce is made of three simple ingredients:
Mise en place
Once you're ready to cook, your table should have:
Aromatics for braising (green onion, ginger, star anise, dried chili pepper)
Shaoxing wine
Pork ribs
Measured out oil (it's important to measure the oil in this recipe)
Mixed sauce
Sliced garlic
Sugar
Sliced green onion for garnish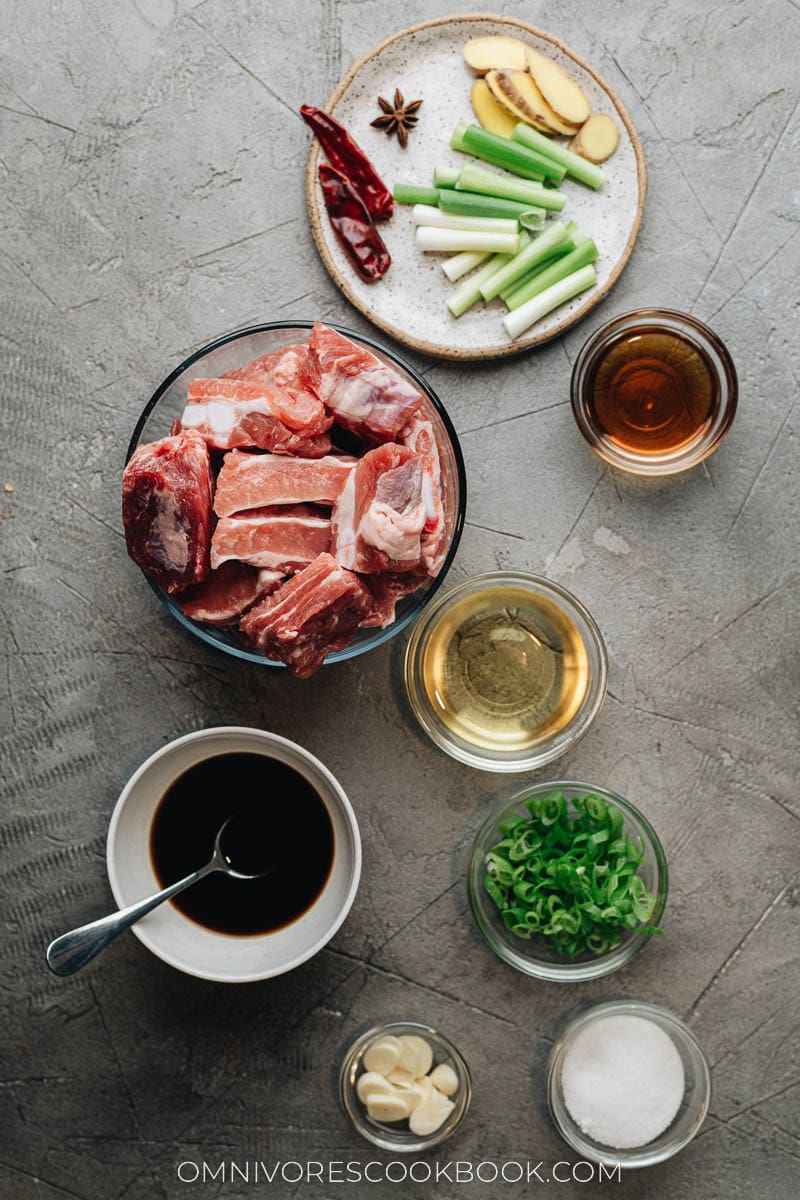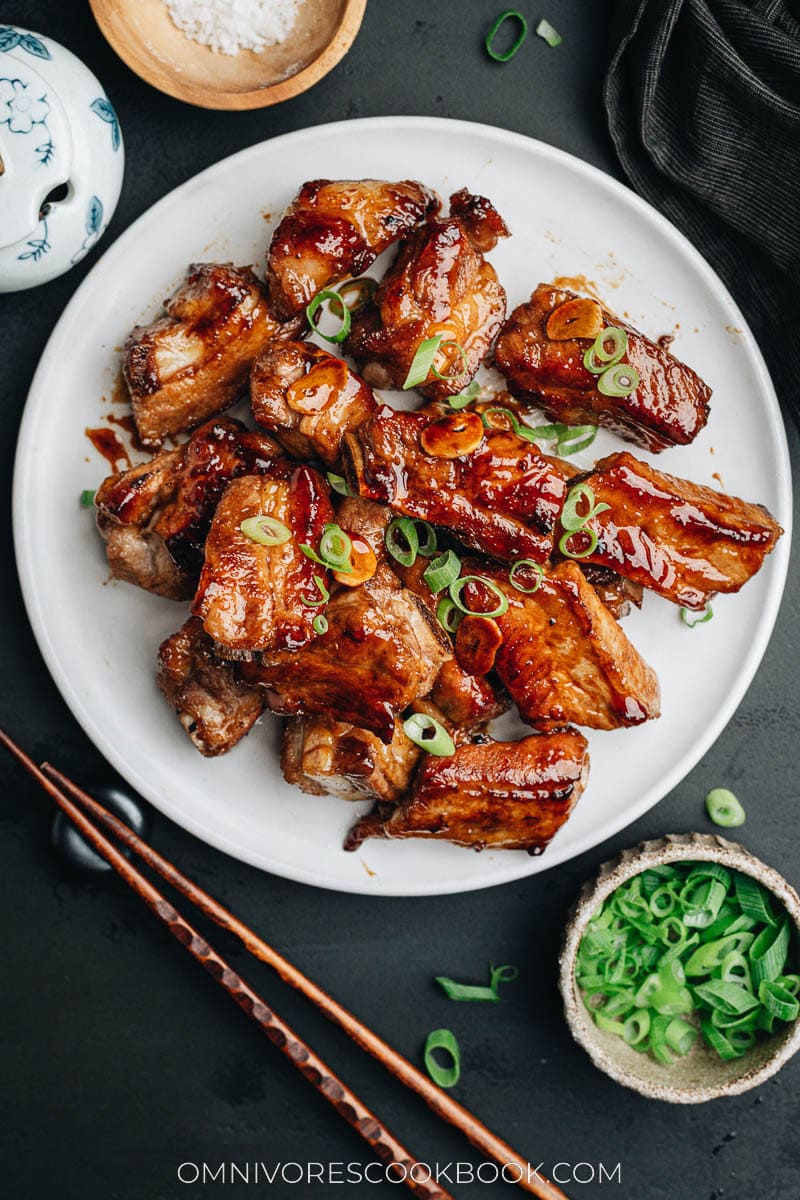 How to cook sweet and sour ribs
The melted sugar browning method
炒糖色 (chao tang shai), or browning meat in melted sugar, is a cooking technique that is widely used in Chinese stir fries and braised dishes, to create a special texture to the surface. Different from browning the meat directly in hot oil, the melted sugar adds a beautiful golden color to the meat, and creates a light caramelized and crispy texture, along with a slightly sweet taste. For example, the popular red braised pork uses this method to brown the meat before braising.
You start by adding sugar to cold oil. Cook it slowly until the sugar melts and turns golden. It's important to get a proper oil temperature without burning the sugar. Then the pork is then added for a quick stir fry. You will find that the pork gets a nice beautiful reddish golden color in a minute or so, along with the caramelization of the sugar.
What pan to use
In Chinese restaurants it's common practice to use a wok to melt the sugar. Because of the round shaped wok bottom, the sugar will be submerged in the oil and melt more evenly.
In a US home kitchen, I found a nonstick pan works better. Because:
If you do have a wok, it's very likely that it's a flat-bottomed wok. In that case, it doesn't help with the melted sugar process that much (I've tested it)
If you use a carbon steel or cast iron wok, the surface will react with the vinegar in the sauce, which will cause the wok seasoning to fade.
When using a nonstick pan, the biggest challenge is to disperse the oil and sugar as evenly as possible, so the sugar is in contact with as much oil as possible. But I found the result with a nonstick pan to be quite nice, without the worry of un-seasoning my wok.
Sweet and sour ribs cooking process
Blanch the ribs with aromatics
Skim the brown foam, then drain the ribs
Heat up sugar in oil
Melt the sugar slowly, until it turns golden
Add the ribs and quickly turn over several times to coat each side with the melted sugar, then transfer to a plate
Saute the garlic with a bit of oil
Add and reduce the sauce
Mix everything together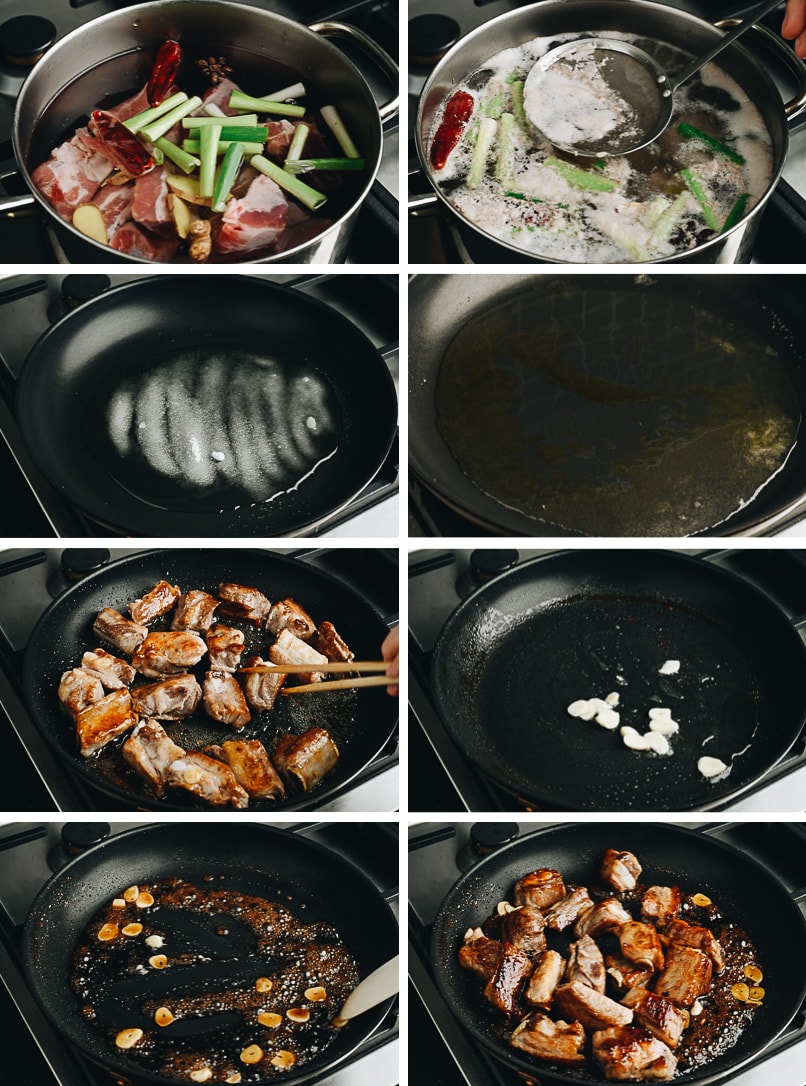 NOTE
You might find that I use a lot of oil in the recipe, which facilitates the sugar melting process. But don't worry, the ribs won't absorb all this oil during the cooking and you will discard most of the oil in the end. It is very important that you remove the excess oil after browning the ribs and before adding the sauce. If there's too much oil in the pan, the sauce won't thicken properly.
Afterthoughts
The melted sugar technique is not the easiest thing to master, and even many Chinese home cooks do not feel confident they'll get a good result every time. So I wouldn't recommend this recipe if this is the first Chinese stir fry you make at home. But if you have some Chinese cooking experience under your belt and follow my instructions closely, it will give you a very pleasant result, if not a perfect one. This dish is quite a fun challenge and you will get a result that is close to restaurant quality sweet and sour ribs.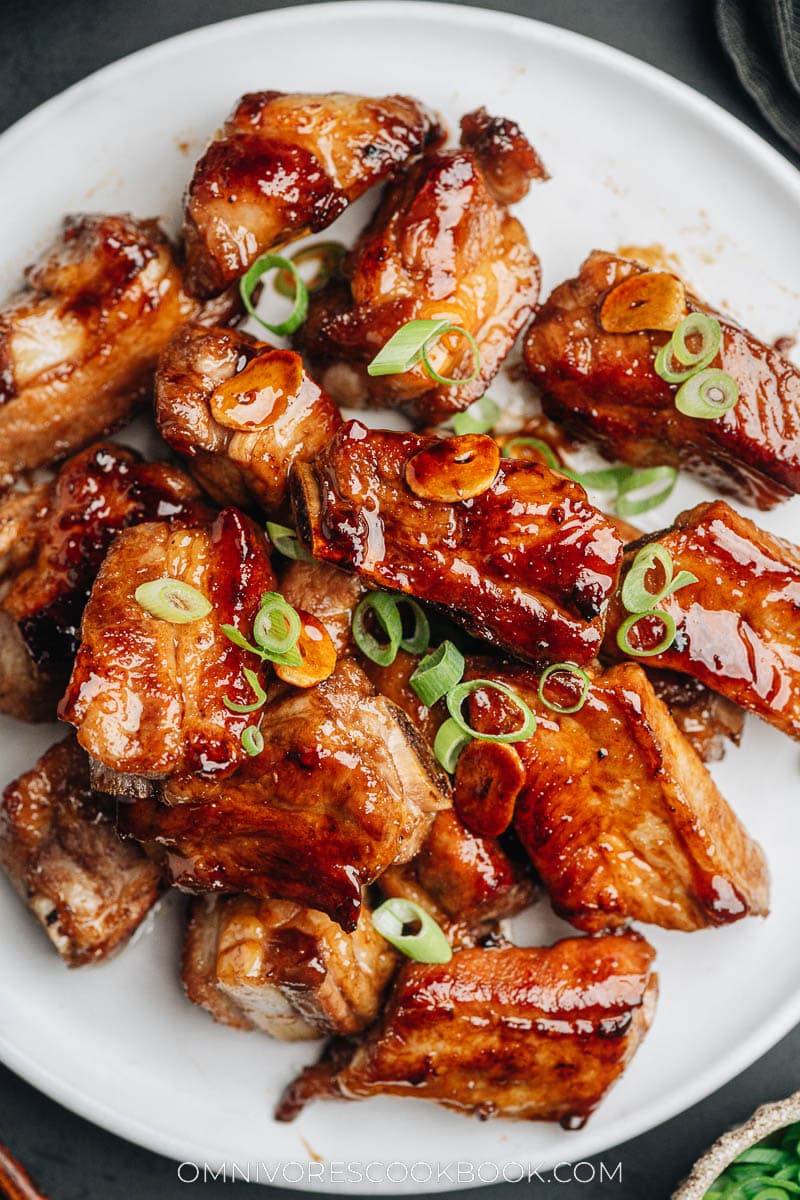 Other delicious Shanghai dishes
Want to Know More?
Receive our 5-Day Chinese Cooking Crash Course & Recipe Updates! Subscribe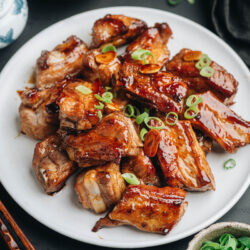 Sweet and Sour Ribs (糖醋小排)
Sweet and sour ribs is a classic Shanghainese appetizer that will be the highlight of your dinner table. The ribs are browned with sugar until crispy and caramelized, then finished up in a sticky and fragrant sweet and sour sauce.
Ingredients
For boiling ribs
1.5

lb (750 g)

pork spare ribs

, trimmed to 2" (5 cm) in length, cut into one-bone sections (*footnote 1)

2

tablespoons

Shaoxing wine

1

thumb-size

ginger

, sliced

5

to 6

green onion white part

, green part sliced for garnish
For the stir-fry
2

tablespoons

Chinkiang vinegar

1

tablespoon

light soy sauce

(or soy sauce)

4

tablespoons

peanut oil

(or vegetable oil)

3

tablespoons

sugar

, separated

2

cloves

garlic

, sliced
Instructions
Add the pork ribs to a large pot. Add cold tap water to cover the ribs. Add the Shaoxing wine, ginger, green onion, star anise and chili pepper to the pot. Cover and cook over medium-high heat until brought to a boil. Uncover and continue to cook for 5 minutes. Use a ladle to skim the foam from the surface and discard it. Once done, transfer the ribs to a colander to drain. You can strain and save the broth, so you can use it to make a soup later (*see footnote 2).

Mix the black vinegar, light soy sauce and 1 tablespoon of the sugar in a small bowl, set aside.

Add the peanut oil to a large nonstick skillet, then carefully sprinkle the remaining 2 tablespoons of the sugar so it spreads out into a thin layer in full contact with the oil. Cook over medium heat. Swirl the pan occasionally to help the sugar keep contact with the oil, to help with even dissolving. If the sugar has trouble distributing evenly, it's OK to use a spatula to spread it. But you shouldn't stir the sugar too much, which will cause crystallization. Observe the sugar carefully when the color starts to turn pale yellow. You might need to lower the heat if a portion of the sugar is turning color too fast and the rest of the sugar has not dissolved yet. When most of the sugar turns golden, carefully add the ribs to the wok. Stir constantly to coat the ribs well with melted sugar. Stir until the ribs turn golden brown, then turn off the heat.

Transfer all the ribs to a plate and set aside. Pour the oil into a bowl and wipe the pan clean with paper towels.

Add back 2 teaspoons of the oil and turn the stove back to medium-high heat. Add the garlic. Stir a few times to release the fragrance.

Pour in the vinegar mixture. Cook and stir until the sauce has reduced by half and become thicker. Add the ribs back and continue stirring to coat the ribs evenly. Transfer everything to a plate and garnish the ribs with chopped green onion. Serve hot or at room temperature as an appetizer or main dish.
Notes
You will find this type of ribs at most Asian markets. If you shop at a regular grocery store, ask the butcher to chop the ribs into smaller pieces when buying. Try to select a thin and small rack of ribs, because a thick cut won't absorb the flavor well and the meat will be too tough in a stir-fry.
The broth will be quite flavorful and you can use it as a soup base, for example, to cook a winter melon meatball soup.
Nutrition
Serving:
1
serving
,
Calories:
271
kcal
,
Carbohydrates:
9.8
g
,
Protein:
20.1
g
,
Fat:
16.2
g
,
Saturated Fat:
3.2
g
,
Cholesterol:
55
mg
,
Sodium:
269
mg
,
Potassium:
333
mg
,
Fiber:
0.1
g
,
Sugar:
9.1
g
,
Calcium:
8
mg
,
Iron:
1
mg