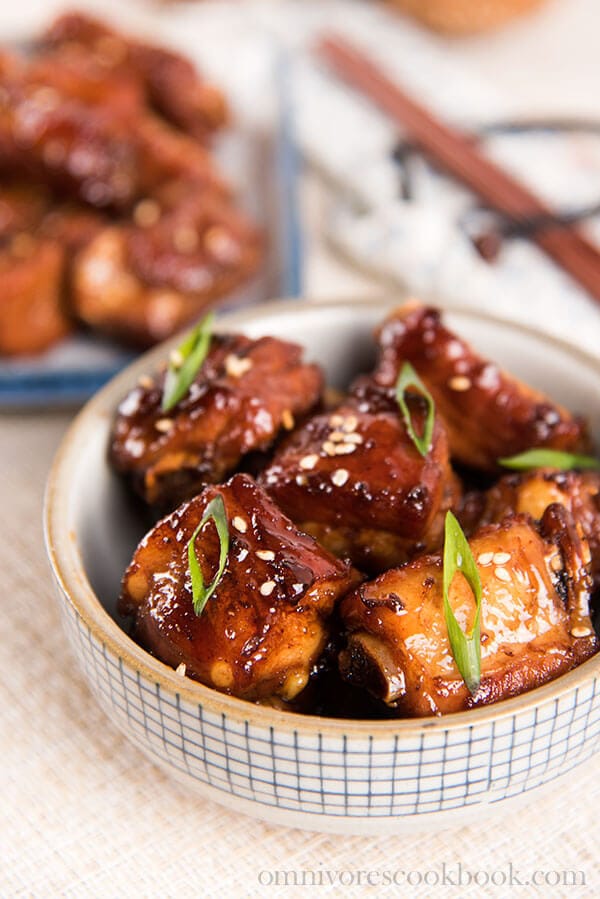 Sweet and sour ribs are a luxury appetizer for any carnivore. The ribs are cut to bite size, fried until crispy, then cooked in an appetizing sweet and sour sauce.
The Authentic Way and Its Difficulties
Sweet and sour ribs (糖醋小排, tang cu xiao pai) is a famous Shanghai dish that is intended as an appetizer and served cold. The authentic sweet and sour pork is quite difficult to replicate at home. The ribs are lightly marinated and coated with cornstarch, then deep fried quickly to get a crispy surface without cooking through. Then the sweet and sour sauce is quickly cooked and reduced in hot oil. In the end, the ribs are added back for a quick stir fry (like a few seconds) to coat the sauce and just get them cooked through. It might sounds like an easy dish, but the actual process is quite daunting.
There are three things that are very difficult to achieve at home. (1) a very powerful gas stove (2) tons of hot oil so you can fry ribs in less than 1 minute (3) moving quickly enough to do the whole cooking process in less than 5 minutes.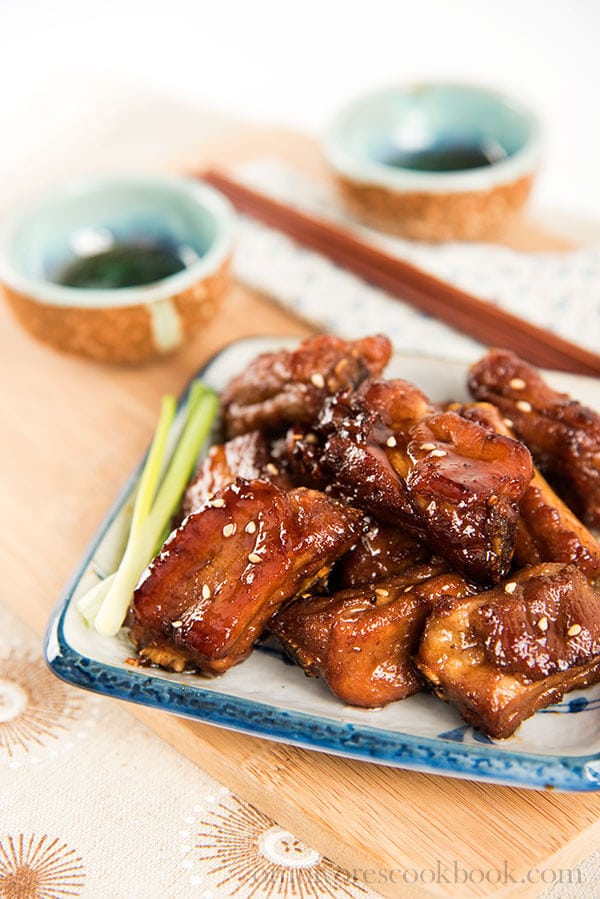 That is why when people are cooking these ribs at home, they have to alter the cooking method to make the process easier. I found the dish quite challenging and I've tried many times to develop a good recipe. The real obstacle is to cook the pork quickly, so you can get a crispy surface and a tender texture (without turning it into a stew). Plus, you need to get rid of the raw gamey smell from the pork.
The difficulty is, if you cook them too quickly, the ribs will end up with an unpleasant raw smell. But if you cook them for a longer time, they will lose the crispy and spongy texture and a stir-fried dish will just turn into a braised one. When this dish is made in a restaurant, the bad smell of the pork will be removed through deep frying, which is a process we are trying to avoid.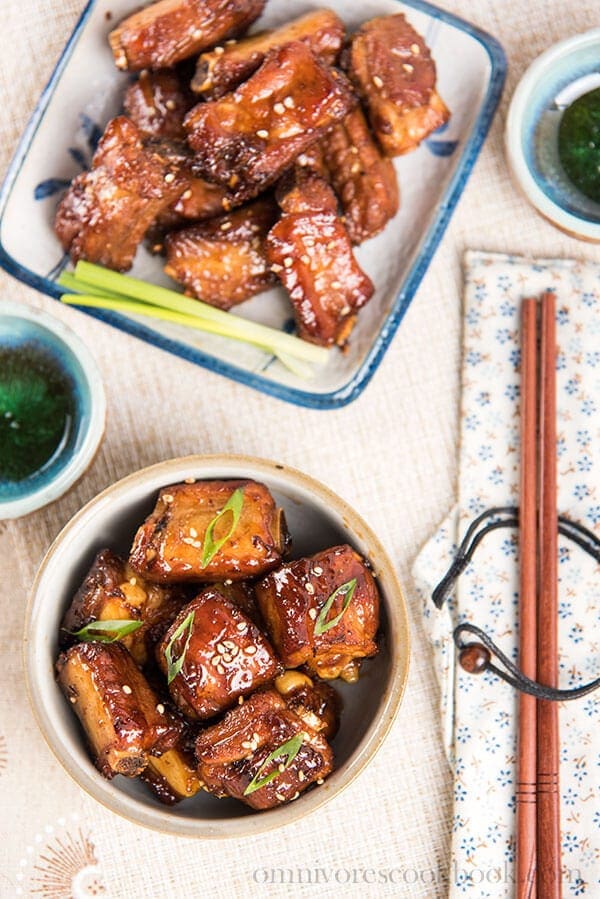 How to Overcome the Difficulties
For a stir fried dish like this one, the key is to cook the meat for a short period of time until it's just cooked. When cooking red meat, the texture of the meat will become very tender at the beginning. Then it will turn chewy and tough for a long time (possibly hours). After a threshold point, the meat will get tender again. Our goal here is to finish cooking before the meat's texture turns tough.
In the end, I found a compromise. I boiled the ribs briefly with tons of fresh herbs to get rid of the raw taste. Then I brown the meat in the traditional Chinese technique – 炒糖色 (chao tang shai), or frying the ribs in melted sugar to add color (which requires less oil than deep-fry).
The method of browning meat in sugar is a common technique in Chinese braised dishes. The result is similar to browning the meat – to add color to the meat and to create a crispy surface. But with the chao tang shai method, it quickly adds color to the meat without using dark soy sauce and infuses a sweet flavor to the dish.
You start with adding sugar to cold oil. Cook slowly until the sugar melts and turns golden. It's important to get a hot oil temperature without burning the sugar. Then the pork is added for a quick stir fry. You will find that the pork gets a nice beautiful reddish brown color in a minute or so, along with the caramelization of the sugar.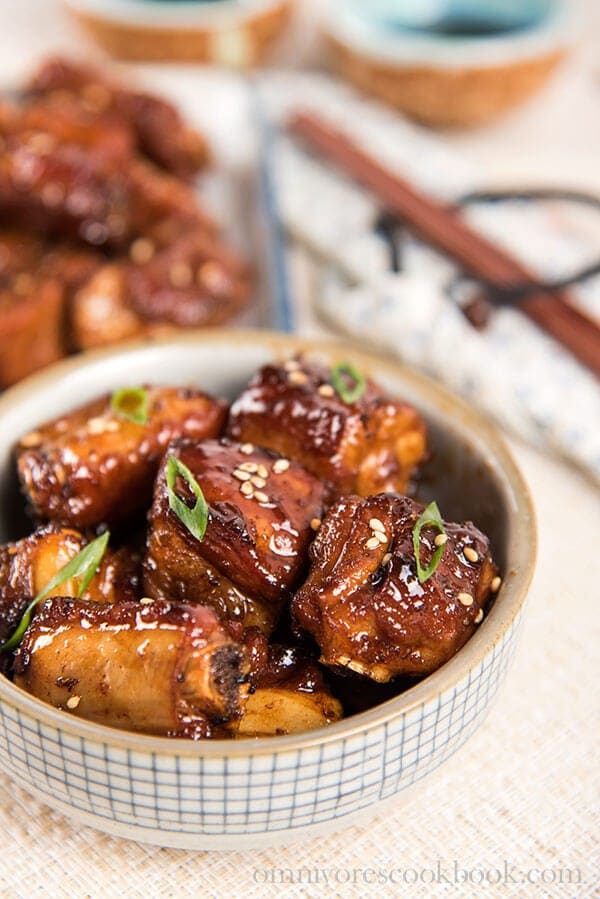 A Few More Words
You might find that I use a lot of oil in the recipe. But don't worry, the ribs won't absorb them during the cooking and you will discard most of the oil in the end.
Yes, I found it a bit challenging to fry the ribs in sugar (especially on the first try). But if you drain the ribs carefully and follow the recipe, you're unlikely to get oil splatter and overcooked sugar.
This is not a recipe that I would recommend to a beginner. But if you would like to try out some new cooking techniques or challenge yourself with a new dish, this is the one for you!
Want to Know More?
Receive our 5-Day Chinese Cooking Crash Course & Recipe Updates! Subscribe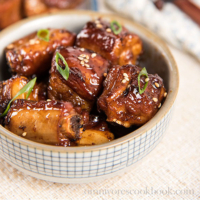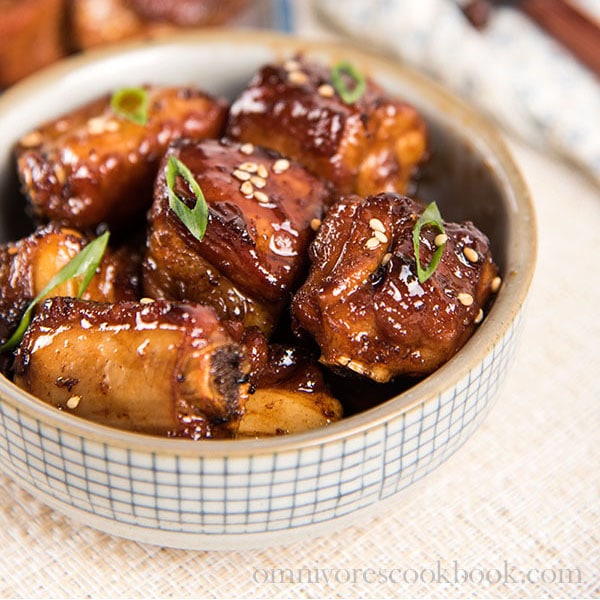 Sweet and Sour Ribs (糖醋小排)
Sweet and sour ribs are a luxury appetizer for any carnivore. The ribs are cut to bite size, fried until crispy, then cooked in an appetizing sweet and sour sauce.

Ingredients
For boiling ribs
700

grams (1.5 pounds)

pork spare ribs

, trimmed to 4 centimeters (1.5 inches) in length (*footnote 1), cut into one-bone sections

2

tablespoons

shaoxing wine

1

thumb-size ginger

, sliced

5 - 6

green onion

white part (save the green part for garnish)

2

chili pepper

, dried
For the stir-fry
2

tablespoons

Chinese black vinegar

1

tablespoon

light soy sauce

4

tablespoons

peanut oil

3

tablespoons

sugar
Instructions
Rinse pork ribs with running water and transfer to a large pot. Add water to cover the ribs. Add shaoxing wine, ginger, green onion, star anise and chili pepper to the pot. Cover and bring to a boil. Uncover and continue to cook for 5 minutes. Use a ladle to skim the foam from the surface and discard it.

Transfer the ribs to a colander to drain. Scoop ginger, green onion, star anise, and chili pepper from the broth and discard. You can save the broth and use it to make soup later (*see footnote 2).

Mix black vinegar and light soy sauce in a small bowl, set aside.

Add peanut oil and sugar to a wok and cook over medium heat. Stir constantly with a spatula to dissolve the sugar slowly. When the sugar is fully dissolved, use spatula to scoop some liquid mixture to observe its color. When the sugar turns pale yellow, immediately and carefully add the ribs to the wok. Stir constantly to coat them well with melted sugar. Stir until the ribs turn golden brown, turn off heat.

Tilt the wok and use spatula to place the ribs on one side of the wok. Use a large spoon to scoop out the extra oil and transfer it to a small bowl, until there is only about 1 tablespoon of oil left. (You could transfer the ribs to a plate and then remove the oil, but I found it too time consuming to do so.)

Turn back to medium high heat. Pour the vinegar and soy sauce mixture over the ribs and quickly stir to mix well. Continue to stir until the sauce has reduced and is thick enough to coat the ribs. Stop heat immediately and transfer the ribs to a plate.

Garnish the ribs with chopped green onion. Serve warm.
Notes
Try to select a thin and small piece of rib, because a thick cut won't absorb the flavor well and the meat will be too tough in a stir-fry. Ask the butcher to chop the ribs into smaller pieces when buying.
The broth will be quite flavorful and you can use it as soup base, for example, to cook a winter melon meatball soup.
Nutrition
Serving:
213
g
,
Calories:
408
kcal
,
Carbohydrates:
11
g
,
Protein:
31.7
g
,
Fat:
25.4
g
,
Saturated Fat:
10
g
,
Cholesterol:
86
mg
,
Sodium:
618
mg
,
Potassium:
57
mg
,
Sugar:
9.4
g
,
Vitamin A:
100
IU
,
Vitamin C:
1.7
mg
,
Calcium:
10
mg
,
Iron:
1.4
mg