This centuries-old Chinese fish soup is so rich with flavor and history that it's a national treasure and tastes just as addictive as hot and sour soup.
Sister Song's Soup: Historic and Hugely Practical
In a world where food trends are constantly coming and going, I love a dish that is super satisfying but that's been around for decades or even centuries.
Foods like porridge (think congee, grits, or oatmeal) are rarely fashionable but people have eaten them for countless generations because they are so satisfying and practical.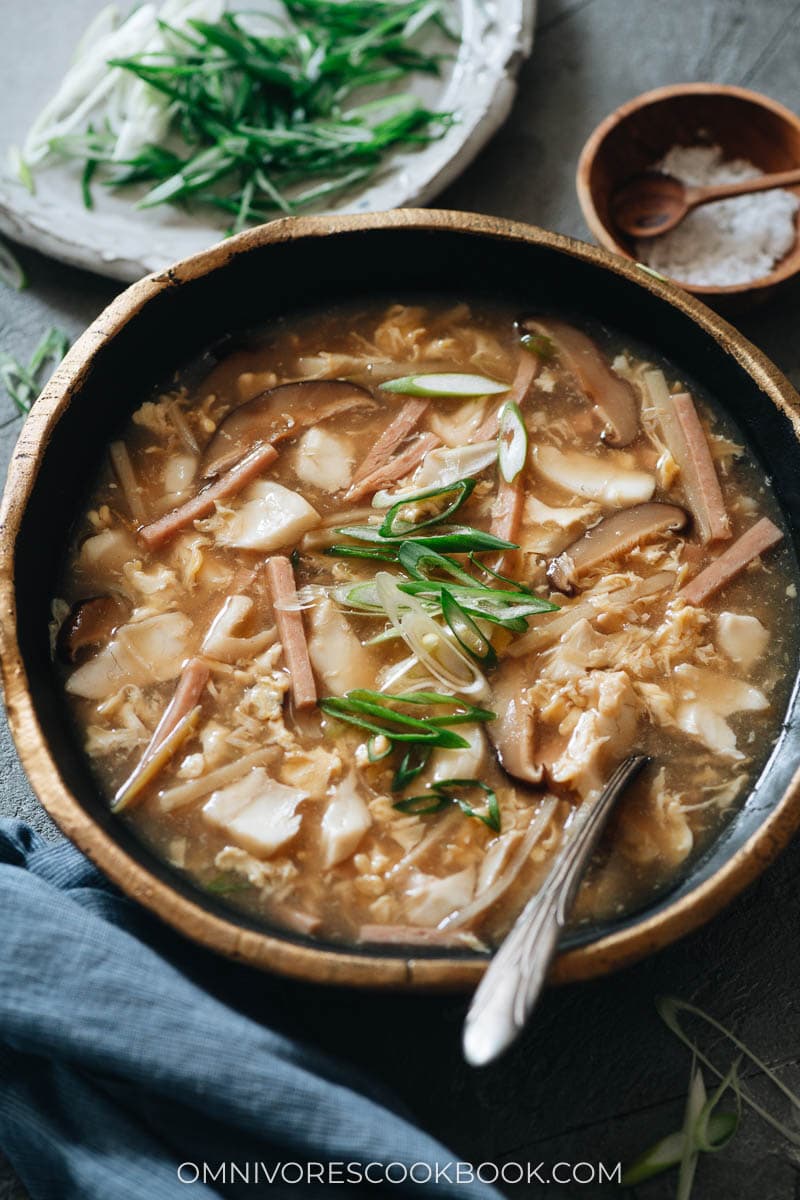 The best foods help people live good lives – they're cost effective, easy to make, nourishing, and enjoyable. People are more likely to keep cooking those foods and teach their children to make them, and the dishes survive as the people who cook them survive.
Sister Song's Soup from Hangzhou is such a dish. It's a super flavorful and hearty fish soup, used as a national banquet dish that has been enjoyed by people in China for 800 years. Few dishes have this kind of traceable history, so this is a pretty special opportunity to appreciate the efforts of the cooks that came long, long before us.
Tasty to the Modern Palate
If you're concerned that this ancient soup has a weird flavor profile, don't worry!
This soup takes all the things you love from both hot and sour soup and egg drop soup and combines them together. It's like the best of both worlds, perfect for when you can't decide on which one to make, though it takes it a step further.
You'll have the irresistibly fragrant essence of vinegar and white pepper that gives hot and sour soup its kick, as well as the umami chicken broth and egg of egg drop soup. But you'll also have beautiful, tender slices of white fish to give the soup more substance and a hint of the sea.
Perhaps most remarkable of all with Chinese fish soup is the very reason it's so famous. The delicate cooking method, along with this special combination of ingredients, makes the fish taste just like crab meat. One of those ancient culinary innovations. 😉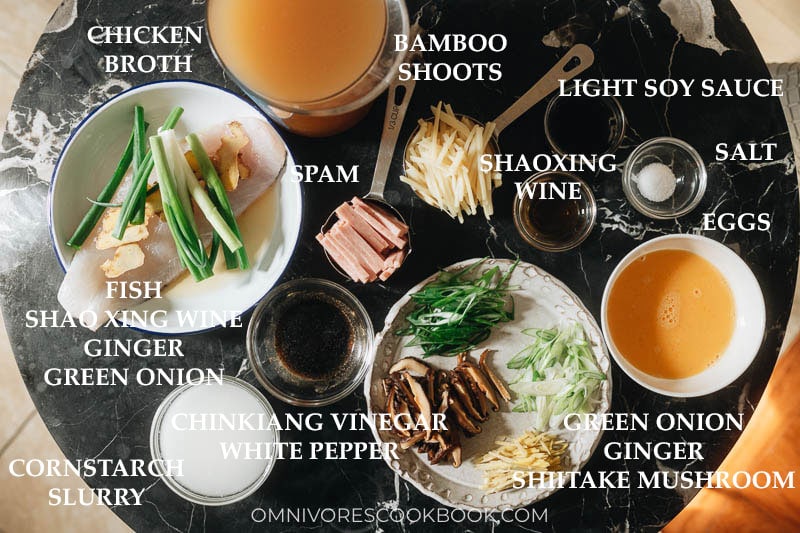 This Chinese Fish Soup is Quicker and Better than Takeout
If you're on the fence about whether to order takeout, there are three solid reasons to make it yourself:
You can make this soup from pantry ingredients + frozen fish fillets, so it's really easy to keep everything on hand to make it
This unique soup isn't available from your local takeout spot
It tastes just as addictive as hot and sour soup
While it is an easy dish to make, the flavor profile and novelty of the dish will have your guests thinking that you spent hours preparing it!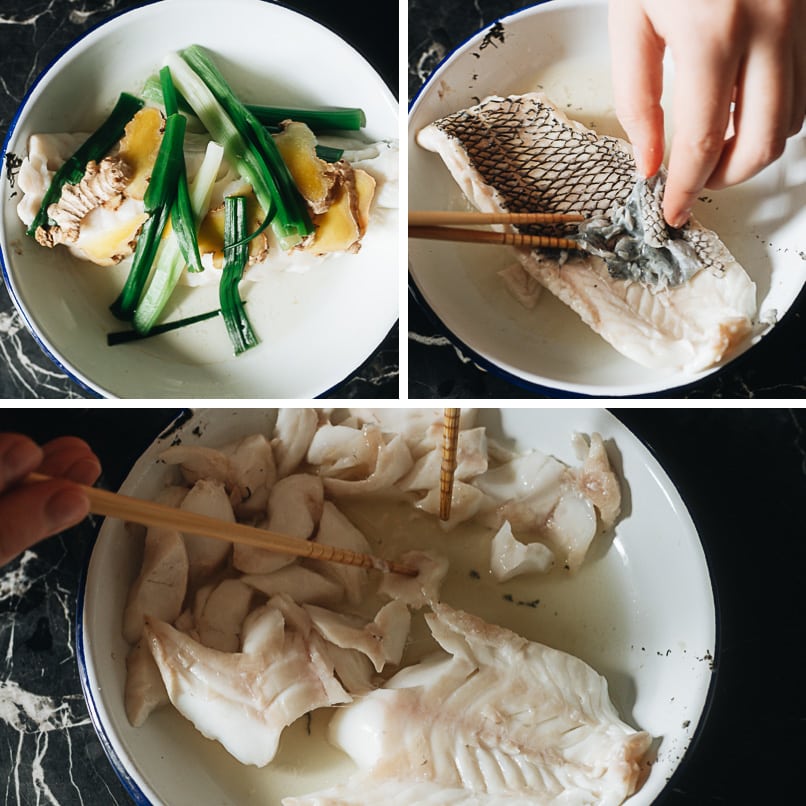 A Quick Tip on Preparing the Fish
I recommend steaming the fish fillet to get it perfect before adding it to the soup, so the texture is just right. Steaming it with ginger and green onion is the best way to get it to a silky texture and impart it with their fragrance.
If you are using a skin-on fillet, you'll want to remove any skin and bones and flake the fish apart, as shown below.
The Cooking Process
The process here is very straightforward:
Steam the lightly seasoned fish and flake it
Saute the aromatics in your soup pot in parallel
Add the broth, bring it to a simmer
Then add the veggies and ham
Stir in a cornstarch slurry to thicken
Add back the cooked fish
Get the broth nice and hot, then stir in the beaten egg
Drizzle in the vinegar and white pepper mixture
Add seasonings, stir, and garnish with green onion.

Piece of cake!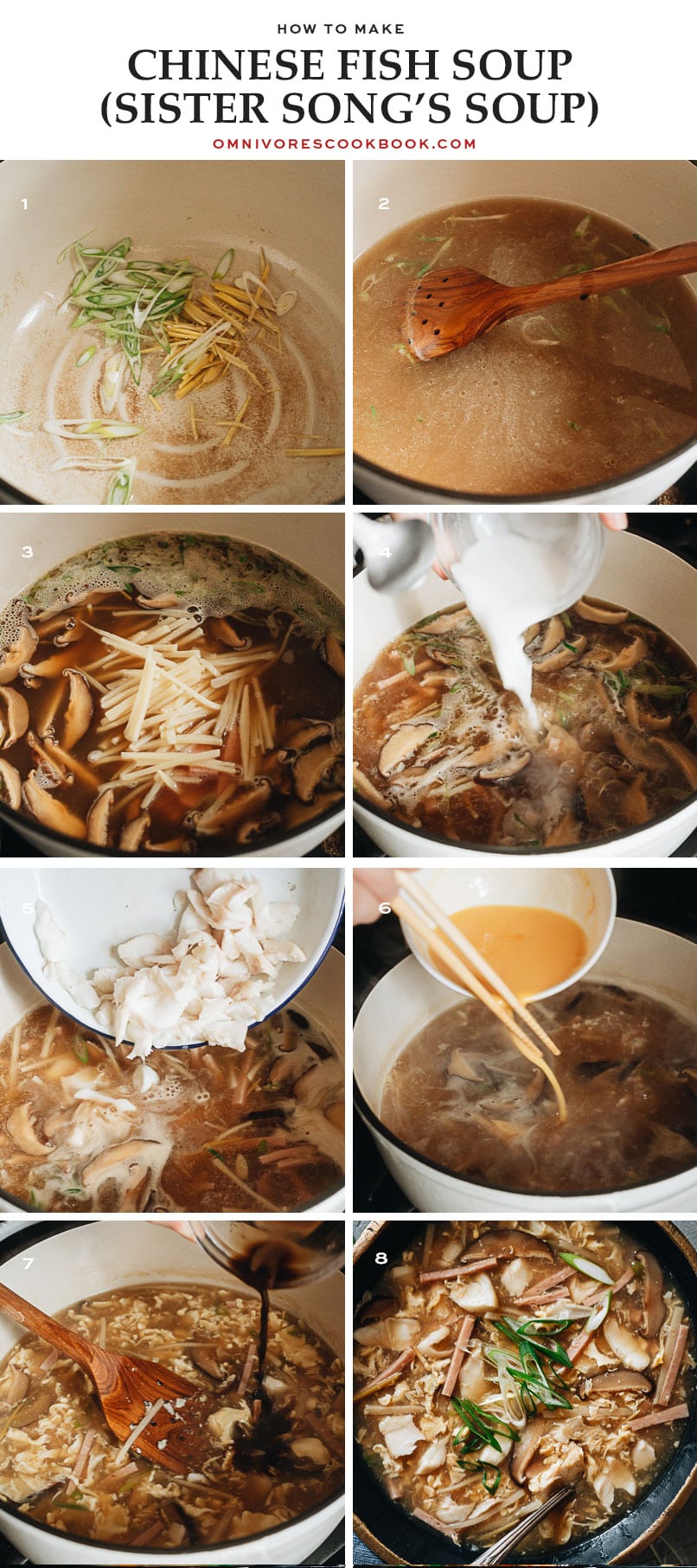 Final Thoughts
While the ingredient list may look lengthy, this is a super-simple dish to make. As I mentioned a moment ago, most of these things will already be in your pantry anyway. And it makes a substantial and satisfying soup. My husband and I have certainly had it as a main dish when we wanted a light yet hearty meal.
More often than not though, I make this Chinese fish soup for dinner parties and celebratory occasions. I love it because it adds something extra and extravagant to the menu without taking much time or energy.
I hope you enjoy this soup whether you serve it as a quick dinner or as an accompaniment to a great feast.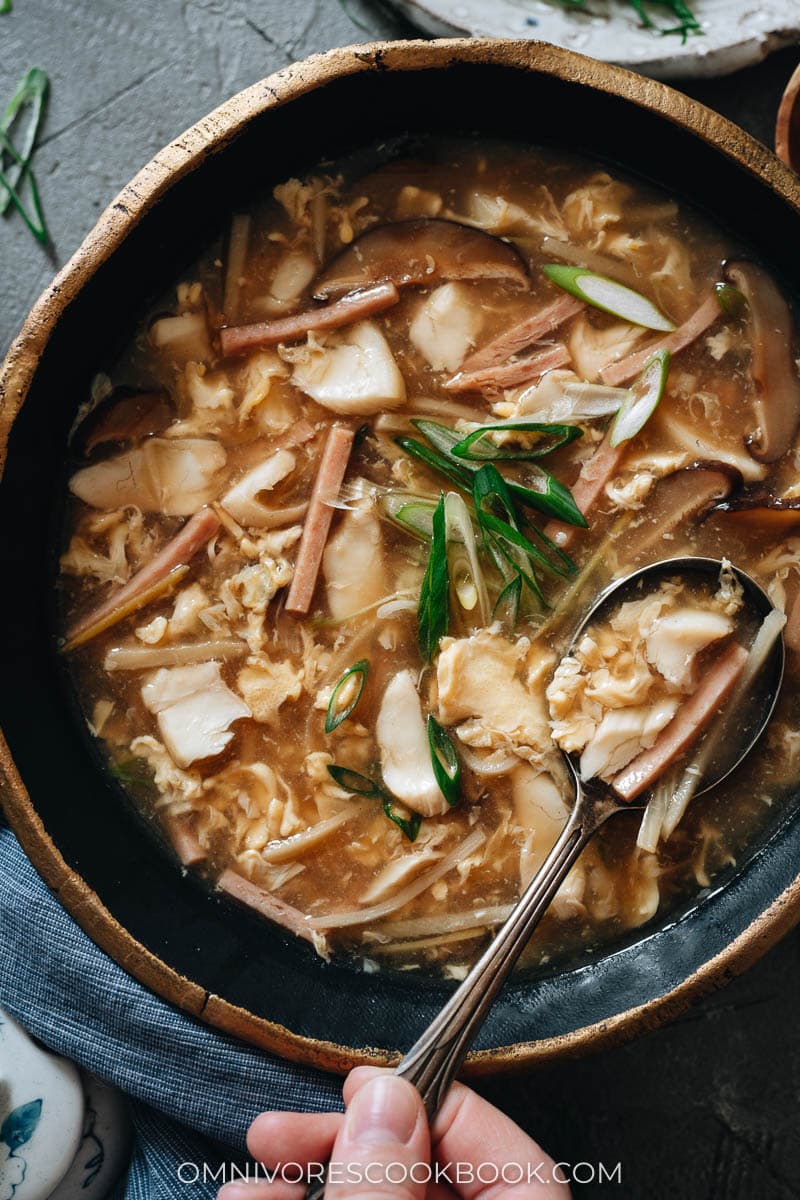 Want to Know More?
Receive our 5-Day Chinese Cooking Crash Course & Recipe Updates! Subscribe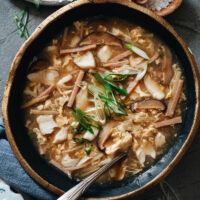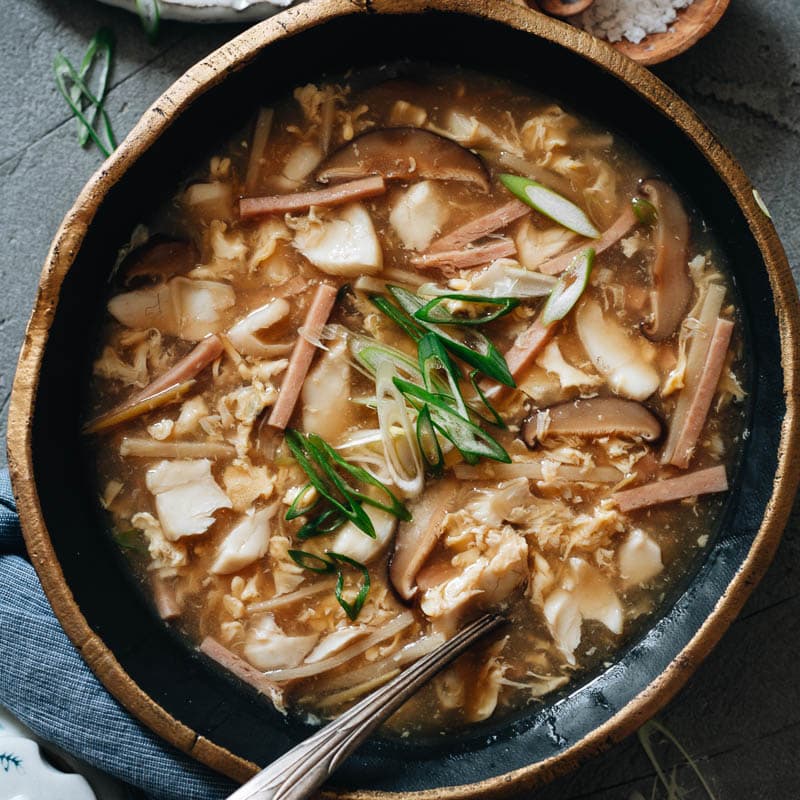 Sister Song's Soup (宋嫂鱼羹, Chinese Fish Soup)
This centuries-old Chinese fish soup is so rich with flavor and history that it's a national treasure and tastes just as addictive as hot and sour soup.
Servings:
4
to 6 servings
Ingredients
Fish
1

to 2 fillets (about 6-8 oz / 170-220 g)

white fish

(red snapper, sea bass, etc.)

1/2

teaspoon

Shaoxing wine

(or dry sherry)

1/8

teaspoon

salt

2

green onions

, coarsely chopped

1

" (2.5 cm)

ginger

, sliced
Slurry
3

tablespoons

cornstarch

1/3

cup

cold water
Soup
1

teaspoon

peanut oil

2

pieces

ginger

, julienned (yields about 1/2 tablespoon)

1

green onion

whites, thinly sliced

4

cups

chicken broth

1

teaspoon

Shaoxing wine

(or dry sherry)

2

teaspoons

light soy sauce

1/4

teaspoon

salt

4

shiitake mushrooms

fresh or dried

1/3

cup

sliced Spam

or low-sodium Spam, cut into 2" (5 cm)-long strips

1/2

cup

sliced bamboo shoots

, cut into 2" (5 cm)-long strips

2

eggs

, beaten

1 1/2

teaspoons

Chinkiang vinegar

(or rice vinegar)

1/4

teaspoon

white pepper
Instructions
If using dried shiitake mushrooms, add the mushrooms to a small bowl with 1/4 cup warm water. Rehydrate for 20 minutes or until the mushrooms turn tender throughout. Gently squeeze out the excess water then slice the mushrooms. Reserve the soaking liquid.

Add 2" (5 cm) water to a steamer and heat over medium-high heat to bring it to a full boil.

Meanwhile, add the fish fillet to a shallow heatproof bowl. Pour the Shaoxing wine over the fish and sprinkle it with salt. Spread the ginger and green onions over the fish.

Once the steam comes out from the steamer, steam the fish over medium-high heat for 4 to 6 minutes (depending on the weight of the fish), or until you can easily flake the fish with a fork.

Once done cooking, remove the steaming rack and let cool briefly. Then remove and discard the ginger and onions. If using a skin-on fish, peel off and discard the skin. Then flake the fish using two forks.

Combine the slurry ingredients in a small bowl and stir to mix well.

To make the soup, heat the oil in a medium-sized pot or dutch oven over medium heat until hot. Add the ginger and green onions (under "soup"). Stir and cook until fragrant, 30 seconds or so.

Add the chicken stock, Shaoxing wine, light soy sauce, and salt. Add the reserved mushroom soaking water (Optional). Cook until the broth comes to a boil.

Reduce the heat to a simmer. Add the mushrooms, Spam, and bamboo shoots.

Stir the slurry again to fully dissolve the cornstarch, swirl it into the soup, and stir immediately to mix well.

Turn to medium heat and bring the soup back to a low boil. Cook until the soup thickens enough to lightly coat the back of a spoon (the soup will thicken a bit more once cooled).

Add back the flaked cooked fish.

Turn the heat off and immediately drizzle the beaten eggs over the soup using a pair of chopsticks or a fork held against the bowl to form a stream. Let sit for 20 seconds to let the eggs cook. Then gently stir the eggs into the soup to form ribbons.

Combine the vinegar and white pepper in a small bowl. Stir until the white pepper is fully distributed. Pour it into the soup and stir to mix well.

Serve hot on the side of a multi-course meal or by itself as a light main dish.
Nutrition
Serving:
1
serving
,
Calories:
148
kcal
,
Carbohydrates:
12.8
g
,
Protein:
11.5
g
,
Fat:
6
g
,
Saturated Fat:
1.8
g
,
Cholesterol:
76
mg
,
Sodium:
906
mg
,
Potassium:
283
mg
,
Fiber:
1.5
g
,
Sugar:
3
g
,
Calcium:
29
mg
,
Iron:
1
mg
More Soothing Chinese Soups
Round Out Your Chinese Dinner Party Menu
Lilja Walter is a part of the Omnivore's Cookbook team and worked closely with Maggie to develop and test this recipe.