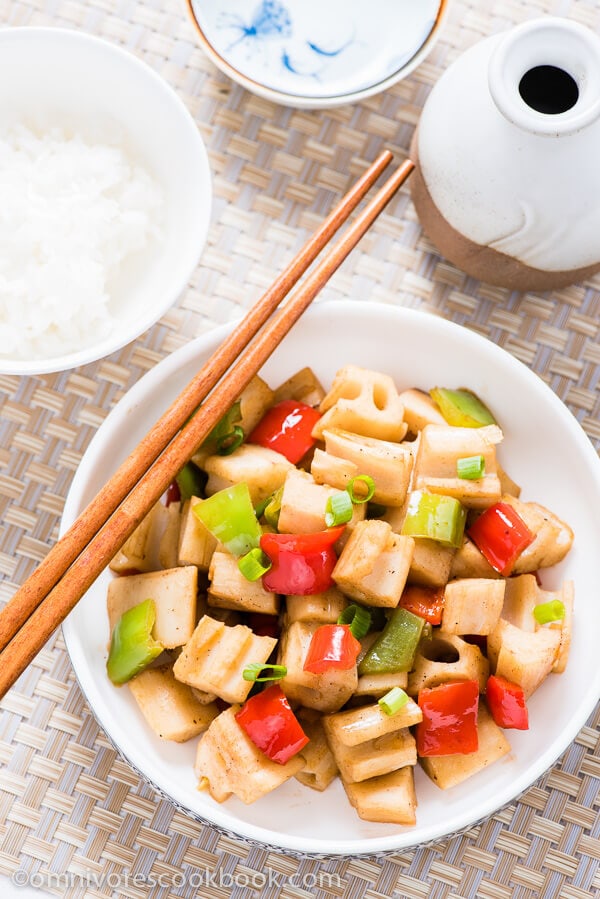 Crispy lotus root is quickly cooked with a light and appetizing sweet-sour sauce. A super healthy side that you can have done in 15 minutes.
If you read my post (stuffed lotus root with sticky rice) last week, you'll know lotus root has tons of health benefits. Plus, it's a very versatile ingredient that you can use in various dishes. Today I'm introducing another great way to cook with lotus root, to add dietary fiber and vitamins into your daily meal.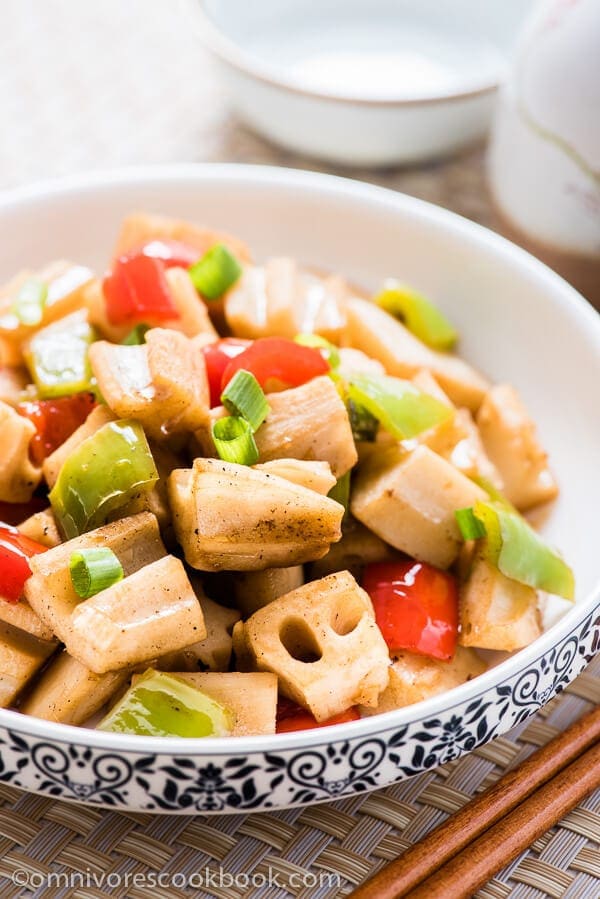 Several tips about cooking with lotus root
Raw lotus root has a starchy and crispy texture close to that of potato. It takes a very long time to cook it through in a stir fried dish, and the starch will cause it to stick to the skillet. All you need to do is to lightly blanch it before stir-frying, as this will speed up the cooking process and remove the starch from the surface of the lotus root.
While sliced lotus root shows off its pattern and looks the best, it doesn't work so well for stir fried dishes. Of course, you can stir fry sliced ones, for example, as is done in this dish, when lotus root is not the main ingredient. Otherwise, big slices of lotus are quite difficult to deal with and don't absorb flavor very well.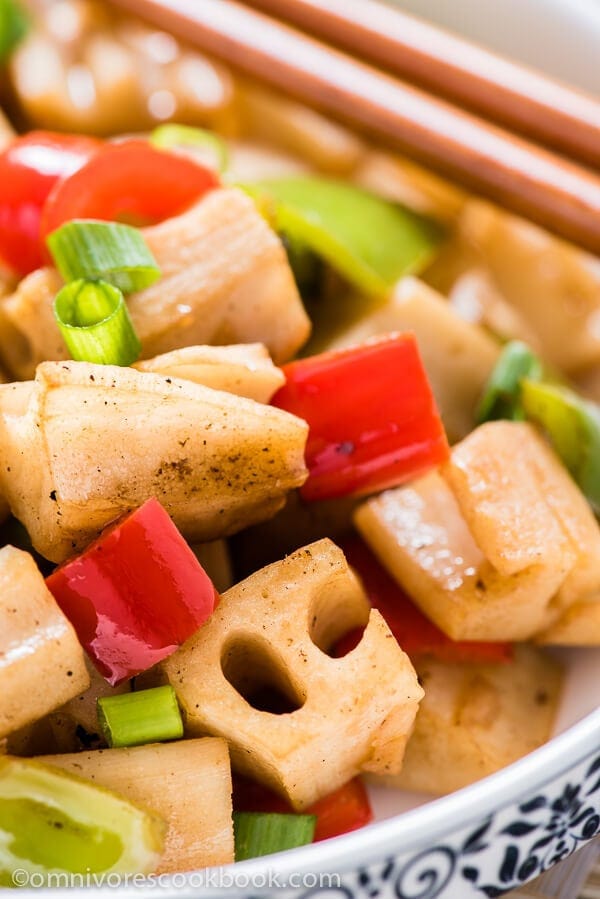 I always recommend you cube the lotus root for use in a stir fried dish. Although it takes a bit of time, you'll thank me later, when you're eating the dish. Again, similarly to a potato, lotus root won't absorb a lot of flavor if cooked briefly and the sauce will merely coat the surface. So the smaller the cubes you cut, the more flavorful the dish. (By the way, I used a larger cube size in my photos to create better visuals, but I suggest using smaller cubes for the best flavor.)
The lotus root itself is colorless, so I added some peppers and green onions. Not only do they make the dish look better, they have more ability to absorb flavor and pair very nicely with the lotus root themselves.
Lotus root goes well with sweet and sour flavor, because it has a mild sweet taste by itself. I really like to serve this dish as an appetizer. Unlike the typical "sweet-sour" flavor in Chinese cooking, the seasoning in this dish is very light and appetizing. And everything still tastes great once it's cooled down.
Do you like lotus root? What's your favorite way to serve it?
Want to Know More?
Receive our 5-Day Chinese Cooking Crash Course & Recipe Updates! Subscribe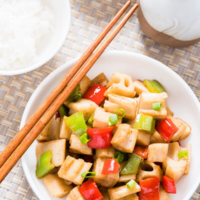 Stir Fried Lotus Root with Pepper
Ingredients
1

segment

350 grams / 12 ounces lotus root

1

cup

cubed chili pepper

or bell pepper

3

tablespoons

chopped scallion

or green onion

1

tablespoon

vegetable oil

1

teaspoon

sugar

1/4

teaspoon

salt

1

tablespoon

black vinegar
Instructions
Rinse and peel lotus root. To cube lotus root, cut the segment in half lengthwise, slice along the tube, then cut into 1- to 1.5-centimeter (about 0.5-inch) cubes. Prepare and cut the other vegetables.

Bring a small pot of water to a boil. Add lotus root and boil for 1 minute. Drain and set aside.

Heat oil in a wok over medium high heat (high heat on an electric stove) until hot. Add scallion and stir until fragrant. Add lotus root and pepper, and stir until half cooked, about 3 minutes (longer if you use a skillet instead of wok). Add sugar and swirl in vinegar. Immediately stir to mix the seasoning well, about 30 seconds. Sprinkle in salt and stir until mixed well, about 20 seconds. Stop heat and transfer everything to a plate.

Serve warm as side or appetizer.
The nutrition facts are calculated based on 1 of the 4 servings generated from this recipe.