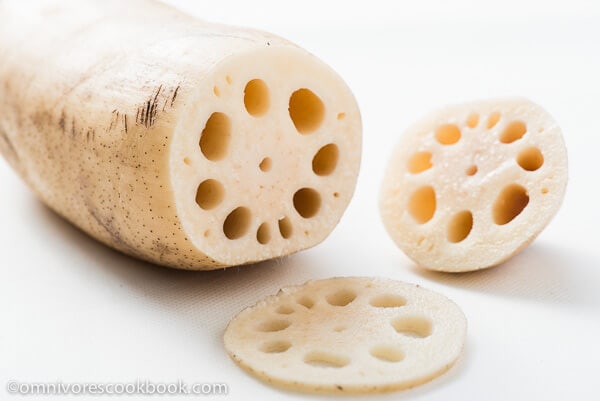 Lotus Root (莲藕, lian ou) is the tuber of the lotus plant. A whole lotus root usually has 3 to 5 tubers adjacent to each other, like sausage links. Each segment is about 10-20 centimeters (4-8 inches) in length and 5-10 centimeters (2-4 inches) in diameter. The root has a brownish yellow surface, a thin rind, and a greyish white color inside. It has a crispy and crunchy texture, similar to that of taro root. It has a refreshing and mild sweet flavor like that of chestnut, but is less watery and a bit more starchy.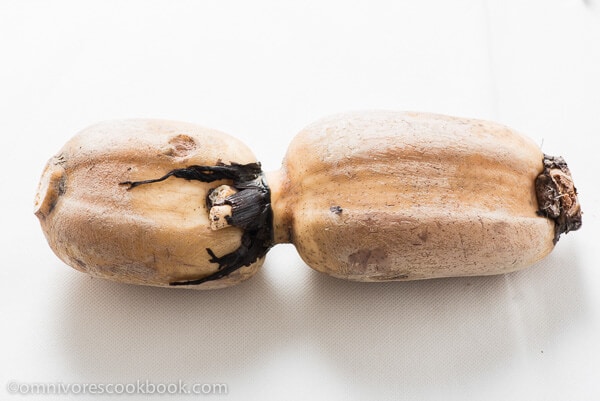 Usage
Fresh lotus root is a popular ingredient in Chinese cooking. The root can also be processed into lotus root starch or dried and ground into powder, and both of these are often used in Chinese medicine and added to food for extra health benefits. Lotus root contains a moderate amount of calories, as far as root vegetables go. It's high in dietary fiber and vitamins C and B and contains a good amount of important minerals.
Fresh lotus root can be cooked in a variety of ways, including in stir fried dishes, stews, soups, salads, appetizers, and desserts. When heated, the lotus root will become more starchy. When cooked quickly lotus root will keep its crunchy texture. When cooked for a long time, especially if slow cooked or braised, it will be less crispy and have a tender, even creamy texture that is close to taro root.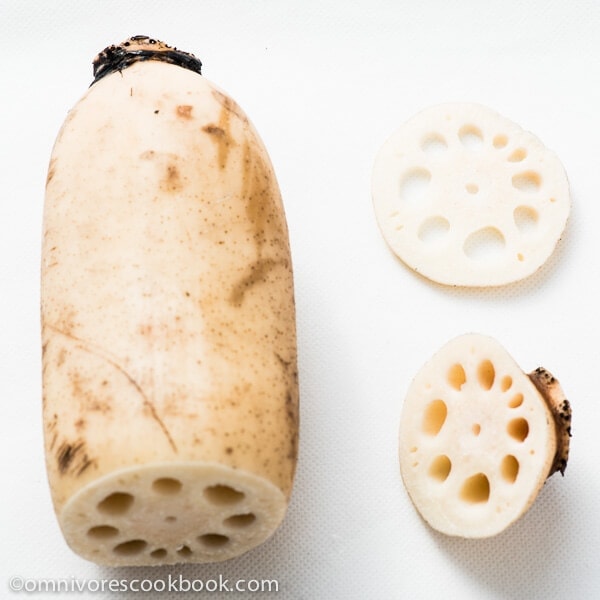 Buy
Try to select a short, fat lotus root that is heavy and firm, with a vibrant brownish color. Try to avoid any root with black spots or bruises on the rind.
You can find fresh lotus root, as well as canned sliced root, in Asian markets. When possible, I always buy a fresh root over one packaged in a solution.
Preparation
Separate the tubers by segment if you get a whole lotus root.
Wash lotus root carefully to remove all traces of mud.
Chop off the tough ends, peel off the rind, and discard them.
Ways to Cut
Slice lengthwise – for salad and stir-fry
Cube into small squares – for stir-fry
Chop into bigger bite sized pieces – for soup and stew
Use a whole tuber – especially for honey lotus root with sticky rice
Store
Store unwashed lotus root in a loosely tied bag in the fridge up to 1 week. If the lotus root is already washed and sliced, use plastic wrap to seal it and store it in an airtight container in the fridge. You should use sliced lotus root as soon as possible, but it will stay good in the fridge for 3 to 5 days. The the surface of the cut part will turn brown. Cut off and discard the part(s) that have become discolored. You can still use the remainder. If the inside of a lotus root starts to grow black spots or its smell start to go bad, you should discard the whole root.