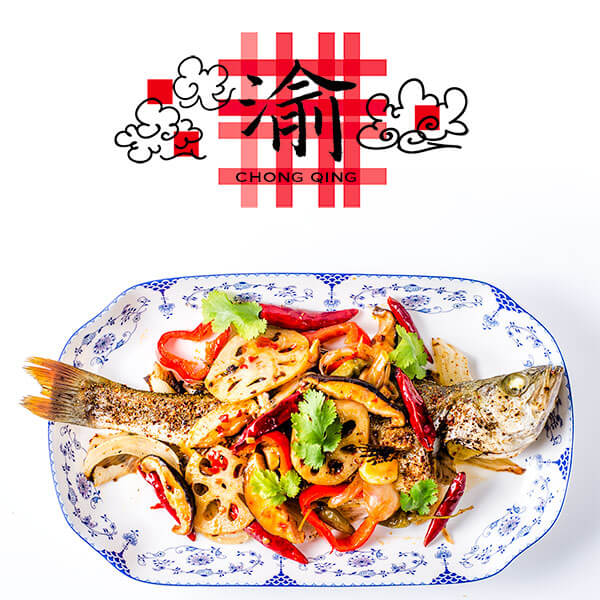 The fish is roasted until moist and tender, with a crispy surface. The accompanying vegetables are cooked in Szechuan hot sauce and savory black bean paste, with pickled peppers, to impart a pungent and spicy flavor. A party for the eyes and the taste buds comes together in a single dish.
This famous dish is from Chongqing, a city in the southwest of China. If the name doesn't ring a bell, here are a few facts you should know about this city.
The city is famous for its hot pot, the super hyper spicy kind (see the picture below)
For most other food in the city, people add more chili pepper than other seasonings combined
Chongqing has a humid subtropical climate, with four distinct seasons. According to traditional Chinese medicine, humidity is bad for the health, but spicy food will solve the problems caused by it.
The city is also famous for having particularly hot girls (Sorry, I don't have a picture for this…).
Food in Chongqing is spicy, but is a different kind of spicy as compared to Szechuan food.

Fish Fad
Chongqing Style roast fish (重庆烤鱼, chong qing kao yu) was a fad in Beijing that started in 2007 and lasted about 5 years before fading away. Back then, you could easily see signs for roast fish on every busy street, no matter whether for a big restaurant or a small bistro. Hundreds of small stores opened, featuring only roast fish. I was hooked on this fish just like everyone else, and I would go out for it every two weeks or so.
Although it is called Chongqing style, restaurants often serve several types of sauce on the roast fish. Among them, the spicy one is the most popular, so I included this one in the recipe today.
Different from a typical Western style roast (or grilled) fish, the Chinese kind uses various pungent spices and seasonings. The fish is coated with cumin powder and chili pepper, and roast until crispy.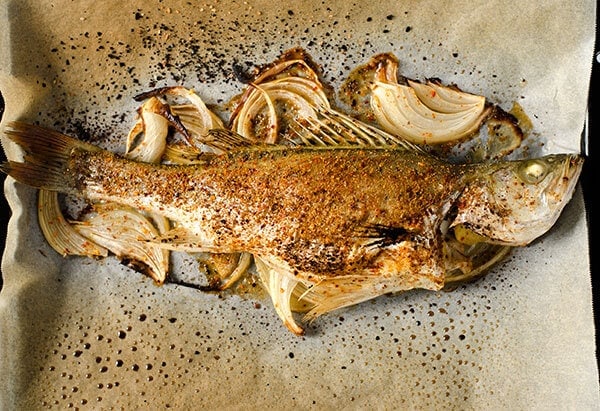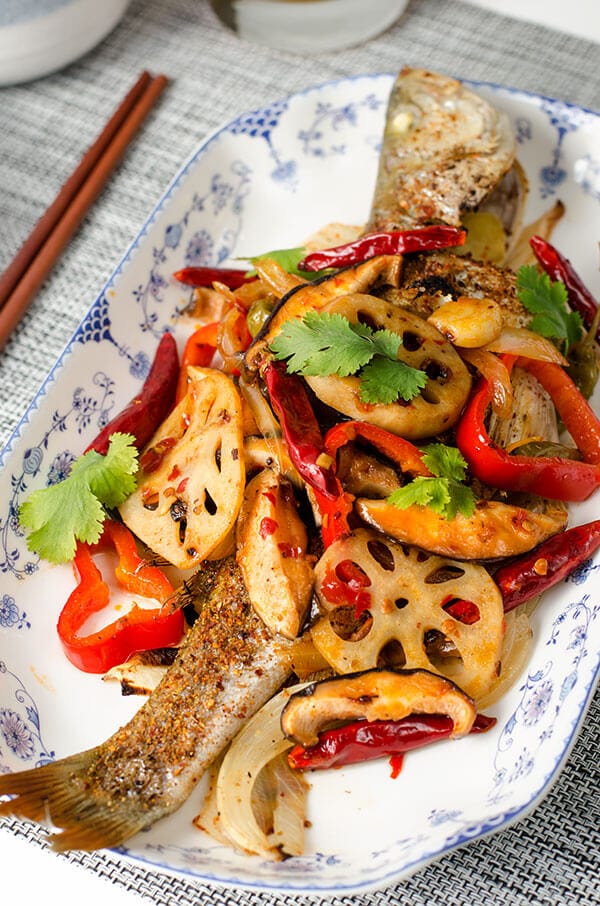 After the fish is cooked, the thick sauce is added on top, with tons of veggies cooked in it. In a restaurant, the fish is served in a huge metal tray with a mini stove below to keep it warm. This way, the veggies will continue to be cooked in the sauce until charred and super flavorful.
The pungent seasoning is not to bring out the delicate flavor of the fish, but to add flavor to it. People in the inland cities of China rarely eat fish from the sea and love freshwater fish such as carp, snakehead, and catfish. These freshwater fish typically aren't as delicious as sea fish, and sometimes have an unpleasant muddy flavor. As a result, cooking habits in inland cities have evolved to use heavy spices to season river fish effectively.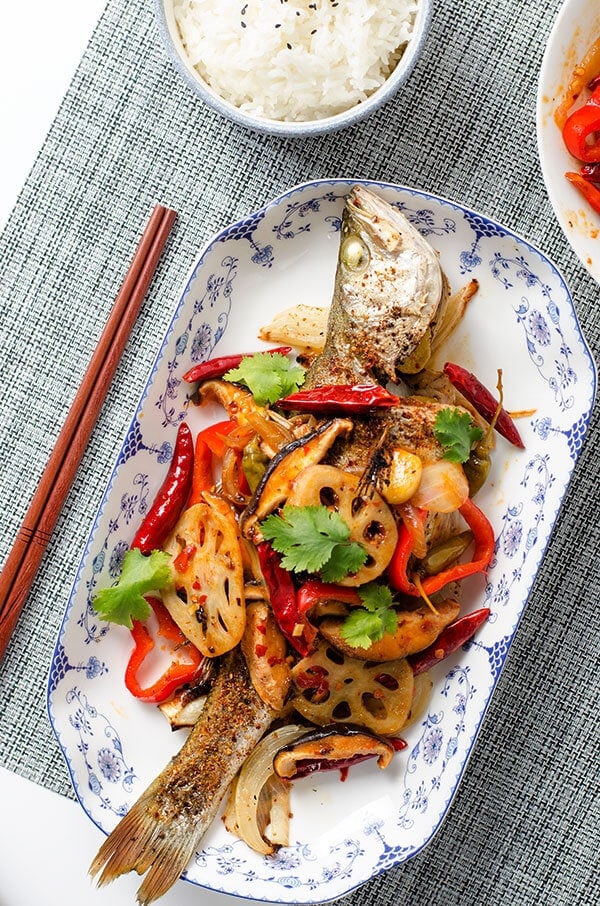 When it comes to home cooking, it is fine to go either way. I personally prefer sea fish because they have fewer tiny bones and generally higher quality meat. Another top choice for me would be catfish. It has very tender meat and works great in this dish.
It's a pity that the roast fish fad didn't last forever. A lot of smaller roast fish restaurants closed down after 2012 and people are not as keen to eat roast fish anymore. For me, a good spicy roast fish is still one of my favorite meals, even today.
In order to replicate the flavor so I can eat this fish whenever I want, I did some research on the dish and developed a way to cook it authentically. The recipe might look ridiculously long, but the process is actually quite simple and easy to follow.
You only need to:
Season the fish and roast it in the oven.
Mix the hot sauce
Do a quick stir-fry with the hot sauce of your preferred veggies

A few quick tips
You don't need to marinate the fish. The seasoning on the fish will help create a crispy surface, and the vegetable sauce will add flavor in the end.
Dry the fish thoroughly before seasoning and baking. It helps to make a moist, tender fish.
Choose a smaller, thinner fish. This cuts down the baking time and helps prevent drying out the fish.
Choose whatever veggies you prefer. In this recipe, I used a classic combination of Chinese vegetables, including bamboo shoots and lotus root. You can replace them with almost any other veggies. For example, you can use potato, any type of mushroom, bok choy, napa cabbage, and bell pepper. Just remember, the same logic applies here as with any other stir-fry – you need to add the veggies in the correct order so they'll be cooked through at the same time in the end. For example, potato and mushroom go into the stir-fry at the beginning, pepper in the middle, and bok choy in the end.
Cook a generous amount of sauce but do not add too many vegetables to the sauce.
This recipe is a bit complicated to cook and does requires a fe authentic seasonings. But if you ever decide to cook some real authentic Chinese food, or ever come to China, don't forget about this super delicious dish!
Want to Know More?
Receive our 5-Day Chinese Cooking Crash Course & Recipe Updates! Subscribe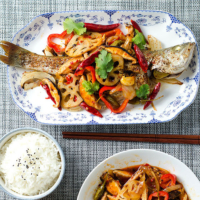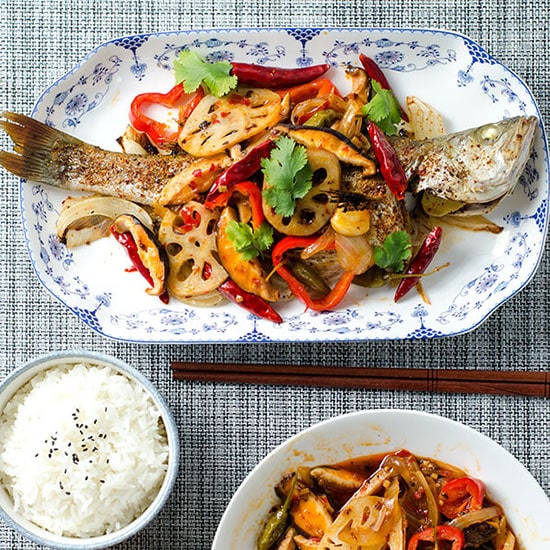 Chinese Spicy Roast Fish (重庆烤鱼)
The fish is roasted until moist and tender, with a crispy surface. The accompanying vegetables are cooked in Szechuan hot sauce and savory black bean paste, with pickled peppers, to impart a pungent and spicy flavor. A party for the eyes and the taste buds comes together in a single dish.


Ingredients
2

whole sea bass

400 grams / 14 ounces each (*see footnote)
For grilling the fish
olive oil

to coat the fish

1

teaspoon

chili pepper flakes

(or powder)

1

teaspoon

cumin powder

1

thumb ginger

, half sliced, half minced

1

medium size onion

, sliced

1

teaspoon

salt
For the Stir-fry
2

tablespoons

peanut oil

(or vegetable oil)

2

teaspoons

Sichuan peppercorn

5

cloves

garlic

, halved

10 - 20

chili pepper

, dried

1

cup

lotus root

, sliced

1

cup

bamboo shoot

, sliced

2

cups

shiitake mushroom

, sliced

10 - 20

chili pepper

, dried

4

tablespoons

chicken broth

(or water)

1

teaspoon

sugar

cilantro for garnish

(Optional)
Instructions
Wash all the vegetables and chop the onion and ginger.

Preheat oven to 220 degrees C (430 F). Line a baking tray with a sheet of parchment and spray a thin layer of olive oil on top.

Mix chili pepper flakes and cumin powder in a small bowl.

Spread half of the onion slices on the baking tray.

Dry the fish thoroughly with a paper towel. Place the fish on top of the onion. Grind salt and sprinkle half the chili and cumin mixture evenly over the fish. Spray a thin layer of oil on top. Flip the fish and season the other side in the same manner, spray with oil. Stuff ginger slices and a few slices of onion in the cavity of the fish.

Bake on the middle rack until fish is cooked through, about 20 minutes (or longer time if you use a larger fish). You should be able to easily separate the flesh from the bone with a fork, and the internal temperature of the fish should be 62 degrees C (145 F).

While the fish is baking, chop the rest of the vegetables. Place lotus root, bamboo shoots, and mushrooms on a plate. Mix chili bean paste, black chili paste and Sichuan pickled peppers in a small bowl. Add dried chili pepper and chicken broth separately in two small bowls. Place the veggies, mixed sauce, peppercorns, dried chili pepper, chicken broth, salt and sugar on the kitchen counter, near the wok.

Heat the wok over medium high heat and add oil. When the oil is warm, add peppercorns. Stir until fragrant and the peppercorns turn dark brown, 30 seconds to 1 minute. Turn to lowest heat. Use a ladle to scoop out the peppercorns and discard them.

Turn to medium high heat. Add the remainder of the minced ginger and garlic and stir a few times until fragrant. Add the rest of the onion. Stir until the onion turns translucent, about 1 minute.

Add the mixed sauce and stir immediately to coat onion with sauce evenly, 30 seconds.

Add chili pepper, stir a few times to mix.

Add lotus root, bamboo shoots, and mushrooms. Stir continuously for 1 to 2 minutes. Add chicken broth and sugar. Continue to stir until the seasonings are mixed evenly and the veggies are cooked through. Turn to lowest heat and taste the veggies. Add more salt to adjust seasoning if necessary.

Transfer the baked fish to a big plate. Pour the veggies and sauce over top of the fish. Garnish with cilantro.

Serve immediately with steamed rice.
Notes
Authentic Chinese cooking often uses carp, catfish or snakehead. For a better texture and fewer bones, I suggest using a catfish, sea bass, flounder, or tilapia.
Nutrition
Serving:
265
g
,
Calories:
410
kcal
,
Carbohydrates:
46.1
g
,
Protein:
40.8
g
,
Fat:
8.6
g
,
Saturated Fat:
1.8
g
,
Cholesterol:
71
mg
,
Sodium:
2004
mg
,
Potassium:
401
mg
,
Fiber:
10.4
g
,
Sugar:
21.6
g
,
Vitamin A:
550
IU
,
Vitamin C:
7.4
mg
,
Calcium:
30
mg
,
Iron:
1.3
mg