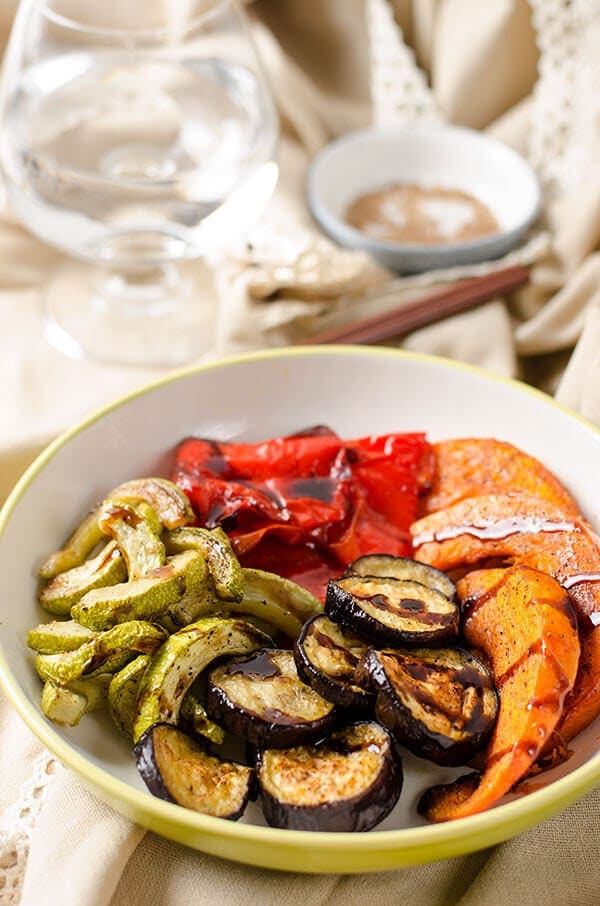 This roasted vegetable dish is like an edible rainbow. It has beautiful colors that will brighten your mood. The veggies are baked until charred on the surface and soft in texture. The sweetness of fresh veggies is enhanced further by the concentrated vinegar. It is the perfect dish to bring to a potluck – it is beautiful and healthy and tastes great, warm or cold.
One of the biggest shortcomings of typical Chinese food is that it has to be served immediately after it's cooked. Most Chinese dishes demand to be served warm and fresh, directly from the stove. Especially in the case of stir fried veggie dishes. Any reheating will compromise the flavor and texture, causing the dish to lose its appeal.
When I want to bring a dish to a gathering of friends or if I am hosting a small party at home, I always feel stressed to find a delicious side that can be served warm or cold. That was, until I discovered the magic of roasted veggies.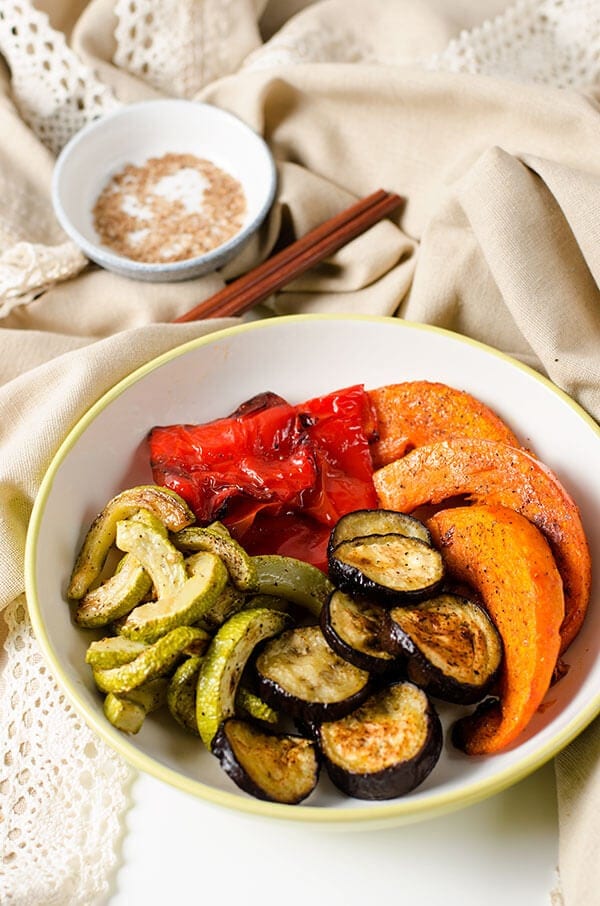 Fresh-from-the-oven roasted veggies taste wonderful, and are even better after they've cooled off. Before I serve the dish, I will drizzle a few drops of truffle-infused balsamic glaze – my secret weapon. The veggies become quite sweet from the roasting and taste good enough seasoned with salt and pepper, but the balsamic glaze really makes them shine. It adds a subtle sour sweetness and a savory dash to the dish, which make the veggies stand out.
So, when Aloha invited me to contribute to their collection of healthy recipes, I immediately thought of this one!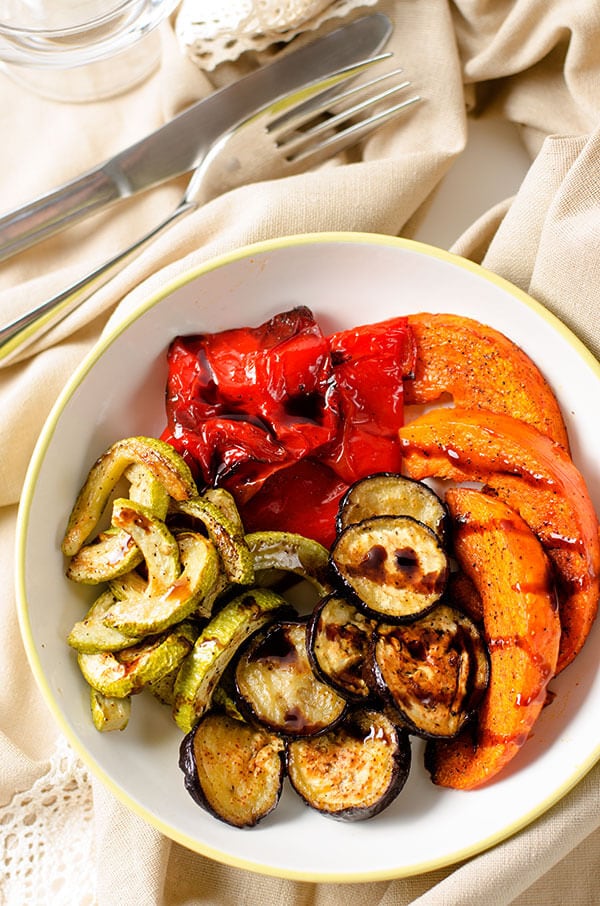 Here are a few tips to create a perfect roasted veggie dish:
Shop for fresh, smaller, and organic vegetables that are in season. They have much better flavor than the ones grown in greenhouses. This dish requires minimal seasoning, so choose the veggies that have the best natural flavor.
Cut veggies into consistently thick slices so they will roast evenly.
Dry veggies thoroughly before putting them into the oven so they will get nicely charred without turning soggy.
Season with a moderate amount of salt and pepper so it brings the original sweetness of the veggies without overpowering the dish.
Arrange the veggies carefully so they don't overlap each other. This is the key to getting everything charred evenly.
Flip the veggies one or two times during roasting and spray extra oil if needed. It may sound a like a fuss, but trust me, it's worth the effort.
Be patient, since roasting multiple batches of veggies requires time. You can prepare other dishes while roasting the veggies, but be sure to set a timer every 15 minutes so you won't forget to check the oven.
A balsamic glaze makes the dish even fancier and will surprise your guests. You can absolutely use a normal balsamic glaze instead of a truffle infused one.
These roasted veggies are great side to serve with Western style or Chinese main dishes. No matter whether you're serving a fried pork chop, peanut sauce roasted chicken or beef stew, you can add this colorful side to make the whole meal balanced in nutrition and great in taste!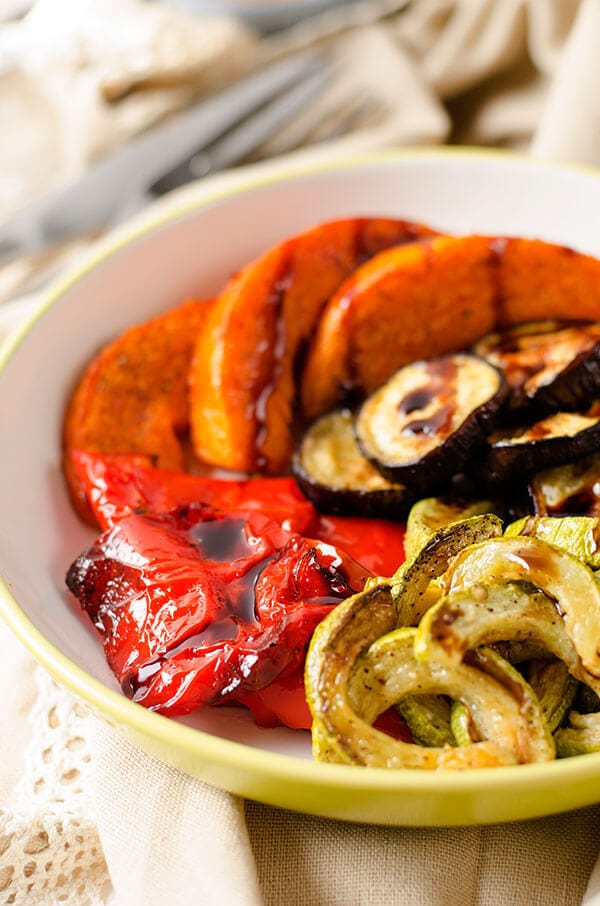 Want to Know More?
Receive our 5-Day Chinese Cooking Crash Course & Recipe Updates! Subscribe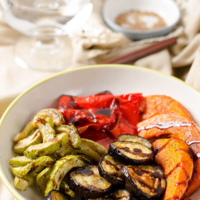 Roasted Vegetables with Balsamic Glaze
Ingredients
1

zucchini

500 grams / 1 pound, seed removed, sliced

1

200 grams / 0.5 pound bell pepper, chopped

1

250 grams / 0.5 pound eggplant, sliced

2

300 grams / 0.66 pound cups sliced pumpkin

sea salt and black pepper

olive oil to spray on the veggies

1

tablespoon

truffle infused balsamic glaze

or normal balsamic glaze
Instructions
Preheat oven to 220 degrees C (425 F).

Line a baking tray with aluminum foil and spray a thin layer of olive oil over the top of the foil.

Place vegetables on the baking tray in a single layer. Sprinkle salt and pepper over them, then spray another thin layer of olive oil on top.

Bake on the middle rack at 220 degrees C (425 F) for 35 to 40 minutes. Every 15 minutes, check the veggies and flip them, spraying extra oil on them if surface has turned dry.

Cook the veggies in batches if the baking tray is not big enough.

Right before serving, drizzle balsamic glaze over the veggies.

Serve warm or cold.
The nutrition facts are calculated based on 1 of the 4 servings generated by this recipe.