A heavenly smoky and flavorful salsa that makes a perfect dip, tacos sauce, noodle toppings, or stir-fry condiment.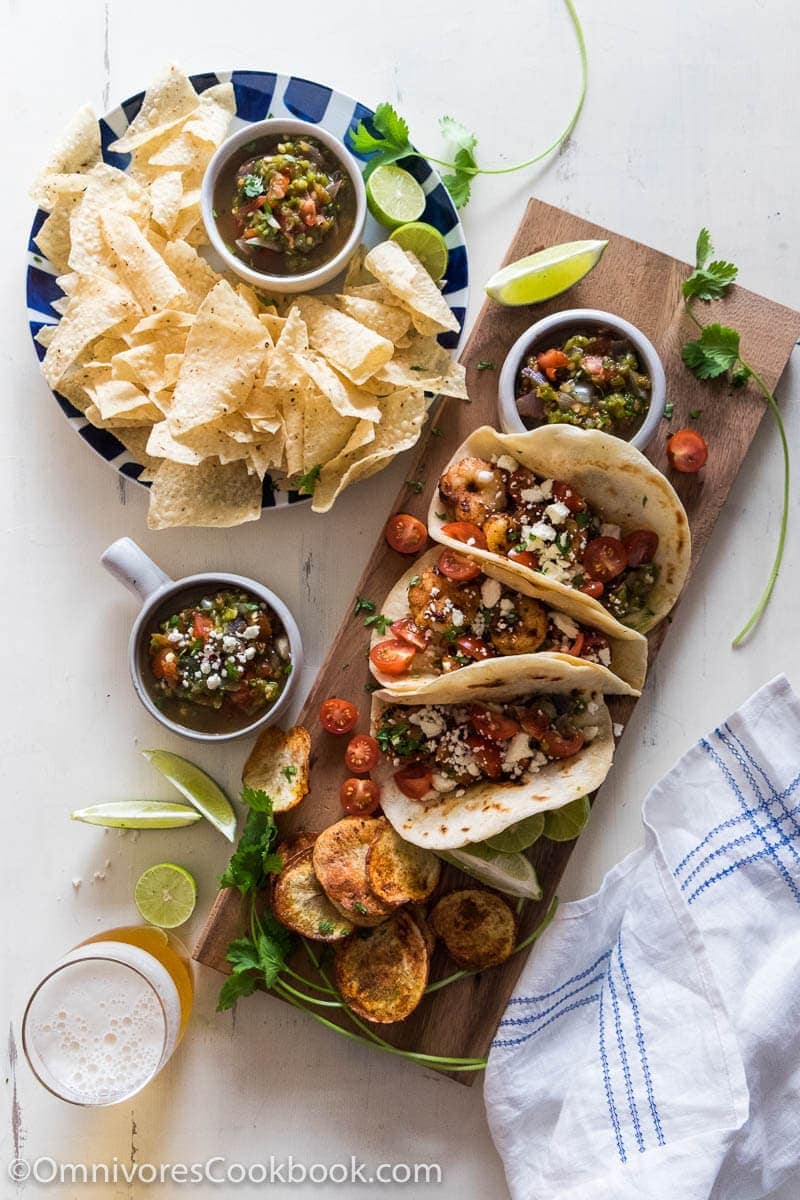 I'm very conservative when it comes to food and I'm the type of person who always orders the same food from any menu. For example, beef burgers, pepperoni and mushroom pizza, and chicken mushroom soup are my favorites.
Becoming a food blogger changed it all. Not only did I need to constantly learn new recipes and techniques, I also had to change my mentality and become willing to step out of my comfort zone and try new things.
The results have been rewarding. I get to discover new delicious food every day and learn to appreciate cultures from different countries.
During my blogging adventure I came across this amazing salsa recipe from Judith Finlayson's latest book, "The Chile Pepper Bible: From Sweet to Fiery & Everything in Between". I'm very lucky to be a member of the blog tour and I was one of the first to read this amazing book.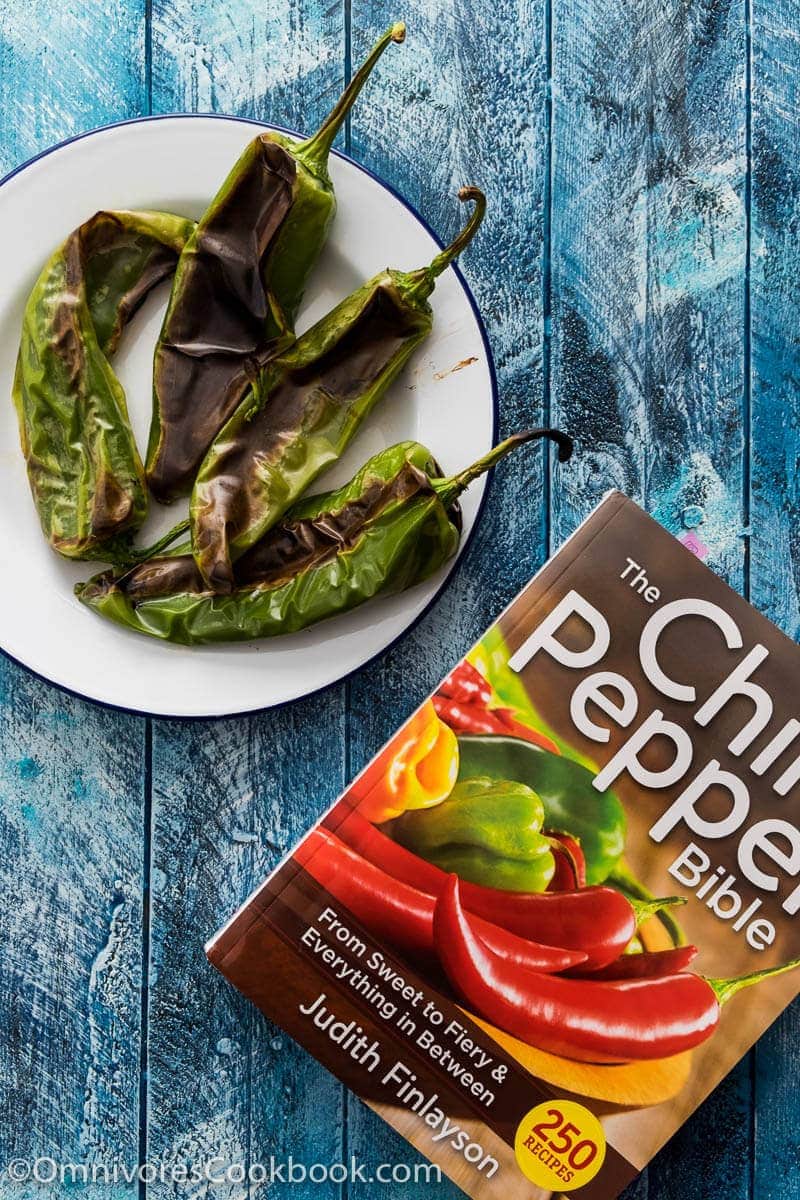 "The Chile Pepper Bible" is indeed a bible for chili pepper lovers. The book includes many varieties of chiles and provides fascinating information on everything from the historical and geographic origins of chiles, to information on The Scoville Scale (it measures the hotness of a chile and was invented by Wilbur Scoville), as well as the health benefits and finally, 250 delicious and inventive recipes!
It was tough to only choose one recipe because all the dishes in the book look amazing. In the end, my eyes fell on Nam Prik Num, or Thai Grilled Salsa.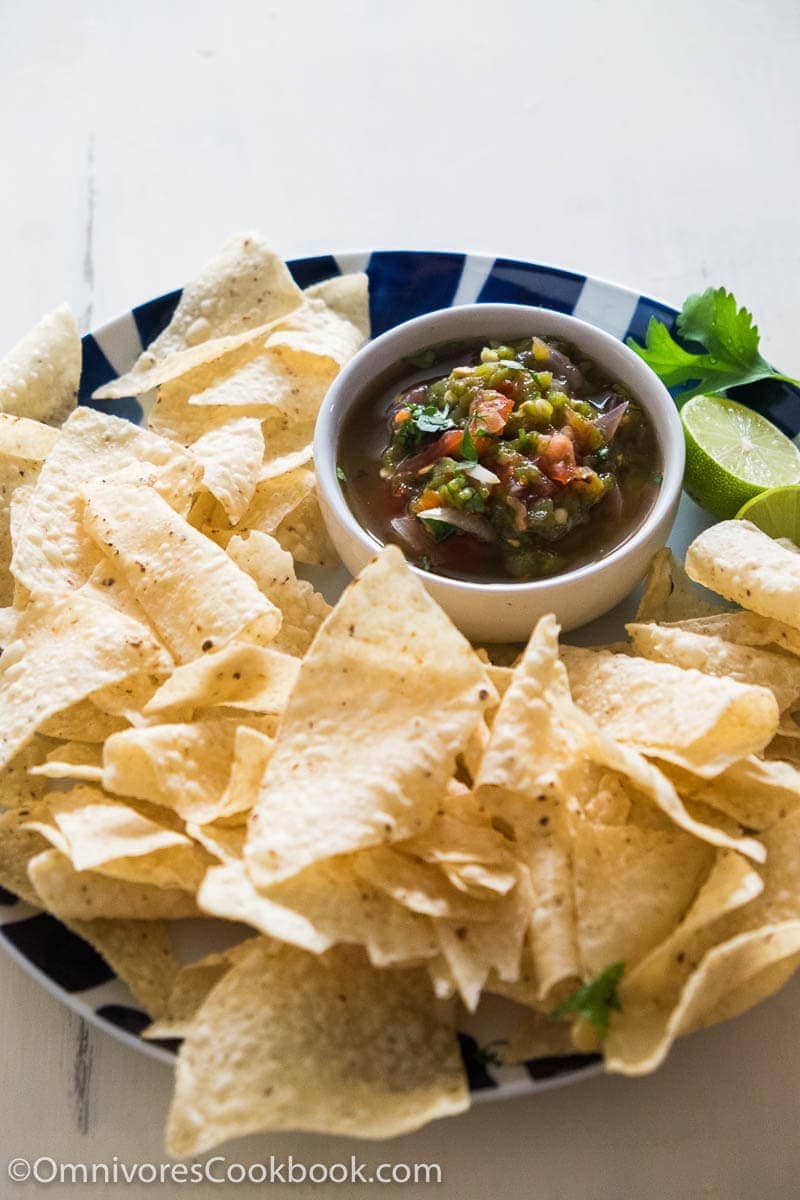 The salsa is very easy to make and the process is similar to salsa de Molcajete. You simply need to cook the vegetables over a grill or under the broiler, mix with spices, and chop them in a food processor. If you do not own a food processor, you can chop the grilled veggies and make the salsa with a mortar and pestle.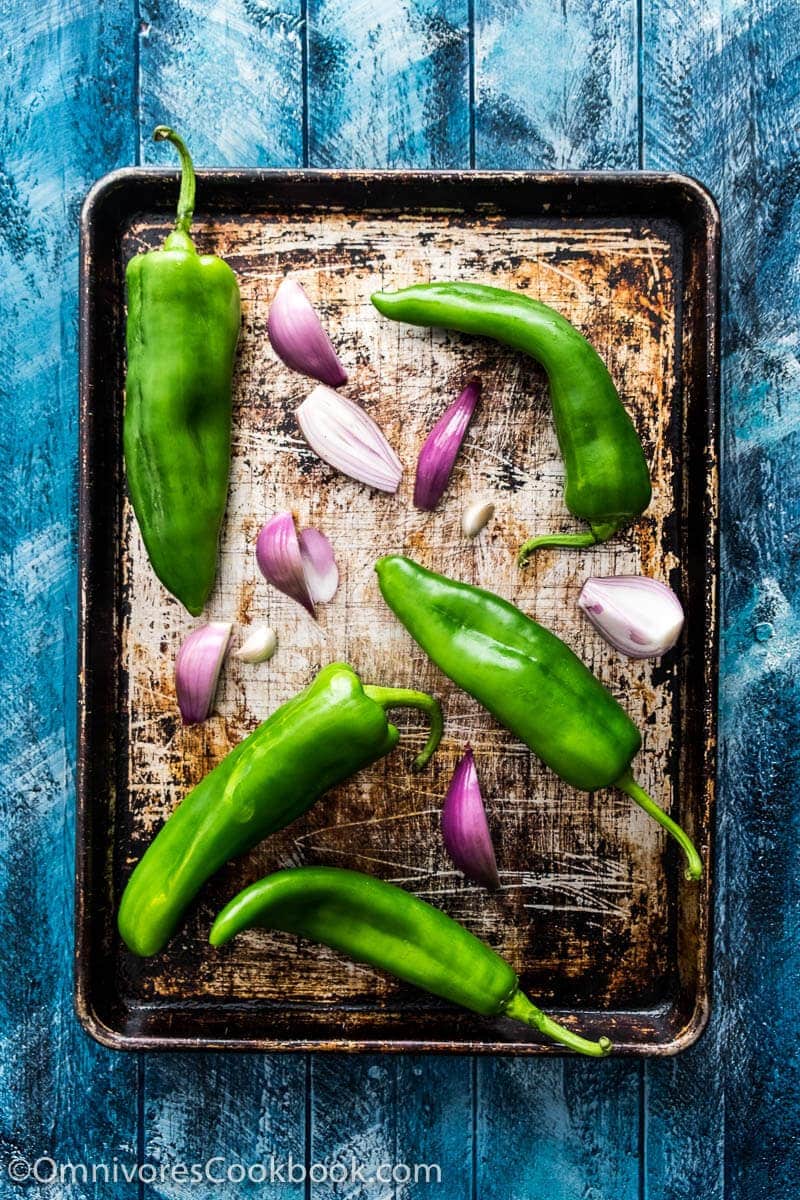 The salsa tastes a bit fiery, has a heavenly smokiness, and the powerful aroma of fish sauce. Not only it is a nice dipping sauce, you can use it in salad, add it into stir-fry as a condiment, and top it on noodles.
I made a few shrimp tacos by using grilled shrimp, crumbled ricotta cheese, cherry tomatoes and Nam Prik Num. Oh my goodness, the tacos turned out so perfectly! I found out that the Nam Prik Num goes extremely well with seafood. A little fish sauce goes a long way.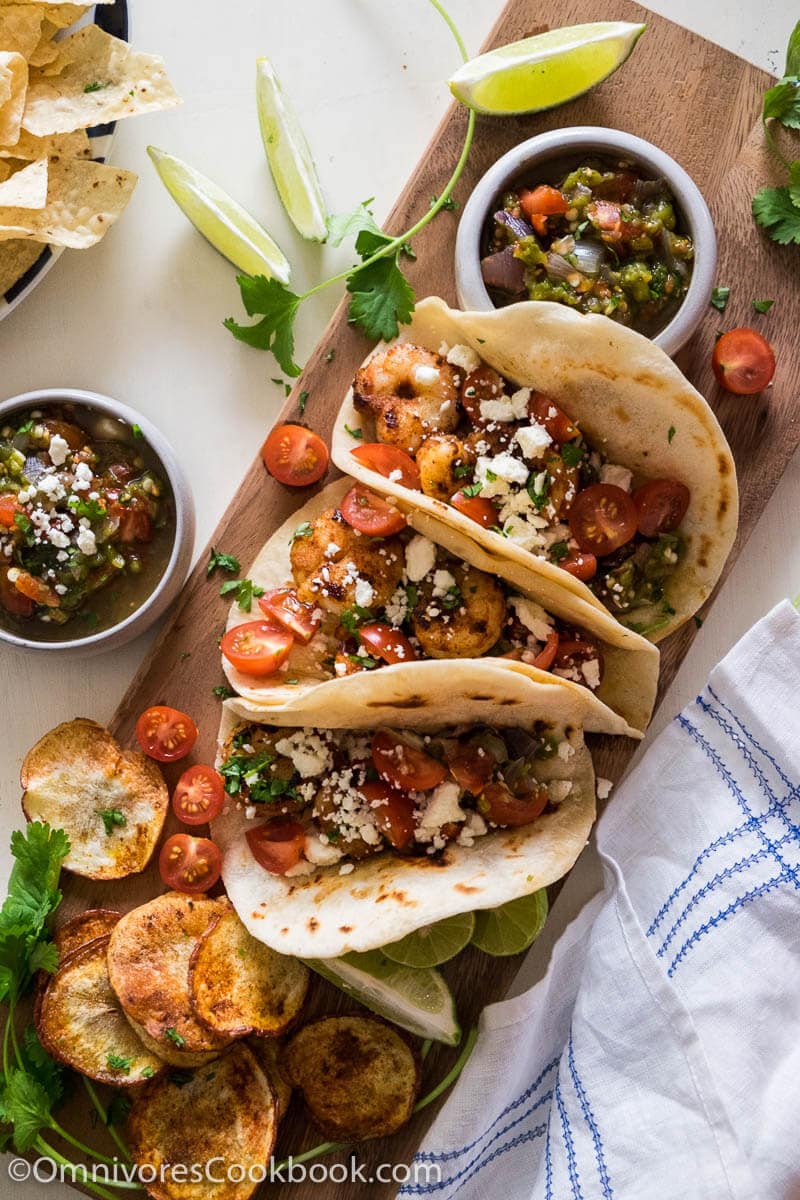 My next experiments from this cookbook include Indonesian-Style Fried Rice (South East Asian), Cape Verde Sausage Stew (African), and Chile-Spiked Chocolate Pots (French). My mouth starts watering just thinking about these dishes!
Are you ready for the chili pepper challenge? Enter the giveaway competition for a chance to win a copy of "The Chile Pepper Bible" and join me for the fun cooking challenges!
I used this recipe courtesy of The Chile Pepper Bible: From Sweet to Fiery & Everything in Between by Judith Finlayson © 2016 www.robertrose.ca, reprinted with the publisher's permission. I slightly changed the format of the recipe so it would be consistent with my blog style.
Want to Know More?
Receive our 5-Day Chinese Cooking Crash Course & Recipe Updates! Subscribe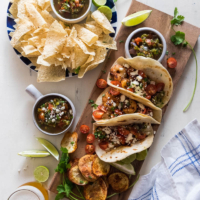 Thai-Style Grilled Chile Salsa (Nam Prik Num)
Nam Prik Num – A heavenly smoky and flavorful salsa that makes a perfect dip, tacos sauce, noodle toppings, or stir-fry condiment.
Ingredients
4

to 5

hot banana peppers

(or anaheim peppers) (*Footnote 1)

2

shallots

, peeled and quartered

8

cloves

garlic

, peeled and halved (*Footnote 2)

8

oz (230 grams)

cherry tomatoes (about 1 and 1⁄2 cups)

2

tablespoons

fresh cilantro

, finely chopped

2

tablespoons

lime juice

, freshly squeezed

1

tablespoons

fish sauce

(*Footnote 3)

Sea salt to taste
Instructions
Place banana peppers, shallots and garlic in a grill basket on preheated barbecue or arrange on a baking sheet and place under a preheated broiler. Grill or broil, turning occasionally to ensure even cooking, until shallots and garlic are blackened and pepper skin is blistered, about 8 minutes for garlic and shallots, and 10 minutes for peppers.

Transfer peppers to a bowl, cover with a plate and let cool enough to handle. Remove stems and lift off skins. Transfer peppers along with accumulated juices to food processor fitted with the metal blade (*Footnote 4).

Add shallots and garlic and pulse until chopped and well combined, 5 or 6 times. Add tomatoes, cilantro, lime juice and fish sauce and pulse until chopped and well combined, about 5 times. Season to taste with salt. Transfer to a serving bowl and let stand at room temperature until the flavors are melded, about 30 minutes. Serve immediately.
Notes
You want a relatively large and not-too-hot chile for this salsa – that is the best substitute for the Nam Prik Num chile that would likely be used in this recipe in Thailand. Heat levels will vary depending on your choice, but reliable options include Anaheim or Hungarian wax peppers, as well as the hot banana peppers called for in the ingredients list. For a milder version, substitute with half Cubanelle peppers.
A grill basket is helpful for roasting the garlic and shallots on the barbecue, because it will keep small pieces from falling through the grate. The garlic will likely be done before the shallots, in which case just remove it and set it aside.
Be sure to use gluten-free fish sauce if you are making this salsa for someone who is sensitive to gluten.
If you do not have a food processor, you can chop the grilled peppers, shallots, and garlic and grind them with a mortar and pestle.
Nutrition
Serving:
79
g
,
Calories:
26
kcal
,
Carbohydrates:
6
g
,
Protein:
1.1
g
,
Fat:
0.2
g
,
Sodium:
236
mg
,
Potassium:
182
mg
,
Fiber:
1
g
,
Sugar:
1.8
g
,
Vitamin A:
500
IU
,
Vitamin C:
23.1
mg
,
Calcium:
20
mg
,
Iron:
0.4
mg