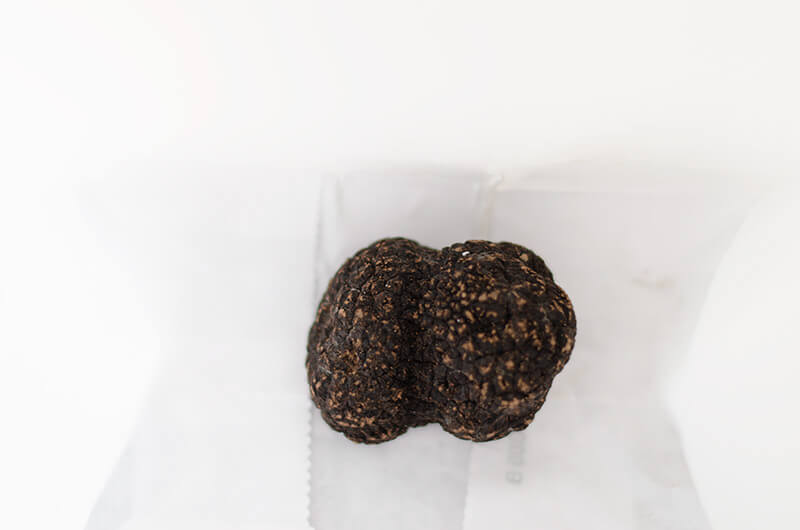 What's the most delightful surprise in the world? Answer: when you wake up one morning and found a beautiful black truffle peacefully lying on the bottom of a delivery package.
This was a true story. While I'm in Chicago to visit my boyfriend, we got a package from his sister, 3 days ago. We were opening the seal and thinking what's inside of the box, I was jokingly said, I smelled truffles. Not because I ever touched a truffle before, but there's a strong smell that resembles the truffle oil I have. Turns out, there's a big chunk of fresh winter black truffle in the package! Wow, super fancy ingredient!
I place the truffle in a plate and took quite a lot of pictures. Aren't it look beautiful? And the fragrant! Oh gosh, I can still smell the strong fragrant from the bag that was used to deliver the truffle.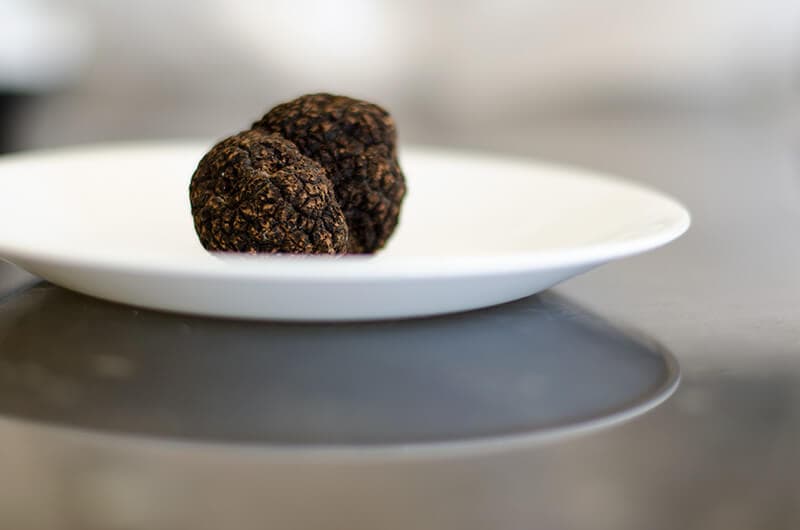 The next thing, we immediately cancelled the dinner reservation and started to search online, about how to cook truffles.  Because the first article I saw, said it's better to have the truffle as fresh as possible. So the best choice will be cooking it the same day it arrives.
Surprisingly, there's not so many truffle recipes out there. Maybe because it's such a fancy ingredients and if not for a high end restaurant, people seldom have the chance to cook with it. I found out some tips about how to handle and store truffles, and also a good list about recipes with fresh truffles. In the end, we decided to cook black truffle risotto and grilled scallop with truffles for dinner that day. Because the truffle is quite big, we both agree to use it in multiple dishes to enjoy it.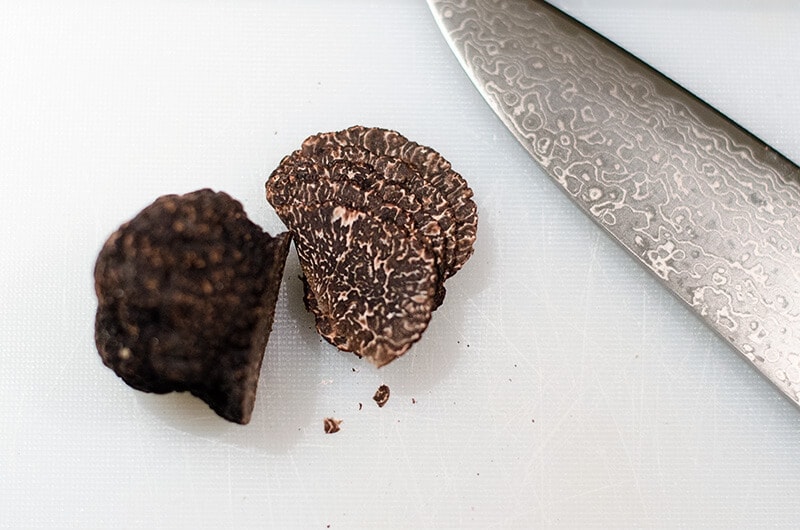 Look at the exquisite texture of the black truffle when it's sliced. It's said that the truffle should be sliced paper thin by a special truffle slicer and I worried about I can't slice it properly by knife. But fortunately, we had this fancy Japanese Tamahagane knife that is super sharp. I sliced the truffle without any problem.
We were quite nervous about cooking fresh truffles, because none of us cooked them before, but the results turned out lovely. For the scallop and risotto, the cooking methods are no big different than the ones without truffles. Since truffles don't require long time to cook, they are added to the dish at the end of cooking, or garnish as raw.
The risotto dish has a very rich flavor of mushroom and cheese. The truffles nicely enhanced the mushroomy flavor of the whole dish, and let the dish tasted more complicated. Although the parmesan has quite strong taste, the fragrant of truffle is still there. For the scallop dish, the taste is simple and straight forward.  It's said truffles like fat, so we used a big nice chunk of butter to grill the scallop till soft and juicy. It tasted wonderful with a thin slice of truffle on top, even without adding salt or any other seasoning. We added some chopped parsley according to the recipe, but both agree that parsley doesn't go very well with the dish. If you think the scallop is plain, a tiny pinch of sea salt will do the job.
The truffle we got weights around 50 grams, we used around 30 grams to cook the risotto, a few slices for the scallop, and there's still a small piece left. Instead of putting all of it into the risotto dish, I saved it for breakfast later. I'm so glad I did this. For breakfast, I used the very tiny amount of truffle to cook scrambled eggs, turned out, I liked this one the most. Now I finally understand why most of websites will introduce this dish first. Because egg is quite neutral in flavor, so the truffle stands out so well and infused the whole dish a very strong fragrant. I slightly seasoned the dish with salt and pepper, then let truffle to be the king.
Since we left the last piece of truffle in fridge for 2 days, it dried out a bit and was more difficult to slice. The flavor and fragrant were still very strong, and the dish turned out wonderful. But if you ever have a piece of leftover truffle, it's still better to use it the following day.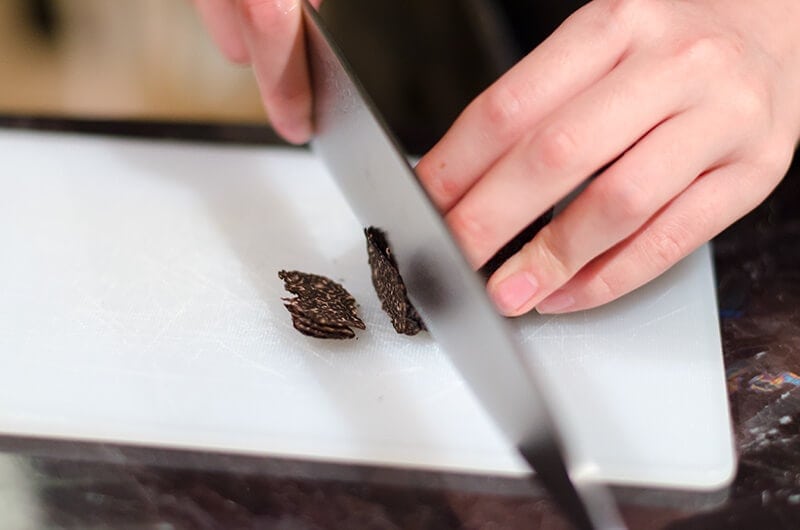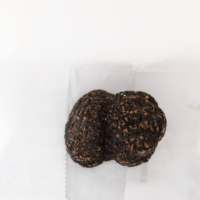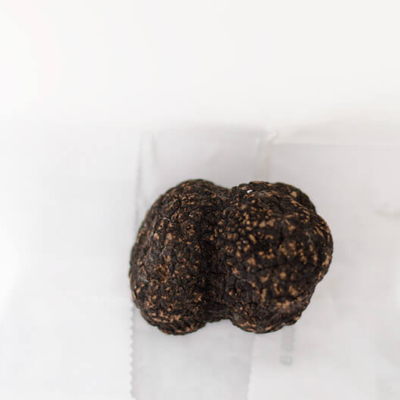 Fresh Winter Black Truffles Risotto
(1) When you're cooking with truffles, do not try to save money on other ingredients. Get high quality risotto rice and a good bottle of dry white wine that you'll enjoy drinking.
(2) I just happened to have some nice chicken broth cooked from a whole chicken, with ginger, onion, celery and carrot. If you don't have chicken broth, a good quality one from supermarket will also be a good choice. First thing of cooking with truffles, you want to use them while they're fresh.
Ingredients
2

tablespoon

olive oil

1/2

small white onion

chopped

200

grams

7 oz. Arborio rice

100

milliliter

3.4 oz. dry white wine

2 1/2

cup

chicken broth

2 1/2

cup

mushroom broth

30 - 40

grams

1 - 1.5 oz. winter black truffle, thinly sliced

50

grams

1.8 oz. parmesan cheese, grated

salt and pepper to taste

4 - 5

slices

winter black truffle for garnish
Instructions
In a small pot, mix chicken broth and mushroom broth and heat till slightly boil, turns to lowest heat to keep the broth warm.

Heat olive oil in a non-sticky skillet on medium high heat, add white onion, saute until onion is soft and turns translucent, in about 3 minutes. Add Arborio rice, keep stir till rice is mixed well with oil and onion, in 1 to 2 minutes. Add dry white wine and saute until wine is evaporated.

Add 1 cup chicken mushroom mixture broth, keep stir the rice constantly, till the broth is well absorbed. Add rest of broth, 1 cup at a time, and repeat, till the rice is cooked, but still a bit chewy inside, in about 15 minutes. Add final cup of broth and truffle slices, and give it a final stir. Stop heat, add parmesan cheese, salt and pepper to taste.

Garnish with truffle slices and serve immediately.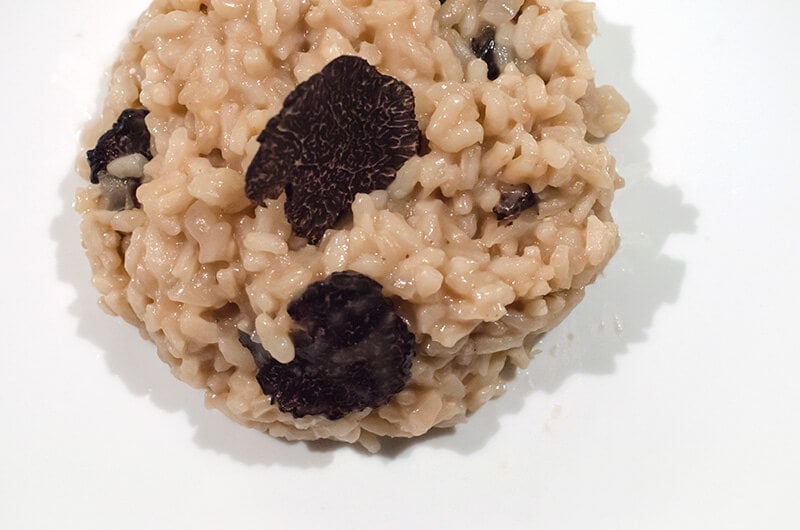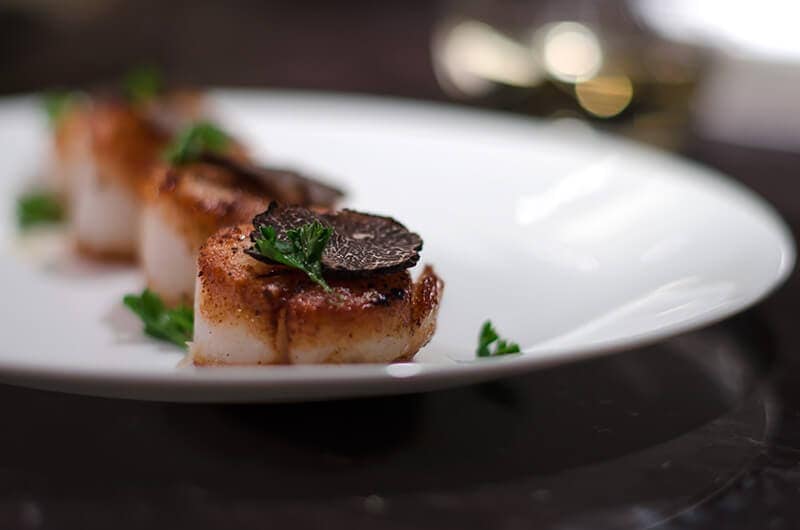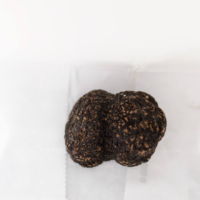 Fresh Winter Black Truffles Scallop
The taste of parsley doesn't go very well with the dish. You could use a tiny amount for garnish, or bring out flavor of scallop, or just ignore it.
Ingredients
3

tablespoons

butter

8

scallops

dried with paper towel

8

thinly sliced winter black truffles

option 1 tablespoon chopped parsley for garnish

option pinch of sea salt
Instructions
Heat butter in a skillet on medium high heat. When butter stop bubbling, carefully place scallop in the skillet, be careful do not let them touch each other. Fry bottom side of scallop for 3 - 4 minutes, till the bottom side turns golden brown and scallop is half way cooked, then flip, fry for another 3 - 4 minutes. Do not touch the scallop while frying, otherwise the scallop might fall apart.

Place cooked scallop in the plate, add 1 piece of truffle to each scallop, garnish with parsley(option), slightly season with sea salt (option), serve immediately.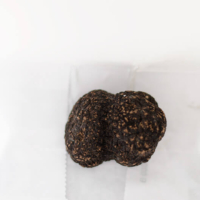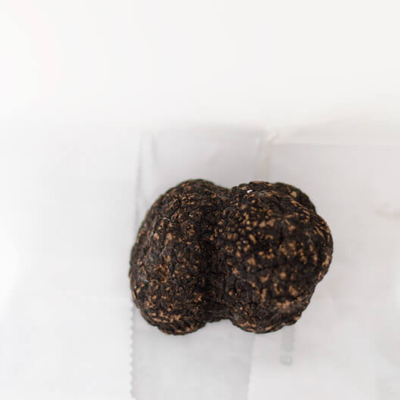 Fresh Winter Black Truffles Scrambled Eggs
Ingredients
4

large A grade eggs

10

grams

truffle

thinly sliced

pinch

of sea salt and pepper

2

tablespoons

unsalted butter
Instructions
Beat eggs and truffle slices in a bowl, slightly add salt and pepper to season.

Heat butter in a non-sticky skillet on medium heat. When butter start to bubbling, add egg and truffles mixture into skillet, constantly use spatular to stir and cut cooked egg, and scoop egg towards center of skillet. When the egg forms a small pile and still have parts running, turn of heat immediately. Serve egg right away or let them cook a bit more in the skillet, if you prefer fully cooked egg.

I served the dish with grilled tomato and leftover risotto. You could also serve with a piece of toasted bread or just enjoy the egg itself.