Cook the best grilled potato by slicing it finely, grill until blistered on the surface and creamy in texture. Add cumin and chili powder to spice it up.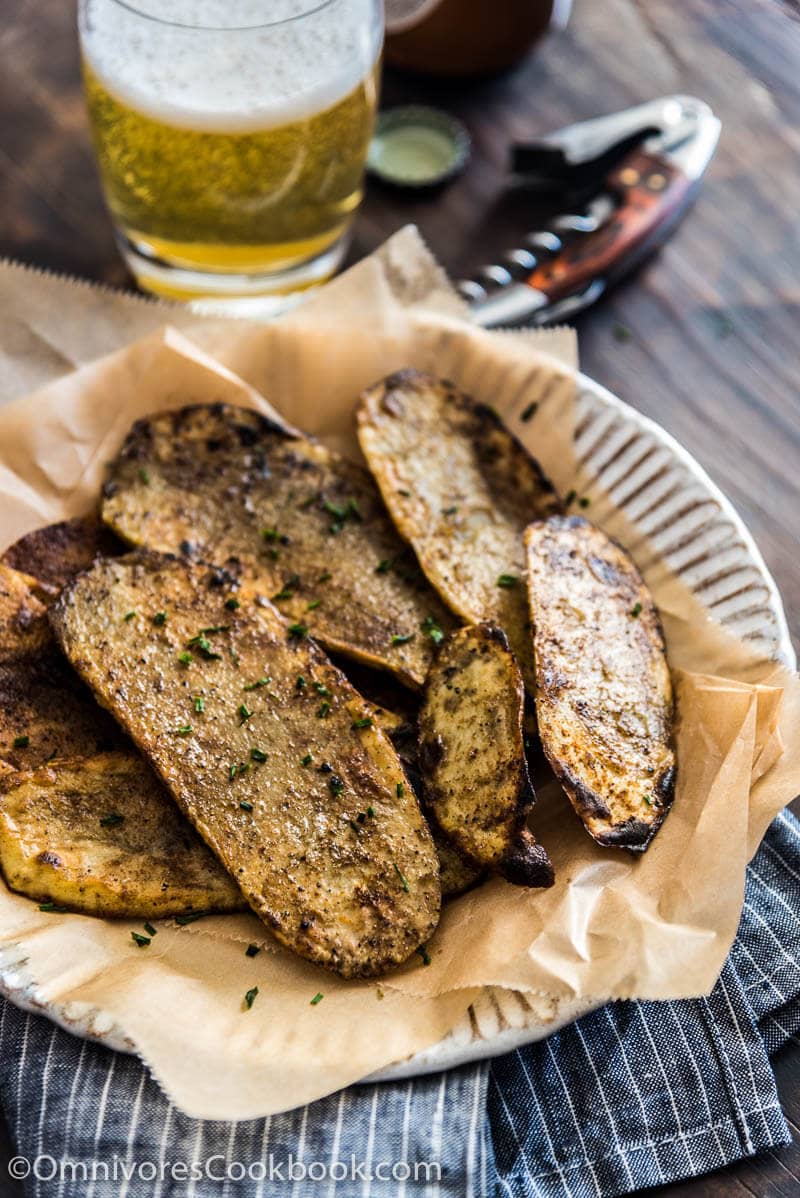 After introducing the most famous street food, Xinjiang lamb skewers and The Ultimate Guide to Throw a Chinese BBQ Party, I want to show you the Chinese way of preparing sides that will pair perfectly with your mains.
Some of the most popular side dishes on the Chinese grilling menu are; eggplant, potato, mushrooms and steamed bread (mantou). They're all served on skewers and seasoned with cumin based spices. After hosting a few grilling events, I found out that my guests love the grilled potato the best. So today I'm using it as an example to show you the basic seasonings and technique for grilled vegetables.
Unlike the grilled potatoes that you're familiar with, we slice the potato very thinly (about 4-mm or 1/8-inch). These slices require more attention during cooking as you grill them directly on the fire and need to flip them often. But the result is very rewarding. The potato will blister and crisp up perfectly on the surface while the inside remains creamy. The cumin powder and chili powder add a kick to the mild potato and makes the taste vibrant. You can choose to melt a small chunk of butter at the end. And man, it is simply irresistible!
There are only two things you need to consider to ensure perfectly grilled potatoes;
Use plenty of oil to coat the potato slices (otherwise they will dry out instead of crisp up during the cooking).
Be generous with the cumin powder and sprinkle a bit more at the end of cooking. The cumin powder loses its aroma on the high heat and some will drip away with the oil. So always re-season them right before you're done cooking.
I assure you that your guests will not stop snacking on these potatoes after eating all the delicious main dishes!
Want more Chinese grilling recipes? Click here to view more.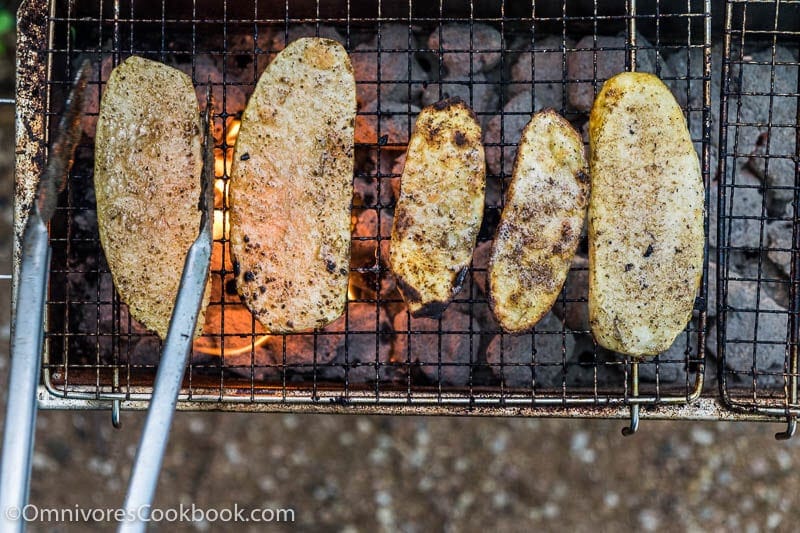 Want to Know More?
Receive our 5-Day Chinese Cooking Crash Course & Recipe Updates! Subscribe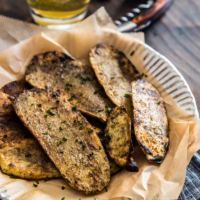 Chinese Grilled Potato
Cook the best grilled potato by slicing it finely, grill until blistered on the surface and creamy in texture. Add cumin and chili powder to spice it up.
Ingredients
1

large russet potato

, cut to 4-mm (1/8-inch) slices

2 to 3

tablespoons

vegetable oil

Sea salt to taste

2

teaspoon

cumin powder

(or to taste)

1

teaspoon

cayenne powder

(or paprika powder for less spiciness)

2

tablespoons

butter

(Optional)
Instructions
Spread potato slices on a large tray and drizzle with olive oil. Use a pair of tongs to toss potatoes to ensure both sides are coated with oil.

Season with salt and generously sprinkle with cumin powder and cayenne powder.

Heat up the grill to build a modified two zone fire. Place the potato slices directly on the fire. Cook until both sides are charred and the inside is cooked through. If the potato slice is still a bit tough, move it to indirect heat and let it cook until tender. Sprinkle with another layer of cumin powder and place a small chunk of butter on top (optional). Leave slices on the grill until the butter is melted.

Transfer to a plate and serve warm.