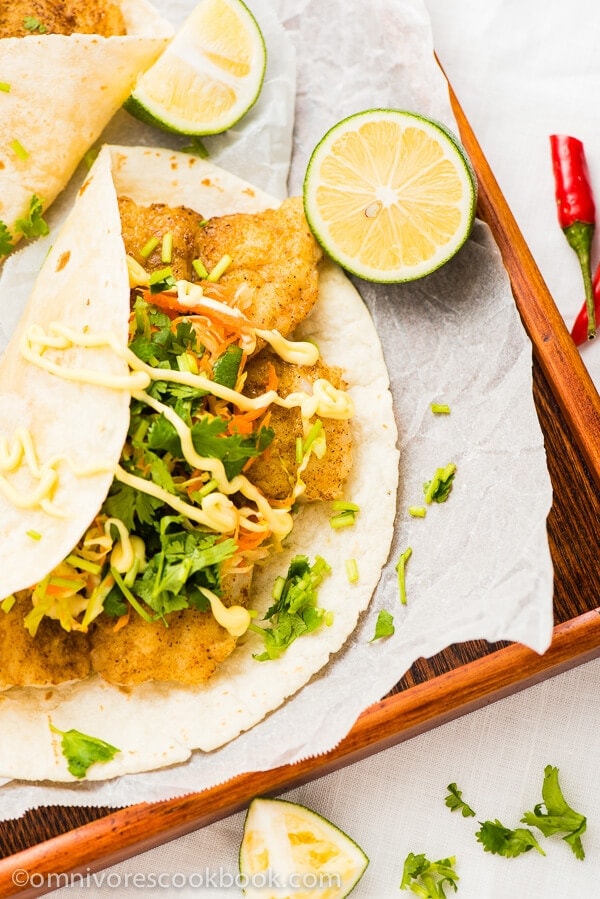 You'll be surprised that how easy it is to cook such flavorful fish tacos for a potluck.
Ever since I had some super tasty fish tacos in Guam, I've wanted to cook them at home. They're satisfying, healthy, and bursting with flavor. They're also a great dish to bring to a party or gathering.
When I was developing this recipe, it just happened to be spring break for Thomas and his family. They were having a family trip in Florida and were cooking with fresh fish just pulled from the sea. Among all the delicious ideas, I was hooked by the curried grilled fish.
Not long ago, I blogged about a coconut fish curry. That's when I found out how easy it was to cook a great fish dish. Why not try to grill the fish with curry powder?
I tried it and loved it so much. And both my parents loved the fish so much, that they couldn't believe how simple the recipe was.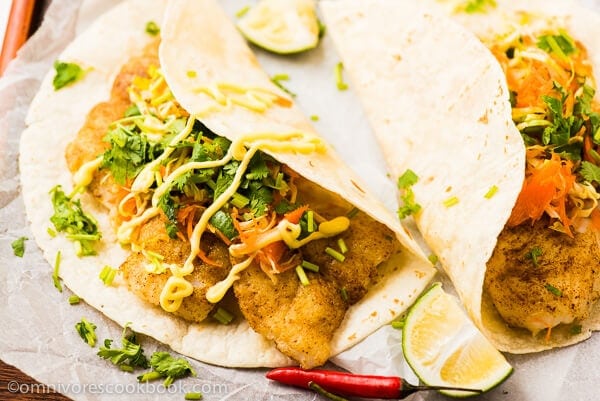 Curry powder works like magic as a fish rub.
You don't really need any other spices, so you can prepare the fish super quickly. The curry will cover any unpleasant smell of the fish, and bring out its great taste.
The marinating time is extremely short, about 5 to 10 minutes.
It creates a crispy texture with a minimal amount of oil. Crispy fish without deep frying? YES!
The leftovers just get better and better. Prep and cook the fish one day before the party, and let it work its magic by placing the dish in the fridge.
I tried a Chinese technique in this recipe – using cornstarch to coat the fish. This way, the surface of the fish will be crispy after grilling. It worked amazingly well. Even with the frozen sole fish fillet, I managed to cook very moist fish with a crispy surface.
To reheat the leftovers, simply grill the fish on the stovetop with a bit of oil. The fish will still be tender inside, with an even crispier surface.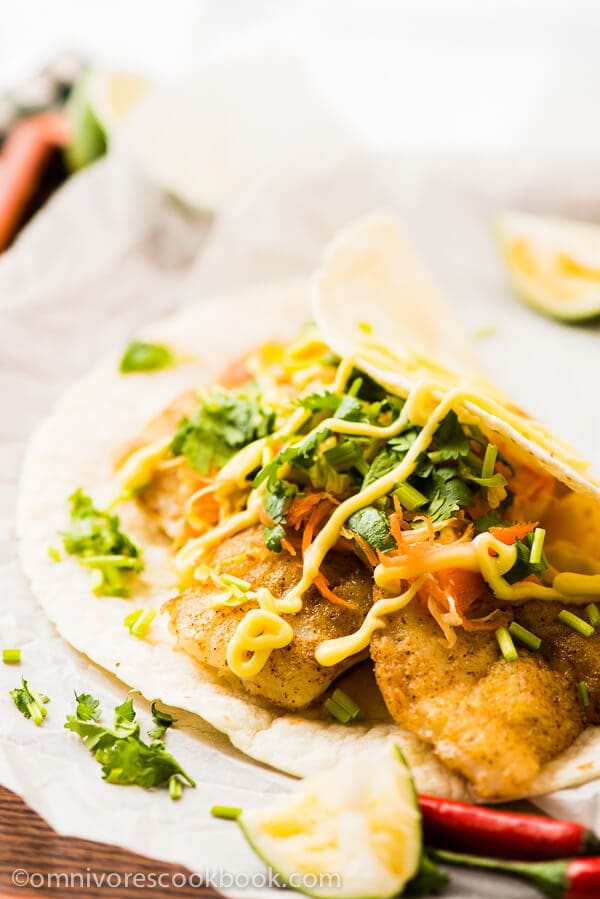 One thing to note about the cabbage carrot slaw. After adding the salt, the liquid will come out of the veggies and the slaw will become a bit watery.
If you're planning to prepare the dish ahead of time to bring to a party, you can try:
Option 1 – Mix the slaw with salt without adding other ingredients, and leave it until the liquid comes out. Discard the liquid and lightly pat the veggies dry with paper towel. Combine the remaining ingredients and add into the tacos.
Option 2 – skip making the slaw. Use only the freshest raw carrot and cabbage instead. You'll be amazed at how delicious the tacos are. The mayonnaise will add moisture to the tacos, so you don't need to worry them becoming dry. On the contrary, the veggies will stay fresh and taste sweet. The flavors and textures go wonderfully with the curried fish.
Do you love to cook with fish? Try this curried fish no matter whether you're making tacos or something else. It offers you a simple and flavorful method to prepare dinner in minutes!
Want to Know More?
Receive our 5-Day Chinese Cooking Crash Course & Recipe Updates! Subscribe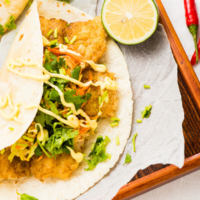 Curried Fish Tacos
You could easily double or triple the recipe.
Ingredients
2

pieces

500 grams white fish fillet

Salt and pepper

2

tablespoons

cornstarch

1

teaspoon

mixed curry powder

I used Garam Masala and Madras, ratio 1:1

1

small

150 grams carrot, shredded

1/4

small

100 grams cabbage, shredded

1/4

cup

chopped cilantro

2

and 1/3 tablespoons olive oil

5

8-inch flour tortillas

5

teaspoons

mayonnaise

Lime wedges
Instructions
Dry fish fillets thoroughly with a paper towel. Grind salt generously onto both sides of it and gently pat by hand. Set aside and let sit for 5 to 10 minutes.

Prepare and cut carrot and cabbage. Combine them with cilantro in a large bowl.

Sprinkle curry powder evenly on both sides of each fillet. Gently rub by hand to evenly coat the fish.

Sprinkle cornstarch on both sides of the fillet and rub by hand, until the fillet is evenly coated. Cut fillet into large pieces.

Add 1 tablespoon oil to a nonstick skillet and swirl to spread the oil. Heat over medium high heat until warm. Place fish pieces into skillet without overlapping them (you might need to cook fish in several batches depending on the size of your skillet). Grill and cook without moving for 1 minute. Continue to cook until the bottom turns golden brown, about 2 minutes. Flip to cook the other side until golden brown, about 2 minutes. The cooking time will vary depending on the thickness and type of fish. If the fish is not cooked through yet, turn to medium or medium low heat, cover and cook until fish is cooked through. Cook the rest of the fish in same method. Transfer the cooked fish to a plate to cool off.

Heat a clean nonstick skillet over medium heat. Grill tortilla, one side at a time, until both sides are lightly browned. Transfer to a plate.

(Option 1) To make cabbage and carrot slaw - Add a pinch of salt and pepper, 1 teaspoon olive oil, and 1 teaspoon of lime juice to the bowl with the cabbage, carrot, and cilantro. Toss to mix well.

(Option 2) Use raw cabbage and carrot without making the slaw. (*see footnote)

To assemble tacos. Place one or two pieces of fish on a tortilla, top with cabbage carrot slaw (or shredded cabbage and carrot), and add 1 teaspoon mayonnaise.

Serve warm.

To serve the tacos at a party, prepare the fish and cabbage carrot slaw (or shredded cabbage and carrot) ahead of time and store them in the fridge. Grill the fish and tortillas on the stovetop before assembling.
Notes
This method works even better if you need to prepare the tacos ahead and serve later. The carrot and cabbage won't lose liquid and make the tacos soggy, and will taste juicy and sweet.
The nutrition facts are calculated based on 1 of the 5 tacos generated by this recipe.