This Jambalaya fried rice uses cajun spices, smoked sausage, and okra to create a fusion rendition of a classic dish in 30 minutes. Learn the method to cook the perfect rice in one pan.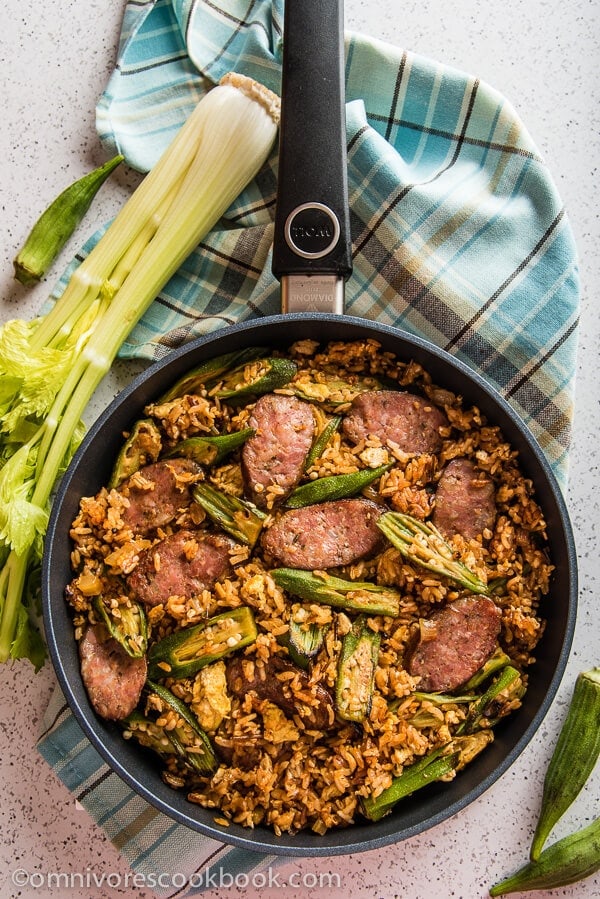 Fried rice is one of the ultimate comfort foods for me. Since it's one of the quickest Chinese foods to cook, it's almost certainly on our lunch menu every week. It is the type of dish where I rarely need to refer to a recipe in order to make. I just use whatever spices I have in the pantry, along with some leftover veggies from the fridge. After 30 minutes, I can always come up with a plateful of goodies that just work well together.
My to-go fried rice recipes include kimchi fried rice, Mongolian beef fried rice, and Thai curry chicken fried rice. But last week, I tried something totally different.
I got a wonderful package of kielbasa sausage from my reader Kara. The sausage was cooked and smoked using a family recipe that was passed down to her, a recipe that is already over 100 years old! The moment I opened the vacuum package, I was surrounded by the potent and wonderful aroma. It made me want to go straight into the kitchen and start cooking immediately.
According to Kara, this sausage is great for any kind of cajun cooking, so I decided to try jambalaya seasoning and the fried rice method.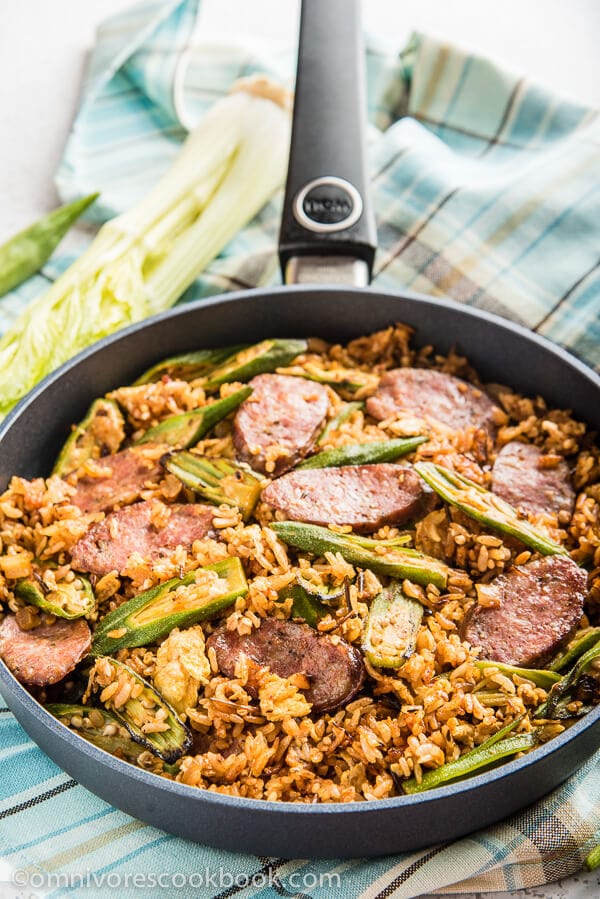 Cooking Notes
(1) In this recipe, I include a method to shorten cooking time, without cooking the ingredients separately, and it produces a nicely charred rice. Make sure you have a big, deep skillet if you're going to use this method. (I used a heavy 11-inch skillet that is 3 inches deep.) If you use a smaller skillet, you should reduce the amount of ingredients. Otherwise, you'll need to cook the okra and sausage separately, to be able to cook everything evenly.
To cook in a small skillet, follow the steps below.
Skip step 4 if the recipe below. Start by cooking okra and adding seasoning. Transfer okra to a plate once it is tender and slightly charred.
Cook sausage and transfer to a plate.
Heat oil, cook garlic, onion and celery by following the recipe below (step 4). Add rice and cook until slightly crisped. Add the rest of the spice mix and stir well.
Add okra and sausage back into skillet, mix well.
Add soy sauce and adjust seasoning to taste.
(Optional) Add eggs and cook everything together.
(2) You can use other veggies in this recipe instead of okra. Good choices would be bell pepper, jalapeno, cucumber, carrot, and green peas.
(3) You can use either steamed white rice or mixed grains. I always like to add a handful of mixed grains to white rice. Doing this adds a good amount of fiber, makes the rice healthier, and infuses a nice nutty flavor. The grains get toasted nicely and turn crispy after stir-frying.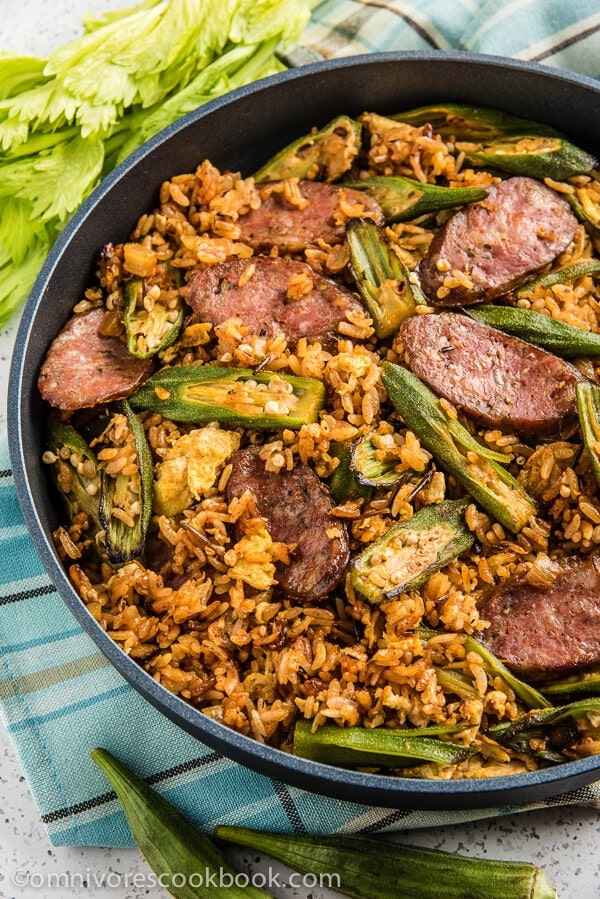 If you make this jambalaya fried rice, don't forget to take a picture of it and tag it #omnivorescookbook on Instagram. I love seeing your photos!
Want to Know More?
Receive our 5-Day Chinese Cooking Crash Course & Recipe Updates! Subscribe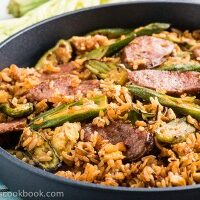 Jambalaya Fried Rice
Ingredients
2

teaspoons

paprika powder

1/4

teaspoon

black pepper

1/2

teaspoon

dried oregano

1/2

teaspoon

dried thyme

3/4

teaspoon

salt

2

tablespoons

vegetable oil

4

cloves

garlic

minced

Optional 1/2 serrano pepper (or less)

1/4

white onion

minced

1

stalk celery

minced

200

grams

7 ounces okra

2

teaspoons

light soy sauce

1

cup

sliced kielbasa sausage

or andouille sausage

3

cups

cooked rice

Optional 3 eggs, beaten
Instructions
Mix paprika powder, black pepper, oregano, thyme, and salt in a small bowl.

Prepare and cut veggies and sausage.

Heat 1 and 1/2 tablespoons oil in a large skillet (see footnote 1) over medium high heat until warm. Add garlic, onion, serrano pepper (skip it for a less spicy dish), and celery. Stir and cook until the onion turns transparent, 2 to 3 minutes.

Add okra and half of the paprika mixture. Cook another 2 minutes, until the okra turns soft.

Move all the veggies to one side of the skillet and spread rice to the other side. Spread the rest of the paprika mixture on the rice. Stir to mix the rice with the spices on the one side of the pan, without stirring the veggies.

Mix the rice with the rest of the ingredients. Swirl in soy sauce. Cook and stir for 1 minutes.

Move everything to one side of the skillet and add sausage to the other side. Cook sausage without mixing with the rice and veggies, for 1 minute.

Mix everything. Cook and stir for another 1 minute.

(Optional) Move everything to one side of the skillet and add the remaining 1/2 tablespoon of oil to the other side. Pour the egg onto the oil and let it cook a few seconds until the bottom side is set. Cook and stir to coat the rice with egg, until the egg is cooked, 1 minute.

Turn to lowest heat (or move the skillet to an unheated part of the stove if it is getting too hot). Taste the rice and sprinkle with more salt if necessary.

Turn back to medium heat. Stir and cook for another 1 minute, until the rice and veggies are nicely crisped.

Serve warm.
Notes
1. I used an 11" skillet that is 3" tall. The quantity of this recipe is the maximum ingredients that skillet can hold. If you're using a smaller skillet, reduce the amount of ingredients accordingly.
The nutrition facts are calculated based on 1 of the 2 servings generated by this recipe.