An easy and scrumptious curry dish that is full of flavor and balanced in nutrition, and only takes 30 minutes to cook!
I love cooking curry at home. Not only does it make my kitchen smell like heaven the whole day, but the cooking process itself is also soothing and relaxing. I love the moment when I scatter curry powder over the onions. You immediately know something good will happen when you smell the pungent aroma from the melted butter, toasted curry, and caramelized onion.
A pot of curry usually takes some time to prepare and cook, but the beautiful coconut fish curry I'm gonna share today is simple and fast, yet full of flavor.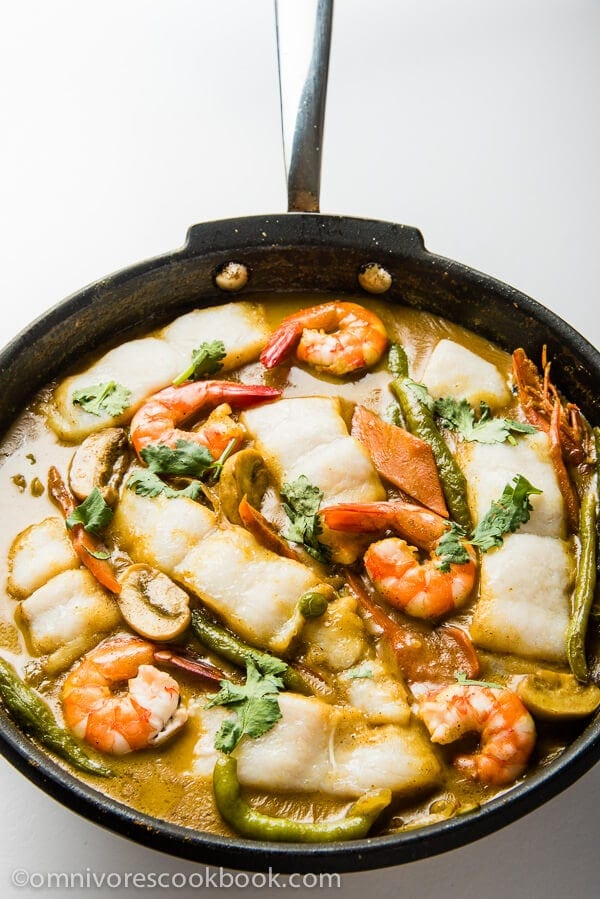 I learned this recipe from Helen of Scrummy Lane. Helen is currently based in the UK and she has spent some years traveling and living in Greece. What I love about her blog is that she shares delicious and down-to-earth recipes that I feel comfortable cooking on a busy weekday's evening. And I always enjoy reading the tidbits she shares about the stories behind the food, which bring me insights about food culture around the world.
Thanks to her, I finally learned the correct way to enjoy an authentic Greek salad. The other dish that I can't wait to cook is the skinny chicken leek patchwork pie. What a great idea for a lighter version of pie, that takes so little effort to make and won't make me feel guilty finishing a whole plate for dinner!
When I saw her 20-minute coconut fish curry recipe, I knew I had to try it out! It only requires a few easy-to-get ingredients, is easy to put together, and tastes great.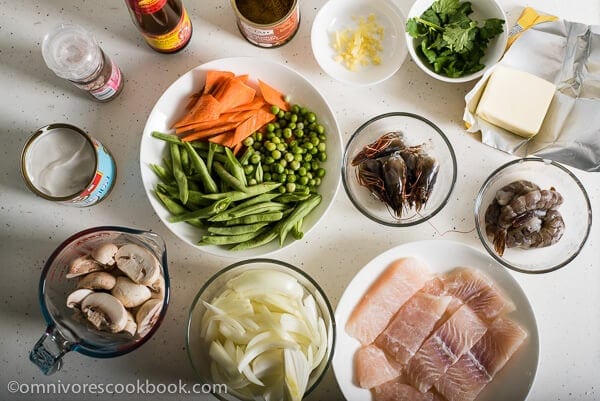 I made a few small tweaks to the original recipe, according to my own taste.
I threw a few shrimp into the curry, because when I was shopping for the fish, I saw some very fresh shrimp at the market. When preparing the shrimp, I saved the heads and added them to the curry. This way, I could create a flavorful broth without using stock or broth. If you don't want to use fresh shrimp, you can follow the original recipe and use a stock cube.
I used a different combination of veggies and added more than called in the original recipe, and so can you. It's a very flexible dish and it works great after adjusting the ingredients according to your taste. I LOVE mushrooms and add them to whatever I can. So that's my choice here. The recipe below produced three medium sized servings, just enough to share with my family for dinner.
I also seasoned the dish with some soy sauce and oyster sauce to add an Asian twist, just out of habit. These two ingredients go great with coconut milk and add extra complexity to the curry flavor. If you don't have these ingredients on hand, you can add a dash of fish sauce or Worcestershire sauce. I learned this trick from a Japanese cookbook. This way, you can impart a nice flavor to the curry without adding tons of spices.
However, my version takes a bit longer time to cook and is not a 20-minute curry anymore. If you want to cook the faster 20-minute version, definitely hop over to Helen's blog to get the recipe. It comes in very handy when you want to whip up a few things for a quick dinner. I'm pretty sure it is the type of fast and yummy dish that you'd like to cook again and again!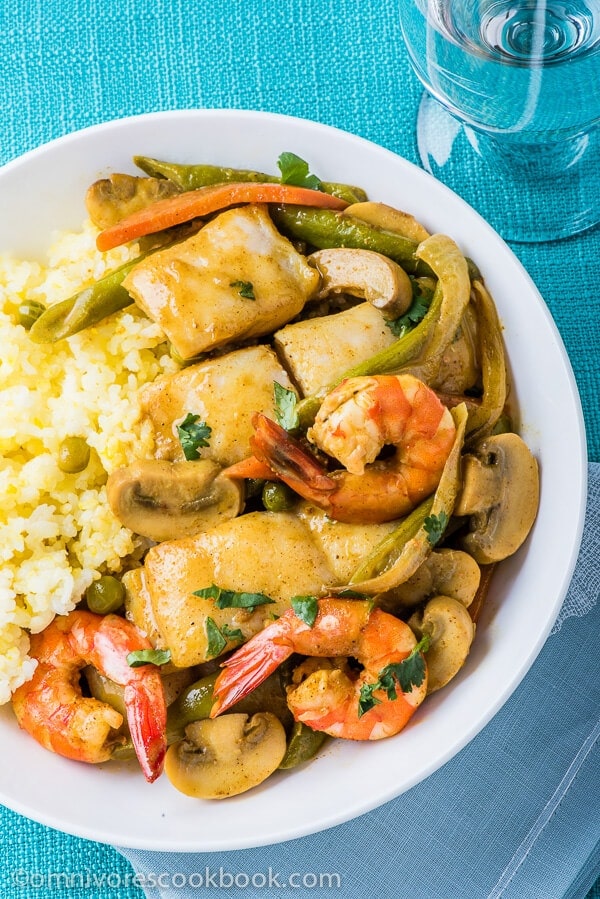 More delicious curry recipes
Want to Know More?
Receive our 5-Day Chinese Cooking Crash Course & Recipe Updates! Subscribe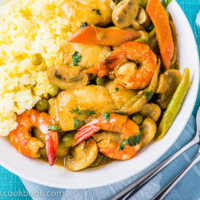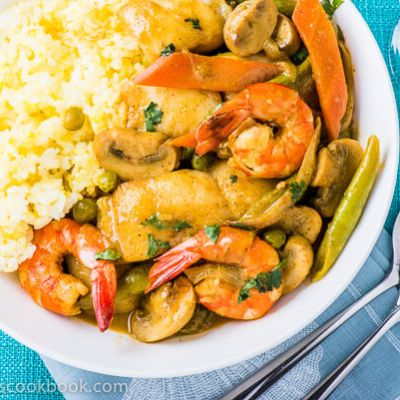 Coconut Fish Curry
The recipe is adapted from
one at Scrummy Lane
. It yields 3 medium sized one-dish meals served with steamed white rice.
Ingredients
1

300 grams fresh white fish fillet (or a frozen one, thawed)

optional 5 (100 grams) large shrimp (*see footnote 1)

1

tablespoon

butter

1

teaspoon

minced ginger

1

medium

300 grams onion, sliced

2

tablespoons

mild madras curry powder

or your preferred curry powder / paste

1

270 milliliter can low fat coconut milk (or full fat if you prefer)

2

teaspoons

light soy sauce

or 1 teaspoon fish sauce

2

cups

150 grams chopped green beans

2

cups

200 grams white mushrooms

1/2

80 grams carrot, sliced

2

tablespoons

oyster sauce

1/2

teaspoon

salt or to taste

optional handful of fresh cilantro for garnish

Steamed white rice or naan bread to serve with
Instructions
Dry the fish thoroughly with a paper towel. Cut the fish into several large pieces.

(optional) Peel and devein shrimp. Save the shrimp heads for later use.

Heat butter in a medium sized nonstick skillet over medium heat until melted. Add ginger. Stir a few times until fragrant. Add white onion. Stir and cook until pale brown and slightly charred, about 8 minutes.

Turn to low heat and add curry powder. Stir and cook until curry powder coats onion evenly and smells good, 1 to 2 minutes.

Add coconut milk, 1/2 cup water, and the soy sauce and stir a few times. Add green beans, mushrooms, carrot, and shrimp heads (if using) (*see footnote 2). Cover and cook over medium high heat until boiling. Turn to lowest heat and simmer until vegetables turn soft, about 10 minutes.

Add oyster sauce and mix well. Taste the curry and add salt to taste (I used 1/2 teaspoon).

Place fish and shrimp (if using) on top. Cover and continue to simmer until the seafood is cooked through, 6 to 8 minutes. Do not over cook the fish and shrimp.

Serve warm with steamed rice or naan bread.
Notes
(1) I saved the shrimp heads so I could use them to make a broth base for the curry. You can skip the shrimp and replace the shrimp heads with a cube of stock or broth into the curry later on.
(2) If you don't use shrimp heads in this recipe, you can add a stock cube here, or replace the 1/2 cup water with chicken broth.
The nutrition facts are calculated based on 1 of the 4 servings generated by this recipe.