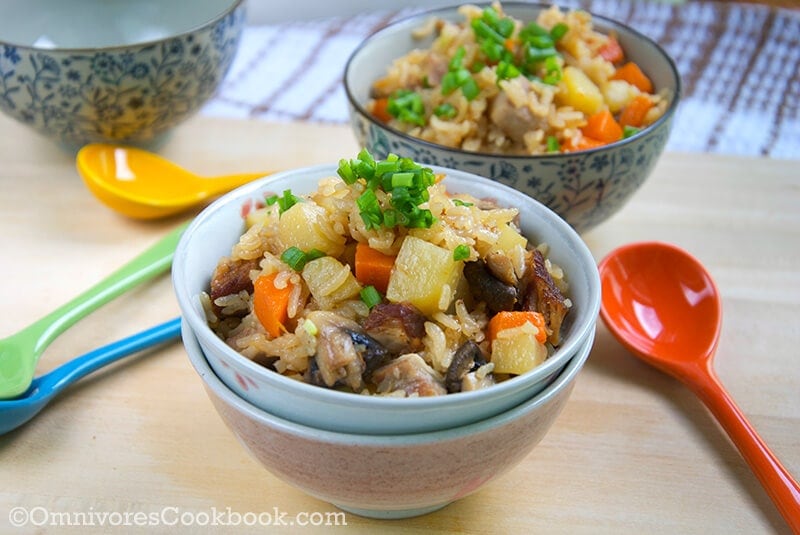 This recipe is perfect for the time when you don't want to cook. It is one of the ways to use rice cooker wisely and you can get a delicious main dish without heat up stove or turn on oven. The best part is you could leave for a shower or a short run after set on the rice cooker, and there'll be a hot dinner ready when you come back.
The point of this dish is to cook everything together in the rice cooker with some seasonings. Besides the combination in this recipes, you could try out different vegetables and meat. The rule is to select the kinds of vegetables that taste good after steaming and do not generate too much liquid, for example potato, radish, yam, mushroom, pumpkin, broccoli etc.  Addition of meat is optional and there are lots of option too. In this recipe, I used leftover homemade chashu (braised pork). If you didn't make chashu beforehand, use Italian sausage, grilled chicken or leftover pork/beef stew instead. If you add gravy from stew or braised dish, you should reduce seasonings listed in the recipe.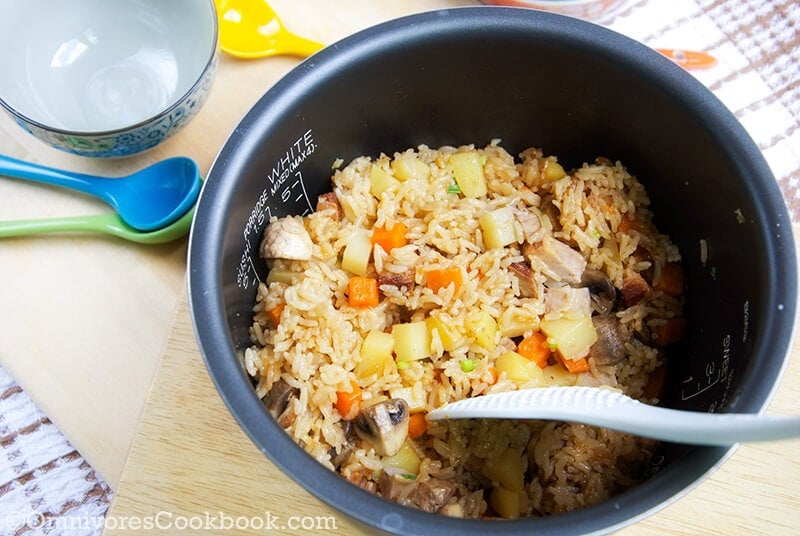 Want to Know More?
Receive our 5-Day Chinese Cooking Crash Course & Recipe Updates! Subscribe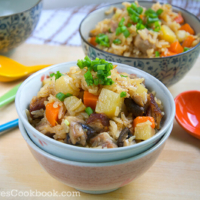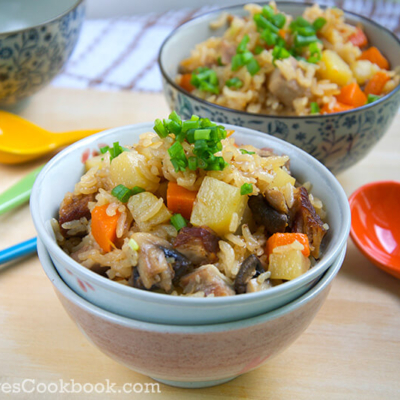 Mixed Vegetables and Pork Rice
1. This recipe requires rice cooker
2. This recipe uses my leftover
homemade chashu
. If you don't have it, replace it with Italian sausage, leftover beef/pork stew, or braised chicken/turkey breast. The aim of this dish is simple, so feel free to change the combo of vegetables and meat to create your own dish.
Ingredients
1

cup

raw white rice

rinsed

water to cook rice

1/2

teaspoon

chicken stock

1

medium potato

diced (1cm*1cm squares)

1/2

medium carrot

diced (1cm*1cm squares)

6-8

white mushrooms

stem trimmed off, quartered

1

piece

chashu pork

approx. 10cm in length

1

tablespoon

soy sauce

1

teaspoon

Chinese cooking wine

1

tablespoon

olive oil

1/4

teaspoon

salt

or to taste

1

teaspoon

sesame oil

option

handful of chopped green onion
Instructions
Add rice and water to rice cooker. The water should be slightly less than the amount you usually use to cook white rice. Because you will add liquid later and juice from vegetable will come out during cooking.

Stir in chicken stock, add all the mixed vegetable, top with pork in to the rice cooker, layer by layer.

Evenly pour in soy sauce, cooking wine and olive oil. Do not stir, keep the rice at bottom layer. Set rice cooker at regular cooking mode to cook white rice and press start.

When the mixed rice is done, use a spatula to stir and mix everything together. Add salt to taste.

Drizzle in sesame oil and green onion, give it a final stir and serve while hot.
Notes
Store cooked mix rice in fridge up to 3 days or freeze up to 2 weeks.