A refreshing, mild coconut tea that is nutty, a bit gingery, and has a hint of sweet. Packed with live medicinal properties, this Chinese herbal tea will flatten your tummy, flush out toxins, and keep you hydrated in the summer.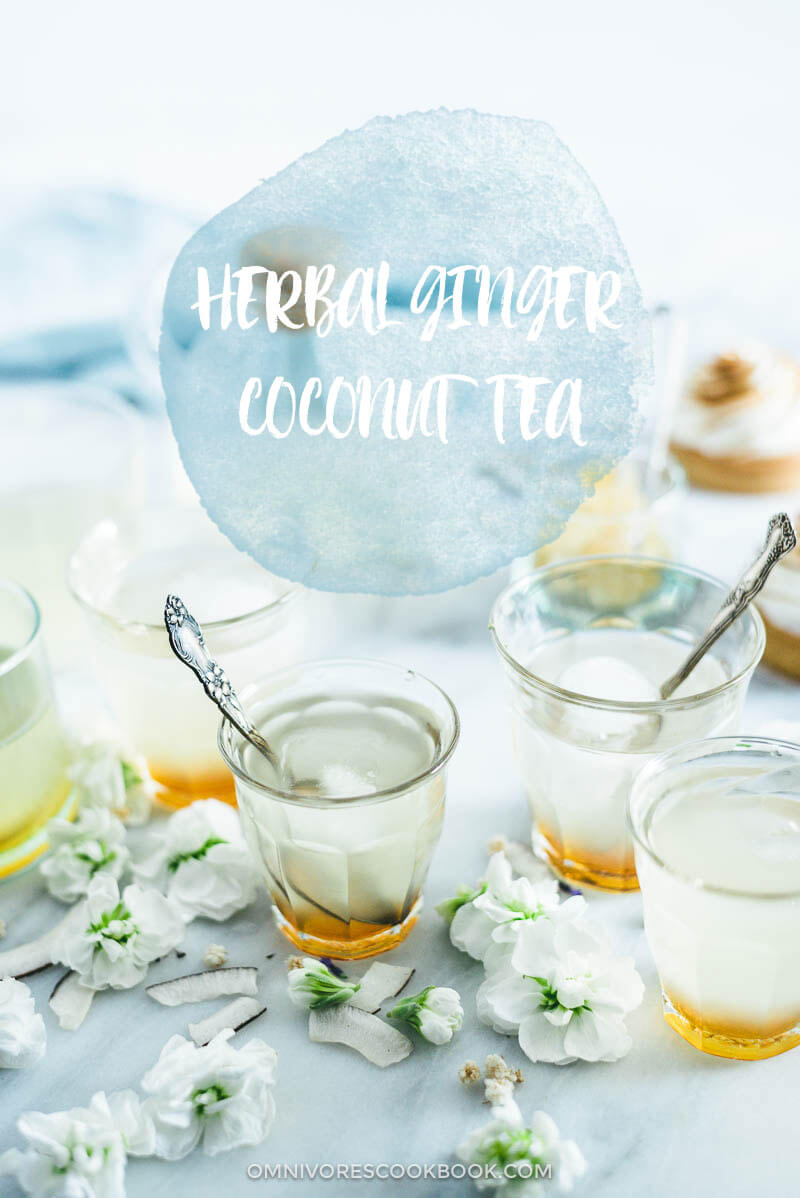 After a month-long trip to China, Germany, and Switzerland, I'm so glad to be back to the States. I feel recharged and relaxed. My mind is clearer and I can focus better. On the down side, I'm trying very hard to lose the few pounds I gained during traveling.
Eating freshly baked pastry every morning and snacking on free chocolate for every cup of coffee I drank was awesome. But being able to eat homemade meals and going back to my daily routines bring me the biggest comfort.
Today I want to introduce this beautiful herbal ginger coconut tea that I've been drinking since I returned home. The tea blend is loaded with awesome Chinese herbs that help with digestion, cooling the body during the hot summer, smoothing dry skin and keeping you hydrated.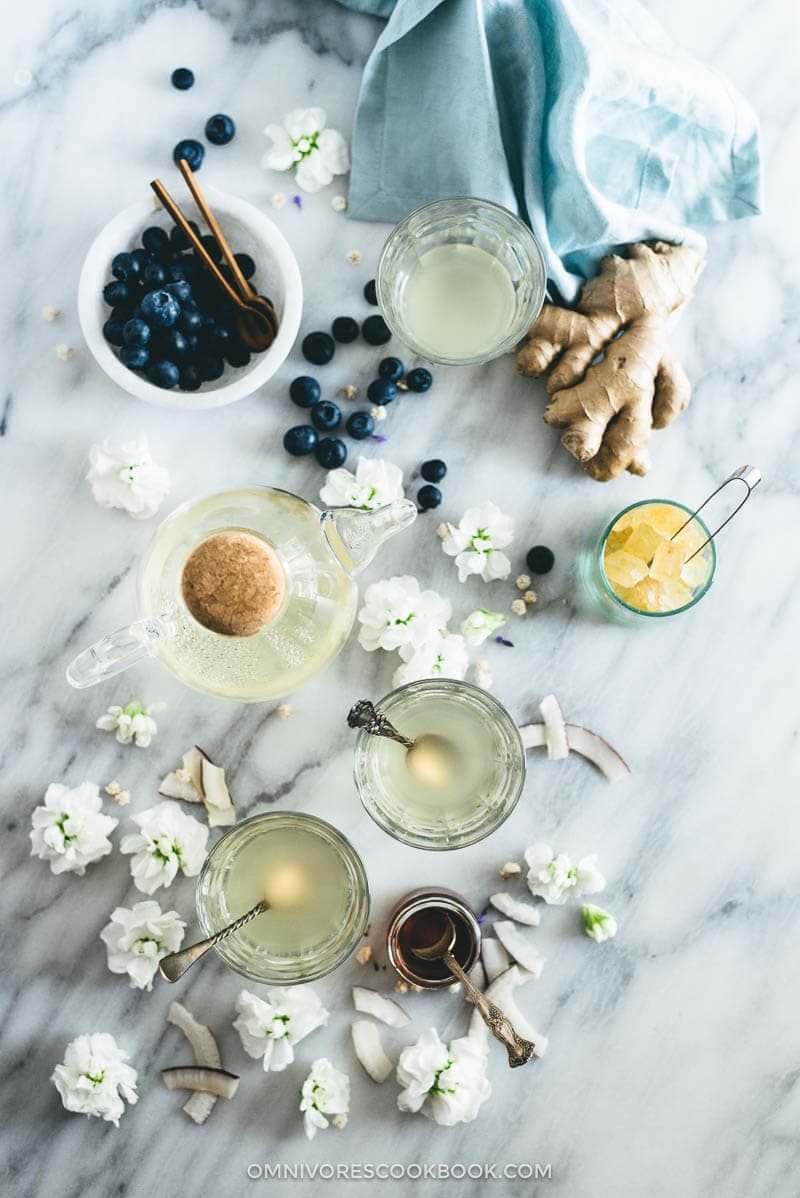 What is Chinese herbal tea?
Despite the name, herbal tea is not really made from the plant that grows tea leaves. Herbal tea is an infusion of flowers, roots, seeds, leaves, and spices in hot water.
Different from the western-style mint tea or chamomile tea, which comes in small tea bags that require steeping for a few minutes in hot water, traditional Chinese herbal teas require a much longer cooking time.
For example, this ginger coconut tea comes in the form of whole honey date, dried ginger, freshly dried palm coconut slices and Chinese almonds. Like simmering a pot of chicken soup, you need to slowly cook the tea for a longer period of time to extract the flavors and the nutrition from the ingredients.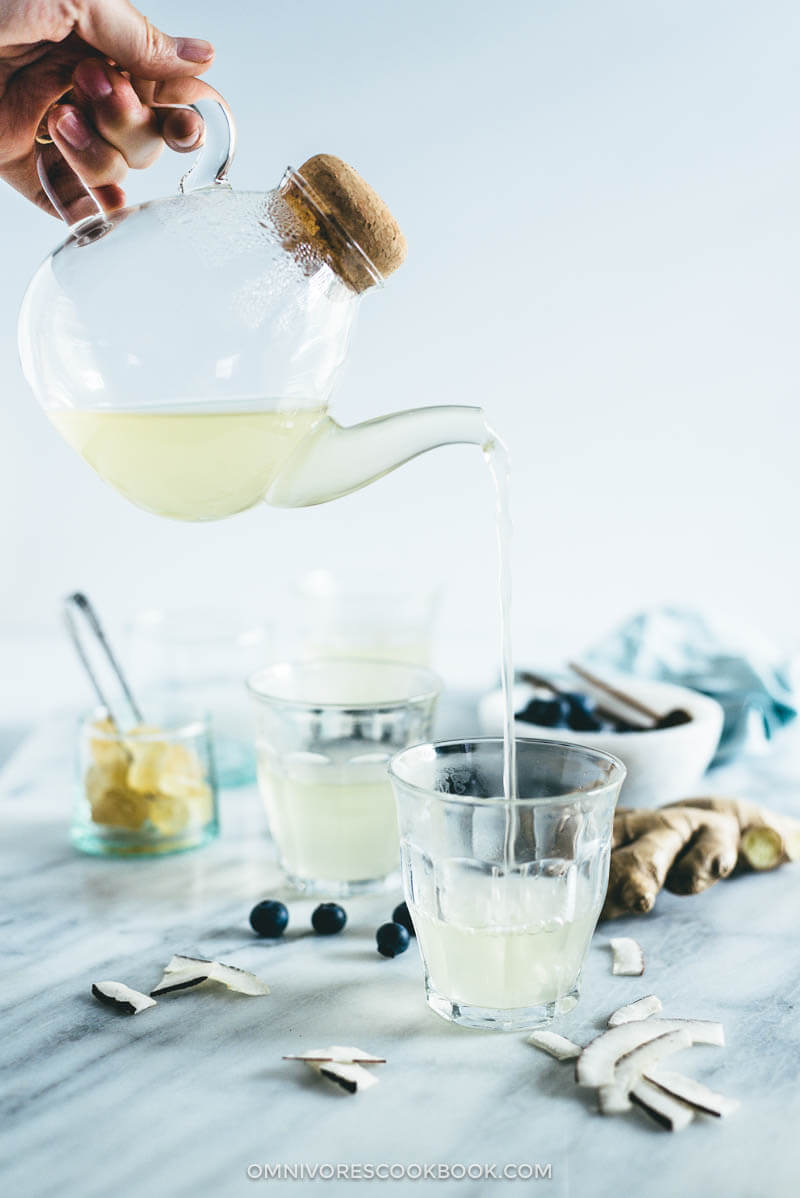 What's included in the Chinese coconut ginger tea blend?
Below are the superstars in this tea blend and their health benefits.
Dried Ginger (Gan Jiang) – An important tonic for a stagnant stomach, it is also good at alleviating symptoms of lethargy, nausea and mental alertness.
Palm Coconut (Ye Zi) – It contains a ton of calcium, potassium, magnesium, and plenty of electrolytes to help rehydrate the body.
Dried Asian Pear (Ya Li) – They can increase the body's yin fluid and clear heat, cooling the body. These effects particularly relate to the lung and stomach organs and meridians.
Bitter Almonds (Bei Xing Ren) – These aren't true almonds, but the kernels of several varieties of apricot that are grown specifically for their seeds. They are used in Chinese medicine and, once boiled, release biochemicals that clean and nourish the lungs and intestines.
Sweet Almonds (Nan Xing Ren) – Functionally quite similar to western almonds, sweet almonds are tastier and can help brighten and moisturize the skin and hair.
Solomon's Seal (Yu Zhu) – Containing vitamins, it's an excellent Chinese herb for use in weather where skin tends to become very dry.
Dried Honey Dates (Mut Cho) – They are large and sweet dates that are high in iron and considered "cooling".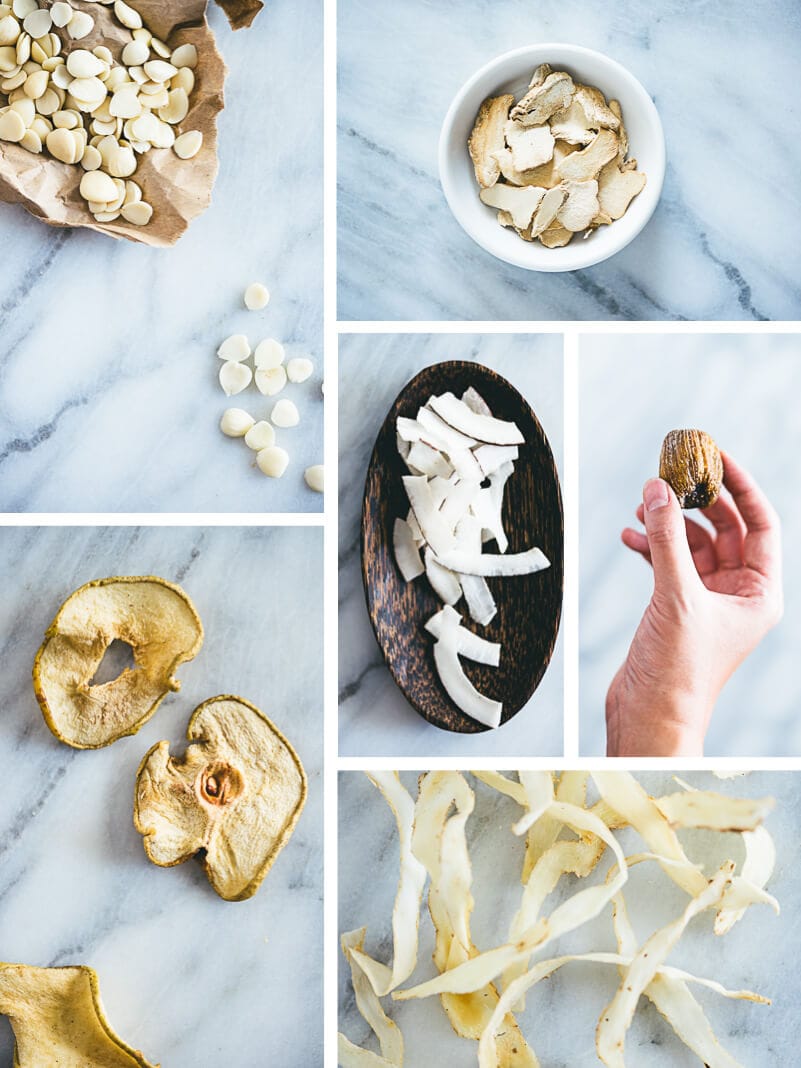 Overall, this herbal drink supports digestion, flushes out toxins, and keeps your skin smooth.
Once you have cooked the tea, you will get a refreshing tea with a very mild herbal taste. I enjoy serving the tea cold. It is almost like fresh coconut water, with just a hint of a gingery and nutty aftertaste. I usually don't sweeten my ginger coconut tea, because it's perfect by itself 🙂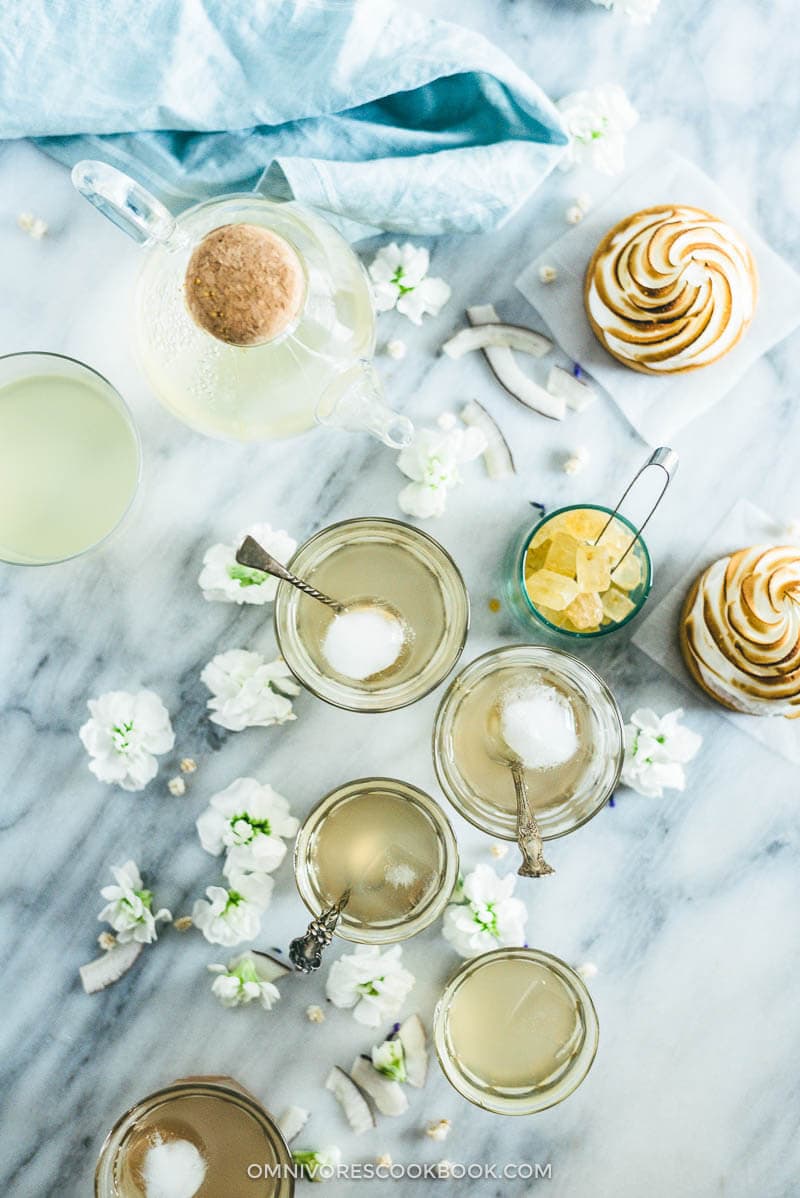 Sourcing Chinese herbal tea
I purchase all my herbal tea blends from Root and Spring, an online store that sources 100% whole, fresh, sustainably grown Chinese medicinal herbs that have a lot of wonderful health benefits. The owner of the store is the Mai family, who originate from Hong Kong. They previously ran a Chinese herbs store in Chinatown, NYC, before recently moving to LA and opening this online store to bring innovation and accessibility to traditional Chinese medicine.
A quick background story.
After trying out the some of the herbal soup blends, I started talking to Cindy Mai, the talented young lady behind the store. While I was getting super excited about being able to source high quality fresh Chinese herbs online, I complained that I cannot even find decent Chrysanthemum tea. The conversation carried on, and Cindy later released this new line of herbal tea products this summer. I was so thrilled that my dream came true!
When you place an order for the ginger coconut tea, don't forget that you can choose to include yellow rock sugar (for free!) Yellow rock sugar is the traditional natural sweetener Chinese people use for tea. It is a combination of brown and cane sugars and creates a mildly sweet taste to match any herbal tea. Alternatively, you can also use the syrup to sweeten your tea.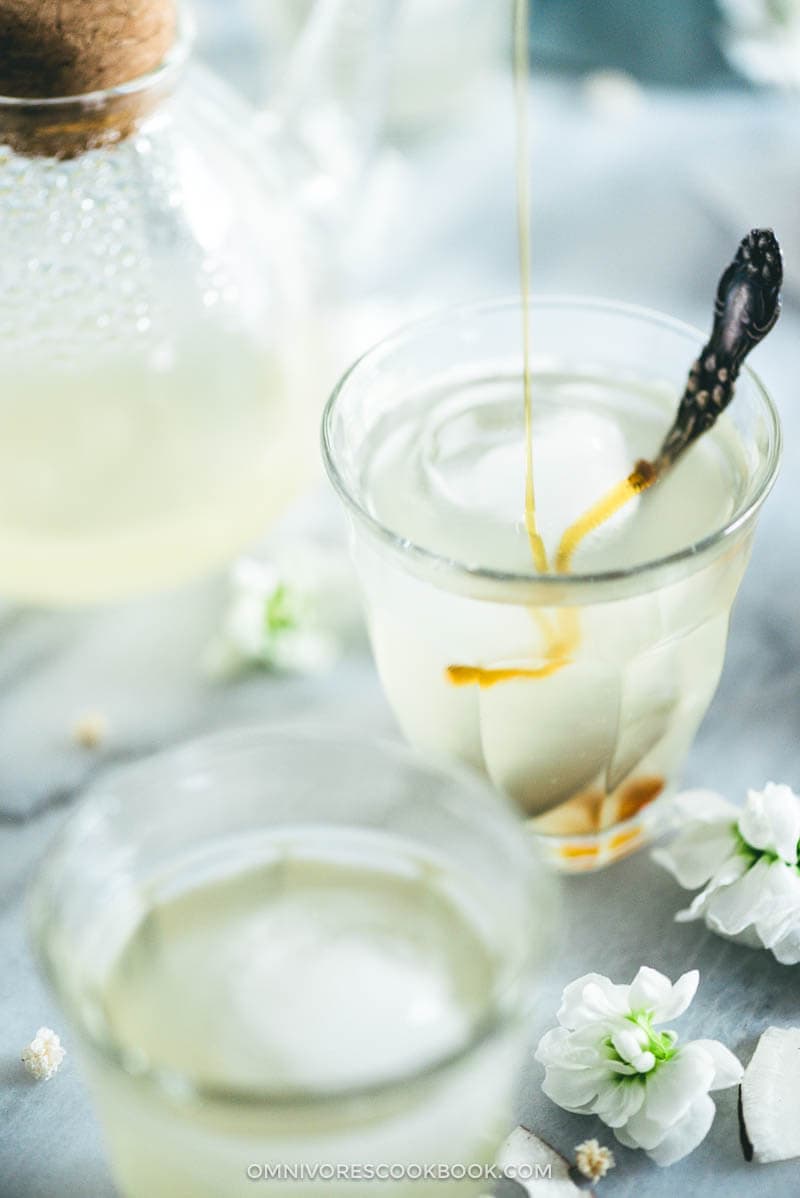 More Chinese herbal recipes for better health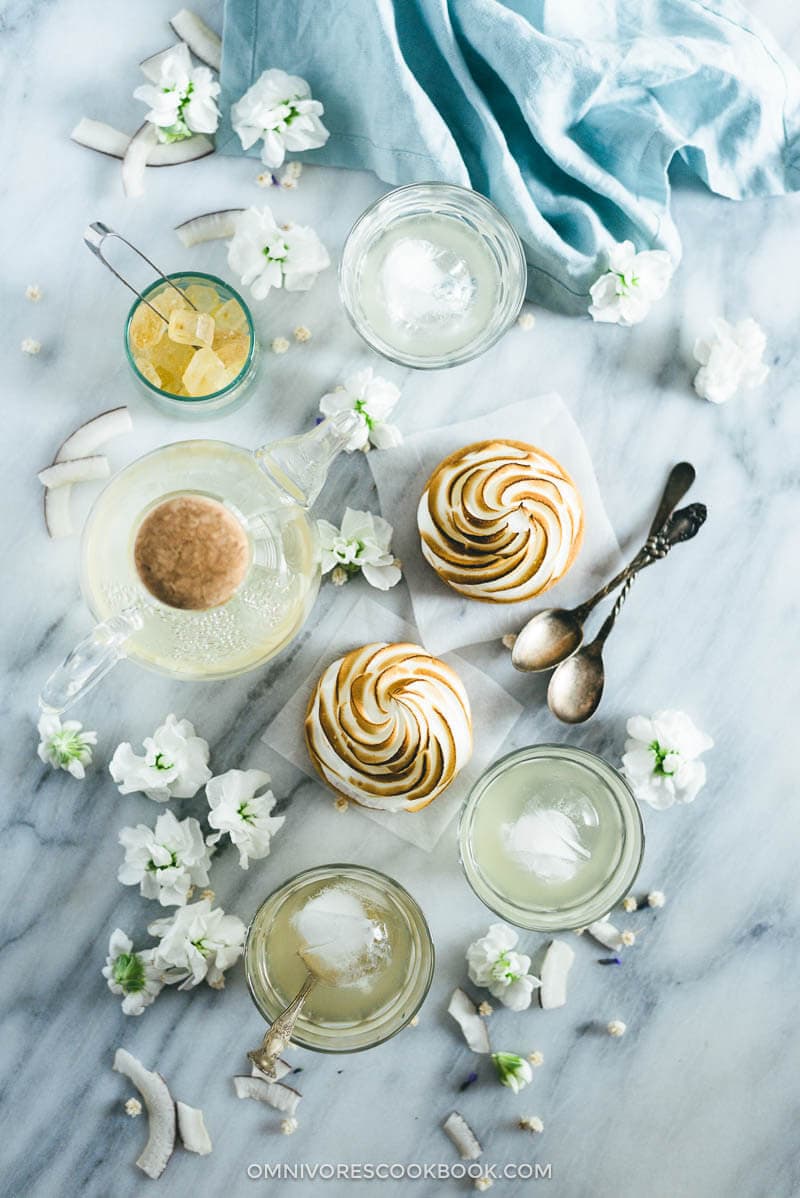 If you give this recipe a try, let us know! Leave a comment, rate it (once you've tried it), and take a picture and tag it @omnivorescookbook on Instagram! I'd love to see what you come up with.
Want to Know More?
Receive our 5-Day Chinese Cooking Crash Course & Recipe Updates! Subscribe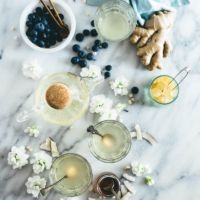 Herbal Ginger Coconut Tea
A refreshing, mild coconut tea that is nutty, a bit gingery, and has a hint of sweet. Packed with live medicinal properties, this Chinese herbal tea will flatten your tummy, flush out toxins, and keep you hydrated in the summer.
Ingredients
Ingredients below

or 1 pack of Root + Spring Dried Ginger $ Palm Coconut Herbal Tea Mix

1/4

cup

15 grams dried ginger

1/4

cup

12 grams palm coconut

2

pieces

dried Asian pear

1 1/2

tablespoons

12 grams sweet almond

1 1/2

tablespoons

12 grams bitter almond

1/4

cup

10 grams Solomon's seal

2

dried honey dates

Optional 2 to 3 tablespoons rock sugar, or syrup to your taste
Instructions
Transfer all the ingredients into a colander, and gently rinse under cool running water for a few seconds.

Add the herbs to a medium-size pot with 8 to 10 cups of water.

Cover and bring to a boil. Lower the heat and simmer, covered, for an hour.

(Optional) At the end of the cooking, add the rock sugar. Stir and cook until the sugar dissolves. Alternatively, you can add syrup to sweeten your tea. (*Footnote)

Serve hot or cold and enjoy!
Notes
1. Although you can add sweeteners to the tea, I really prefer to drink this one without. The tea is nutty and fragrant, with a hint of sweetness. Try the tea without adding sugar first, then decide whether to add more sugar or not 🙂