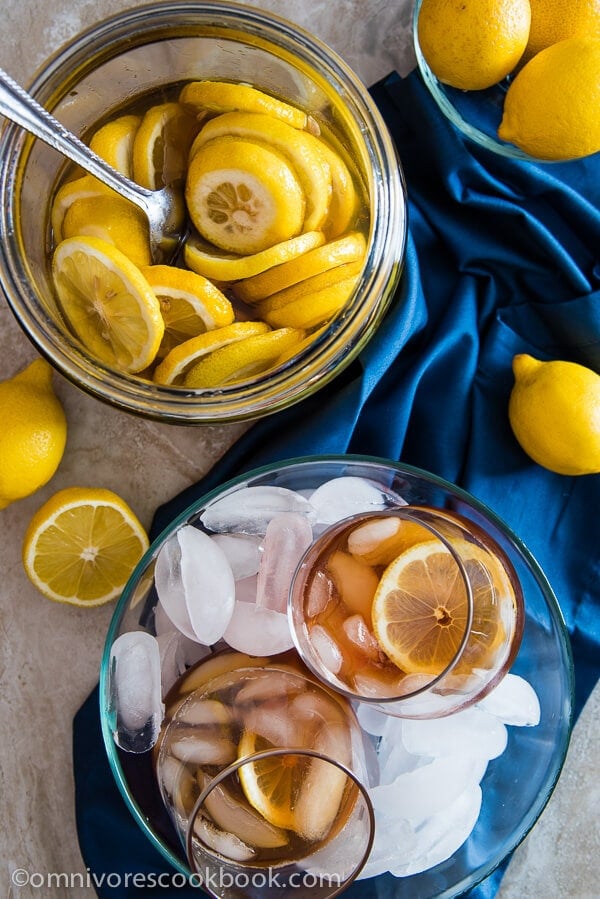 A family recipe that teaches you how to create the best honey lemon tea. By marinating lemons in honey, it creates a drink that has a much richer and smoother body. It's soothing, healing, and so comforting!
There are many honey lemon tea recipes on the internet, but my family uses a very different approach. Instead of squeezing a few drops of lemon juice and adding honey to a glass of water, this recipe marinates lemon slices for a week. It yields a concentrated lemonade that is smooth and rich and has a great flavor.
It seems like a lot of trouble to take such a detour, just to create a glass of lemonade. But if you try this recipe once, you'll find it creates a far superior flavor.  The marinating process will eliminate the bitterness and astringent mouthfeel of the lemon. The honey will cause the lemon to dehydrate, along with the rind. After a week, the honey in the jar will turn to a sweet, rich, and tangy liquid. You can use this liquid along with the lemon slices to create any drink you like.

MY LATEST VIDEOS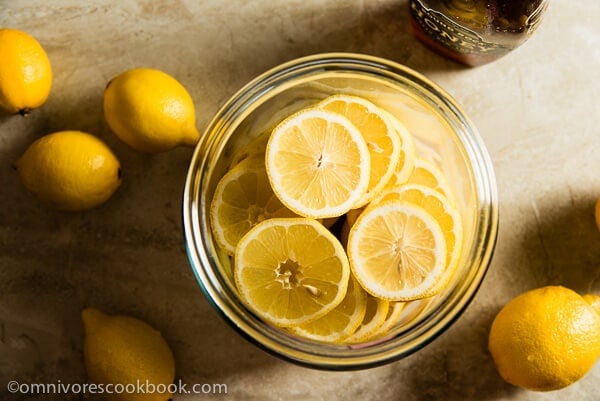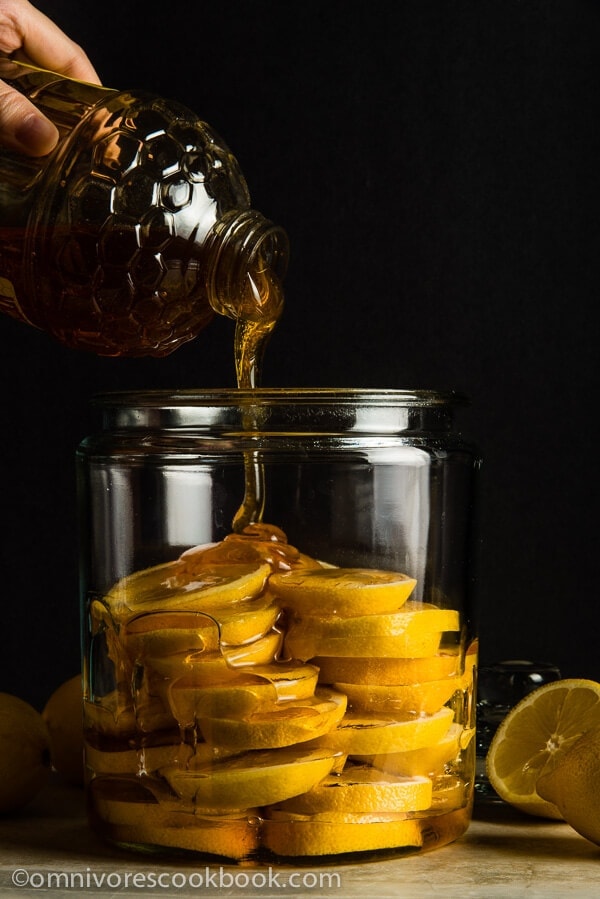 There are a few ways to serve the lemon tea. To make a cold drink, you can blend the honey lemon liquid with cold water or soda. You can also blend the lemon and liquid with a small amount of hot water first, to let the lemon release more flavor, then add ice water later to make it a cold drink. I recommend the latter way if you have more time.
My mom always makes hot tea with this recipe. Simply add a few spoons of the liquid and a couple lemon slices to a big cup, pour in some hot water and throw in a black tea bag. You will have a very rich lemon black tea in 3 minutes.
After the move to Austin, I knew it would take me some time to overcome the jet lag, so I made a big jar of this soon after arrival. It's such a soothing and healing drink and it makes me feel at home immediately, even with my luggage yet to be unpacked. 🙂
Print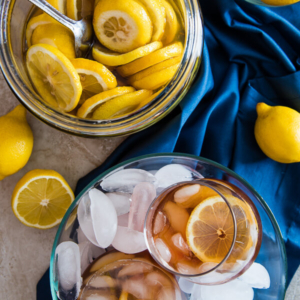 Mom's Best Honey Lemon Tea
---
Author:

Prep Time:

10 mins

Total Time:

10 mins

Yield:

Yields 4 cups of lemon honey

Category:

Drinks

Cuisine:

Chinese
Description
You don't need very accurate measurements for this recipe.
This recipe requires marinating the lemons for a week. You could drink it after 2 to 3 days, but it will taste better after a few more days.
---
Ingredients
2 pounds (900 grams) lemon, sliced
2 pounds (900 grams) honey
(Optional) black tea bags
---
Instructions
Make lemon marinade
Clean a half-gallon (2-liter) air-tight jar thoroughly with dishwasher and let air dry. If you have further concerns, boil the jar to sanitize it, then let it air dry.
Wash lemons thoroughly and let them air dry. Or you can use paper towels to pat dry.
Slice lemons and place in the half-gallon (2-liter) air-tight jar. Try to arrange them tightly so as to leave little space between the slices. You should leave the top third of the jar empty, because you will need that space to re-arrange the lemon slices and stir later.
Pour honey into the jar. The honey should almost cover the lemons.
Seal the jar with the lid and place it in the fridge.
Every two to three days, use a clean spoon to scoop the lemons and honey from the bottom and drizzle them on top. The honey will be very thick on the bottom.
The marinade will be ready in about a week. By then, the lemons will lose a lot of their juice and the texture of the liquid in the jar will be very thin, almost like water.
To serve the tea
Add 3 to 4 tablespoons of the liquid and a few slices of marinated lemon into a big glass.
(Option 1) Add hot water until it fills half of the glass. Stir and let rest for 3 minutes. Add ice water to make it a cold drink. The drink will be more flavorful this way than using cold water directly.
(Option 2) Add cold water or soda to make a quick cold drink.
(Option 3) Add a black tea bag and hot water to the glass to make honey lemon black tea.
(Option 4) Add hot water to the glass to make it a hot drink.
To store
Use a clean spoon every time; you can store the jar in the fridge for up to a month.