Herbal chrysanthemum tea is flowery and refreshing. This non-caffeinated Chinese sweet tea replenishes your energy throughout the day without the spikes and jitters from coffee.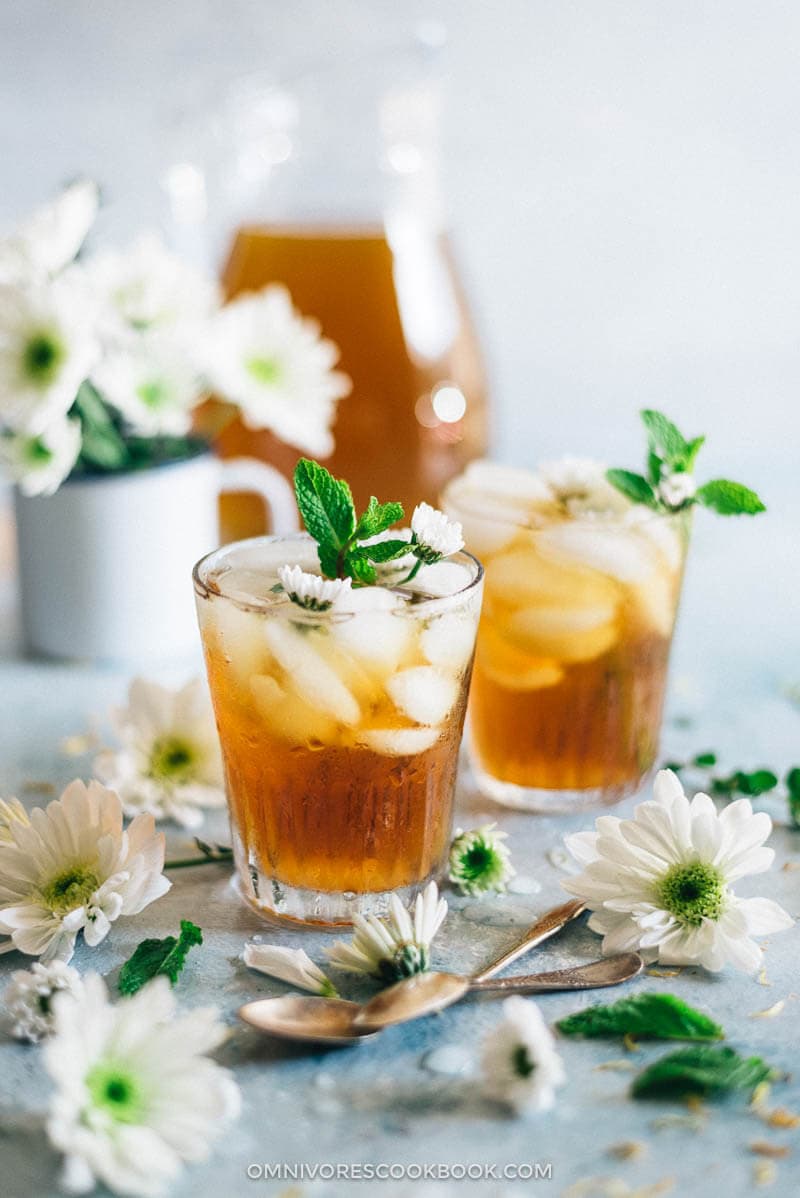 Back in China, one of my favorite drinks in summer was chrysanthemum tea. Different from any other types of tea my parents drank, such as green tea, oolong tea, or pu'er, chrysanthemum tea is the only one supposed to be sipped sweetened.
We usually steep the tea in a glass teapot, so you can see delicate, whole flowers dancing on a bright amber background. The tea is usually served hot, with a few pieces rock sugar on the side. To enjoy the tea, I pour it into a small teacup and add 1 or 2 pieces rock sugar. Then I'd gently stir it with a small spoon and wait impatiently for the sugar to dissolve. You'd sense the sweet aroma first, like cool summer breeze, then you'd slowly sip the hot tea… it tastes floral and refreshing, melting your stresses away.
Herbal chrysanthemum tea not only tastes great, it also contains many superfoods that boost energy and reduce stress.
Chrysanthemum has been used for thousands of years in Chinese medicine to treat respiratory problems, high blood pressure, and hyperthyroidism. To add more of a "cooling" effect on the body, an adaptogen – American ginseng, is used in this tea blend to maximize health benefits.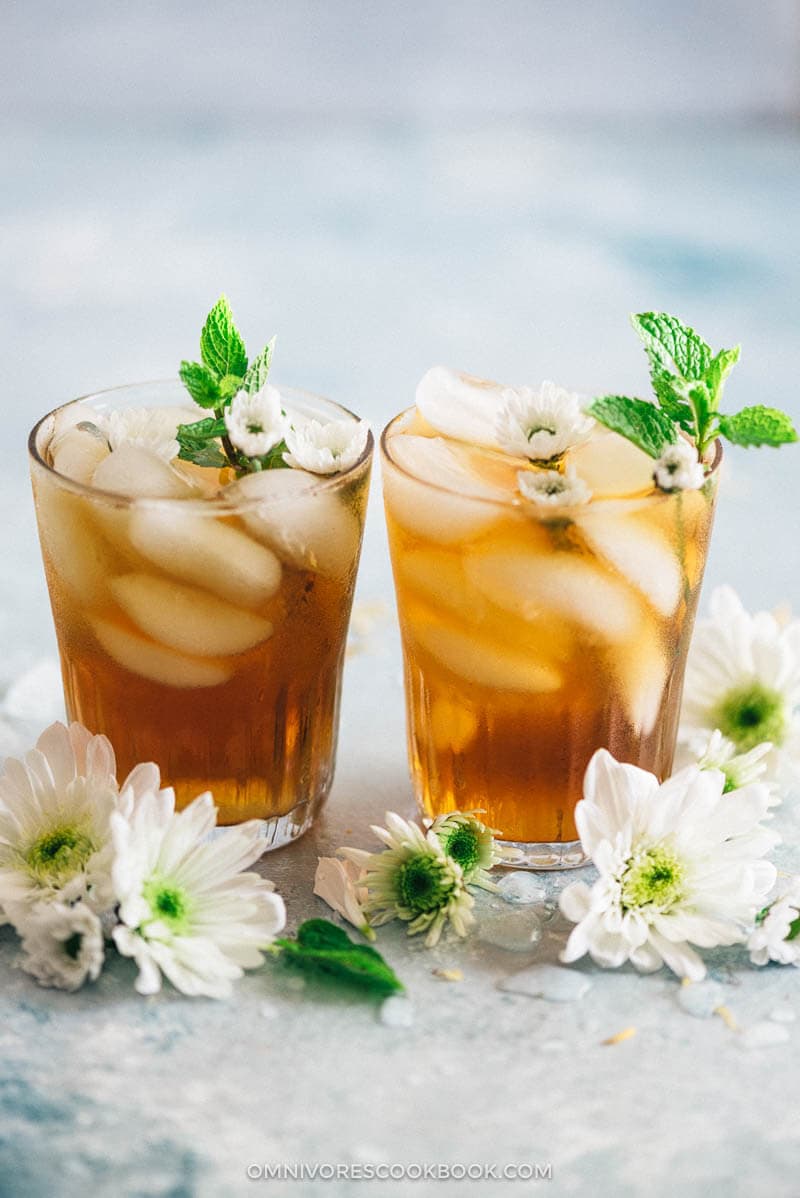 What are adaptogens?
With the pressures of our modern life, none of us are immune to stress. Small daily challenges like meeting work deadlines, fighting traffic, or dealing with endless house chores can build up stress before you even you notice it. Stress cripples the immune system, which is why often you get physically sick after being stressed for too long. It upsets hormones and disrupts digestion. Most dangerous of all, it builds up inflammation.
Fortunately, nature provides herbs that can help you cope with all of the stresses, regardless of whether it is for your body, mind, or spirit.
They are adaptogens. This group of herbs can help you feel calmer and perform better when dealing with life's day-to-day challenges. They mitigate the negative impact of stress by strengthening and stabilizing your body. They are the most underrated secret of keeping our health intact while carrying us through stressful situations.
These herbs have been the backbone of ancient healing practices such as traditional Chinese medicine for thousands of years.
What sets adaptogens apart from other medicinal plants is their ability to nudge our bodies toward optimal health, or homeostasis. Many conventional drugs are anti-this and anti-that; in contrast, adaptogens enhance the body's overall ability to adapt in ways that maintain optimal functionality.
An herb is adaptogenic if it meets three criteria:
It's nontoxic, meaning it's safe for everyone.
Its benefits are far-reaching – It improves the entire body's resistance to stress, not just one particular system or organ.
It balances bodily functions, regardless of where the disruption may originate.
Think of adaptogens like a thermostat. They keep your body's stress response at a desirable level, much like the way a thermostat keeps the temperature from becoming too high or too low. They're good for you all the time, not just when you have a high level of stress.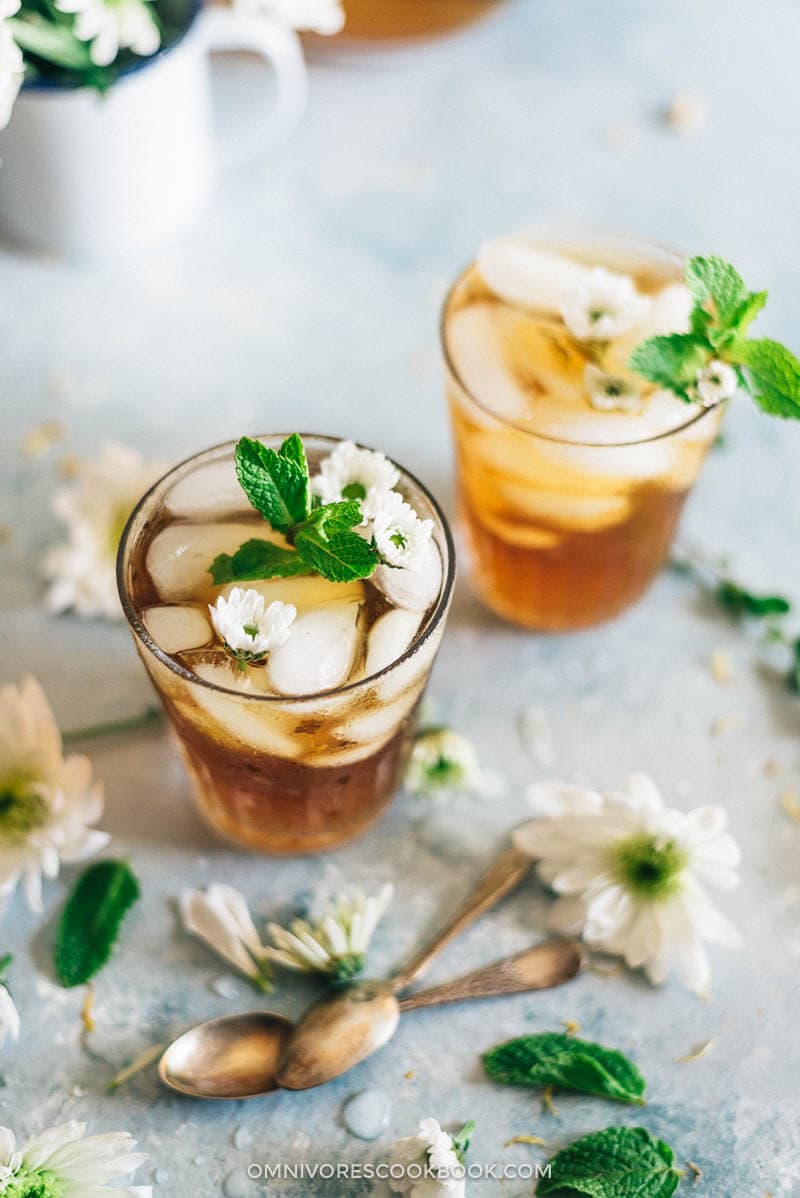 Superfood – American ginseng
The star adaptogen, American ginseng, has up to 38 active ingredients called ginsenosides. It increases energy, improves digestion, strengthens immunity, and boosts sexual function. The potency of ginsenosides varies by ginseng species, the root's age, and how it was grown and harvested.
American ginseng is a cooler, moisturizing tonic. In traditional Chinese medicine (TCM), herbalists define medicine based on the concept of yin and yang, or ice and fire. Some consider American ginseng to have a yin, or cooling effect on the body. Use it in hotter conditions to allay thirst, moisten, and revitalize the body. It is great for giving a boost of energy, without the jitters and spikes from coffee.
Like all adaptogens, American ginseng corrects imbalances in the endocrine system, including the adrenal glands. But it also has specialized properties that help improve pancreatic function, making American ginseng especially beneficial for people with:
High blood pressure
High blood sugar
Excess body fat around the waist
Abnormal cholesterol levels
Type 2 diabetes
Allergic asthma
Inhibiting inflammation
All these benefits can come from something as simple as adding American ginseng into your regular diet. While there are a number of ways to increase your adaptogen intake, consuming adaptogenic herbs is arguably one of the best.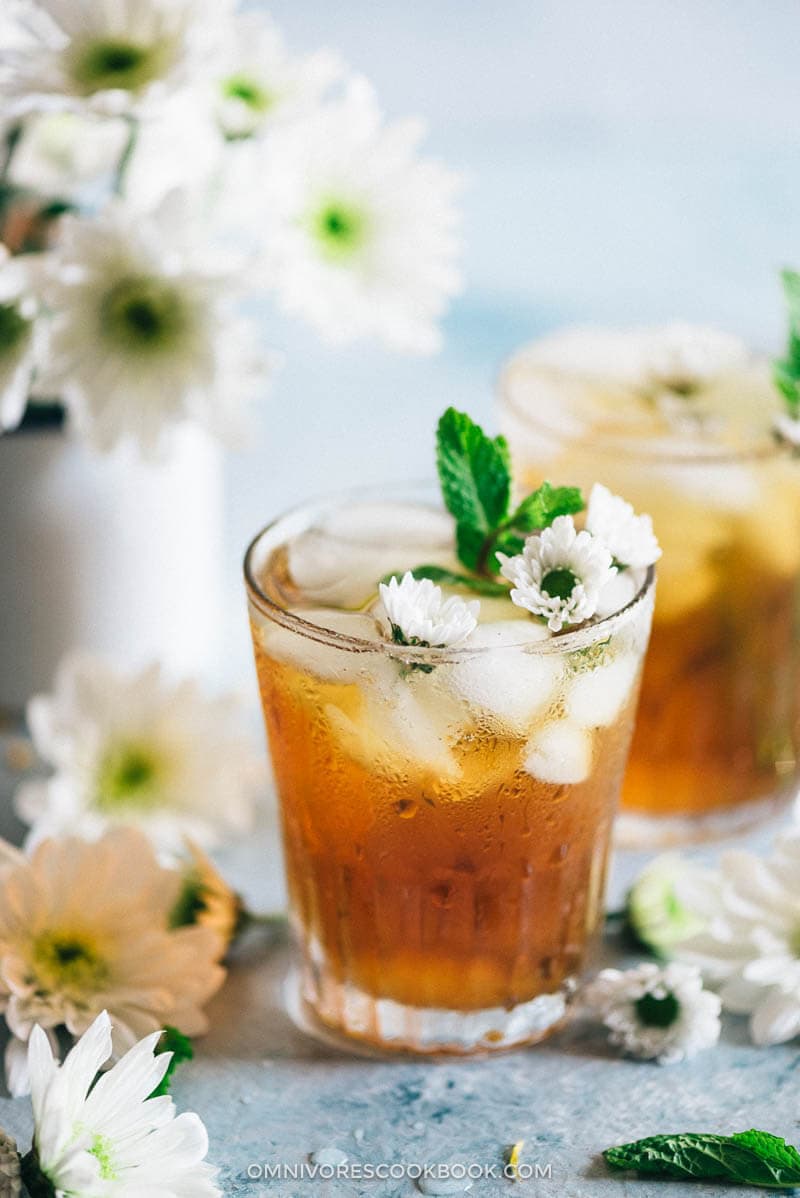 Why herbal tea mix?
It's important to note, though, that the power of an adaptogen lies in the synergy of its active components.
For that reason, the whole herb mix is more powerful than a product that contains a single isolated ingredient. In other words, you can't expect the same benefits from sucking on ginseng-laced candy as you would from taking a herbal tea. A great infusion of herbs can work wonders on your mind and body.
Here are the beautiful ingredients we have in our herbal Chrysanthemum tea:
(1) Baby Chrysanthemum (Ju Hua) – This natural coolant for the body is great for releasing stress that you're holding onto, which allows for focus and cooling of the body.
(2) American Ginseng (Xi Yang Shen) – Ginseng's effect is adaptogenic, which means it tends to return the body to its normal state while increasing its resistance to adverse influences. This herb will replenish your energy throughout the day, and boost your immune system all while cooling your body temperature, clearing heat, and nourishing the yin.
(3) Licorice Root (Gan Cao) – Licorice root is known for its anti-viral and anti-inflammatory effects. Due to its remarkable healing components, this herb has been used in the treatment of many minor to severe health conditions. Licorice root has a sweet, neutral taste with no actual licorice flavor.
(4) Dried Goji Berries (Gou Ji Zi) – Helps boost the immune system and protect the body from high levels of inflammation. Goji berries also fight free radical damage and add a natural sweetness.
When we combine all these superfoods, it creates a delicious tea with a floral aroma and a hint of earthiness. Moreover, it replenishes your energy throughout the day without the spikes and jitters from coffee.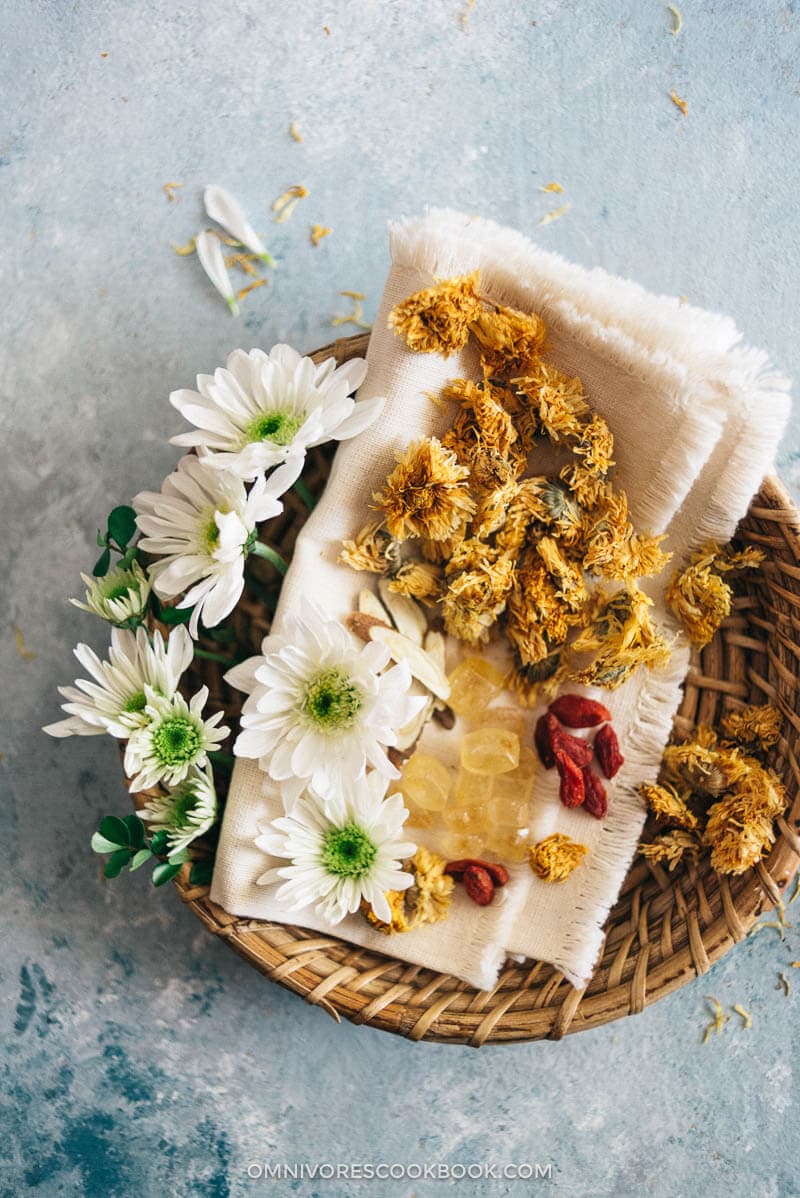 Where to buy
You can get each of these herbs in an Asian market. However I highly recommend the Baby Chrysanthemum & Ginseng Energy Booster Herbal Tea Mix from Root and Spring. Root and Spring is an online store owned by the Mai family, who originate from Hong Kong. The Mai family previously ran a Chinese herbs store in Chinatown, NYC, and after moving to LA, they decided to open this online store to bring innovation and accessibility to traditional Chinese medicine. According to Cindy Mai, "the best, most reputable importers and manufacturers for Chinese medicine and herbs are in LA."
There are many benefits of the Root and Spring herbal tea mix:
It uses high quality baby chrysanthemum that boasts a sweeter and more concentrated taste compared to common chrysanthemum
The tea mix is designed by an expert herbalist in LA to guarantee the health benefits and great flavor
All the herbs are curated locally and hand crafted in small batches to maximize their freshness, so your tea will be extra fragrant
The tea mix is absolutely natural, with no additives or unlisted ingredients
When I received my tea mix, I was surprised to find these cute little packets of yellow rock sugar with my order. Yellow rock sugar is the traditional natural sweetener Chinese people use for tea. It is a combination of brown and cane sugars, to create a mildly sweet taste to match any herbal tea. I haven't managed to find this sugar in any Asian market in Austin, so I'm really grateful that they came with the tea mix!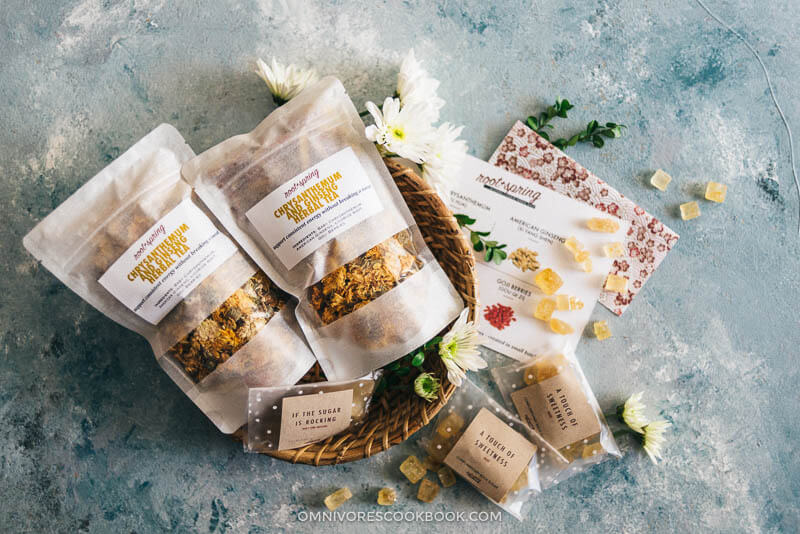 Enjoy herbal chrysanthemum tea
You might have noticed that the presentation of the tea in this post is very different from the traditional Chinese way of serving it hot.
Here is the background story.
When I received the tea mix, I asked Cindy (the owner of Root and Spring) the best way to steep and enjoy the tea. Surprisingly, she recommended I make the tea like a pot of soup – brew a big batch and filter it into a pitcher, then store it in the fridge. This way I could have chilled ice tea for the week – what a genius idea!
Each herbal chrysanthemum tea mix sets to make 8-10 cups of tea. I enjoy how easy it is to make the tea on the weekend, then have a cold pitcher of tea available in the summer (in Austin that means from April to October!) My husband Thomas also prefers the chilled tea over the hot tea, because it tastes more refreshing.
We joked that now we enjoy sweet tea just like American Southerners – only ours is Asian sweet tea! 🙂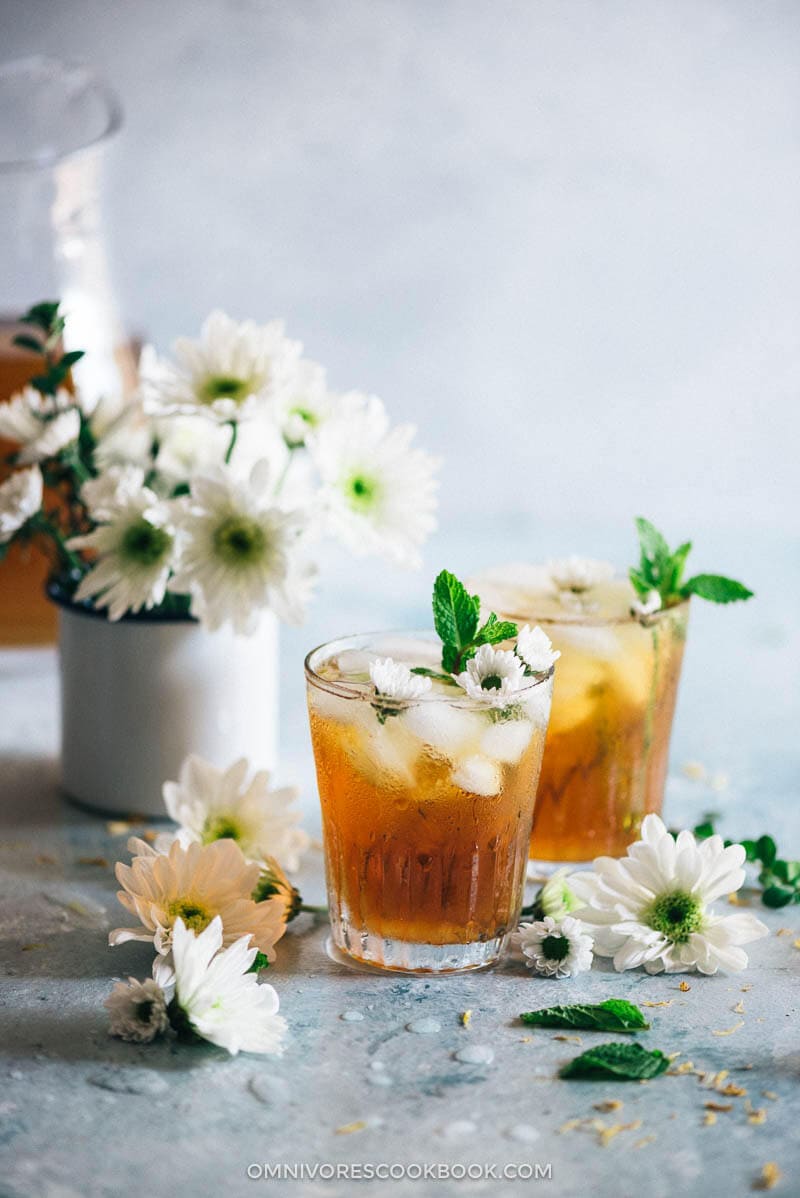 More Chinese herbal recipes for good health
If you give this recipe a try, let us know! Leave a comment, rate it (once you've tried it), take a picture and tag it @omnivorescookbook on Instagram! I'd love to see what you come up with.
Want to Know More?
Receive our 5-Day Chinese Cooking Crash Course & Recipe Updates! Subscribe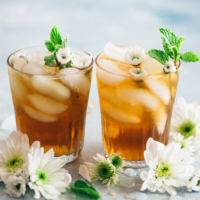 Herbal Chrysanthemum Tea (菊花茶)
Herbal chrysanthemum tea is flowery and refreshing. This non-caffeinated Chinese sweet tea replenishes your energy throughout the day without the spikes and jitters from coffee.
Do not drink this tea right before bed. Ginseng is a natural energy booster and it is good for keeping you energized throughout the day.
Ingredients
OR

2

cups

dried baby chrysanthemum

Ju Hua

1/4

cup

loosely packed goji berries

Gou Ji Zi

1/4

cup

loosely packed licorice root

Gan Cao

2

tablespoons

loosely packed American ginseng

Xi Yang Shen

Optional 3 to 4 tablespoons rock sugar (or 1 pack Root + Spring yellow rock sugar)
Instructions
Place all the herbs in a colander and rinse under running water. Transfer to a medium-size pot and add 10 cups water.

(Optional) If you like sweet tea, add the rock sugar.

Heat over medium-high heat until the water is brought to a simmer. Turn to low heat. Cover and simmer for an hour. Do not uncover the pot during simmering.

When the tea is done, stir a few times to make sure the rock sugar is dissolved.

Place a strainer over a large bowl (or medium-size pot), pour the tea over and discard all the solid ingredients.

You can serve the tea hot. Alternatively, wait until the tea cools down to room temperature. Add ice cubes and serve the tea cold.

You can store the tea in an airtight container in the fridge for up to a week.
Nutrition
Serving:
1
cup
,
Calories:
22
kcal
,
Carbohydrates:
5.6
g
,
Protein:
0.4
g
,
Sodium:
20
mg
,
Fiber:
0.6
g
,
Sugar:
4.1
g