Chicken Noodle Salad with garlicky, nutty and spicy sauce (Ji Si Liang Mian, 鸡丝凉面) is a classic Chinese summer dish. The 3 types of sauce, which are with such a different texture and flavor, come together perfectly with the chilled noodles. It brings you a refreshing and appetizing cold dish in a hot day.
This recipe was adapted from: http://www.beitaichufang.com/recipe/20370/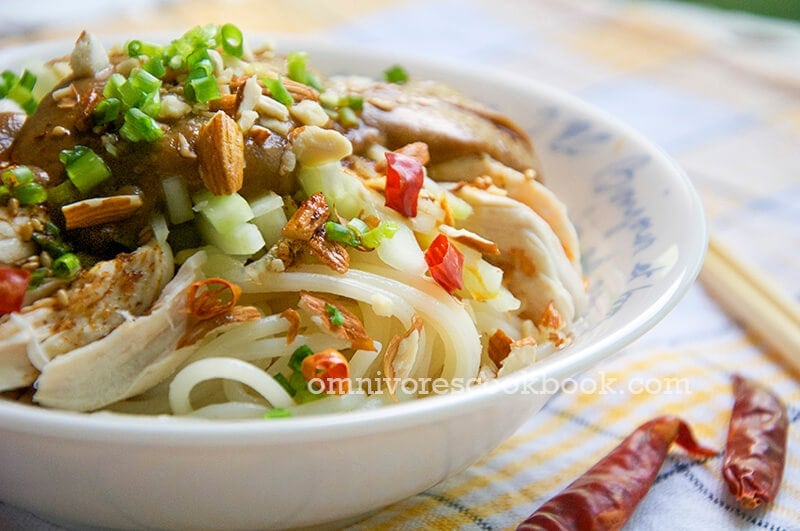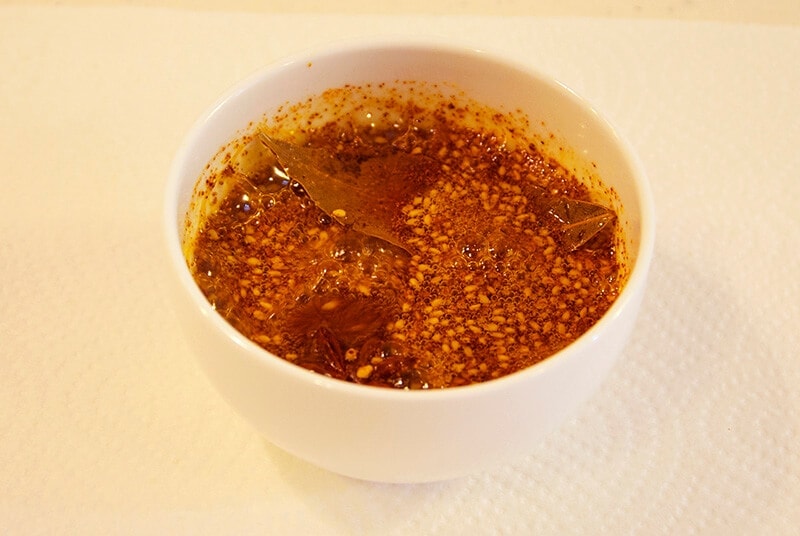 Perfect Spicy Sauce Recipe
This recipe was updated by 2013-9-9.
Author:
Omnivore's Cookbook
Ingredients
1 aniseed
1 bay leaf
2 teaspoons white sesame seed
1 tablespoon cayenne pepper flakes
1/2 teaspoon of smashed peppercorn
1 big piece of ginger, sliced
100ml plant oil
Instructions
Add aniseed, bay leaf, white sesame seeds, pepper flakes and peppercorn into a small bowl.
Heat oil in frypan for 1 minute, then add in ginger slices. When ginger slices turn to golden brown and start to whither, turn off fire immediately. Scoop out ginger by colander and throw away. Carefully pour hot oil into mixed spices, when the oil stops boiling, stir with spoon till spices are mixd evenly with the oil.
Notes
This recipe generates more spicy sauce than you need in this recipe. You could store the sauce in room temperature for 2 weeks. It could be easily used in simple Chinese salad like smashed cucumber, or using as spicy oil when cooking Sichuan dishes like Kung Pao Chicken, or blend into vinegar and soy sauce to make a dumpling dip.
Chicken Noodle Salad with Garlicky, Nutty and Spicy Sauce
Author:
Omnivore's Cookbook
Ingredients
Ginger and garlic sauce
2 pieces of garlic, smashed
2 small pieces of ginger, smashed
1 teaspoon salt
100ml water
Nutty sauce
2 tablespoons of sesame paste
2 tablespoons of soy sauce
1 tablespoon of vinegar
2 teaspoons of sugar
1 teaspoon of sesame oil
For noodles
6 chicken tenders
240 grams of Ramen Noodles
1 cucumber, sliced
10 - 15 almonds, crashed
green onion, chopped
Instructions
Add water and chicken tenders into a small pot, cover with lid and bring to a boil, then turn off heat immediately. When chicken tenders are floated from the bottom, in about 2-3 minutes, keep lid on for another 5 minutes. Shred the chicken after cooled down.
Mix all the ingredients for ginger and garlic sauce, chill in the fridge
Mix all the ingredients for nutty sauce, chill in the fridge
Bring a big pot of water to boil and cook the noodles according to instruction. Drain the cooked noodles with colander and washed with tap water to cool.
Serve the noodles in a medium size bowl, add nutty sauce, spicy sauce and ginger & garlic water to taste, serve with almonds and green onion.