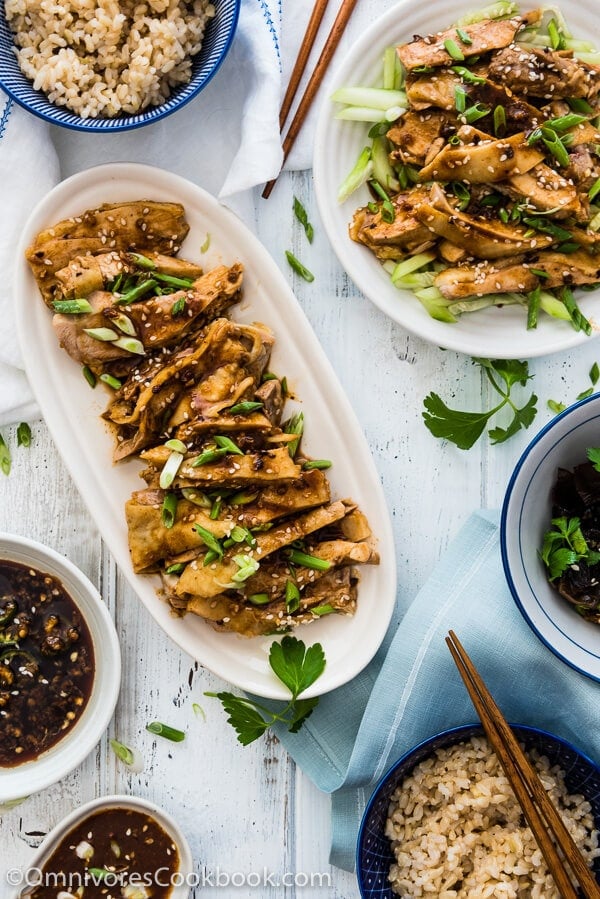 This cold Sichuan chicken dish is served with a numbing, spicy, nutty sauce that is addictively tasty. It may look plain, but it will blow your mind with a single bite.
This Sichuan chicken is the type of dish I had felt reluctant to make at home, but once I did, I wondered why I hadn't done it sooner. When you look at the ingredient list, you understand my initial hesitation.
Chinese recipes, like many Asian recipes, have notoriously long ingredient lists. I consider most classic Sichuan appetizers to belong to this genre. In pursuit of the best flavor and texture, even a small cold dish requires a lot of attention. For this dish, chicken is carefully poached with fresh herbs, then treated with a cold ice bath immediately after cooking, and the long list of ingredients must be measured precisely and added in the correct order.
The recipe requires 30 minutes to prep and cook. It's not complicated, but if you also need to prepare main dishes for dinner or for your guests, this recipe does need a considerable amount of attention.
The good news is that this cold appetizer is so satisfying and flavorful, so it can totally hold its own as a main dish. If you add some green salad on the side and make a bit more sauce, you can turn it into a light paleo dinner. It holds its shape and flavor very well, so you could easily make it in advance and pack it for lunch. If you're cooking several dishes for a party, you can prepare this dish a day before, and your guests will love it.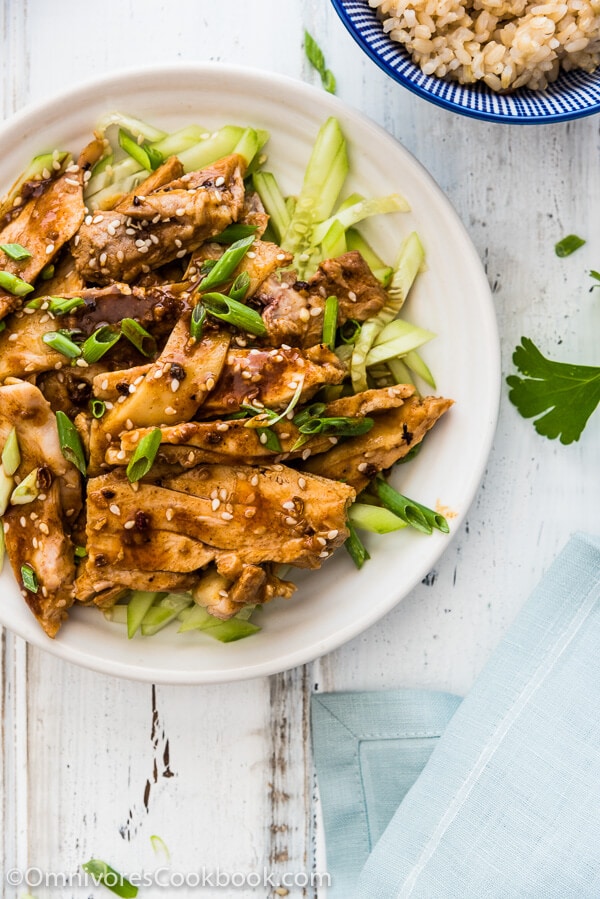 When you finish cooking, you might think you've made too much sauce. Well, you didn't. Pour all the sauce onto the chicken and you'll love how flavorful (and not overwhelming) the dish is. It can be served by itself or with steamed rice. Or, you can use the chicken and sauce as a topping for boiled noodles, making a cold noodle salad.
Yes, I included tons of chili oil in the sauce, and you should, too! If you don't like your food too spicy, I found that Korean chili flakes make a much milder chili oil. The oil will add a very nutty flavor, and the other ingredients and the sugar will cut the spiciness.
I emphasize this in all my posts, but I'll do it again. Make your chili oil at home and do not use a store-bought one. If you're extra patient and want to create the best flavor, you can use this recipe to make the more complex version (it's a noodle dish, but you'll find the chili oil recipe at the bottom of the post). If you're in a rush, use this simplified version to make fresh chili oil in 5 minutes.
I hope you enjoy!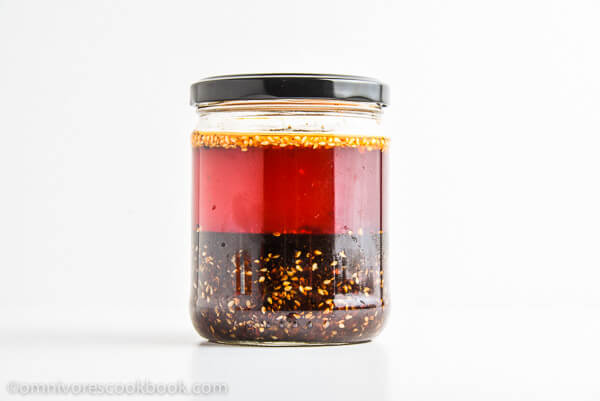 Do you like my recipes? Sign up for Omnivore's Cookbook's weekly newsletter to get the latest updates delivered to your inbox and a free e-cookbook! And stay connected via Facebook, Instagram, Pinterest and Google+. Thanks for reading and happy cooking!
Want to Know More?
Receive our 5-Day Chinese Cooking Crash Course & Recipe Updates! Subscribe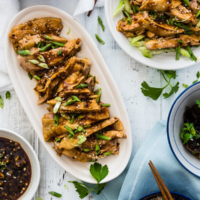 Sichuan Chicken with Spicy Sesame Sauce (怪味鸡)
This cold Sichuan chicken dish is served with a numbing, spicy, nutty sauce that is addictively tasty. It may look plain, but it will blow your mind with a single bite.
Ingredients
700

grams

bone-in skin-on chicken thigh

(*see footnote 1)

2

tablespoons

Shaoxing wine

1

teaspoon

Sichuan peppercorn

2

green onion

, chopped

2

pieces

ginger

2

green onion

1/4

teaspoon

salt
Sauce
3

tablespoons

soy sauce

2

teaspoons

black rice vinegar

2

teaspoons

sugar

1

tablespoon

Chinese sesame paste

(or natural peanut butter)

2

tablespoons

homemade chili oil with 1 to 2 tablespoons of its "sediment"

1

teaspoon

sesame oil

1

clove

garlic

, minced

1/2

teaspoon

ginger

, minced

1/4

teaspoon

Sichuan peppercorn

, freshly grated roasted (*see footnote 2)

1 cucumber, sliced into thin strips

(Optional)

1 tablespoon roasted sesame seeds for garnish

(Optional)
Instructions
Bring a large pot of water to a boil. Turn to medium heat.

Halve green onion. Chop some of the green parts and use them to garnish the dish later.

Add Shaoxing wine, Sichuan peppercorn, white part of green onion, and ginger to the boiling water. Mix well. Add chicken. Cook until bringing to a simmer. Turn to low heat. Continue cooking at a very gentle simmer until the chicken is cooked through, 20 to 30 minutes.

While cooking the chicken, prepare a large bowl of ice water.

(Very important) When the chicken is just cooked, immediately transfer it to the ice bath. Add more ice if necessary. Set aside and let cool completely. This step tightens the chicken skin and firms up the texture.

Combine soy sauce, black rice vinegar, and sugar in a bowl. Mix well until the sugar dissolves.

Add sesame paste to another bowl. Gradually blend in the sauce from last step and mix with a spoon, until the sesame paste is evenly blended and no lumps remain.

Add chili oil, sesame oil, garlic, ginger, and Sichuan peppercorn. Mix well.

Right before serving, combine chicken and spicy sesame sauce. Toss to mix well. Spread cucumber over a deep plate. Transfer chicken on top of cucumber and garnish with sesame seeds and green onion, if using. (*see footnote 3)

Serve as a cold appetizer, or as a main over noodles or rice.
Notes
You can use chicken leg or breast, alternatively. If you use chicken breast, shred the meat instead of cutting it. It will yield a better flavor and texture this way.
Roasted peppercorns will have a better taste and mouthfeel. To roast peppercorns, add 1 tablespoon peanut oil (or vegetable oil) to a wok (or skillet) and heat over medium heat until warm. Add Sichuan peppercorns. Cook until the peppercorns turn dark and you can smell a very pungent aroma. Transfer the peppercorns to a mortar and grate them with a pestle. The oil can be saved for cooking (for Sichuan food or general stir-fry).
Authentic Sichuan recipes require the sauce to be added just before serving, but I found that adding sauce and then letting the chicken marinate for a few hours makes the dish even tastier. It pulls some moisture out of the chicken, but won't cause a big problem. Add the sauce beforehand or not; it's totally up to you.
Nutrition
Serving:
188
g
,
Calories:
336
kcal
,
Carbohydrates:
6.5
g
,
Protein:
24
g
,
Fat:
23.8
g
,
Saturated Fat:
5.4
g
,
Cholesterol:
81
mg
,
Sodium:
545
mg
,
Potassium:
354
mg
,
Fiber:
0.7
g
,
Sugar:
3.8
g
,
Vitamin A:
200
IU
,
Vitamin C:
3.3
mg
,
Calcium:
30
mg
,
Iron:
2
mg