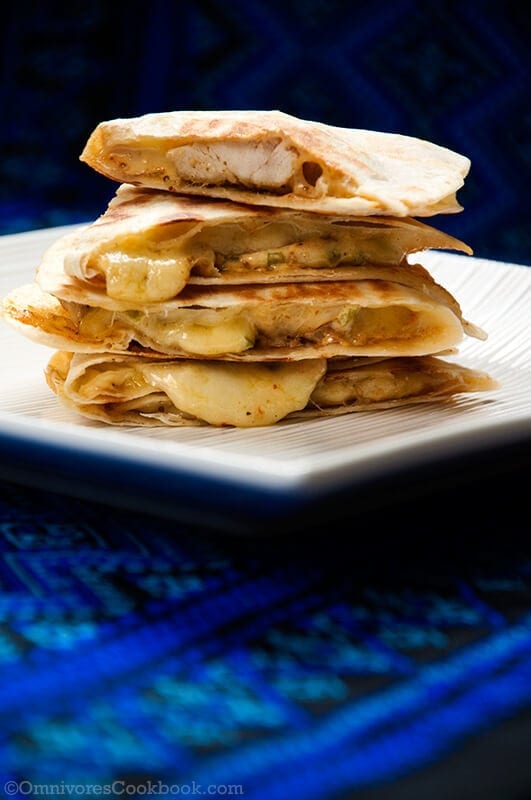 I have to confess, I've never had a quesadilla at Taco Bell. Well, actually, I never had any food from Taco Bell. I've been to the US couple of times, but I always seize the chance to have a nice steak, cook something new, or try out nice restaurants instead of eating fast food. However, I fell in love with this Taco Bell Chicken Quesadilla the first time I cooked the recipe from Food.com.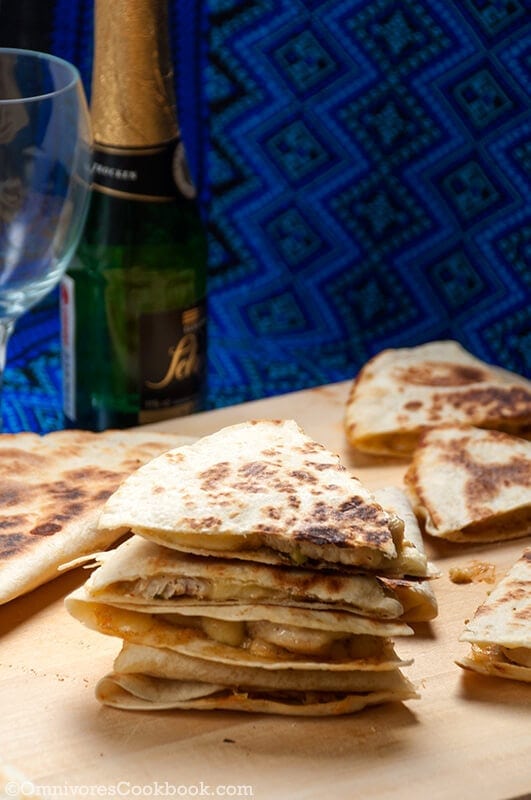 We don't have a lot of options for Mexican food in Beijing. There are a few decent restaurants and bars where you can grab some nice Mexican food and have a drink, but they are all located in the busy city center. You could find tortilla chips at high end supermarkets, but most people still don't know what a taco or burrito is. Sometimes, I wonder why KFC and Pizza Hut are doing a great job here, but Yum! Brands (parent company of all three chains) hasn't brought Taco Bell to China. KFC had opened 5315 stores in China by 2012, and that was even more than the 4618 in the US! My friends suggested that maybe the Mexican flavor is too unfamiliar to Chinese taste buds, so it would be more difficult to promote the food here. Maybe it's true in general, but not in my case.
I remember the first time I went to a Mexican restaurant bar, which was three years ago. I ordered a chicken quesadilla and loved it! Since then, I've been trying out different dishes from Mexican cuisine, but this one is still my favorite. That's why I tracked down this recipe, even though I had no idea what Taco Bell was at the time.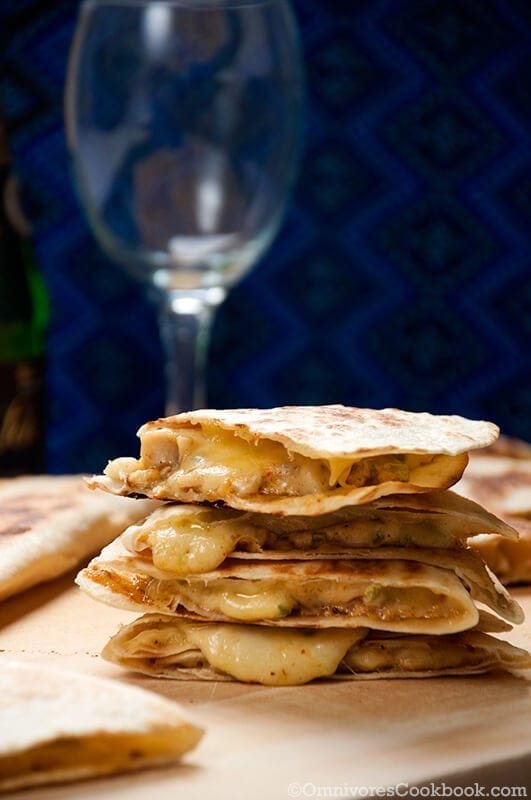 Again, I've never been to Mexico, so I still have no idea how an authentic quesadilla might taste. But I want to share this one with you, because it tastes SO GOOD! Authentic or not. When considering Americanized Chinese food, I think they changed too much from what it was. But the American food industry has transferred a lot of regional foods into well-known and popular international brands, the way it did with pizza.
This time, let's just forget the word "authentic" and enjoy this moist, creamy and crispy chicken quesadilla! 🙂
Want to Know More?
Receive our 5-Day Chinese Cooking Crash Course & Recipe Updates! Subscribe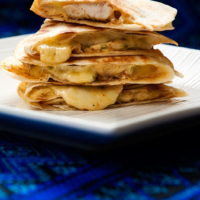 Taco Bell Chicken Quesadilla
Ingredients
2

tablespoons

mayonnaise

2

tablespoons

finely chopped pickled jalapenos

1

teaspoon

cumin powder

1/2

teaspoon

sweet paprika

1/2

teaspoon

cayenne powder

1

teaspoon

crushed garlic

1

chicken breast

sliced against the grain

salt and pepper

1

teaspoon

cornstarch

1

tablespoon

vegetable oil

4 - 5 to

rtillas

1/2

cup

shredded cheddar cheese

1/2

cup

shredded mozzarella cheese
Instructions
Mix mayonnaise, jalapenos, cumin powder, paprika and cayenne powder in a small bowl and set aside.

Lightly season chicken with salt and pepper. Add cornstarch and mix well by hand.

Heat oil in a nonstick skillet until warm. Spread chicken slices in the skillet and saute over medium heat. When the bottom side turns golden, in 1 to 2 minutes, flip the chicken slices. Cover and cook over low heat until the bottom side turns golden and chicken is cooked through. Transfer chicken to a plate and set aside.

To assemble quesadillas, place cheddar cheese on half a side of each tortilla. Add 2 to 3 pieces of chicken and scatter mozzarella cheese on top. Spread mayonnaise mixture on the other half side of each tortilla. Fold into a half moon shape. Assemble the rest of quesadillas in the same way.

Heat a clean nonstick skillet over medium heat. Grill quesadilla over medium heat, one side at a time, until both sides turn golden brown and the cheese is well melted. Transfer to a cutting board and cut into 3 slices.

Serve warm.
The nutrition facts are calculated based 1 of the 5 servings generated by this recipe.