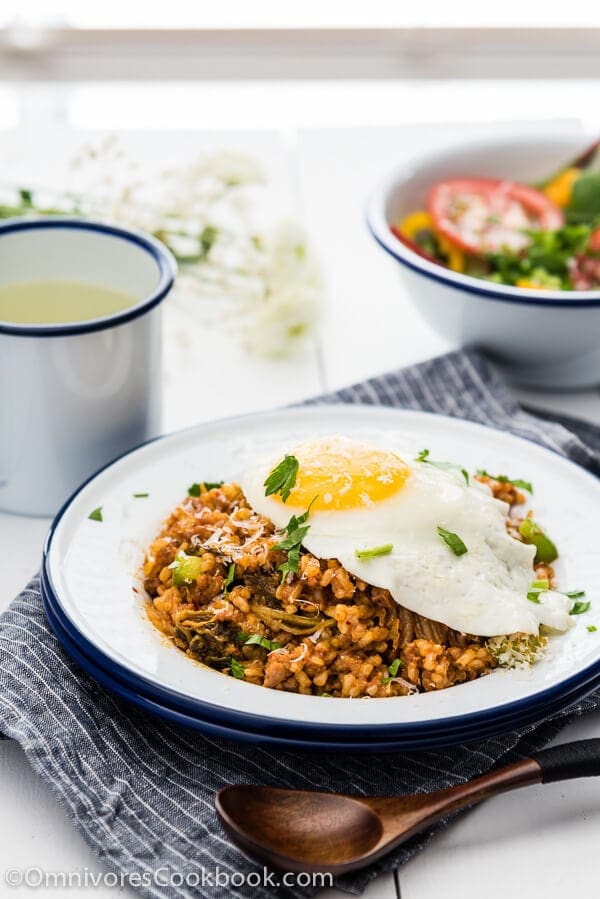 Use this flexible recipe to create delicious Korean fried rice with whatever ingredients you have on hand in 10 minutes.
Kimchi fried rice is one of my favorite lunch solutions, and I use it almost every week. I talked about why I always keep a jar of kimchi on hand a while ago. I suggest you do this too; as long as I have some kimchi in the fridge, I never worry about not having anything for lunch.
Cooking kimchi fried rice is easy and super flexible. I actually found it difficult to create this recipe, because I always cook it differently, using whatever I happen to have in the fridge. It is a perfect lunch dish because it uses minimal time and ingredients to create a delicious one-dish-meal in 15 minutes or even less.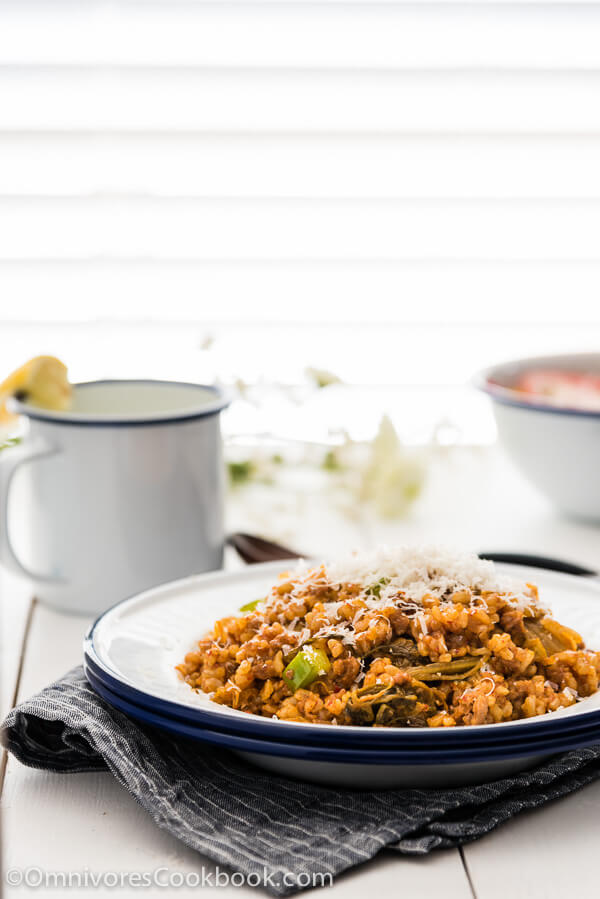 To cook really tasty kimchi fried rice, you need:
(1) Leftover rice: I love to use brown rice or mixed rice to cook my fried rice. It's super tasty and makes the meal healthier.
(2) Kimchi: I always add tons of it. Yes it's quite spicy, buy you can always tweak the flavor by adding sugar at the end.
(3) Gochujang (Korean hot pepper paste): You can skip this if you don't already have it, but a tiny spoonful adds great flavor to the dish.
(4) Protein of your choice: You can use any ground meat, cooked meat, and/or eggs. I often use leftover grilled meat or stew meat. It helps you clean up leftovers, makes the rice super tasty, and reduces cooking time. You can skip this to keep the dish vegetarian.
(5) Veggies of your choice: My favorites are frozen peas, carrots, cucumber, corn, spinach, and bell pepper.
When adding veggies to fried rice, make sure to:
Use a small quantity (less than 1 cup of root veggies or less than 2 cups of leaves)
Cut them into evenly sized, small pieces
Cook them thoroughly until dry
I prefer to use a 12" nonstick deep skillet to cook my fried rice. It allows me to cook everything in one pan. If your skillet is large enough, you can cook the veggies without removing them.
Add veggies that are difficult to cook through or those that contain a lot of water first, after adding the kimchi but before adding the rice. These veggies include carrots, frozen peas, and cucumbers.
Add veggies that are easy to cook through or blanched veggies after everything is cooked. These include bell peppers, blanched and drained cauliflower / broccoli, and spinach.
If you are using a small skillet or want to add more veggies – cook the veggies beforehand, transfer them to a plate, and add them back into the skillet after the fried rice is cooked.
And of course, you can skip the fresh veggies if you don't have any in the fridge.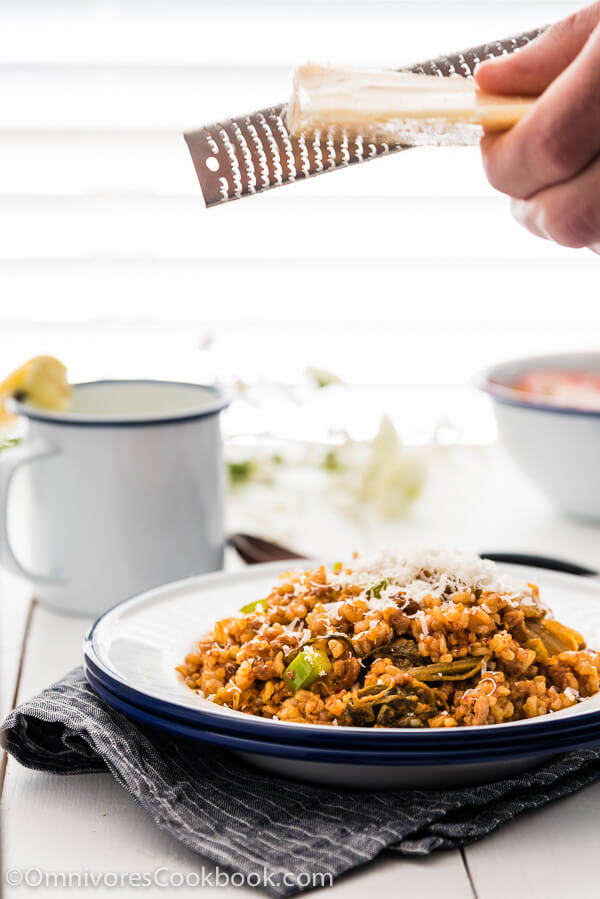 Do you like my recipes? Sign up for Omnivore's Cookbook's weekly newsletter to get the latest updates delivered to your inbox and a free e-cookbook! And stay connected via Facebook, Instagram, Pinterest and Google+. Thanks for reading and happy cooking!

Easy Kimchi Fried Rice
Author:
Omnivore's Cookbook
Recipe type:
Breakfast, Lunch
Ingredients
2 to 3 tablespoons peanut oil (or vegetable oil)
1 to 2 cups chopped kimchi (reduce the amount for a less spicy dish)
(Optional) 1 to 2 cups raw ground meat or chopped cooked meat (beef, chicken, turkey or pork) (*See footnote 1)
1 teaspoon gochujang (Korean hot pepper paste) (reduce the amount for a less spicy dish)
1 tablespoon soy sauce
3 cups leftover steamed rice
(Optional) 2 big eggs
(Optional) 1/2 to 2 cups chopped vegetables of your choice (e.g. pepper, cucumber, peas, carrot, spinach)
Salt to taste
(Optional) Sugar to taste
(Optional) Grated or sliced cheese (mozzarella, cheddar, swiss cheese etc.)
Instructions
Heat 2 tablespoons oil in a large nonstick skillet over medium heat until warm. Add kimchi (and the kimchi juice!) to one side of the skillet and raw ground meat (if using) to the other side. Add gochujang. Cook the kimchi and the meat separately on each side of the skillet until the surface of the meat is cooked, about 2 minutes. Carefully spread and mix gochujang with the other ingredients, so it won't end up a lump in the dish. Mix everything together and continue to cook until the meat is cooked through.

(Optional) If you're using cooked meat, add it after the kimchi is cooked. Cook for a minute until the meat is heated up.
(Optional) If you're using carrots, frozen peas, or cucumbers, add them now and cook until the veggies are almost cooked through. I personally prefer to move the kimchi and meat to one side of the skillet, add a bit of oil to the other side, and cook the veggies there. This way the veggies will cook through more easily.
Separate the rice into smaller chunks and add it into the skillet. Cook and chop rice with spatula for 1 minute. Swirl in soy sauce. Keep chopping and mixing until rice is mixed well with the rest of the ingredients and the grains are well separated, 2 to 3 minutes.

(Optional) If you are using eggs, add them now. Move all the ingredients to one side of the skillet and add a bit of oil to the other side. Pour beaten eggs onto the oil. Cook and stir until half cooked. Mix everything together (the image is taken from another recipe).

(Optional) If you're using bell pepper, spinach (cooked or raw), or cabbage (make sure to cut it into thin slices), add it now. Move all the ingredients to one side of the skillet and add a bit of oil to the other side. Add veggies and cook briefly. Mix everything together.

Turn to lowest heat. Taste the rice and adjust seasoning by adding more salt if needed. If the dish is too spicy, add 1 or 2 teaspoons sugar and mix well. This will help balance the heat.
Transfer everything to serving bowls.
(Optional) Add grated or sliced cheese on top of the rice and let the residual heat melt the cheese.
(Optional) If you're serving the rice with sunny side up eggs, cook the eggs now in another nonstick skillet. Top the cooked egg on the fried rice.
Serve warm.
Notes
1. Skip the meat or replace it with chopped shiitake mushrooms for a vegetarian dish. If you have leftover cooked meat (such as grilled, roasted, or stew meat), you can use it instead of ground meat.
The post was originally published 19 September 2013.