I always love to have a big bowl of potato salad on weekend. I eat it as main dish, with nothing else. I used to make this dish with a big batch of crispy bacon, but today, I wanted to try something new and healthier. So I broiled a chicken leg in oven and shredded it to add in the salad. It turned out wonderful!
I used a very basic marinate method to prepare the chicken leg in this recipe. Other times I also use this way when I haven't decided what I want to make the second day. The spices in the marinate juice will tender the chicken, add subtle flavor but without overpowering the meat. And the second day, I can grilled the chicken and use it for salad, rice or noodles stir-fry, or just coat it with flour and make fried chicken. The marinate juice is also good for chicken breast too.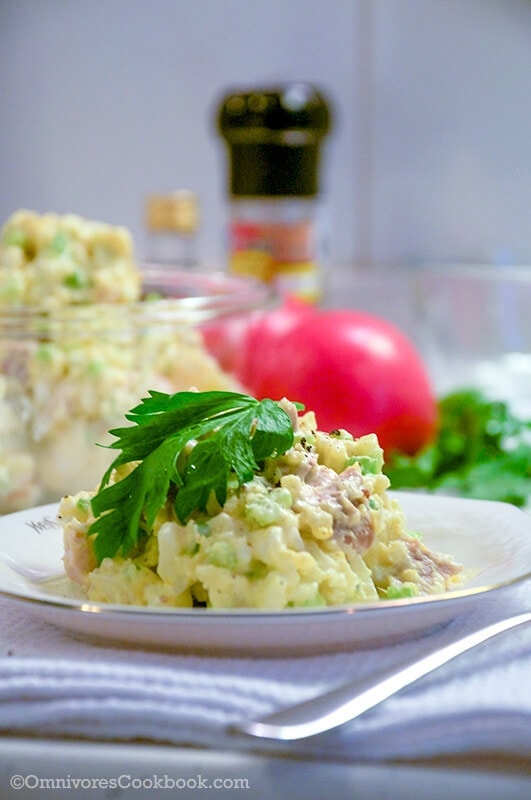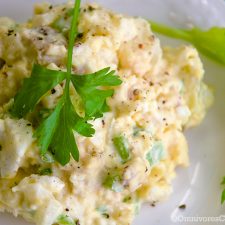 Creamy Chicken Potato Salad
The prepare time does not contain the marinate time. If you don't have time for marinate, just grill the chicken and adjust the flavor of salad later by adding more salt.
Print
Pin
Rate
Ingredients
1

big chicken with thigh

or 1 chicken breast
marinate sauce
1

clove

garlic

finely chopped

1

teaspoon

minced ginger

2

tablespoon

vegetable oil

1

tablespoon

lemon juice

1

tablespoon

light soy sauce

1

teaspoon

salt

pinch

of black pepper
ingredients for salad
1

table spoon + 1 teaspoon salt

1

big potato

or 2 small potatos, halved

1/2

cup

chopped onion

1/2

cup

chopped celery

2

boiled eggs

peeled and coarsly chopped

1

clove

garlic

smashed

1/2

cup

mayonaise

and more to adjust flavor

2

teaspoons

Dijon mustard

1

tablespoon

lemon juice

generate from 1/4 wedge

grounded black pepper to taste
Instructions
Mix marinate sauce in a bowl and stir till well blended. Dry chicken with paper towel. Add chicken and all the sauce into a ziplock bag, marinate for 2 hours in room tempreture or overnight in the fridge.

Preheat oven to 200C (350F). Line baking tray with aluminum foil. Drain chicken with paper towel and place on baking tray. Discard marinate sauce. Bake chicken leg for 40-50 minutes, till juice running clear when poking with knife. Place cooked chicken on a plate and let it cool down.

While baking the chicken, add potato, 1 tablespoon salt and water into a big pot. Heat the pot on medium high heat till boiling, and then turn to low heat. Boil the potato till you could easily poke it through with a fork, in about 20 minutes. Place potato in a plate and let it cool down a bit, then transfer into fridge to chill down, for about 20 minutes.

While the chicken and potato is chilling, prepare the vegetables.

Mix garlic, mayonnaise, mustard, lemon juice, rest of salt and pepper in a small bowl, set aside.

Shredded chicken leg meat and cut into bite size.

Dice chilled potato into bite size.

Mix potato, chicken, onion, celery, egg and the sauce mixture into a big bowl or in a pot, mix well with spatula.

Before serving, chill the potato salad in fridge for 1 hour to overnight, in order to let flavor blends well together. (option)