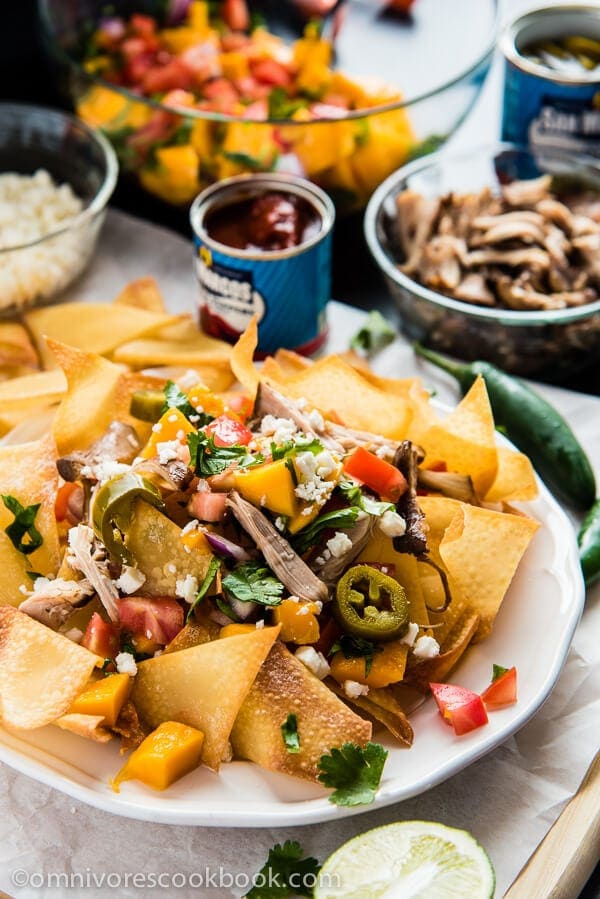 Wonton nachos are a fun way to use wonton wrappers to create a colorful and festive feast. The wonton chips are baked with minimal oil until crunchy and crispy. The mango salsa and pulled chicken create a decadent and exotic flavor at a very modest calorie count.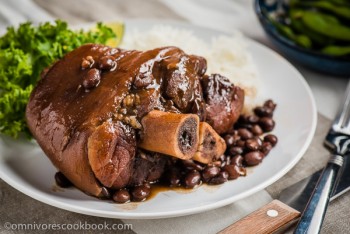 After I created some super comforting braised pork shanks last week, I couldn't wait to use the leftovers to create even more dishes. When cooking that recipe, I threw a few boneless, skinless chicken thighs into the pot of braising pork, to create some tender chicken at the same time. Today, I'm sharing this wonderful nacho dish that uses the leftover chicken.
Before talking about this dish, I need to thank my reader Debbie. She got the inspiration for this dish from some delicious pulled pork nachos at Polynesian Disney World. She suggested it would be great to make a nacho dish using fried wonton wrappers and Asian style pulled pork. I didn't even need to test it to say that the idea would work out wonderfully!
However, before cooking the braised pork shanks (by the way, the pork shanks can be easily shredded into pulled pork. I made tacos with them and they turned out perfectly.), I found it a bit too rich to put on chips and combine with cheese. Plus, I considered it wasteful to discard the braised pork skin. So I came up with the idea to braise some chicken thighs at the same time, to create a "skinnier pulled pork".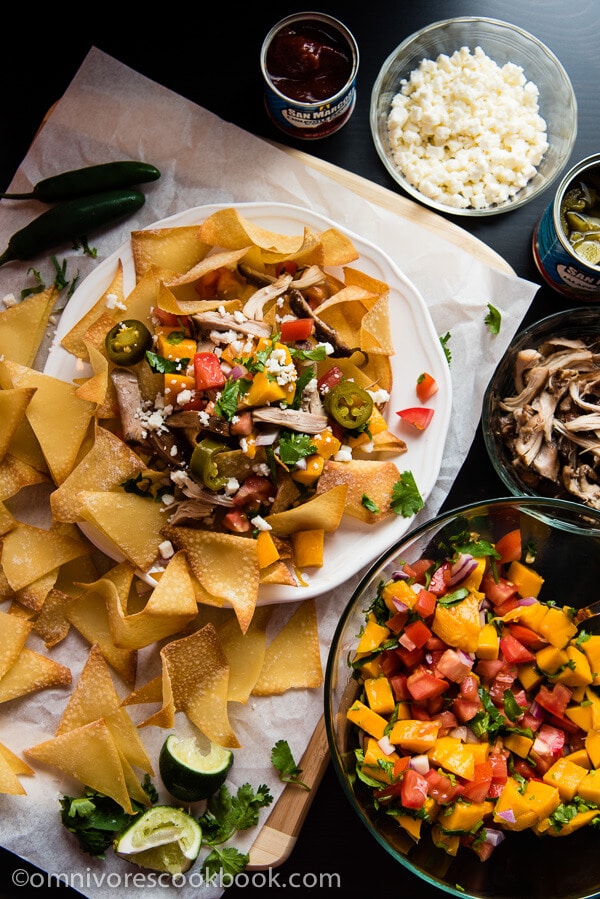 I love the way the rich sauce infuses such a great flavor into the chicken. The chicken is great to serve by itself or over steamed rice, but I prefer to use it in tacos, put it on chips, or make sandwiches with it.
As for the salsa element of this recipe, I came across this great mango salsa recipe from Sweet and Savory by Shinee a while ago. One more thing, Shinee posts lots of creative and easy-to-prepare party recipes on her blog. If you're gonna host a party or cook for a bunch of people, definitely check out her fabulous blog!
I thought the sweet and punchy flavor of the mango salsa would be perfect for a summer dish, and should work well with the savory pulled chicken. I was more than correct. The dish turned out even better than I expected.
The wonton wrappers were crispy and crunchy, yet minimally oily. The chicken was tender and moist, with the great flavor of pulled pork. The salsa combined sweet, sour, and spicy in a way that was so refreshing and juicy. Everything worked out amazingly to create this colorful and healthy summer party food with awesome flavor!
By the way, if you don't want to cook the chicken with pork, check out this braised chicken recipe to create Asian style pulled chicken.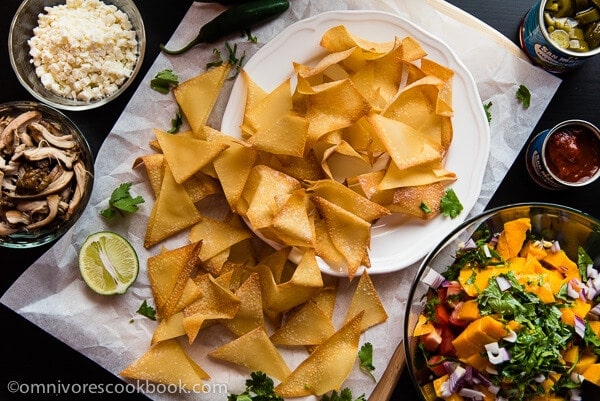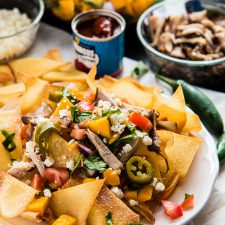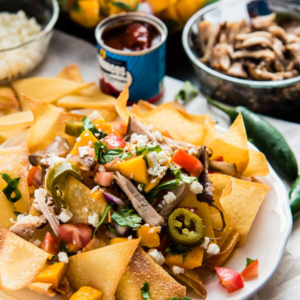 Wonton Nachos with Pulled Chicken and Mango Salsa
The mango salsa in this recipe is adapted from one at
Sweet and Savory by Shinee
.
This recipe generates 4 big servings if served as a main course. If you serve it as an appetizer or snack, it can feed 8 people.
Print
Pin
Rate
Ingredients
1

12 ounces / 350 grams pack wonton wrappers (see footnote 1)

Olive oil or vegetable oil
For mango salsa
1/4

red onion

finely chopped

1

7 ounce / 200 gram can pickled jalapenos

1/4

cup

lime juice

from 2 limes

2

pounds

1 kilogram mango (about 6 small or 2 big mangos)

2 to

matoes

chopped

1/2

cup

cilantro

chopped

1/2

teaspoon

sea salt

or to taste
Instructions
Preheat oven to 350 degrees F (180 C).

Slice wonton wrappers in half, into triangular pieces.

Spray a thin layer of oil onto a baking tray. Place wonton wrappers on top of oil to coat the bottom. Spray a thin layer of oil on top of the wonton wrappers.

Place wonton wrappers on a muffin tin or a cooking rack, to form the shape(s) you prefer. (I personally like to use a muffin tin because the chips will easily come off, and the shape is generally better for scooping sauce.)

Bake the wrappers one batch at a time at 350 degrees F (180 C) until golden brown, about 12 minutes.

While baking the wonton chips, combine all the ingredients for the mango salsa in a large bowl and mix well.

Shredded chicken thigh.

(Option 1) To assemble nachos, place wonton chips on a big plate, top with salsa and shredded chicken, and scatter crumbled cheese on top.

(Option 2) Serve wonton chips, salsa, shredded chicken, and cheese separately. This works better if you're hosting a party. The chips won't get soggy if served separately.
Notes
1. If you don't feel like baking your own wonton chips, you could use tortilla chips instead.
2. I cooked the pulled chicken in this braised pork dish, to infuse it with a rich flavor. If you don't want to cook the pork at the same time, check out this braised chicken recipe to create pulled chicken.
The nutrition facts are calculated based on 1 of the 8 servings generated by this recipe.