These comforting soy sauce noodles come together in minutes with simple ingredients that satisfy any time of day!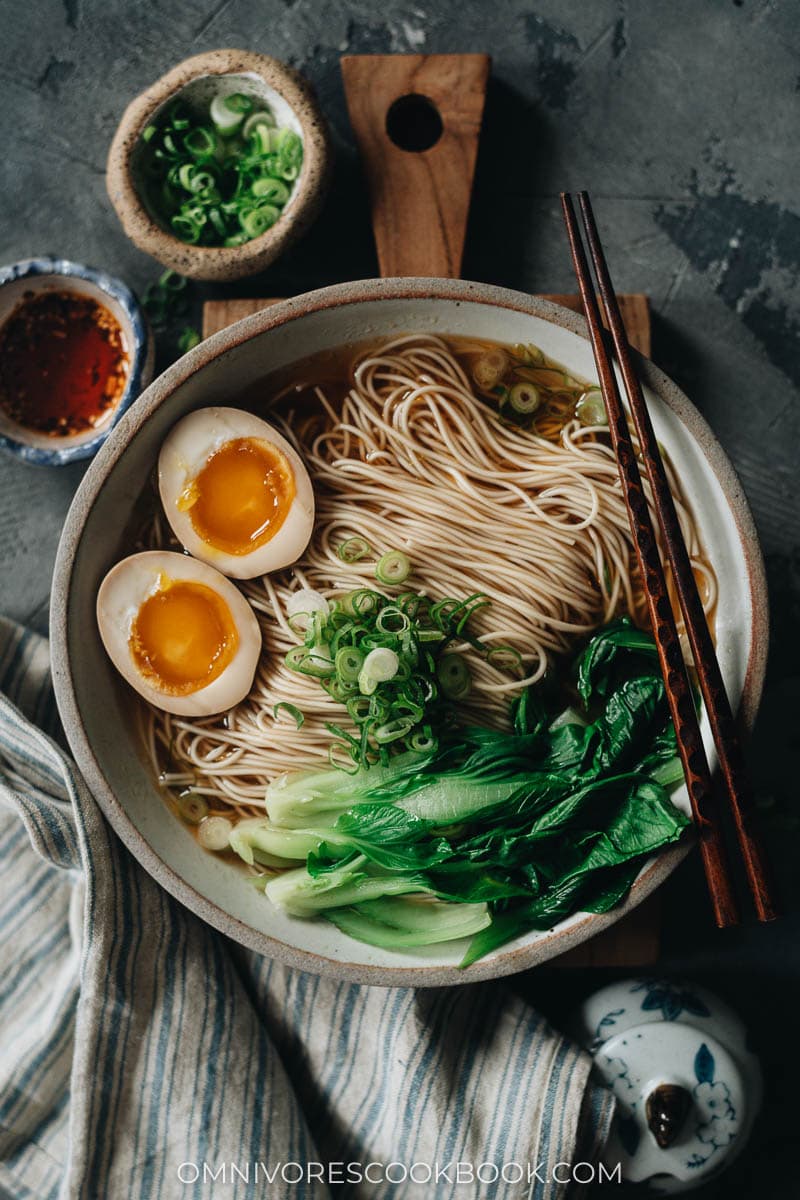 Soy sauce noodles, or yang chun mian (杨春面) as they are called in Chinese, are a typical breakfast dish. Though I would eat them at any time of day. They're popular because they're so quick and easy to make, plus they just happen to be addictively delicious with a few simple ingredients.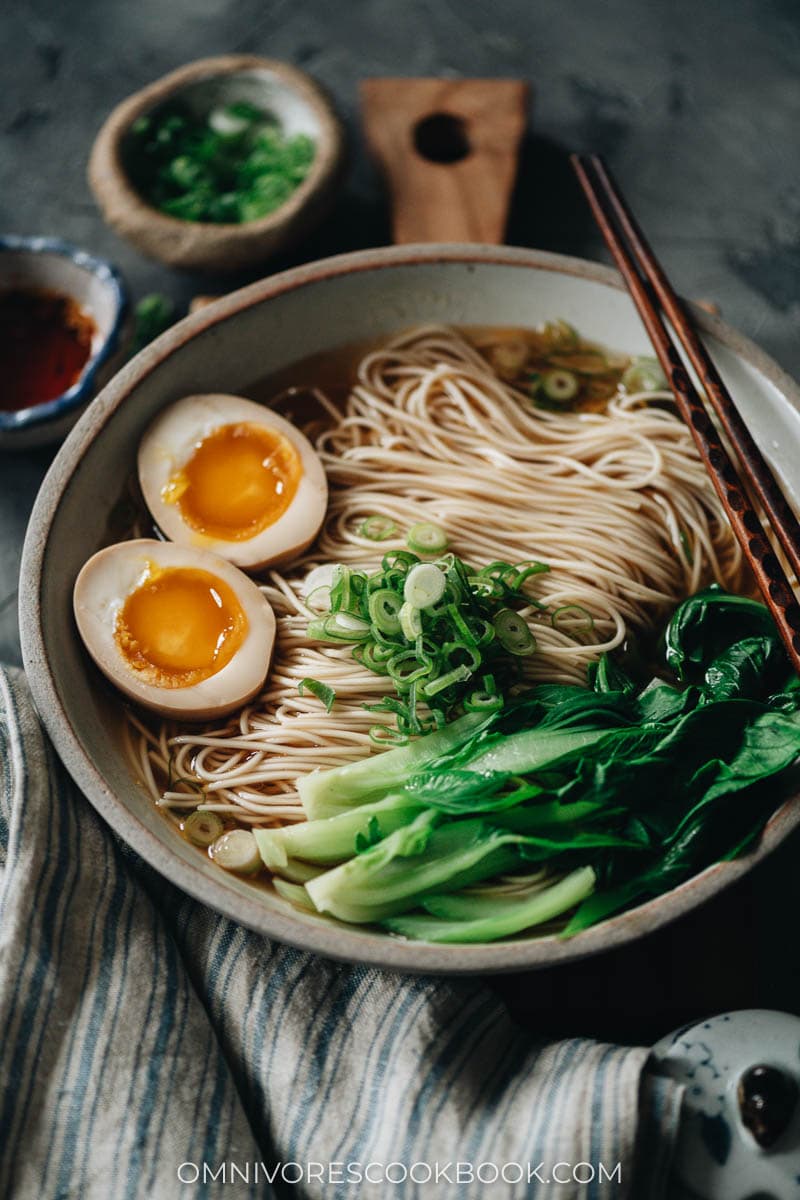 Why this recipe
I've shared a recipe for soy sauce noodles before but I came up with a more simplified version of this famous minimalistic noodle dish that uses pantry ingredients so you can have it on your table in just 10 minutes.
So, why am I updating my soy sauce noodles recipe? My old recipe called for making a homemade chicken stock. I wanted to make this even easier by using store-bought stock which you can still get great flavor from.
In the traditional version, lard is often used for flavor. But these soy sauce noodles call for extra sesame oil and chicken bouillon powder to boost the flavor so you don't have to worry about lard.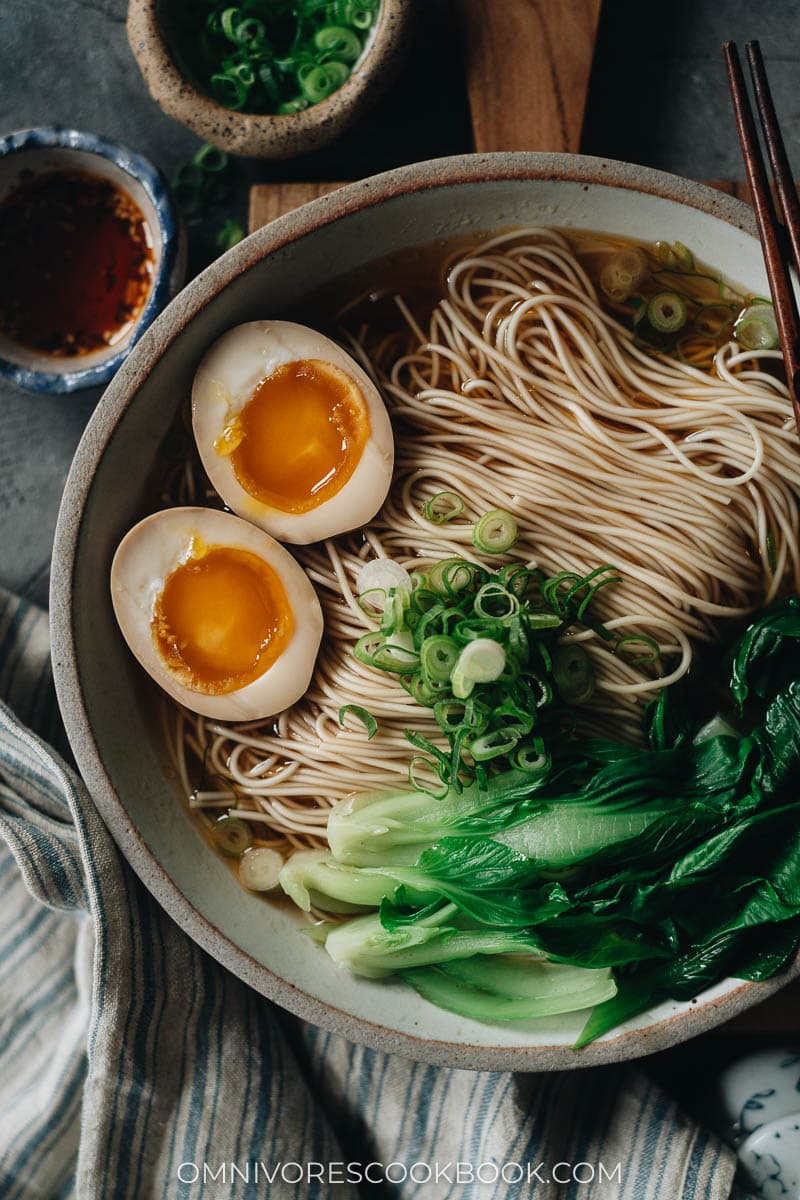 One word on MSG
To make the dish more similar to the authentic Chinese version, you can use MSG instead of chicken bouillon. I realize many people are concerned about MSG. Chinese restaurants in the US have adapted to this concern by doing without this simple ingredient and often advertise that they don't use it. However, it's simply a sodium salt from glutamic acid and is all natural. A lot of foods such as cheese, meat, and seaweed contain it. It adds a great umami flavor, and, contrary to popular belief, the FDA says it is safe to eat and has not been demonstrated to cause side effects.
While it is very common in Asian cooking, I personally keep it to a minimum and rely on other ingredients to bring out the flavors. However, I will add a pinch of MSG to a simple veggie stir-fry because it elevates the taste so well. It's up to you if you want to use it, which is why I have chicken bouillon powder listed in the recipe for you instead.
What type of noodles to use
I always prefer to use the thin wheat noodles because they absorb more flavor from the broth and are suitable for this simple dish. In China, we call them Gua Mian (挂面), or Long Xu Mian (龙须面, Dragon whisker noodles), which are a bit thinner than Gua Mian. Both come in dried form and are easy to find in an Asian market. If you shop at a Japanese market or a regular grocery store, you may find Somen, which is the same type of noodles used in Japanese cooking.
Note, the Chinese and Japanese noodles are the same in nature, but they can come in very differently sized bundles. You can make one serving using one Japanese bundle, but probably half of a Chinese bundle, which is bigger.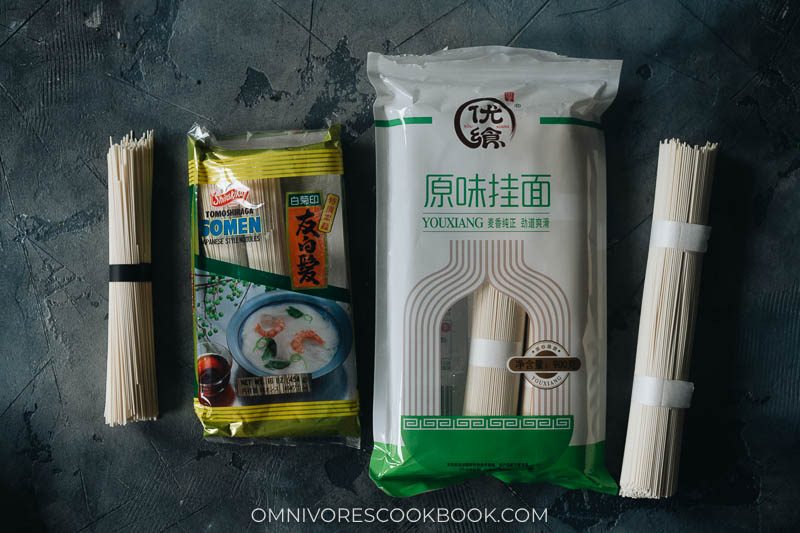 If you're feeling fancy, you can also use the thin noodles from my hand pulled noodle recipe.
Noodle Toppings
Traditionally, yang chun mian doesn't have any toppings. All you would do is boil the noodles in chicken stock, add some soy sauce, and it would be done.
I like adding green onions to the top, as well as bok choy, though you can add any green veggies you like. I think blanched spinach or kale would also be wonderful on these soy sauce noodles.
In addition to adding some greens on top of this, I highly recommend topping these noodles with my easy soy sauce eggs. For something so simple, you won't believe how delicious it tastes!
And of course, if you want to make the meal more filling, you can also throw some rotisserie chicken or leftover meat on top.
These soy sauce noodles are so easy to make so I'm skipping the cooking process photos this time. It's great for a snack or as a simple meal!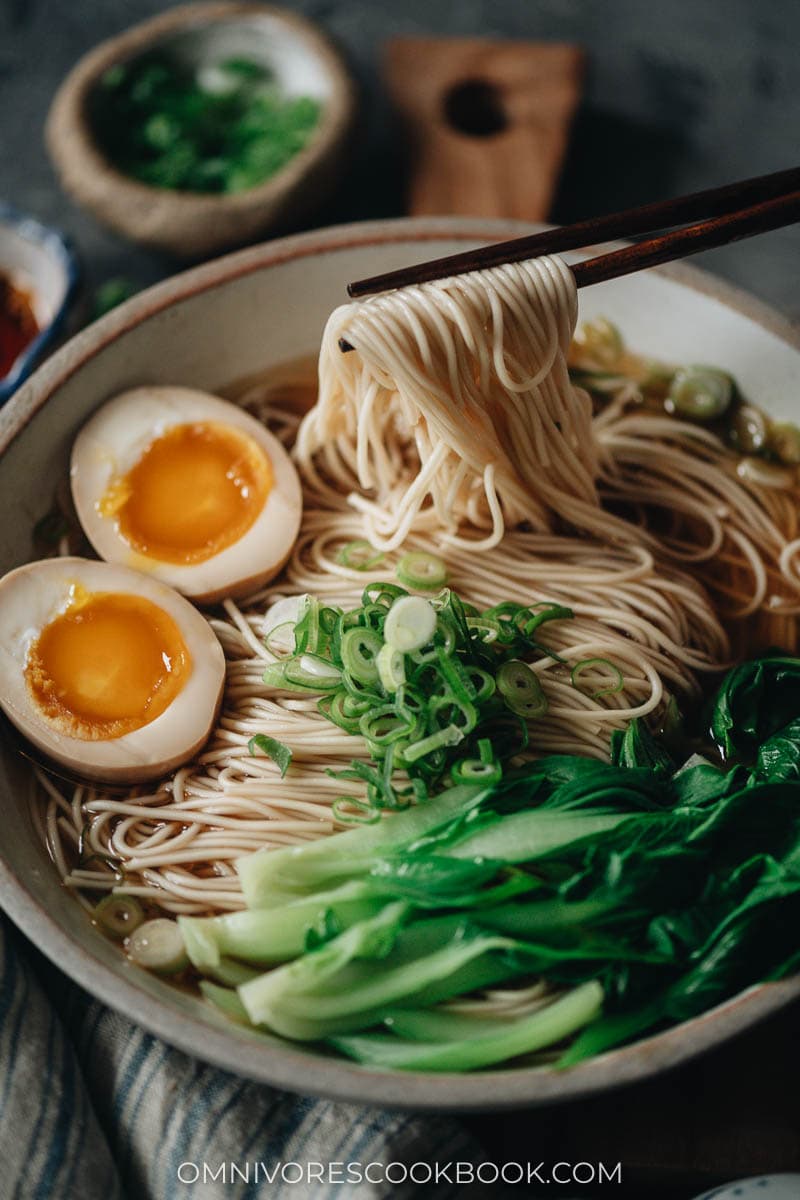 Want to learn more about Chinese Cooking? Sign up my newsletter to receive the 5-Day Chinese Cooking Crash Course and recipe update!
Want to Know More?
Receive our 5-Day Chinese Cooking Crash Course & Recipe Updates! Subscribe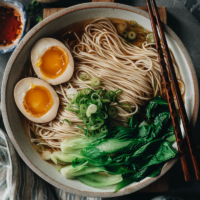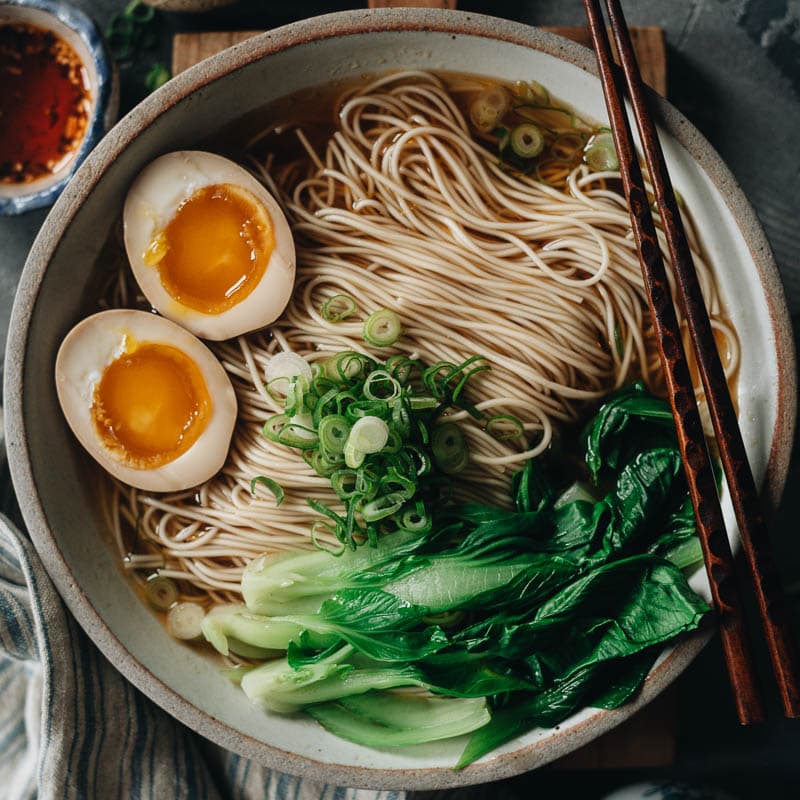 Soy Sauce Noodles (阳春面)
This comforting soy sauce noodles dish comes together in minutes with simple ingredients that satisfy any time of day!
This recipe makes two appetizer-size servings or one big serving for a main dish.
Servings:
1
to 2 servings
Ingredients
1

green onion

, sliced

1/2

teaspoon

sugar

1/2

teaspoon

chicken bouillon powder

(or 1/4 teaspoon MSG)

2

teaspoons

sesame oil

2

teaspoons

light soy sauce

, or to taste

2

cups

chicken stock

110

g (4 oz)

dried thin wheat noodles or somen noodles

, or 200 g (7 oz) fresh noodles or thin hand-pulled noodles
Topping options
2

baby bok choy

quartered (or vegetable of your choice)

Homemade soy sauce egg

Homemade chili oil

*Footnote 1
Instructions
If making two small bowls, divide the green onions evenly between two bowls and add 1/4 teaspoon sugar, 1/4 teaspoon chicken bouillon powder, 1 teaspoon sesame oil, and 1 or 2 teaspoons soy sauce to each bowl (depending on preference and the saltiness of the stock used). Add everything to a big bowl if making 1 serving.

Bring a pot of water to a boil. At the same time bring the chicken stock to a boil and add 1 cup to each bowl. Stir to dissolve the sugar and chicken bouillon powder.

If adding bok choy or another vegetable blanch them in the boiling water until just cooked through, between 30 seconds to 1 minute, until just cooked through. Distribute the bok choy evenly between the bowls (or if you would like to lay them on top for looks, set them aside and place them on after the noodles are added).

Boil the noodles according to the instructions on the package, try to get them al dente so they don't overcook in the broth, usually 1 minute less than indicated on the package.

Drain the noodles and rinse briefly under cold water to stop the cooking. Add half to each bowl.

Taste and add more sesame oil or soy sauce if needed. Top with other ingredients if using.
Notes
Taste the soup first before spicing it up. You might find you don't actually need the chili oil 🙂
Nutrition
Serving:
1
serving
,
Calories:
69
kcal
,
Carbohydrates:
4.9
g
,
Protein:
2.8
g
,
Fat:
4.6
g
,
Saturated Fat:
0.7
g
,
Sodium:
428
mg
,
Potassium:
114
mg
,
Fiber:
0.6
g
,
Sugar:
1.6
g
,
Calcium:
43
mg
,
Iron:
1
mg
If you give this recipe a try, let us know! Leave a comment, rate it (once you've tried it), and take a picture and tag it @omnivorescookbook on Instagram! I'd love to see what you come up with.
More delicious noodle recipes
Lilja Walter is a part of the Omnivore's Cookbook team and worked closely with Maggie to develop and test this recipe.