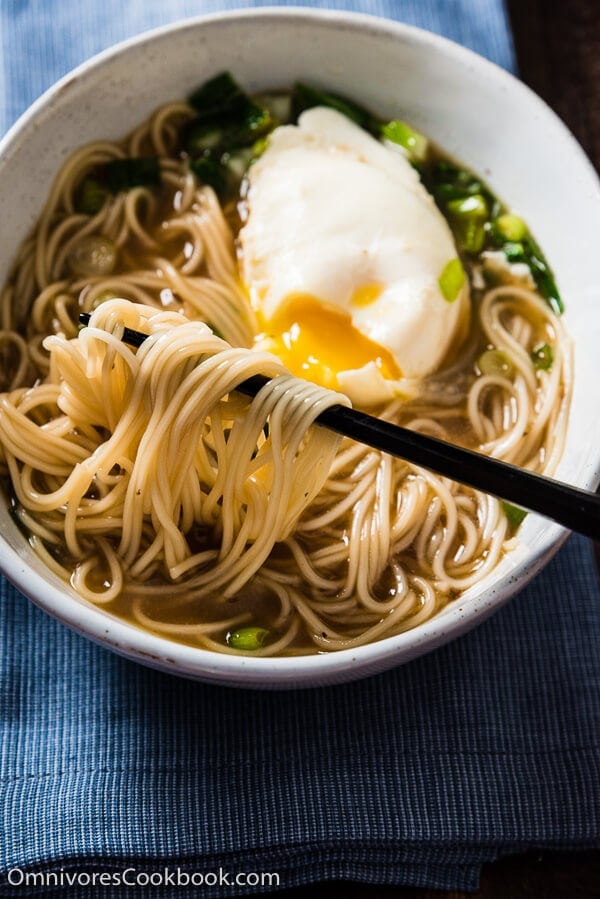 These are the most basic and comforting noodles that can be prepped and cooked within 10 minutes. Although a classic Chinese breakfast food, I enjoy it throughout the day.
Yang Chun Mian (杨春面), a basic soy sauce and chicken broth based noodle dish, is a popular Chinese snack. It uses a minimalist approach to bring out the best flavor from a bowl of noodle soup.
The original yang chun mian does not contain any toppings at all. You need only heat up some chicken stock and boil the noodles. Then you combine the stock and noodles with green onion, soy sauce, and chicken bouillon in a bowl. That's it! It is so simple and takes no time to put together. That's the reason a lot of people like to cook it for breakfast.

MY LATEST VIDEOS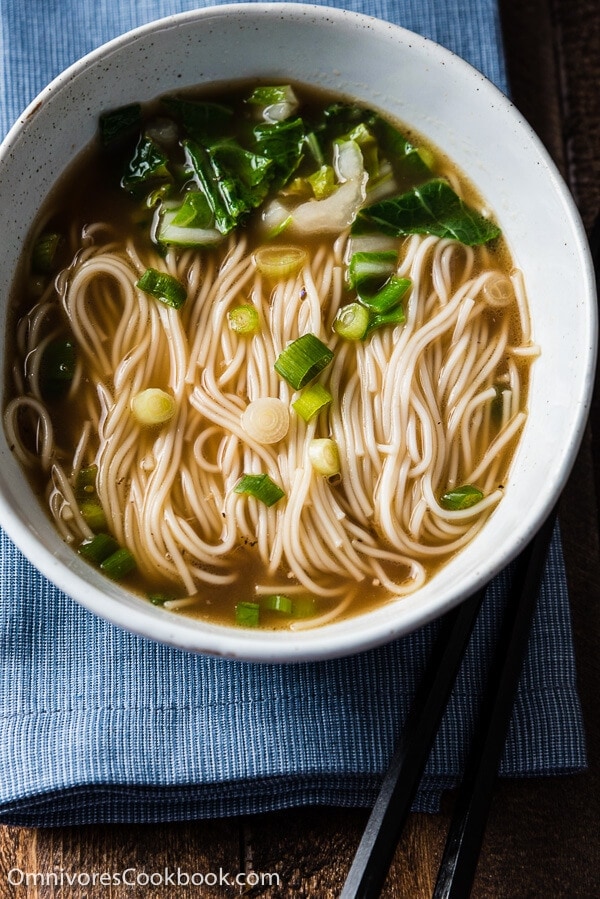 On the other hand, making a delicious bowl of soy sauce noodles does require a bit of technique.
If you want it to taste really good, you will need to use homemade chicken stock. Unlike the clear chicken broth that comes from a box, this stock is especially creamy and contains tons of gelatin. It immediately turns the bowl of soup into a super rich one. If you want the noodle soup to taste extra rich, you'll need to cook the green onion in lard and pour it into the soup. We're not using that method this time, though. Instead, we'll use sesame oil at the end, just to add a touch of nuttiness.
The original soy sauce noodles do not use other ingredients, but you can add a handful of veggies and a runny egg on top to make it a meal. Any sort of mustard greens, spinach, bok choy, or napa cabbage go great with the noodles. You can cook the veggies and poach the egg in the stock, then serve everything with the noodles. If you have leftover cooked meat, such as roast chicken or stew meat, you can reheat it and top it on the noodles, too. In China, we prefer to add braised pork ribs or braised chicken to the noodles. It's as satisfying as a big bowl of ramen, but takes just a fraction of the time to prepare.
Next time you collect enough leftover chicken bones and make some rich stock at home, be sure to make a small bowl of these soy sauce noodles. It's so soothing and comforting, and it will help you recover from a cold, a hangover, an overnight party, or even Thanksgiving dinner 🙂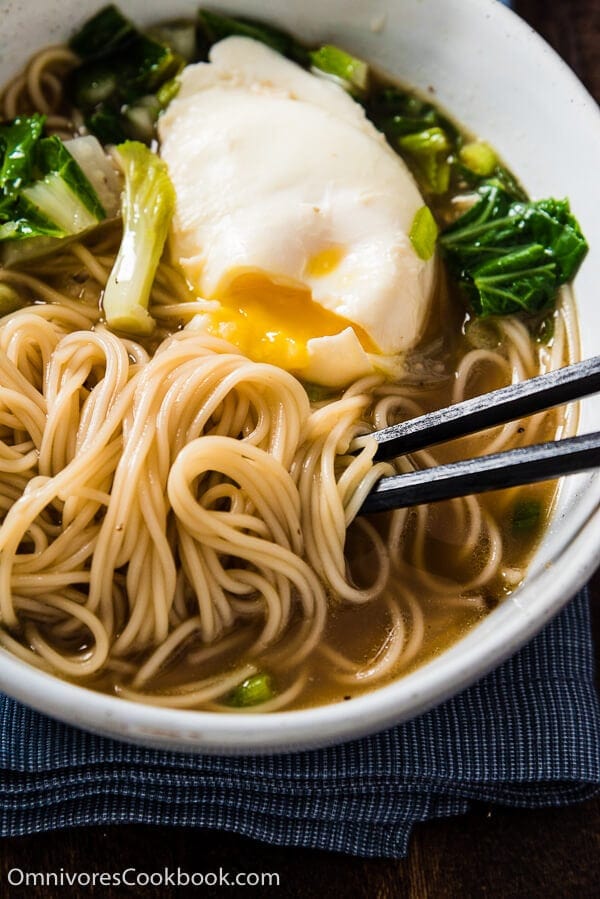 Do you like my recipes? Sign up for Omnivore's Cookbook's weekly newsletter to get the latest updates delivered to your inbox and a free e-cookbook! And stay connected via Facebook, Instagram, Pinterest and Google+. Thanks for reading and happy cooking!
Print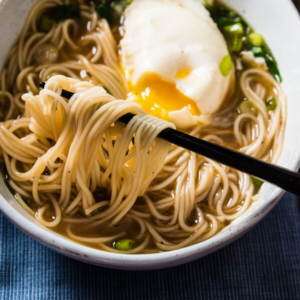 Easy Soy Sauce Noodles (杨春面)
---
Author:

Prep Time:

5 mins

Cook Time:

10 mins

Total Time:

15 mins

Yield:

1

Category:

Main, Side

Cuisine:

Chinese
Ingredients
1.5 to 2 cups homemade chicken stock (or store bought chicken stock)
1 tablespoon soy sauce or to taste
1/2 teaspoon sugar
1 tablespoon chopped green onion
1 serving noodles
1/2 teaspoon sesame oil
(Optional) Vegetable of choice (bok choy, gai lan, bean sprouts etc.)
(Optional) Egg
---
Instructions
Heat chicken stock in a small pot until boiling.
Bring a big pot of water to a boil. Cook noodles according to instructions.
Combine soy sauce, sugar, and green onion in a serving bowl.

(Optional) If you want to add veggies or egg into your noodles, you can quickly blanch the veggies and boil the egg in the chicken stock.
Pour chicken stock (with the veggies) into each serving bowl. Stir to mix well.

Transfer noodles to the serving bowl, and top with an egg (if using).

Drizzle with 1 teaspoon sesame oil.
Serve immediately.
The nutrition facts are calculated from 1 bowl of noodles generated by this recipe.