Green bean noodles is a great one-bowl dish featuring chewy noodles and tender green beans brought together with a savory brown sauce that is super fragrant. It is a hearty main that will bring you comfort at any time of day.
Green bean noodles is a classic homestyle Northern Chinese dish that is treasured by home cooks in China. It's very hearty, satisfying to eat, and quite easy to put together. It's one of those things that you seldom see in restaurants overseas, but you're missing out if you don't try it out!
What is green bean noodles
Green bean noodles, or Dou Jiao Men Mian (豆角焖面), features chewy noodles steamed in a large pan with succulent pork and green beans and seasoned with a soy sauce based sauce.
The dish uses the cooking technique "Men (焖)". "Men" can be loosely translated as "steamed in broth". It is a different process from making chow mein or lo mein noodles, where you stir fry boiled noodles with other ingredients and a sauce.
Traditionally, green bean noodles are made with fresh handmade noodles. They could be freshly made hand rolled noodles, or freshly made hand pulled noodles. When using freshly made noodles, the fresh unboiled noodles are added to the wok with green beans and pork along with the broth. Then you cover the wok to steam the noodles. At the end, the broth will be fully absorbed and the noodles cooked. The noodles will have a chewier texture and a rich flavor.
It is quite like the concept of one-pot pasta, where you put the uncooked pasta in the sauce with everything else and cook it together.
Of course it's not very practical for home cooks to make noodles from scratch every time. That's why the more common green bean noodles recipe only calls for store-bought noodles.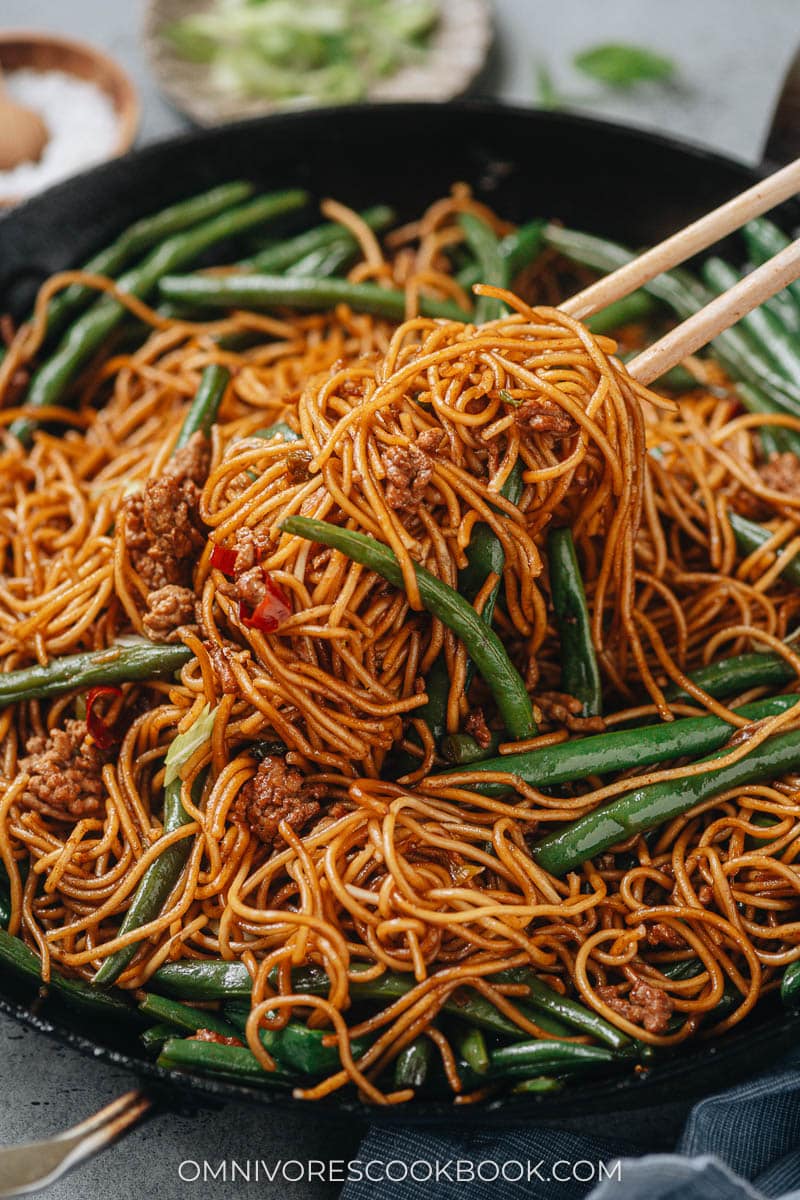 Green bean noodles ingredients
What type of noodles to use
The best noodles for green bean noodles are the store-bought fresh noodles. They are semi dried noodles that are sold refrigerated. I like to use medium or thick round-shaped wheat noodles for this dish, so they have a chewy texture and rich mouthfeel. In my recipe, I used the Lanzhou noodles by Havista, which are medium-thick wheat noodles. You can use this type of noodles or the ones that are slightly thicker. But avoid using wide noodles such as the Shanxi Planed variety.
If using fresh noodles, it's best to steam them before adding them to the broth for the best texture.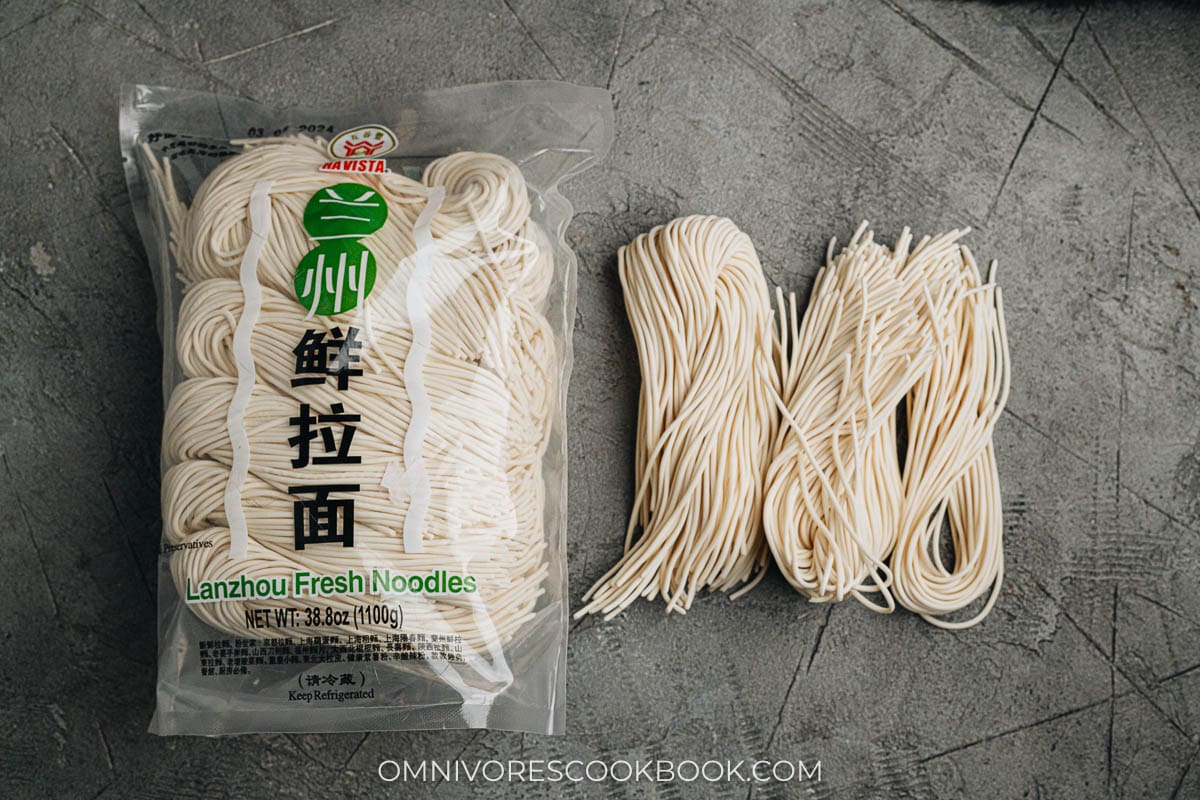 No fresh noodles? No worries!
But if dried noodles are all you can find, that's totally OK too. Just make sure that you undercook the noodles, usually 2 minutes less than the package recommends. And drain them very thoroughly. So they will have a good texture once cooked with the broth. I love these Alkaline Wheat Noodles from the Mala Market because they retain a great chewy texture once cooked.
What protein to use
Traditional green bean noodles use sliced pork belly. The key is to cook the pork belly over low heat to release the pork fat, which will infuse its fragrance and flavor into the noodles. It's a budget-friendly way to make a delicious and filling dish.
I prefer to use ground pork in this dish due to personal preference. Since pork belly is too greasy for me to use in everyday cooking, I've found ground pork is the best replacement. It is easy to cook with and does not require marinating. It also releases a good amount of fat to make the noodles extra fragrant. Once cooked, it's much less greasy than pork belly.
Alternatively, you can use ground beef or ground chicken (dark meat ground). If you want to use sliced chicken or sliced beef, you should marinate it first to prevent it from getting too tough.
Mise en place
When you're ready to cook, your table should have:
Ingredients for the sauce: chicken broth, soy sauce (light and dark), sugar, and sesame oil
Chopped aromatics: ginger, garlic, dried chili pepper, star anise, green onion
Noodles
Meat, marinated as needed
Green beans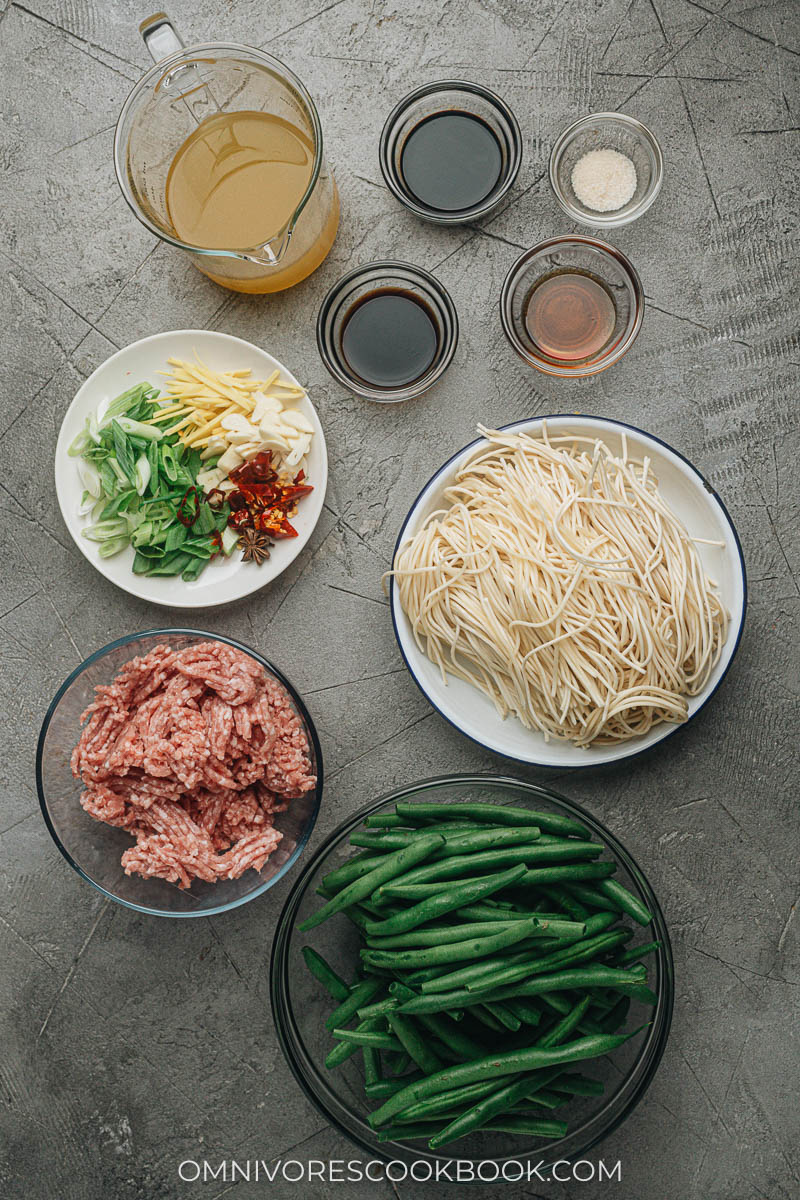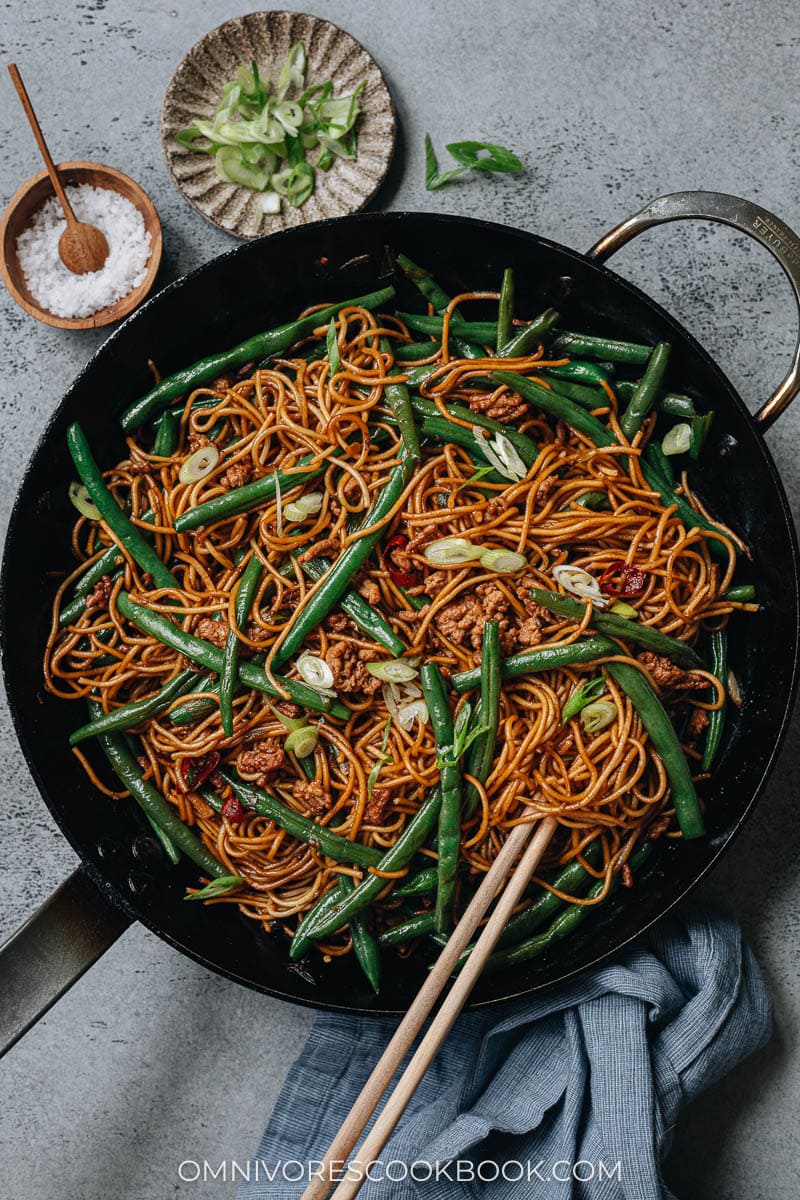 How to make green bean noodles
Cook the noodles
For an extra chewy texture, it's best to steam the noodles (only if you use fresh noodles).
To steam the noodles, line your steamer with parchment paper and add the noodles.
Steam until the noodles turn soft and the surface is mostly wet.
The steaming time largely depends on the type of noodles you use. But don't worry if you slightly undercook or overcook the noodles here. The recipe is very forgiving and you can always adjust the doneness later.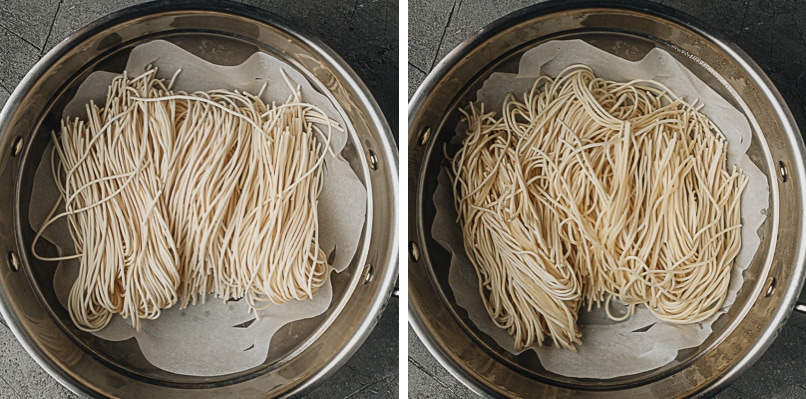 Put everything together
Stir fry the aromatics
Cook the ground pork
Cook the green beans, then add the seasoning
Add the cooked noodles and steam, covered
Mix the noodles occasionally with the sauce and keep cooking until the noodles are cooked through
Drizzle with sesame oil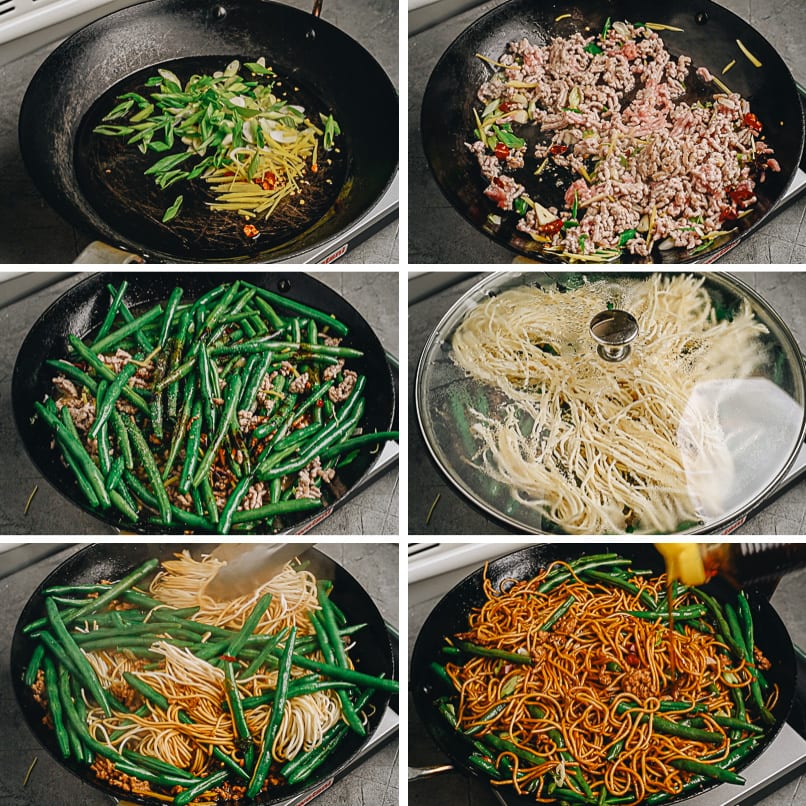 Once cooked, the noodles will be chewy and have soaked up the sauce. Accompanied with the pork and tender green beans, it is a super hearty and satisfying main dish.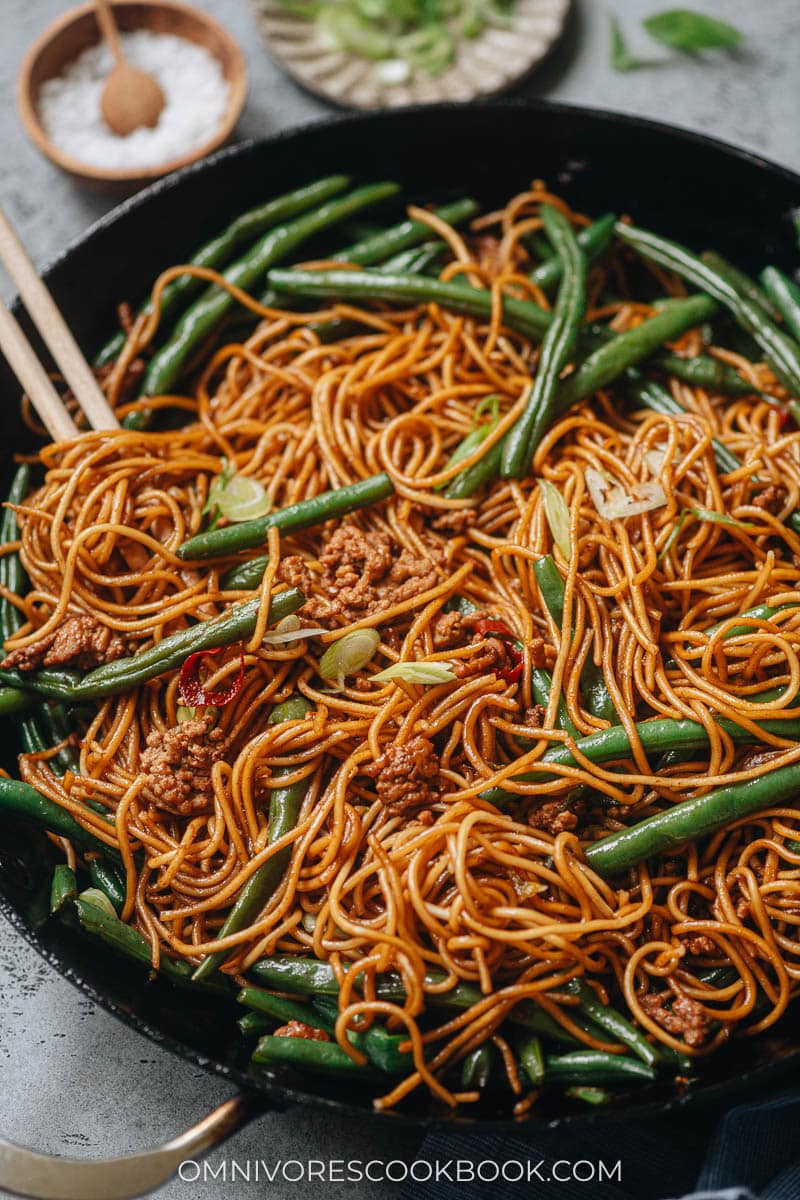 Other delicious noodle recipes
Want to Know More?
Receive our 5-Day Chinese Cooking Crash Course & Recipe Updates! Subscribe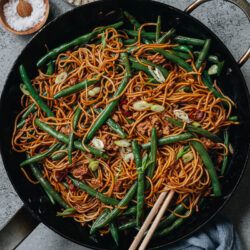 Green Bean Noodles (豆角焖面)
Green bean noodles is a great one-bowl dish featuring chewy noodles and tender green beans brought together with a savory brown sauce that is super fragrant. It is a hearty main that will bring you comfort at any time of day.
Ingredients
12

oz (340 g)

medium-thick fresh wheat noodles

(or 8 oz / 225 g dried noodles) (*Footnote 1)

2

tablespoons

peanut oil

(or vegetable oil)

2

green onions

, sliced on the bias

1/2

thumb ginger

, julienned

4

cloves

garlic

, sliced

2

dried Chinese chili peppers

, cut to 3 to 4 pieces (use whole pepper for less spiciness)

10

oz (280 g)

ground pork

(or 8 oz / 225 g sliced pork belly) (*Footnote 2)

1

lb (450 g)

green beans

, tough ends removed

Pinch

of salt

1

cup

chicken broth

1

tablespoon

light soy sauce

1

tablespoon

dark soy sauce

1/2

teaspoon

sugar

2

teaspoons

sesame oil
Instructions
Prepare a steamer by bringing 2" water to a boil. Line the steaming rack with parchment paper and spread the noodles on top. Gently fluff the noodles. When the steam starts coming out, place the steaming rack onto the steamer and steam for 10 minutes or so (or less time if using thinner noodles, and longer if using thicker noodles), until most of the surface of the noodles looks wet and the noodles start to turn tender.

Add the oil to a large frying pan and heat over medium-high heat until hot. Add the green onion, ginger, garlic and dried chili pepper. Stir and cook for 30 seconds to release the fragrance.

Add the ground pork. Cook until the pork has turned pale golden.

Add the green beans and sprinkle with a pinch of salt. Cook and stir for 2 minutes or so.

Pour in the chicken broth, light soy sauce, dark soy sauce, and sugar. Stir to mix well.

Place the noodles on top. Cover the pan and let steam over medium heat for 5 minutes. During this time, open the lid a few times and rearrange the noodles, so it soaks up the sauce. If the pan dries out, add a splash of water. Cook until the noodles have cooked through but are still chewy, and the sauce has been absorbed completely.

Add the sesame oil. Stir everything together until the sauce is well mixed in. Taste the noodles. Adjust seasoning by adding more salt if needed. Transfer everything to a big plate and serve hot as a main dish.
Notes
Many types of noodles work well with this dish. I like to use medium-thick fresh noodles (Lanzhou Fresh Noodles). In this recipe, I used 3 bundles of the Lanzhou Fresh Noodles. Thicker round wheat noodles work well too and will have a chewier texture. They also require more cooking time. If you use dried noodles, boil the noodles for 2 minutes less than the package instructions.
You can also use sliced meat (pork, beef or chicken). In this case, marinate 10 oz (280 g) meat with 1 tablespoon Shaoxing wine, 1/4 teaspoon salt and 1 teaspoon cornstarch. Sear the meat separately before step 2, take out the meat once seared, then add it back at the end of the cooking. This will prevent the meat from overcooking.
Nutrition
Serving:
1
serving
,
Calories:
356
kcal
,
Carbohydrates:
32.4
g
,
Protein:
26.5
g
,
Fat:
13.8
g
,
Saturated Fat:
2.8
g
,
Cholesterol:
76
mg
,
Sodium:
695
mg
,
Potassium:
669
mg
,
Fiber:
5.2
g
,
Sugar:
2.9
g
,
Calcium:
71
mg
,
Iron:
4
mg